News came out that San Jose had dropped out of the top 10 most populous cities in the United States, according to recent data released by the U.S. Census Bureau and as reported by the Mercury News earlier today. Falling from 10th place to 12th, San Jose experienced a decline of around 50,000 residents since the start of the pandemic, now with a population of 971,233. But what does this mean for the city and its residents?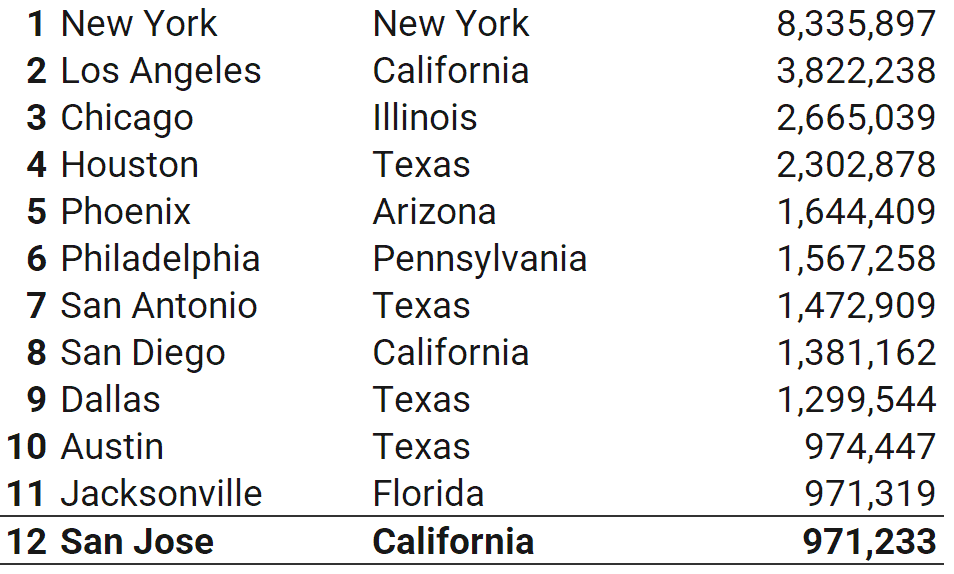 Mayor Matt Mahan called this event a wake-up call in an interview, urging the city to become a more financially feasible place to live. San Jose's population slide is actually part of a larger trend across cities in California, which experts attribute to the lack of affordable housing and the growing prevalence of work-from-home opportunities. This decline could be even more significant than the Census data indicates, as the California Finance Department found a deeper drop in population between January 2022 and January 2023.
Perhaps even more alarming, California's overall population has reportedly shrunk by about 500,000 people since 2020, with more than half of the state's 58 counties losing residents according to KTLA. Los Angeles County, the nation's most populous county, saw its population drop by a staggering 90,000 people from July 2021 to July 2022, marking both the largest decline in California and the country. Clearly, this isn't an isolated incident but rather a statewide trend that demands attention and possibly a reevaluation of the affordability and attractiveness of living in California.
As the populations in cities like San Jose and San Francisco decline, growth has surged in southern states like Texas and Florida, where several cities have experienced significant population increases between 2021 and 2022. This shift is especially evident in cities such as Georgetown, Texas – which had the highest population increase for municipalities with over 50,000 residents.
Despite having the largest number of housing units in the country, at around 14.6 million, California lags behind other states like Utah, Idaho, and Texas in the construction of new homes. The growing housing shortage and skyrocketing costs are two of the factors driving people away from the state. Simply put, it has become nearly impossible for many to afford a life in cities like San Jose, which experienced a population peak in 2017 of 1,032,000, before the decline started.
However, there might still be hope for California and cities like San Jose. Russell Hancock, president and CEO of Joint Venture Silicon Valley — a San Jose-based think tank that closely tracks economic and demographic trends in the region — remains optimistic, telling the Mercury News, "I think Silicon Valley is on the cusp of another takeoff with artificial intelligence. In five years, I wouldn't be surprised if we're number 10 again." Still, for this to happen, California and its municipalities must tackle affordability issues head-on to prevent further population decreases.