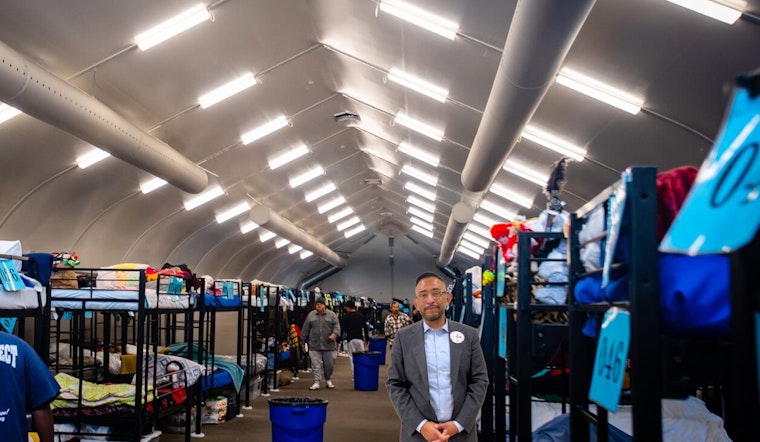 Published on June 03, 2023
In a challenge issued by Sketch Oppie, a formerly homeless resident and current member of San Jose's Housing and Community Development Commission, Councilmember Omar Torres was the only official to announced plans to spend a night at one of the city's quick-build temporary shelters next week, according to San José Spotlight. Oppie's challenge, issued during a recent city council meeting, called on city officials to experience the realities of life in a homeless shelter before voting on a new spending plan that could divert funds from affordable housing initiatives in favor of short-term solutions such as homeless shelters.
The council's upcoming vote on June 13th will determine the allocation of $137 million in Measure E funds, with Mayor Matt Mahan and some councilmembers advocating for a focus on immediate solutions while others, including homeless advocates and housing officials, push for the development of affordable housing as the key to addressing homelessness in the long term via San José Spotlight. However, amid this divisive debate, Torres' decision to accept Oppie's challenge and spend a night in a shelter has brought attention to the need for empathy and understanding in making these decisions, highlighting the importance of recognizing the human side of homelessness.
Omar Torres, who was elected in November of last year, decided to spend the night in a quick-build temporary shelter, declining the option to stay at a congregate shelter, an environment where homeless people sleep on mats in one big open room. Torres explained that his decision was motivated by a desire to gain a deeper understanding of the issues homeless people face in San Jose and foster connections with the community; moreover, as a public representative, he feels it is important to witness and understand the consequences of the policies he approves, even if it means just spending a single night in a shelter, he said via San José Spotlight.
Although only Torres has so far accepted Oppie's challenge, other city officials have expressed their willingness to do so. City Councilmembers Domingo Candelas, Peter Ortiz, David Cohen, and Pam Foley commented that they are open to the idea of an overnight stay in a shelter, while Mayor Matt Mahan added that he plans to stay overnight after the budget process for Measure E is complete, emphasizing his intention to "give residents an inside view of how effective these quick-build communities are at providing people with the stability, privacy, and connection to services they need to turn their lives around."
However, as the city grapples with an ongoing housing crisis, some critics argue that short-term solutions like temporary shelters are insufficient to effectively address homelessness and emphasize the importance of investing in affordable housing. Notably, San Jose has been making progress in implementing innovative solutions such as Quick-Build Communities: the city recently saw a decline of more than 10% in its unsheltered homeless population since 2022 due to a combination of strategies and investments in related programs, illustrating the potential for innovative solutions to make a meaningful impact in reducing homelessness as we reported on Hoodline yesterday.
This progress, however, has not been uniformly distributed across the city: the homeless family population in San Jose has reportedly increased by 122%, highlighting the need for tailored and targeted interventions to help different segments of the homeless population. Nevertheless, San Jose remains committed to implementing innovative strategies to address homelessness, such as the city's largest-ever RV parking site for the homeless in the Berryessa district, which is currently under consideration and awaiting approval in early June.