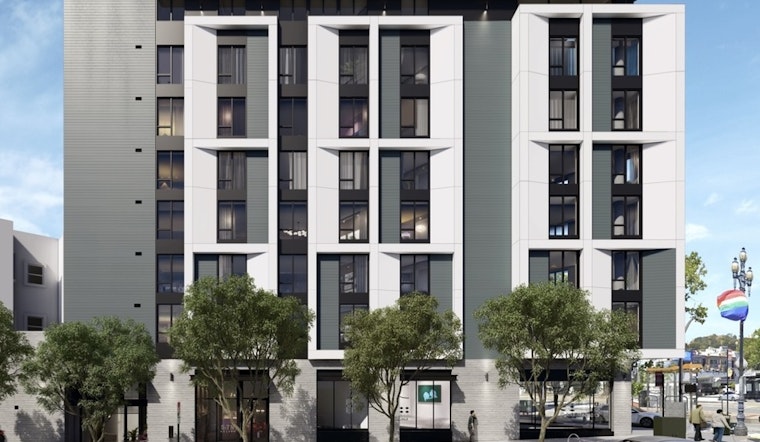 Published on July 17, 2023
Nearly seven years after receiving planning approval, developer Chris Foley has resubmitted plans to build an 8-story, 20-unit condo building at 2201 Market Street (at Sanchez).
According to an application filed July 10, the new proposal includes 13 one-bedroom units, 6 two-bedroom units, and one three-bedroom unit. Three of the units will be affordable while the remaining 17 will be market-rate.
Designed by San Francisco-based RG Architecture, the ground floor will include approximately 2,218 square feet with two commercial spaces. Starbucks has been proposed to fill one of the spaces.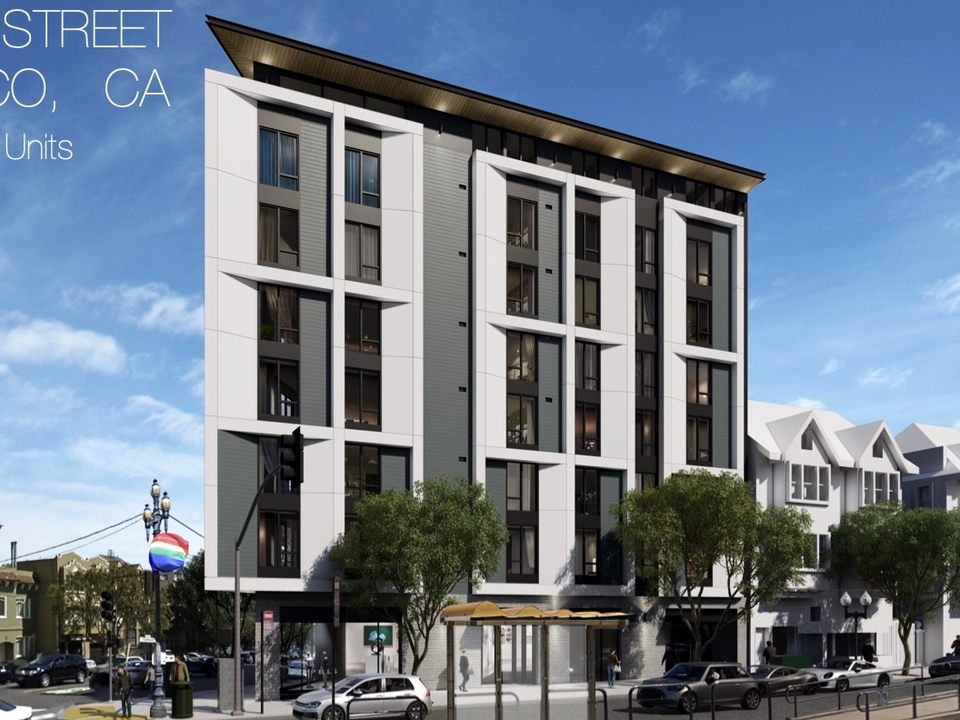 Developer Chris Foley has proposed a new 8-story, 20-unit mixed-use building. | Image RG Architecture
The new proposal no longer includes parking spaces but will include 23 bike parking spots and will use the state's density bonus and will seek waivers for height, unit mix, open space, and rear yard. Construction costs are estimated at $10 million.
Hoodline first reported on the project in 2014. Longtime Castro residents will recall that Starbucks had proposed taking over the corner location in 2012, but those plans were ultimately rejected by SF Planning. Now more than 11 years later Starbucks has again set its sights on the same location.
San Francisco's formula retail rules would require Starbucks to obtain a conditional use permit to operate in the Castro neighborhood — however a new state law may apply to the project and allow the proposed Starbucks to skirt that permitting process.
Hoodline reached out to Starbucks for comment but did not receive a response. It's unclear what this means for the future of the unionized Castro Starbucks store at 4094 18th St.
In November 2016, SF Planning approved the 6-story mixed-use building with 14 market-rate condos and six underground parking spaces after a discretionary review filed by the Duboce Triangle Neighborhood Association (DTNA) was withdrawn. DTNA and the project's developers agreed to a memorandum of understanding on four key issues.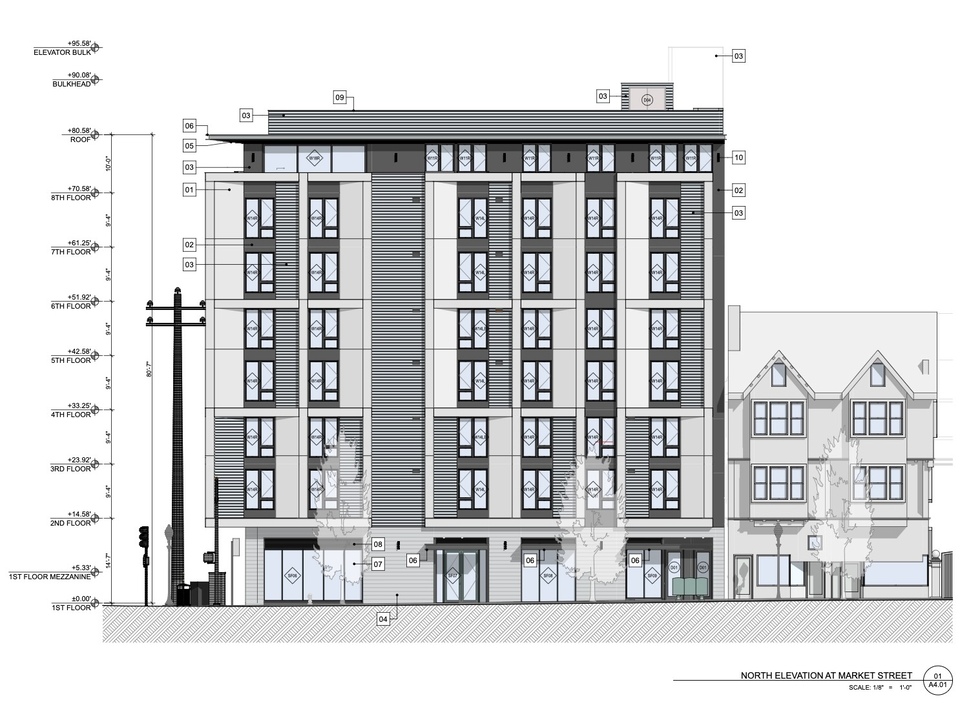 Rendering of the 8-story mixed-use building. | Image: RG Architects
At issue for DTNA was a proposed design that included a corner overhang. DTNA stated in its Discretionary Review application that "an unenclosed corner at ground level would invite tagging, transients, and present a security problem, as it's visually blocking the space."
Foley, a partner at Polaris Pacific and Historic Preservation Commission board member, agreed to enclose the area in question. Foley did not respond to Hoodline's request for comment.
DTNA's second point of contention was with the development's mandated 12 percent below-market-rate housing, which would work out to two of its 14 units if they are built on-site.
DTNA requested that Polaris provide the mandated two units of affordable housing on-site, or at the very least, in the neighborhood. "The number of affordable housing units has disappeared in the neighborhood," said DTNA land use chair Gary Weiss in 2016. "We want those two units on-site."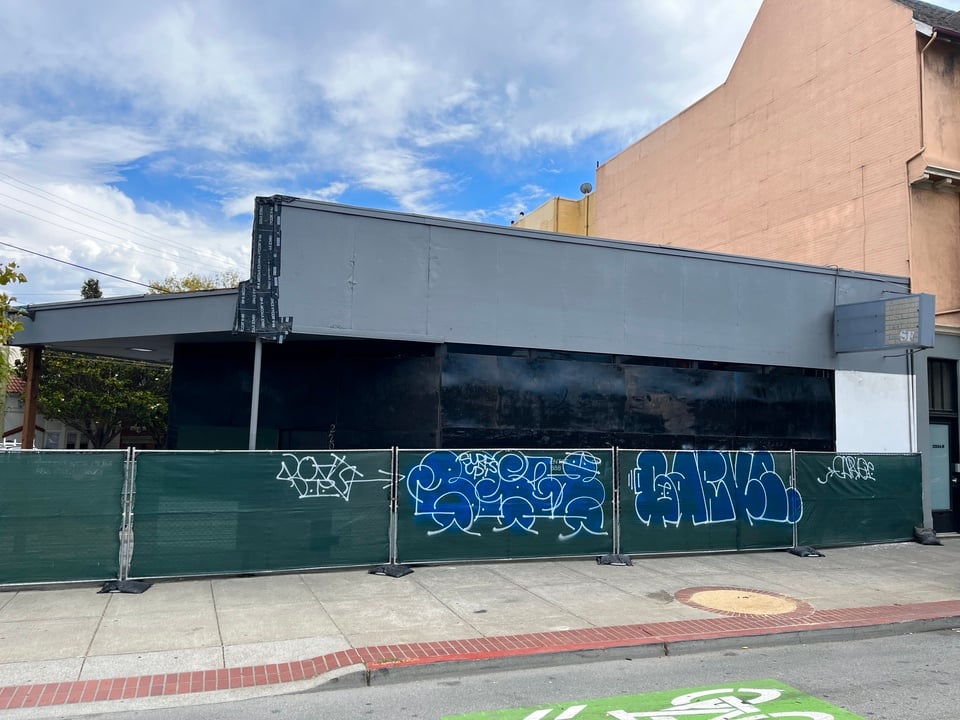 The two-story building at 2201 Market St. will be demolished. | Photo: Steven Bracco/Hoodline
Polaris also agreed to split the large ground-floor commercial space into two smaller spaces to attract businesses. The developer also agreed to allow all tenants access to the roof, unlike previous renderings, which only provided roof access to the building's penthouses.
Last year, it appeared Foley was preparing to demolish the building and begin construction after multiple delays and permit extensions. However work never commenced and the building, once occupied by San Francisco Stereo, has sat vacant and dilapidated.
At the time, SF Planning's Dan Sider told Hoodline that Polaris has paid a $741,358.01 affordable housing fee. "That strongly suggests that the developer is fee-ing out entirely," said Sider. Now it appears Foley has decided to build the affordable units on site.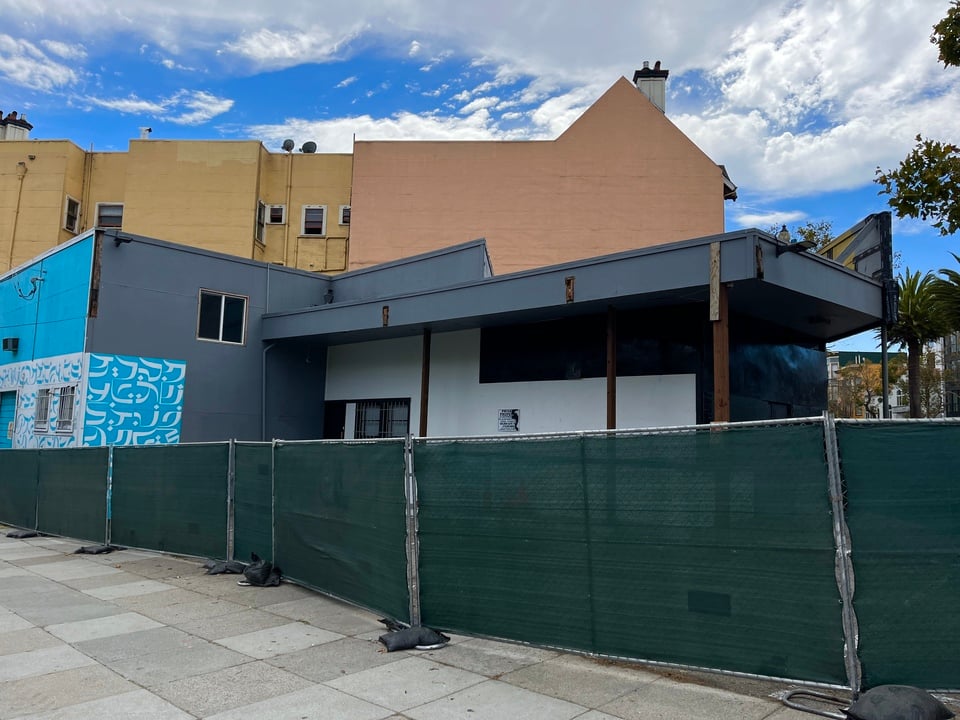 A canopy over the parking area was removed in 2019. | Photo: Steven Bracco/Hoodline
A Chronicle report on the development suggests that Foley waited to resubmit plans until after July 1, when a new state law, AB2011, took effect. AB2011 fast-tracks housing on broad urban corridors like Market Street, exempting projects from environmental review and other delays. The city now has 60 days following the resubmittal to rule on whether AB2011 applies to this project, in which case even the Starbucks might not face the usual conditional-use process.
Current renderings indicate approximately 844 square feet for a rooftop deck accessible to all the building's tenants along with a private 380 square foot deck for the three-bedroom unit on the eighth floor.
A demolition permit was originally approved in October 2014 and construction costs are estimated at $35,000.
Since being issued, the demolition permit has been extended five times for a fee total of $1,386. The permit was set to expire on March 27, 2023. At the time, the notes stated, "This is the final extension."
However public records indicate the permit has been extended for a sixth time until March 21, 2024, for an additional $277.20. The permit is again marked as the "last extension."