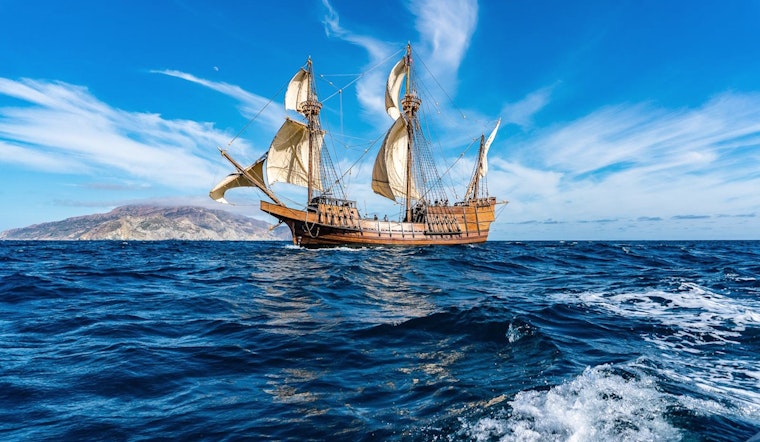 Published on August 08, 2023
The Pacific Heritage Tour is an opportunity for history enthusiasts and explorers to embark on a unique educational and adventure sailing experience through the Pacific Ocean, with the highlight being the chance to set sail on the San Salvador, the stunning replica of a 16th-century galleon, as announced on the Maritime Museum of San Diego's website.
Participants will have the opportunity to learn about Channel Islands archeology, Spanish seafaring history, California's origin story, and the first encounters between peoples and explorers from a group of world-renowned historians and educators. The adventure begins on August 21, 2023, setting sail from Morro Bay to the Northern Channel Islands, and concluding in San Diego on September 1, 2023, after exploring the Southern Channel Islands.
For both novice and experienced sailors, this historic journey will provide hands-on demonstrations and practical experience in sail training, cartography, traditional and celestial navigation, and even sail handling, including knot tying. The program is designed to be as entertaining and educational as possible, with engaging lectures and shipboard activities, led by some of the most respected experts in the field.
Among the distinguished educators setting sail on this voyage is Dr. Jim Cassidy, an archeologist and expert on prehistoric maritime migrations to the Americas. Dr. Cassidy has published numerous articles on North Pacific maritime prehistory and is co-author of California Maritime Archeology. Currently, he serves as an archeologist for the Maritime Museum of San Diego and is also a qualified crew member for the Museum's fleet of historic vessels.
Another expert joining the expedition is Dr. Raymond Ashley, President/CEO of the Maritime Museum of San Diego and Captain of the San Salvador. Dr. Ashley has made significant contributions to the field of Spanish seafaring history, for which he has been knighted by the King of Spain. In addition, he teaches History of Navigation for the Museum's Educational Program and has overseen numerous major projects like the San Salvador.
Susan Sirota, Vice President, Operations for the Maritime Museum of San Diego, will also be on board to share her wealth of knowledge on science, environmental programs, and public outdoor and living history program development. Sirota designed the Pacific Heritage Tour and passenger programming, and will engage and educate guests on island ecology and natural history.
This historic voyage is truly an unparalleled opportunity for passengers to experience California through the eyes of the original explorers who first set foot on its shores, learning about the rich history and numerous facets of our past.
The Pacific Heritage Tour sets sail on August 21, 2023, with prices starting at $2,259 per person, and reservations can be made by calling (619) 234-9153 ext. 129. So, don't miss this chance to embark on a thrilling voyage of exploration and discovery through time and across the Pacific Ocean.