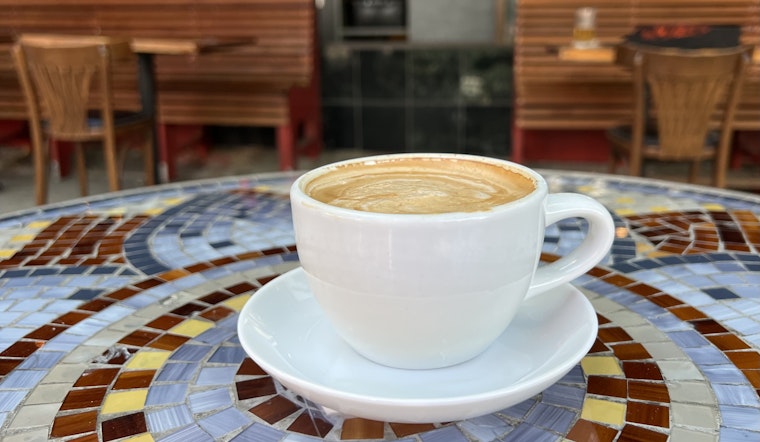 Published on August 21, 2023
There's no shortage of places to grab a drink or a bite in North Beach. But with live music, a relaxed vibe, and the prettiest outdoor setting on Green Street, Belle Cora — which recently marked its eight-year anniversary — is a true neighborhood gem. Every evening, regulars and visitors fill the small bar and restaurant's sidewalk tables or settle in the parklet under shaggy-headed mayten trees. Along with beer, wine, and cocktails, Belle Cora serves tasty casual fare, including rotating seasonal specials.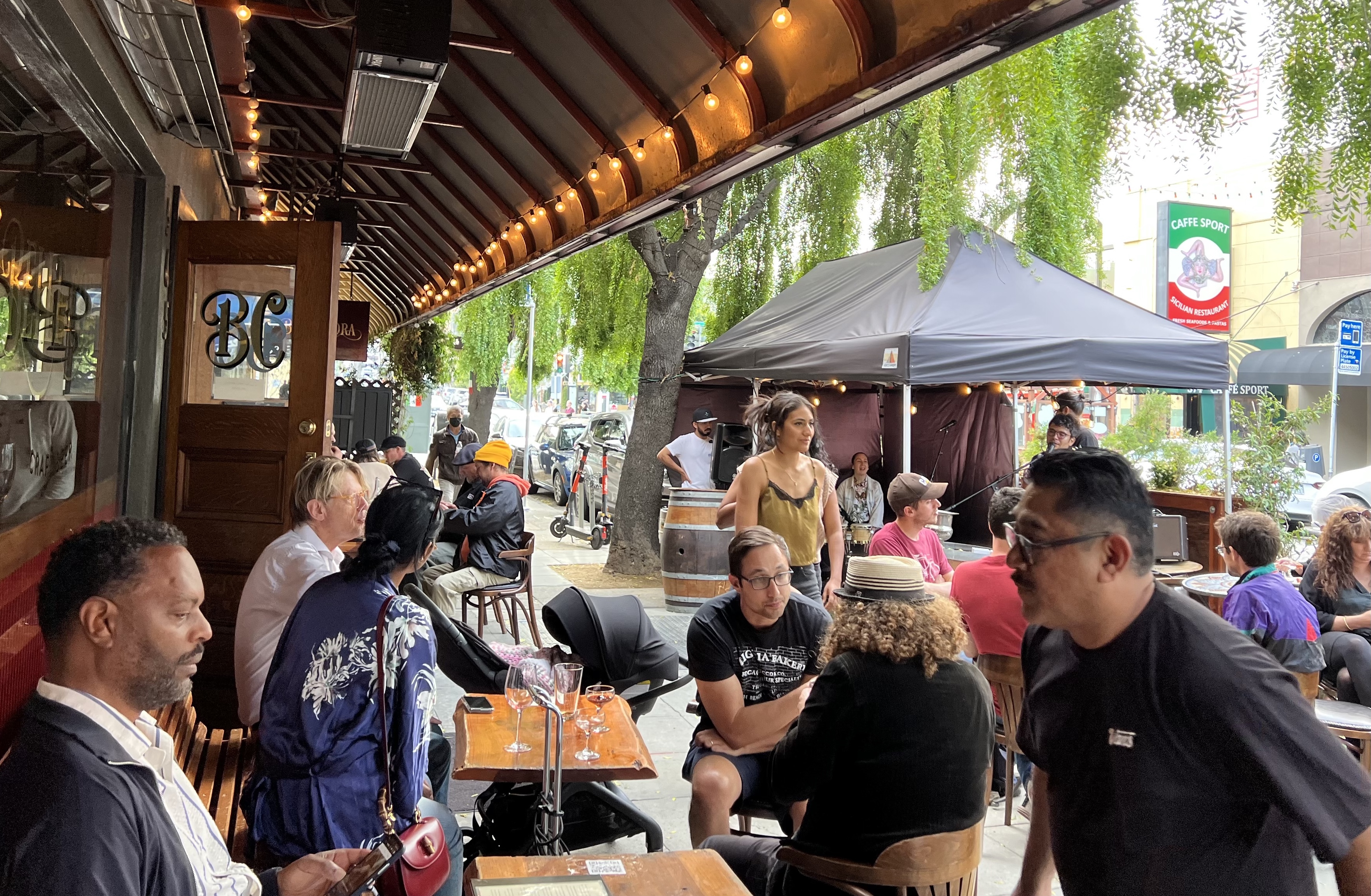 Folks gather at Belle Cora for alfresco drinks, food and live music. | Photo credit: Dorothy O'Donnell
Now, thanks to the addition of David Burbank's Vigilance Coffee pop-up, you can also savor Belle Cora's charms while enjoying your morning caffeine fix. A long-time North Beach resident, Burbank worked as a sacristan at Saints Peter and Paul Church for over 20 years. More recently, he had a part-time gig at Hole in the Wall Coffee. When that ended, someone suggested he open his own coffee shop at Belle Cora.
"I liked the idea and ran with it," says Burbank.
So did Belle Cora co-owner Nils Marthinsen. "Dave's been a good friend for many years and is such a big part of the neighborhood. To have him do a pop-up here was kind of a no-brainer. It's a great idea and this a great place for it."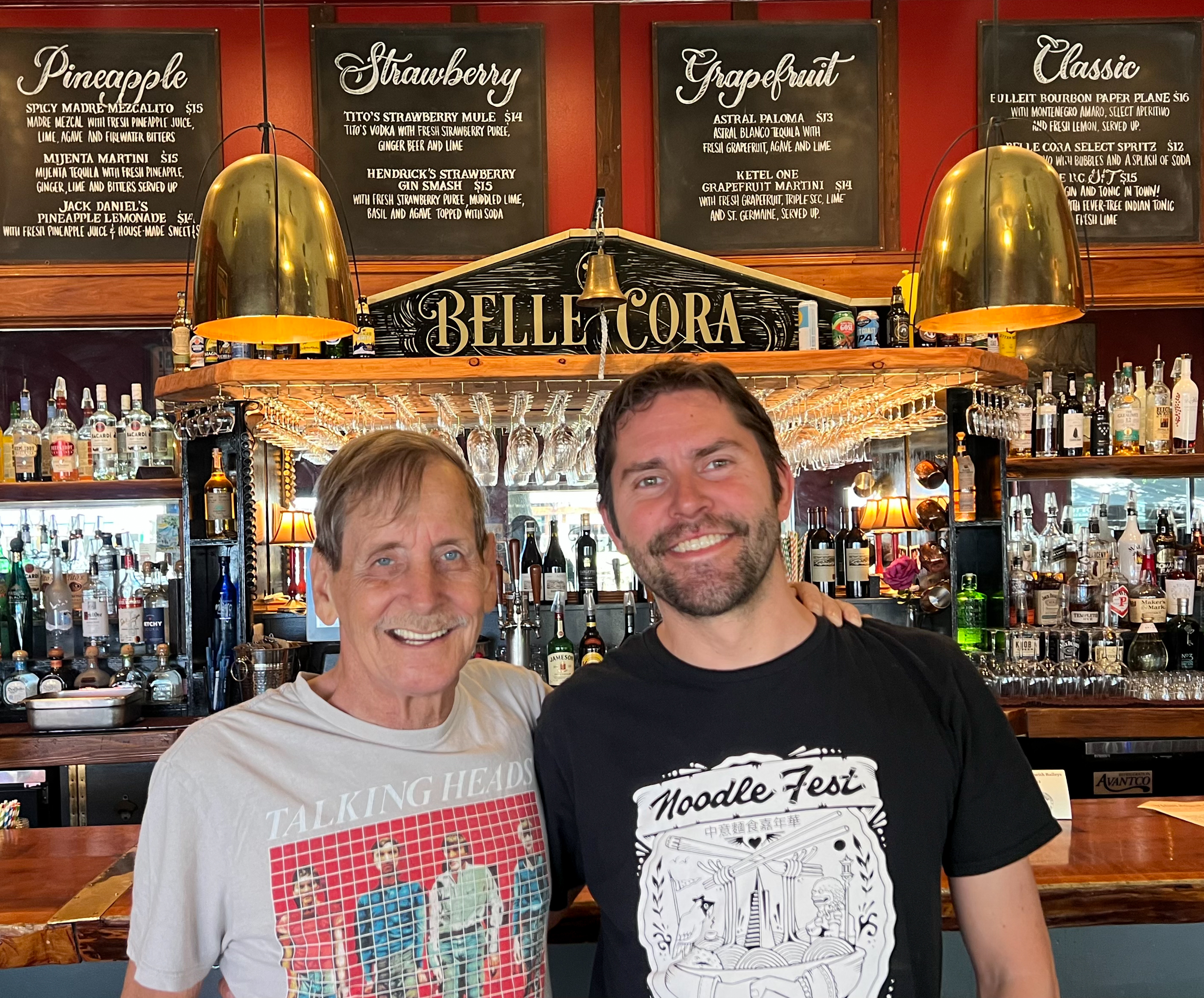 David Burbank, manager of Belle Cora's new Vigilance Coffee pop-up and the restaurant's owner, Nils Marthinsen. | Photo credit: Dorothy O'Donnell
Featuring drip coffee and espresso drinks made with beans from local coffee roaster Graffeo, as well as pastries from My Happy Donut, the pop-up is open Monday through Friday from 8 a.m. to 3 p.m.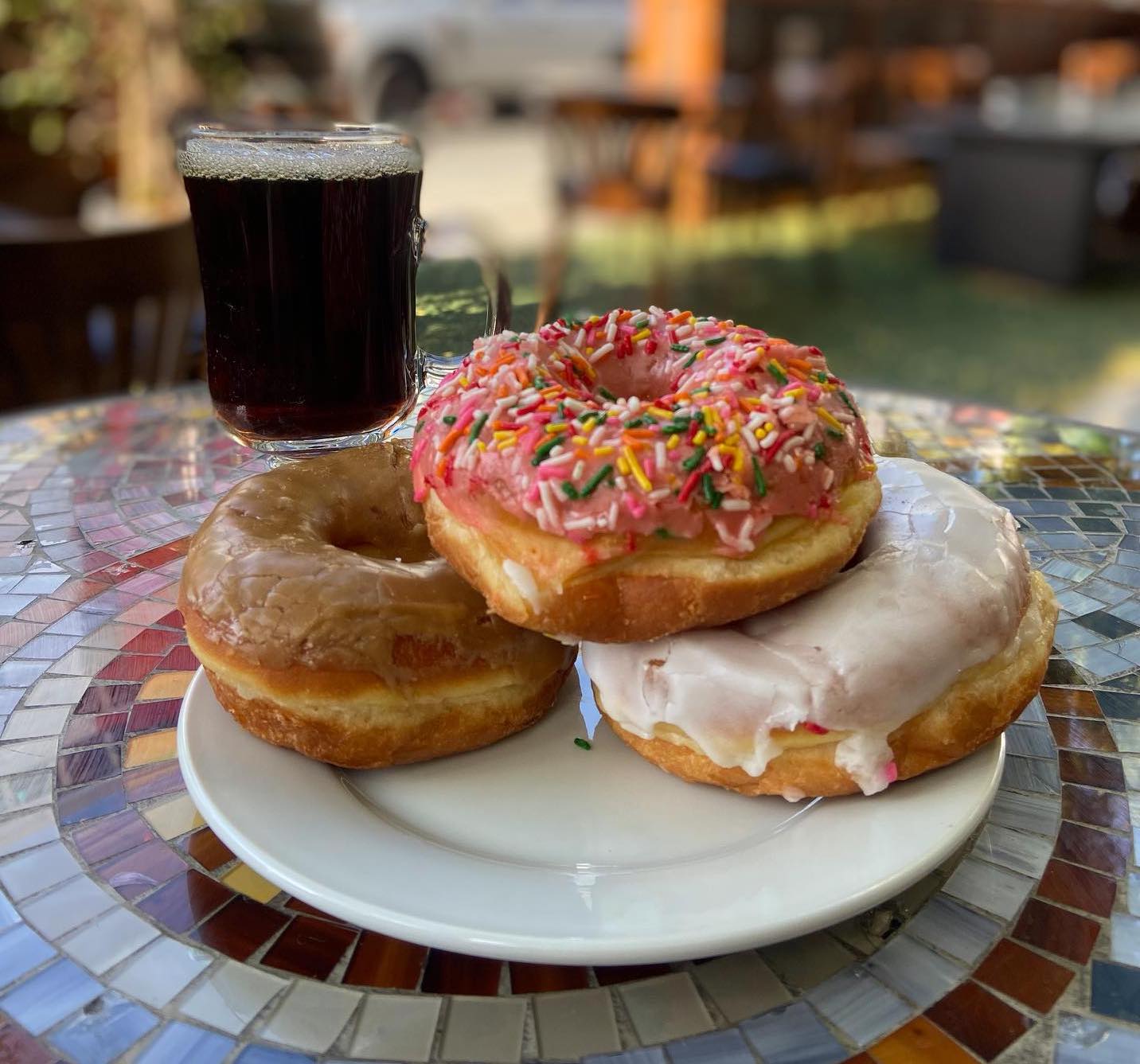 Wake up with coffee and donuts at Vigilance Coffee. | Photo credit: Belle Cora
Belle Cora's namesake ran an upscale brothel in San Francisco during the Gold Rush era. So it's only fitting that Burbank's coffee pop-up is named after San Francisco's Vigilance Committee, a group of citizens who banded together to fight widespread crime in the city and hung her husband, Charles Cora, in 1856. His crime? Shooting and killing William H. Richardson, a U.S. marshal, for insulting his lady. The star-crossed lovers married just before Charles Cora was executed.
"We like to tell people to come have a cup of coffee and hang out with us," Burbank says with a smile.
Vigilance Coffee is just the latest example of Marthinsen's willingness to try new things at his restaurant, an attitude he embraced during the pandemic. In the early days of lockdown, he was sure Belle Cora was doomed. So he started selling half-priced bottles of wine from the restaurant's front window, hoping to recoup some of his investment. To his surprise, the makeshift wine shop was so popular, he had to order more bottles to keep up with demand.
Then local chef Matt Woods approached him about doing a pop-up kitchen at Belle Cora. Marthinsen agreed. He wasn't using the kitchen and figured anything to keep his place afloat — and help out a neighbor at the same time— was worth a shot.
"I was like 'great, pay me whatever you think is fair,' because at that point, we just needed to do whatever we could do to drive business," Marthinsen explains.
Woods' Bergy Burger was a hit. For the past three years, fans voted it Best Burger during 48 Hills' annual Best of the Bay contest.
Marthinsen formed an equally sweet partnership with his neighbor around the corner, Mike Zwiefelhofer, owner of Z. Cioccolato. Zwiefelhofer's online business was going gangbusters during lockdown. But he also wanted to teach chocolate-making classes via zoom and lacked space in his shop turned candy order assembly line. So he asked Marthinsen if he could use Belle Cora's attractive bar for the classes. Marthinsen said yes. Later, as Covid restrictions began to ease, Zwiefelhofer proposed holding in-person classes in the bar that would include wine and chocolate pairings. Again, Marthinsen was happy to oblige.
"Looking back, we should have been doing this for the past eight years — it's brilliant," he notes. "I've lived in North Beach for 12 years, and for about 10 of them, we were in a slow decline. Now we're in a resurgence because we jumped on doing whatever we could to survive the pandemic. I'm so enamored with the community we have here—when someone comes to me with an idea, I always want to say 'let's do it.''
That can-do, community-minded spirit was evident when Marthinsen and his business partner, Teague Kernan — who also owns nearby bar Tupelo — spearheaded early parklet installations in North Beach. After Kernan scored a deal on a large supply of AstroTurf, he not only used it in Belle Cora's parklet, he also provided it to a dozen other bars and restaurants in the neighborhood.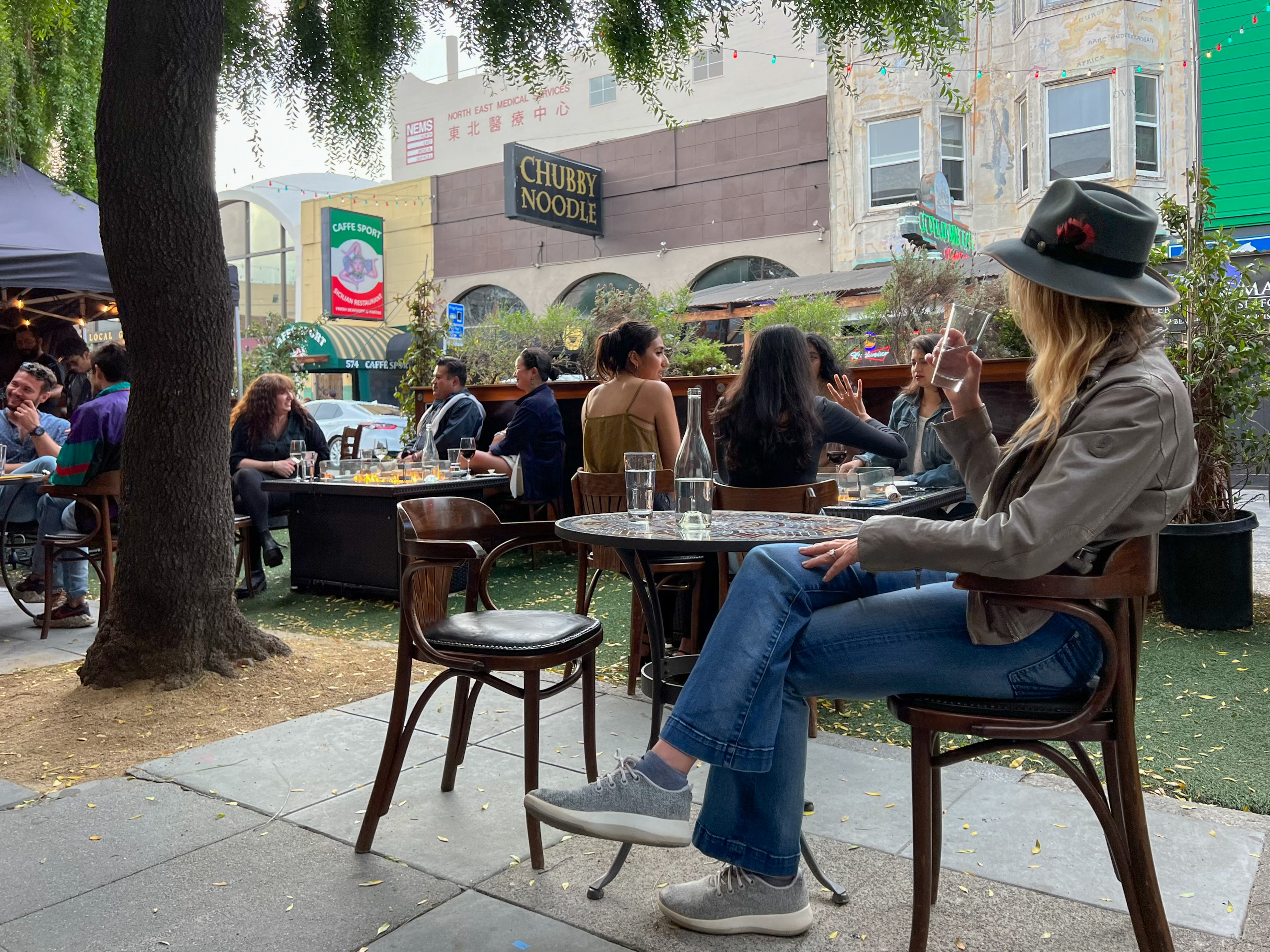 A customer relaxes in Belle Cora's inviting parklet. | Photo credit: Dorothy O'Donnell
With a large parklet, Belle Cora suddenly had the perfect venue for live music. Soon, an eclectic mix of musicians, including Irish fiddler Colm Ó Riain and his band, were helping customers shake off the pandemic blues. Today, live music remains a Belle Cora staple. And on Mondays, Holly Foster and Matt Molina host a fun trivia night made all the more entertaining by their witty, sometimes raunchy, banter.
In addition to welcoming Vigilance Coffee to Belle Cora, Marthinsen also recently secured a liquor license. He stresses that serving hard alcohol won't change the laid-back ambiance Belle Cora's known for — it's just another way to keep customers happy and help boost business.