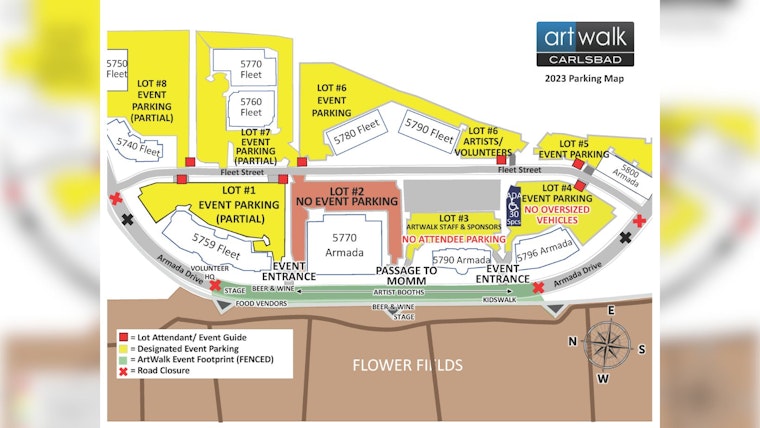 Published on September 08, 2023
On September 9th and 10th, the 4th Annual ArtWalk Carlsbad is set to captivate art enthusiasts with a dazzling display of fine art from talented artists across the US and Mexico. This highly anticipated, free admission event offers breathtaking ocean views while visitors immerse themselves in the enchanting world of art, with every medium showcased from painting, sculpture, glasswork, fine jewelry, to photography and more, according to the ArtWalk Carlsbad website.
Over 150 fine artists will have their masterpieces on display, presenting a unique opportunity for attendees to engage with and purchase pieces directly from the creators. Beyond the visual feast of art, the event also includes interactive activities for families at KidsWalk, offering an engaging experience for future budding artists, and a full palette of musical performances to complement the creative atmosphere.
In addition, to satisfy the culinary cravings of art aficionados, ArtWalk Carlsbad boasts an array of food trucks and food stands, giving visitors an opportunity to spice up their weekend with a variety of delicious options. What's more, attendees can enjoy a leisurely stroll while sipping on a craft beer or fine wine within the fenced event.
Visitors are encouraged to minimize single-use plastics by bringing their own reusable water bottles and staying hydrated at one of the available "water towers" on site.
The enchanting ArtWalk Carlsbad event will be held at Armada Drive, situated above the picturesque Flower Fields, off of Palomar Airport Road. Event hours are 11 am to 6 pm on Saturday, September 9th, and 10 am to 5 pm on Sunday, September 10th. Free parking is available, as indicated by the maps on the ArtWalk Carlsbad website.