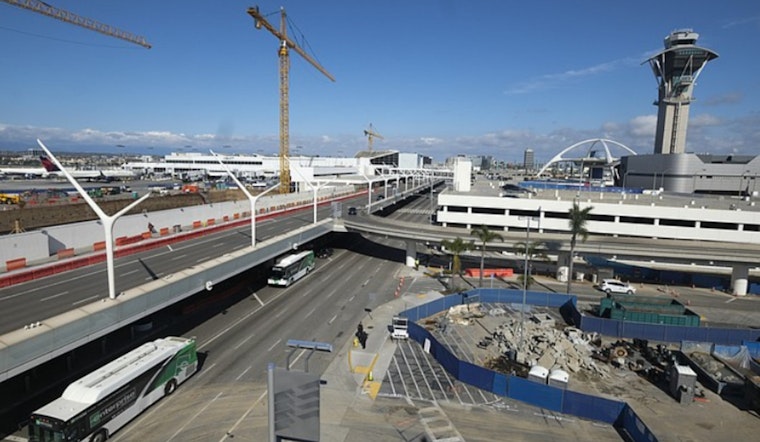 Published on September 22, 2023
Earlier today, Los Angeles World Airports (LAWA) unveiled a new budget parking facility at Los Angeles International Airport (LAX) to offer convenience, affordability, and innovative features to travelers. This latest addition comes as the airport experiences an almost 16% increase in year-over-year passenger traffic, according to Daily News. The move aims to address the needs of the growing number of travelers and improve their parking experience.
Cutting-edge technology is the cornerstone of this new facility. LAX Budget Parking expands on the LAX Economy Parking Facility and boasts contactless entry/exit, shuttle bus tracking, and real-time changes to reservations, as per a statement from Los Angeles World Airports. With rates ranging from $15 to $20 per day and additional discounts available, the new parking facility is an attractive option for budget-conscious travelers. The online booking system at parking.flyLAX.com allows guests to reserve their spaces ahead of time, ensuring a seamless and stress-free experience.
Justice Erbacci, CEO of LAWA, expressed excitement about the opening of LAX Budget Parking, stating that the project was especially significant following the success of the airport's smart parking initiatives. The airport, with the help of its partners at ABM industries, continues to spearhead solutions and set standards for parking facilities across the aviation industry, both in meeting travel demands and providing budget-friendly options.
The new facility, located at 5455 W. 111th Street between Aviation Boulevard and La Cienega Boulevard, occupies the former location of Parking Lot E. It offers 2,600 spaces in addition to the more than 15,000 spaces already available at LAX Official Airport Parking locations, including Economy Parking, Van Nuys FlyAway, and the Central Terminal Area. According to a tweet by LAX Airport, shuttle buses operate every 20 to 30 minutes, transporting guests between the LAX Budget Parking facility and the Central Terminal Area.
LAX Budget Parking is open! The newest parking facility is the most affordable option for travelers. Rates range $15-$20 per day w/discounts available. Shuttles run every 20-30 min. Location: 5455 W 111th St btwn. Aviation Blvd & La Cienega Blvd. Pre-book: https://t.co/ZrrRkipaSa pic.twitter.com/JQjMFyboVY

— LAX Airport (@flyLAXairport) September 22, 2023
Other ongoing initiatives include the forthcoming Automated People Mover train system and Consolidated Rent-A-Car facility, which will further enhance the airport's capacity to cater to ever-increasing demand. As Daily News reported, these development programs aim to deliver a thoroughly revamped and upgraded experience to the public, solidifying LAX's status as a premier global aviation hub.