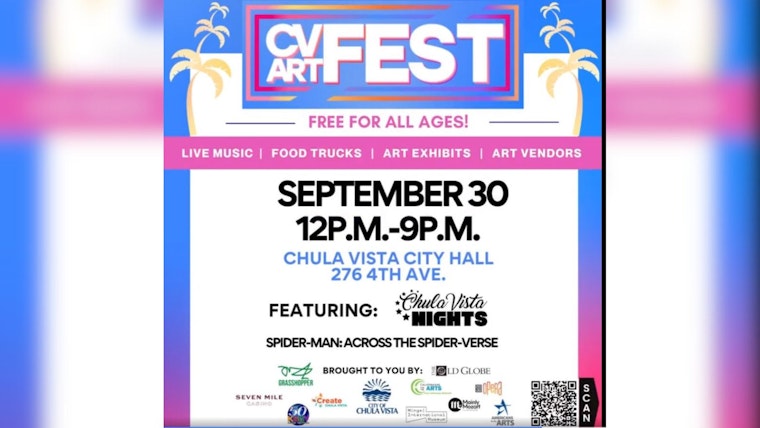 Published on September 15, 2023
Mark your calendars, as the inaugural Chula Vista Art Fest is ready to set the stage ablaze on September 30. This fantastic, free-to-attend event celebrates the rich cultural tapestry of arts within the community, presenting a day of fun-filled activities, live music, and engaging art installations, according to the City of Chula Vista. The festival takes place from 12 to 9 p.m. at Chula Vista City Hall, with over 80 local artists and vendors participating!
With a host of attractions conveniently located at 276 Fourth Avenue, attendees can dive straight into a diverse Arts & Crafts Market, where they can discover and purchase unique pieces from local vendors. Channel their inner art connoisseur through various Art Exhibitions featuring quality paintings, drawings, designs, photography, and prints from talented artists within the Chula Vista and South Bay community.
For those seeking immersive experiences, the Art Fest presents Interactive Art installations that invite you to be part of the creative process. Watch talented artists breathe life into blank canvases in the Live Painting session as you stroll around and explore the festival grounds.
A sensational lineup of Music Performances awaits, with genres ranging from reggae to Latin beats to rock and beyond. And if all that wasn't enough, the much-anticipated Chula Vista Nights movie event is set to provide the grand finale: a screening of "Spider-Man: Across the Spider-Verse" (2023) on the City Hall lawn at 6:30 p.m., presented by Grasshopper.
This celebration of creativity, culture, and community is proudly sponsored by Grasshopper, Seven Mile Casino and KSDY Channel 50, and endorsed by prestigious organizations like Americans for the Arts, Californians for the Arts, Mainly Mozart, Mingei International Museum, San Diego Opera, and The Old Globe.
The City of Chula Vista Government official website provides all the crucial event details and updates. Interested artists and vendors wanting to share their creative prowess can reach out to Erwin Magbanua at [email protected].