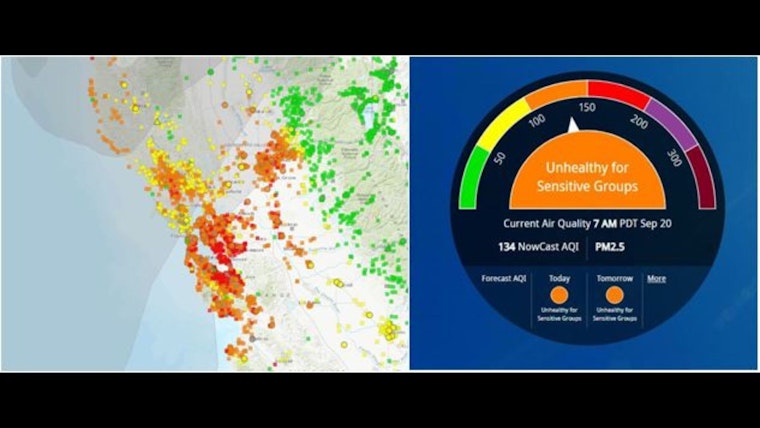 Published on September 21, 2023
Like an insistent reminder of the impact of wildfires on the West Coast, the smoke has once again drifted into the Bay Area, causing air quality to reach unhealthy levels. According to a Mountain View government news post, smoke from fires originating in Oregon and Northwest California has caused hazy skies and a decrease in air quality since Tuesday, Sept. 19.
The Bay Area Air Quality Management District issued an air quality advisory spanning from yesterday, lasting to this day. Upon closer examination, it appears the smoke is expected to adversely affect air quality, with pollutant levels reaching high to moderate rankings on the United States Environmental Protection Agency Index. However, the 24-hour health standard is not anticipated to be surpassed. In response to these burgeoning issues, a Spare the Air Alert has been put in effect yesterday until today with the federal website managed by the EPA, AirNow.gov, recording an Air Quality Index of 134 in Mountain View at the time of writing.
Meanwhile, San Francisco, Oakland, San Jose, and their surroundings face similar issues as the air quality in these locations is degraded and deemed "Unhealthy for Sensitive Groups." Hoodline reports that PM2.5 particle pollution—small particles that carry risks to the heart and lungs—is identified as the primary pollutant in these areas. The residents of San Francisco have reported concerns regarding visibility and the lingering smell of smoke, leading experts to advise restricting outdoor activities, keeping windows closed, and using cooling centers if necessary, especially for individuals with underlying health conditions, elderly, people with heart or lung diseases, and children.
While there has been a positive trend in San Francisco's air quality over the past three decades, mostly attributed to regulatory actions and the adoption of sustainable energy sources, wildfires continue to pose a threat to air quality and public health for the time being.
The smoke's impact on air quality has various health implications for the city's residents. The potential health risks associated with air pollution exposure, including increased likelihood of lung cancer, respiratory ailments such as asthma and chronic obstructive pulmonary disease (COPD), and negative developmental effects on children and unborn babies. Furthermore, pregnant women exposed to poor air quality may face elevated risks of miscarriage, low birth weight infants, and childbirth complications.
As a result of these hazards, health professionals and city authorities have issued guidance urging residents to take necessary precautions to protect themselves. Recommendations include using high-quality masks, moderating outdoor activities during wildfire season, and regularly monitoring pollution levels and forecasts.