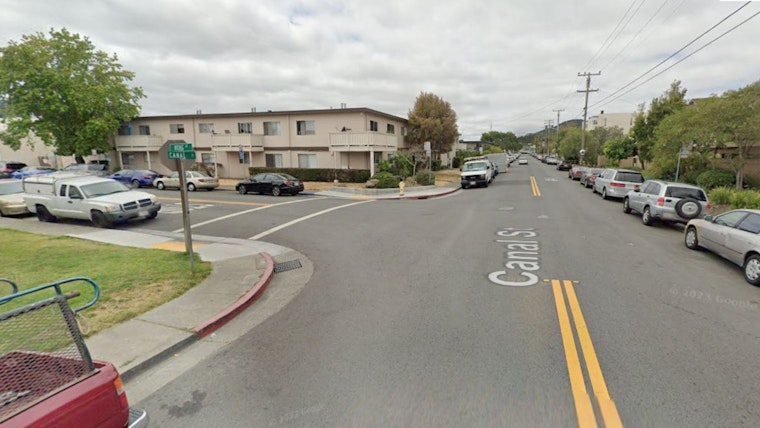 Published on September 17, 2023
Yesterday early morning, the San Rafael Police Department (SRPD) and Fire Department rushed to respond to a distressing 9-1-1 call. A solo-vehicle car crash had occurred, with the vehicle tragically careening into the Canal waterway, resulting in the shocking deaths of the two occupants trapped inside.
According to the SRPD report, the 9-1-1 call arrived shortly after 7:00 AM, with the witness detailing that a vehicle had entered the Canal waterway at the end of Canal Street in the 500 block. Racing to the scene, San Rafael Police and Fire personnel discovered skid marks in the gravel and a submerged vehicle in the water.
SRPD INVESTIGATING SOLO-VEHICLE DOUBLE FATAL CAR CRASH INTO CANAL WATERWAY:

On 09/16/2023, the San Rafael Police and Fire Departments responded to a solo-vehicle car crash that went into the Canal waterway. Tragically, the two trapped occupants in the vehicle were killed. The… pic.twitter.com/HxNzM51KQX

— San Rafael Police Department (@SanRafaelPolice) September 17, 2023
The Southern Marin Fire Department Dive Team, SRPD's rescue boat, and various emergency services swiftly worked to recover the submerged vehicle and its occupants. However, the necessary life-saving measures attempted by paramedics tragically failed to revive the two victims. The SRPD's Major Accident Investigations Team (MAIT) and the Marin County Sheriff's Dive Team initiated a thorough investigation into the incident, determined to uncover the deeply-rooted causes of this tragedy.
By analyzing surveillance footage and witness accounts, investigators pieced together a chilling reconstruction of events. As reported by the SRPD, a witness saw the vehicle traveling at a staggering 70 MPH on Canal Street before the incident occurred, with the sound of a splash echoing through the air moments later.
The SRPD disclosed that, during preliminary investigations, there is a strong belief that alcohol may have played a decisive role in the heartbreaking turn of events. As part of their continued efforts to unravel the tangled web of cause and effect, the SRPD is working in collaboration with the Marin County Coroner's Office to obtain toxicology reports for both victims. The identities of the deceased will also be released by the Marin County Coroner's Office in due course, to respect the dignity of the families affected by this immense tragedy.
The SRPD has expressed its profound condolences, committed to conducting a thorough and diligent investigation to shed light on the true nature of this calamity and bring solace to those affected by its repercussions.