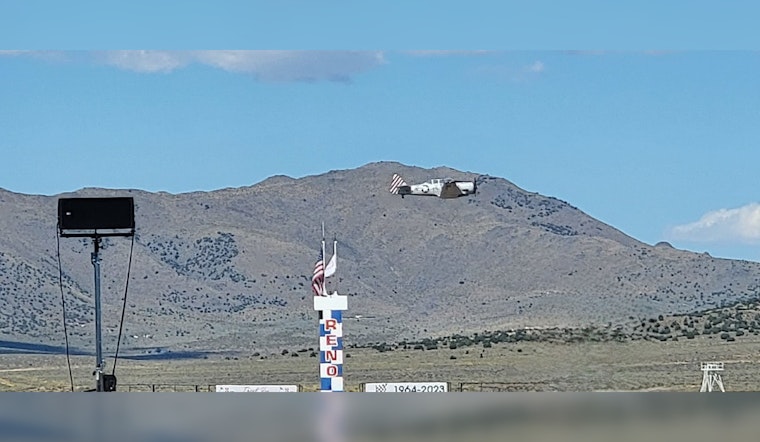 Published on September 18, 2023
Yesterday, around 2:15pm, two accomplished pilots lost their lives in a collision at the National Championship Air Races in Reno, Nevada. The accident occured at the end of the T-6 Gold race, a highly competitive event that showcases the expertise and prowess of some of the best pilots in the air racing community. According to KTLA, both pilots were confirmed dead after their planes collided upon landing.
Those who perished in the incident were identified as Chris Rushing, who flew out of Van Nuys Airport, and Nick Macy, based out of Siskiyou County in Northern California. As reported by the Yahoo News, both pilots were considered expertly skilled and had previously won Gold in their respective T-6 class races. Macy piloted "Six-Cat," while Rushing flew "Baron's Revenge." The T-6 planes used in these races are single-engine propeller aircraft commonly used for military training purposes by the United States Air Force and Navy, as stated in a CBS News article.
The Reno Air Racing Association (RARA) announced the tragic news of the pilots' deaths via a statement posted on X, formerly known as Twitter. KTLA reported that no civilian injuries were caused by the collision, and the families of both Rushing and Macy had been notified of their untimely passing. In the wake of the accident, all racing operations at the National Championship Air Races were suspended.
It is with great sorrow that the Reno Air Racing Association (RARA) announces that around 2:15 p.m. this afternoon, at the conclusion of the T-6 Gold race, upon landing, two planes collided and it has been confirmed that both pilots are deceased. (1/-)

— Reno Air Racing Association (@RenoAirRaces) September 17, 2023
RARA Chairman and T-6 Class President, Fred Telling, expressed his grief over the tragedy, stating, "I am completely heartbroken. These two pilots weren't just an integral part of the National Championship Air Race family, they were a part of my family. My heart goes out to their own families and to all of the spectators and fans who have so enthusiastically supported us this week." His statement was quoted in both Yahoo News and CBS News articles.