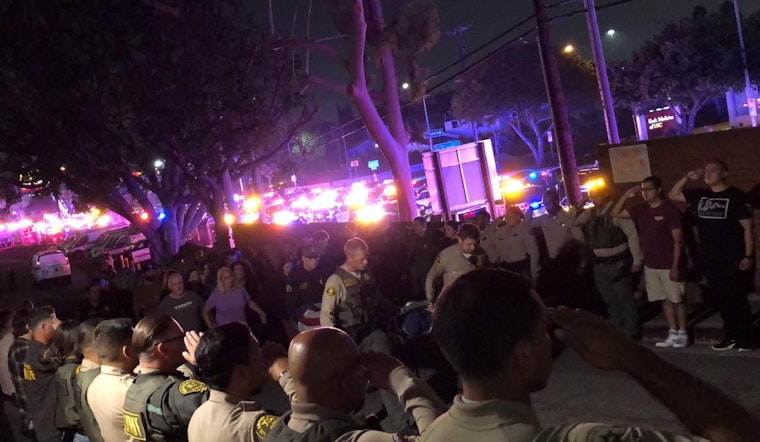 Published on September 18, 2023
A person of interest in the cold-blooded murder of Los Angeles County Sheriff's Deputy Ryan Clinkunbroomer was confronted and apprehended today. The alleged assailant was taken into custody after a standoff that lasted several hours, according to KTLA.
A "Person of Interest" has been detained in the murder of Deputy Ryan Clinkunbroomer⁰⁰A news conference will be held at approximately 1030 AM. visit LASD's Facebook, LASD YouTube and LASDHQ Instagram to watch it LIVE pic.twitter.com/sjS1aaZe6c

— LA County Sheriffs (@LASDHQ) September 18, 2023
As Hoodline Los Angeles reported over the weekend, Deputy Clinkunbroomer, only 30 years old, had been patrolling the streets of the Palmdale area when he parked his squad car near the Palmdale Sheriff's Station. A dark gray Toyota Corolla pulled up behind him at the red light. The car later pulled along side Deputy Clinkunbroomer and proceeded to shoot him. He was pronounced dead shortly thereafter.
An outpouring of tributes and support has continued to flow for Deputy Clinkunbroomer, who was recently engaged and had served as a training officer for the Los Angeles County Sheriff's Department. Approximately 1,000 people gathered at the sheriff's station to hold a vigil, and bumper stickers memorializing him have been distributed, as reported by KTLA.
I want to let to our community know Deputy Clinkunbroomer left his family tonight to serve our community. He laid everything on the line to serve us. He wore a uniform just like other @LASDHQ deputies wear, driving in a police car, and he was senselessly murdered tonight. pic.twitter.com/Jqc2sSB63c

— Robert Luna (@LACoSheriff) September 17, 2023
This tragedy has drawn fraught comparisons to similar incidents that have previously occurred within the ranks of law enforcement professionals. Not to forget the two Los Angeles County sheriff's deputies who were shot multiple times in 2022 while sitting in their parked patrol car in Compton, sustainedly suffering severe injuries. As mentioned in the Hoodline LA, those suspects were apprehended.