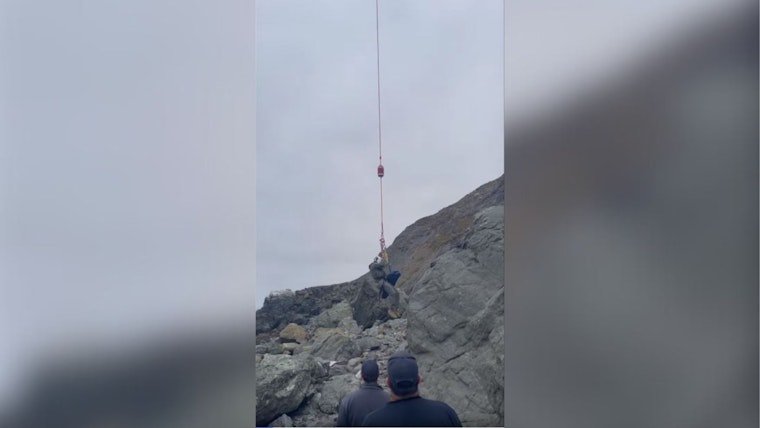 Published on September 17, 2023
On September 15, Henry-1, the office's helicopter unit, received a request from the San Mateo North County Fire Authority and the Pacifica Police Department for assistance in recovering a body. The recovery site, situated in the rugged and rocky Aramai Point near the ocean, presented certain challenges for fire and police personnel who had already accessed the area. The immensely arduous terrain combined with wet rocks during low tide, thus increasing the risk of injury for personnel attempting to carry out the body, according to a Facebook post by the Sonoma County Sheriff's Office.
However, what they hadn't expected to find was an additional tragedy while enroute. While Henry-1 made its way towards Aramai Point, the Marin County Communications Center, which provides dispatch services for both law and fire agencies within Marin County, started relaying the report of a water rescue at the Golden Gate Bridge. It was reported that a subject had jumped from the bridge and was last seen in the water just minutes prior to the dispatch call.
Within a mere 30 seconds, Henry-1's crew located the subject in the water. The person appeared to be unconscious, and the forceful outgoing tide was pulling them out of the bay towards the ocean. Hovering above the subject, Henry-1 coordinated with a nearby Coast Guard Motor Life Boat and guided them to the individual's location. Unfortunately, the subject ultimately succumbed to their injuries and was pronounced deceased. The Marin County Sheriff's Office Coroner's Division is currently investigating the incident.
Undeterred by this sudden turn of events, Henry-1 continued to focus on their initial mission and proceeded onward to Pacifica. Once there, they strategically landed to better configure the helicopter for a 100-foot longline body recovery. The Tactical Flight Officer (TFO) was flown to the location of the body, where it was packaged into a traverse rescue stretcher. With care and precision, the TFO and the body were flown to a nearby parking lot, and custody of the body was then transferred to the San Mateo County Coroner's Office.