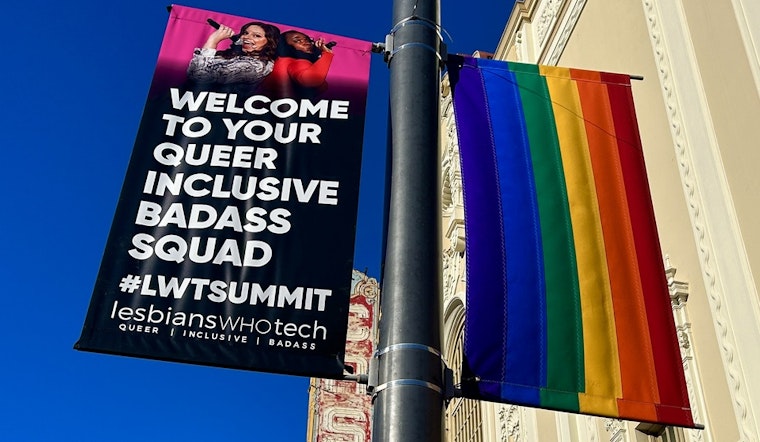 Published on October 18, 2023
The 10th Annual Lesbians Who Tech & Allies Summit (LWT) kicks off Wednesday in the Castro, and as of Monday night, two blocks of Castro Street were fully blocked off for the event.
Event organizers anticipate approximately 15,000 attendees for the three-day in-person and virtual event — 2,500 to 3,000 attendees are expected in person.
After two years of virtual summits due to the Covid-19 pandemic, the event returned to in-person last year.
Crews have been out since early Monday morning setting up tents, booths, and stages along Castro Street. LWT is utilizing the same footprint for the event as last year.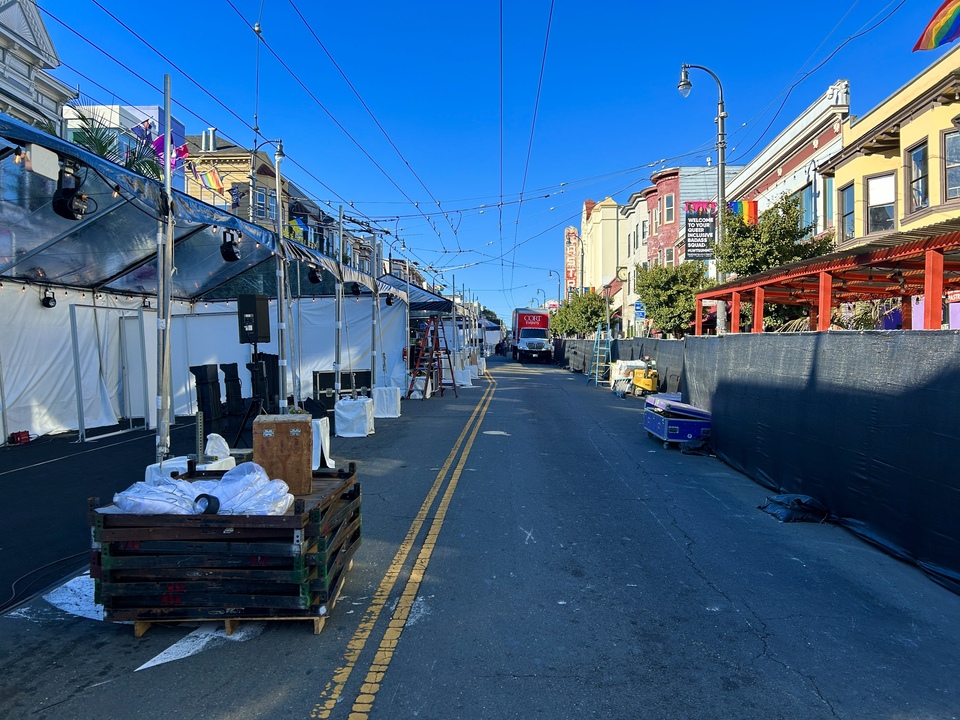 LWT event staff setting up booths along Castro St. | Photo: Steven Bracco/Hoodline
Castro Street will remain closed between Market and 19th streets through 9:30 a.m. Saturday, October 21. The two neighborhood public parking lots along Castro and 18th streets will remain closed as well.
"Lesbians Who Tech & Allies is the largest LGBTQ professional community in the world — committed to visibility, intersectionality, and changing the face of technology and most importantly, the only organization that centers on LGBTQ Women, Women of color, and Non-binary leaders," LWT states on its website.
The event was founded by LWT CEO Leanne Pittsford. Pittsford did not respond to Hoodline's request for comment.
"We are closing down the streets and building an entire indoor and outdoor experience, picture festival vibes," explained LWT.
Keynote speakers who will take the stage for this year's event at the Castro Theatre include actress Jennifer Beals, author Chasten Buttigieg, WNBA player Layshia Clarendon, artist and activist Madame Gandhi, co-founder of the Black Lives Matter movement Alicia Garza, Uber CEO Dara Khosrowshahi, LinkedIn CEO Ryan Roslansky, journalist Kara Swisher, and writer and artist Alok Vaid-Menon.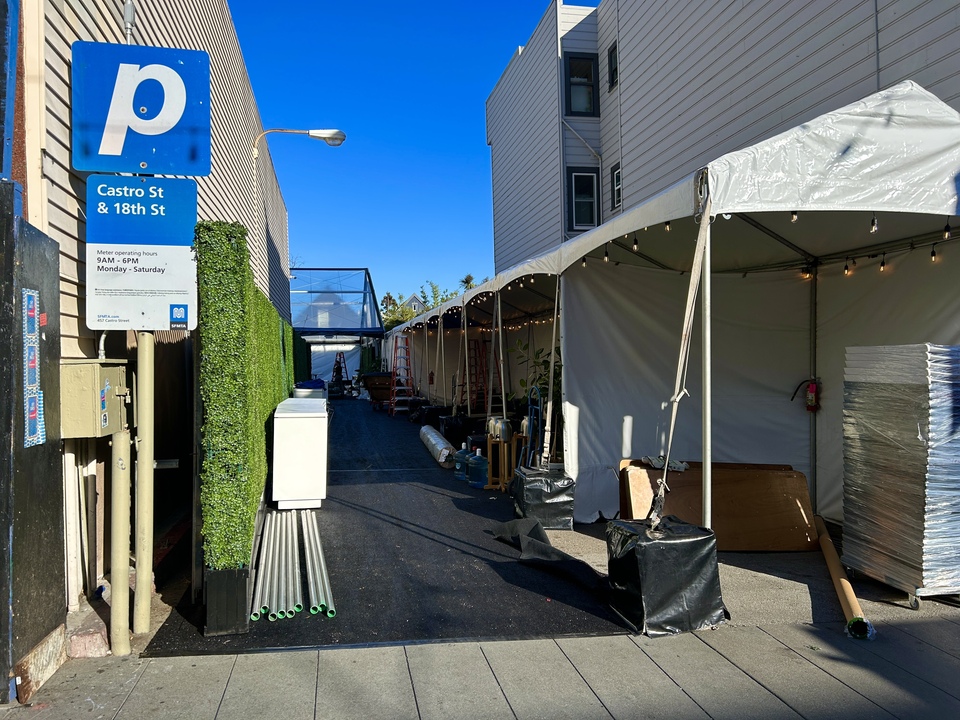 Public parking lots on Castro and 18th streets are closed for the event. | Photo: Steven Bracco/Hoodline
LWT is priced at $829 for general admission and $1,299 for VIP. Virtual attendees are free.
Muni lines in the area including the 24-Divisadero and 35-Eureka will be rerouted. The 33-Ashbury/18th St. will continue to run but delays are expected due to crowds passing across 18th Street.
After last year's event, neighborhood merchants raised concerns about disruptions caused by the week-long street closure. LWT hired Chicago-based production director Bryan Biello who committed to improving delivery drop-off and pick-up access for merchants along with addressing a host of other concerns.
However, four weeks before the event Biello parted ways with LWT. Biello did not respond to Hoodline's request for comment.
Three weeks ago, LWT hired event producer and former Entertainment Commissioner Audrey Joseph.
"I did six months of work in three weeks," said Joseph. "We got it done — there was a lot that wasn't done."
"They dropped the ball," added Joseph about the previous production team.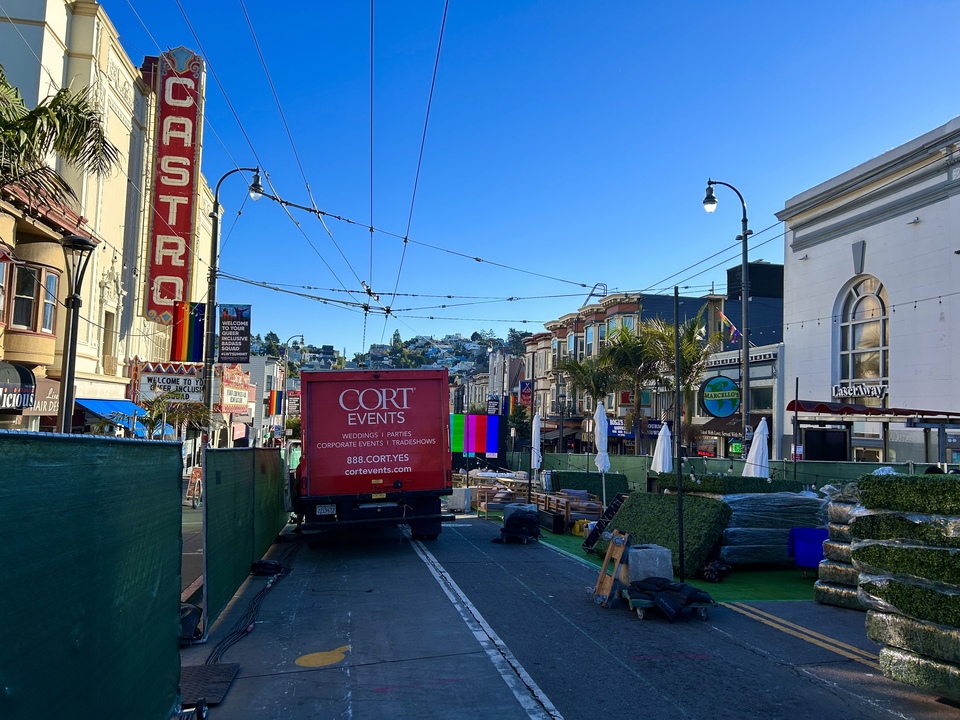 Fencing around the event has been installed. | Photo: Steven Bracco/Hoodline
Joseph believes the previous production team was likely overwhelmed by the city's ordinances, protocols, permits, and approval process. "It's a very complicated event," said Joseph.
"I have no idea what anyone else did before me," explained Joseph. "I tried to help the merchants the best I could."
Joseph, who now lives in Southern California, tells Hoodline that LWT obtained all of its permits during the SFMTA's July Interdepartmental Staff Committee on Traffic and Transportation (ISCOTT) hearing, and the time to request modifications was then.
One improvement that neighborhood merchants were hoping to see was the fencing around the event. Many merchants shared that the opaque green mesh fencing made the event feel isolated and cut off from the rest of the neighborhood.
However, Joseph explained that the same fencing would be used for this year's event.
"I am concerned that the organizers of Lesbians Who Tech did not take the concerns of the community seriously after last year's event," Castro Merchants president and Cliff's Variety co-owner Terry Asten Bennett told Hoodline. "There was a lot of talk but so far it does not appear that resulted in improvements."
"I remain hopeful that this event will draw foot traffic and business to the community," added Asten Bennett.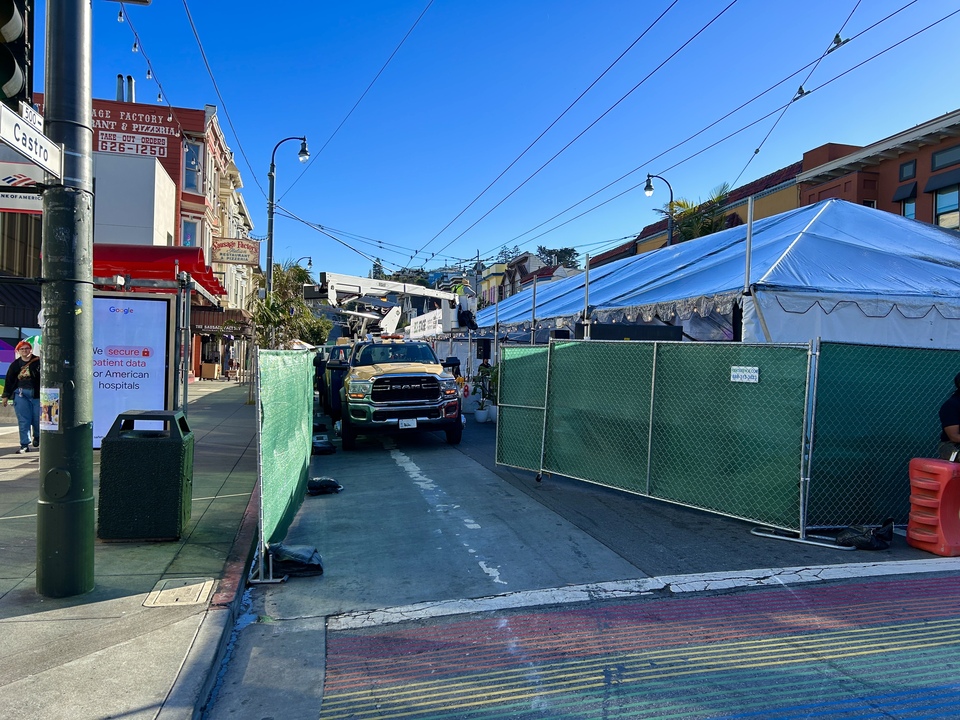 Castro St. will reopen on Saturday. | Photo: Steven Bracco/Hoodline
Patrick Batt, owner of gay memorabilia store AutoErotica, tells Hoodline "I decided the best option for me was to close for the 5 days the Castro was to be held hostage."
"In late August or early September it became obvious to me that LWT had no intention of really engaging with the community about their event," said Batt. "There was and had been radio silence regarding their plans and how it might affect the Castro, either for the good or the bad."
"Rather than stress about the potential loss of business or the need to explain to my customers why there was no parking available I chose to close Auto Erotica and take my first vacation in 13 years," added Batt. "This event has clearly grown too large for the Castro to accommodate and LWT has not been a good partner or a benefit to the Castro for some time."
When asked why it was important to keep LWT in the Castro despite the concerns Joseph explained, "This is an event for lesbians in San Francisco — it's one of the few events for lesbians. Lesbians Who Tech needs to be in the gay neighborhood."
"Women, and lesbians in particular, are often displaced," added Joseph. "It's not just in San Francisco, it's everywhere."