"We buy gay stuff," reads a sign at the base of the stairs leading up to Auto Erotica (4077A 18th St.) — which celebrated 25 years in the Castro this month.
Owner Patrick Batt has been buying and selling gay-themed memorabilia at this location since November 16, 1996.
"I like the gay history aspect of it," said Batt. "I take comfort in the fact that I chanced on this whole little niche market that needs to be kept alive."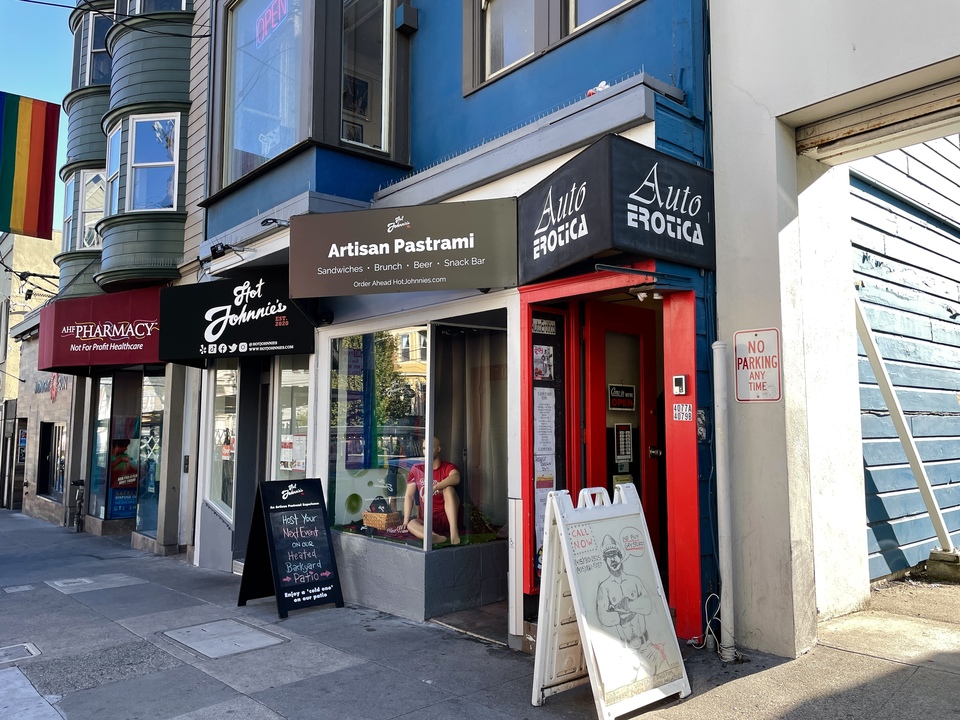 A sign in front of Auto Erotica reads "we buy gay stuff." | Photo: Steven Bracco/Hoodline
Prior to opening Auto Erotica, Batt says tells Hoodline he was the first manager of SoMA bar The Eagle Tavern (now SF Eagle) when it opened in April 1981, and he also worked for Mercury Mail Order across the street behind what is now Up Hair (4084 18th St).
When Auto Erotica first opened in 1996, it was your typical adult store selling items like condoms, lube, and adult toys.
"When I first opened the store there weren't five adult toy stores in the neighborhood," said Batt. "All of a sudden there were five and I had to figure out how to survive because you can only buy so many dildos."
Batt said he decided to sell a bunch of magazine back issues and art on the walls, which attracted a lot of attention.
"Ultimately I morphed into replacing all the sex toys, lubes, condoms, and leather goods with stuff that is historically important," Batt says, adding, "that decision ironically changed everything."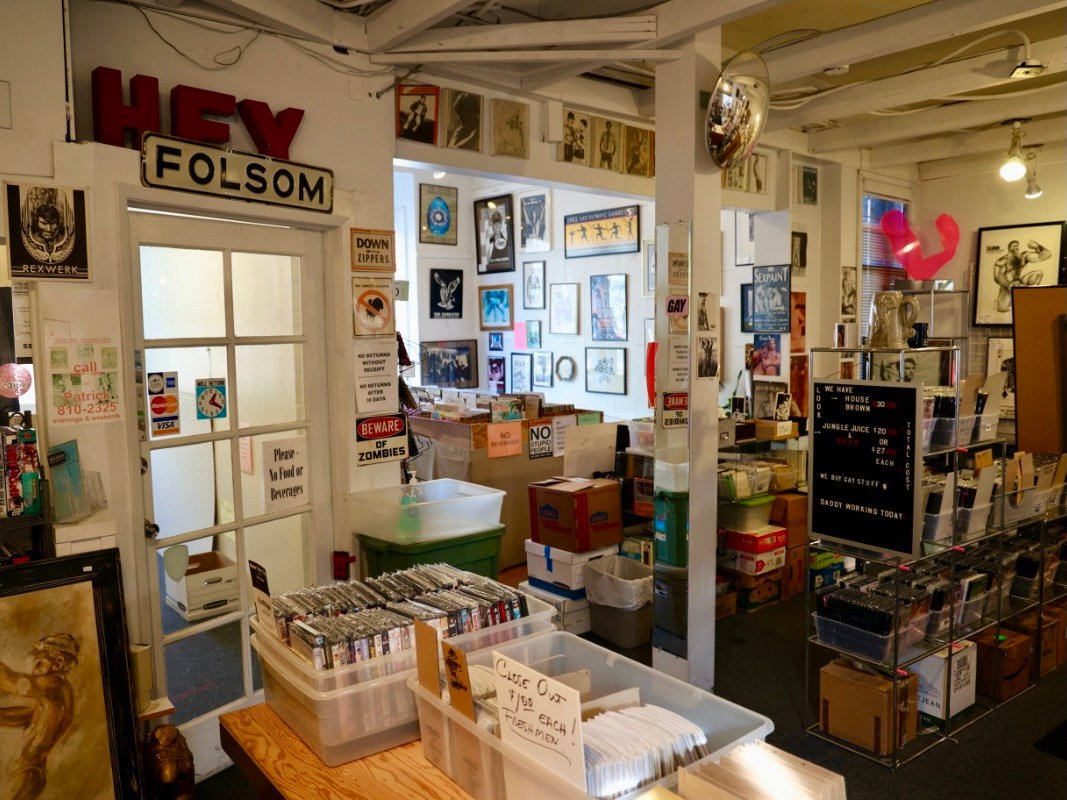 Photo: Bradley Roberge/Auto Erotica
Now, Auto Erotica may be one of the last places of its kind in the Bay Area selling vintage and collectible gay porn and erotica — often obtained from personal collections. Books, DVDs, magazines, posters, artwork, buttons/pins, and other ephemera are just some of the items available to collectors and shoppers.
While people can shop online for adult toys and lube just about anywhere, Batt said customers like to see the magazines in person. "They want to see it, they want to touch it," said Batt. "Especially younger people."
The past 20 months of the pandemic have been a struggle for Batt, but at no point did he ever consider closing the store.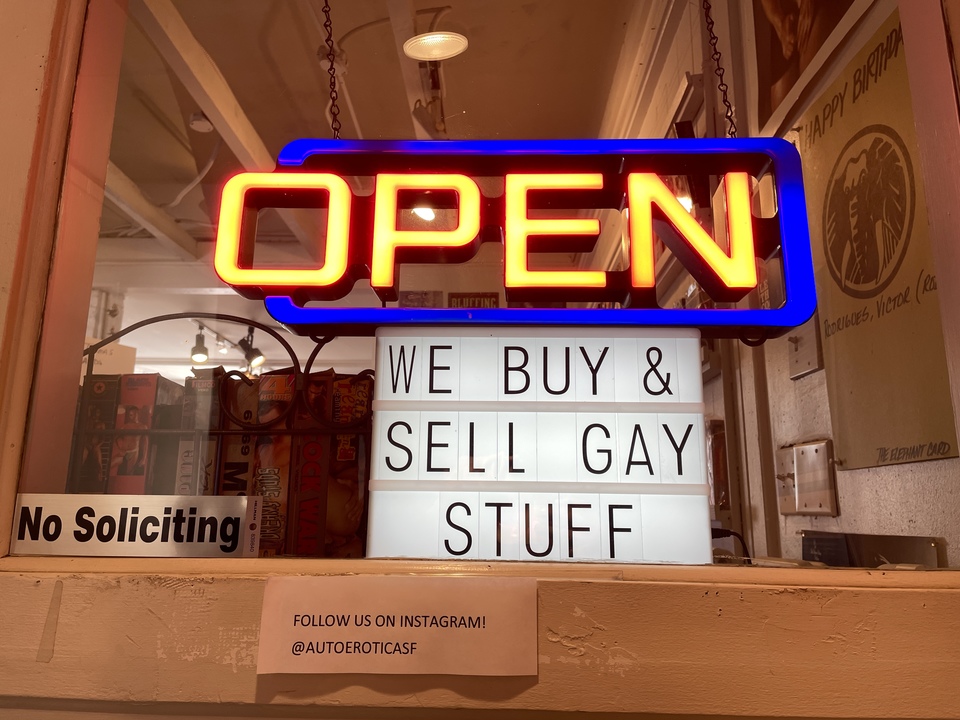 Photo: Steven Bracco/Hoodline
"As long as people walk in the door with boxes of things," said Batt. "It's important that stuff goes to collectors and people who want it."
As Hoodline previously reported, in order to help support the store he started a GoFundMe earlier this year with the help of Bradley Roberge. Initially, Batt said he didn't want to do it because "it's like begging." However, he was convinced by Roberge to give it a shot.
Auto Erotica set a modest fundraising goal of $16,275 to help cover costs like rent, a pre-pandemic advertising bill from a local LGBTQ newspaper, and other various fees. Auto Erotica has since met its goal and stopped accepting donations.
"I get a lot of comfort from the outpouring of support Auto Erotica received from its GoFundMe page," said Batt.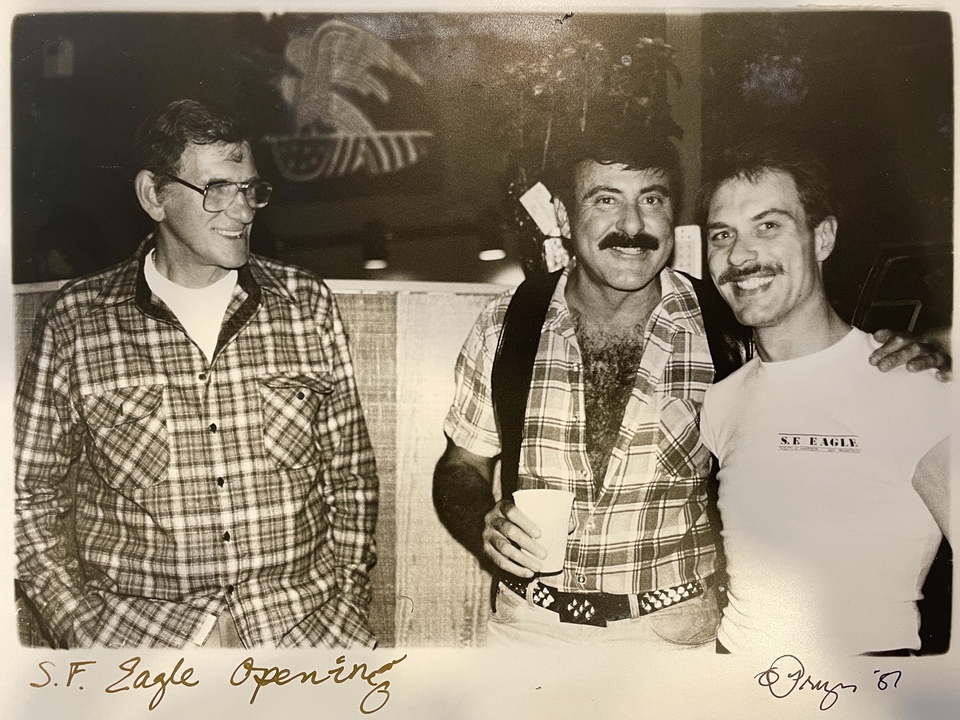 Former SF Eagle owners Jay Levine (left) and Bob Damron (center) and Patrick Batt (right) on opening night April 9, 1981. | Photo courtesy of Patrick Batt
Batt says what struck him the most was that "people were willing to support a place like this that they had never been to and might never come to," but despite that "the concept was so important to them that they'd donate money to keep it going."
Batt also applied for a $5,000 California Small Business COVID-19 Relief Grant, but was ultimately denied. Batt tells Hoodline he was able to apply for and receive a loan from San Francisco's Mission Economic Development Agency (MEDA).
Social media has also helped Auto Erotica reach customers it hadn't in the past. Roberge took over Auto Erotica's Instagram account as a means to promote the GoFundMe, and since that time there's been a huge increase in traffic.
"It's amazing," said Batt. "However, it's a double-edged sword."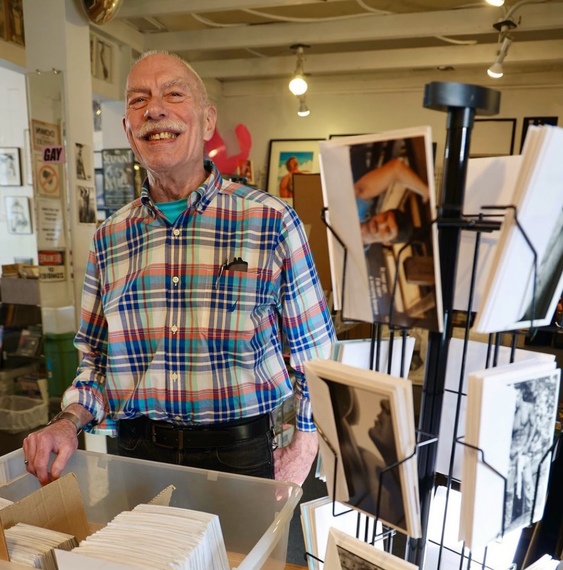 Patrick Batt, owner of Auto Erotica. | Photo: Bradley Roberge/Auto Erotica
"It's brought a lot of people in, they bought a lot of merchandise and I don't have that well of a back stock," said Batt. "Now I'm most fearful of being able to replace what I sell," said Batt.
"You know it happened really organically," said Roberge. "A need to promote the GoFundMe led to reactivating the Instagram, and we've had such a good response there."
"It's been incredibly rewarding for me," added Roberege. "Not only his stories and general insight but his friendship too."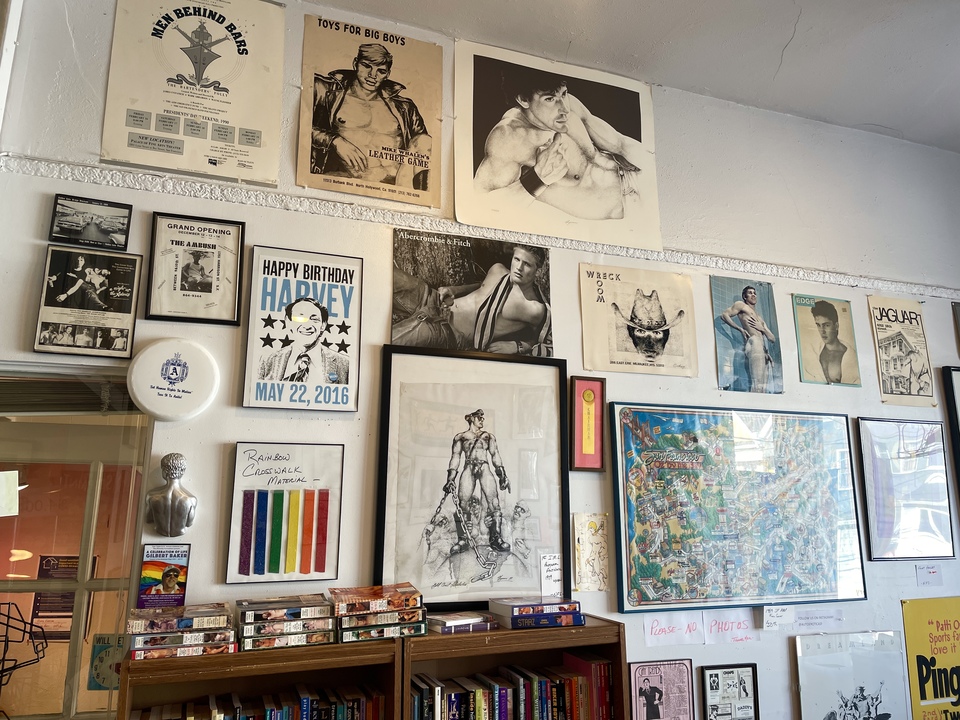 Photo: Steven Bracco/Hoodline
Looking back on 25 years in the Castro, Batt says it's been overly homogenized. "It's no longer a neighborhood, it's almost more like a Disneyland," he says.
"Even in the 80s, when people were sick and dying of AIDS and you'd see them one day and maybe not the next," Batt says. "There was [still] more of a sense of neighborhood, and that sort of neighborhood feel is gone."
Looking toward the future Batt has no plans to leave. "My problem is I'm 75 and I don't have a plan."
"Literally, I'm going to be wheeled out the door," he said.