After 25 years in the Castro, vintage gay erotica and memorabilia store Auto Erotica (4077A 18th St., between Castro and Hartford streets) has turned to crowdfunding to help make it through the pandemic.
Like many small businesses, Auto Erotica has been negatively impacted by the stay-at-home orders. "Forced to close by city edict for three months in 2020, our business has never fully rebounded from the negative cash flow which resulted from that closure," explains owner Patrick Batt.
"In addition, the tourists are no longer traveling in the numbers once found in San Francisco and that source of income has disappeared," said Batt.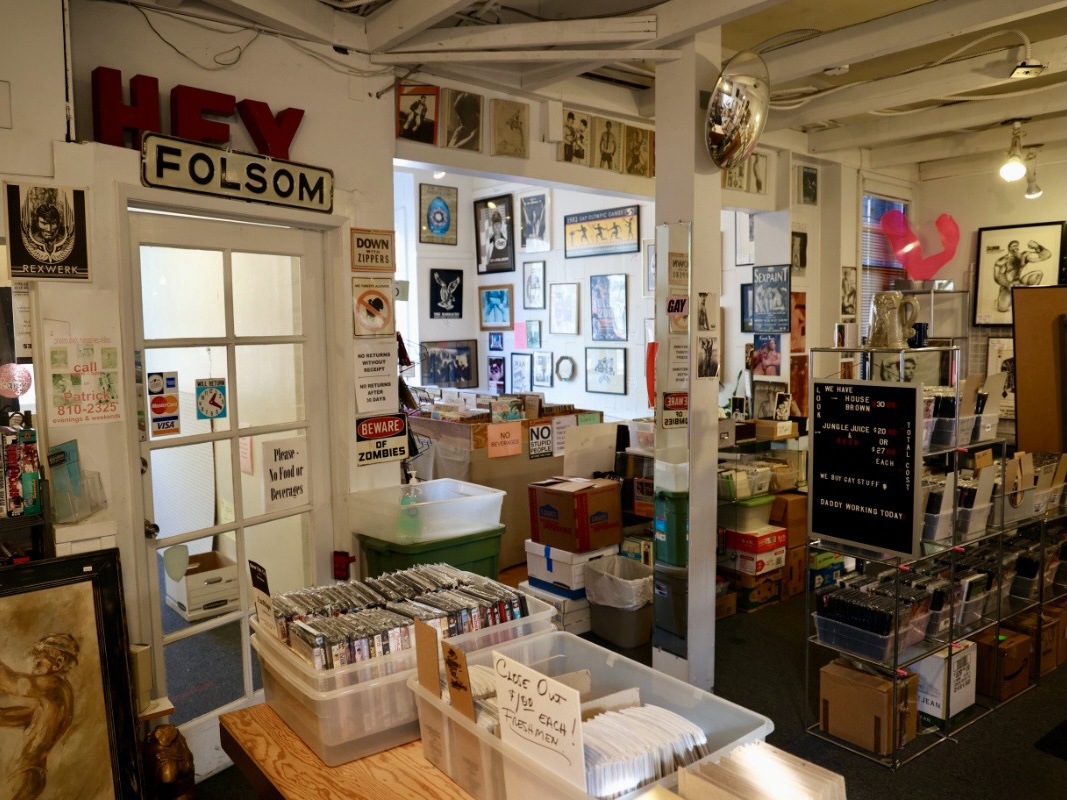 Inside Auto Erotica at 4077 18th St. | Photo: Bradley Roberge/Auto Erotica
Batt remains determined to keep LGTBQ history alive and well and has applied for Small Business Relief. However, Batt explains they are asking for financial support to enable Auto Erotica to survive until things can return to normal.
Batt tells Hoodline he's currently applying for a $5,000 California Small Business COVID-19 Relief Grant.
Auto Erotica has set a modest fundraising goal on GoFundMe of $16,275. The goal is meant to cover $12,300 for six months of rent, $3,500 for a pre-pandemic advertising bill from a local LGBTQ newspaper, and $475 for various fees and related fundraising costs.
As of publishing the GoFundMe account has raised $4,677.
Auto Erotica opened in 1996 as a small shop selling a variety of items of interest to the gay community. In 2016 Batt told Hoodline that prior to owning Auto Erotica, he owned a sex-toy and leather shop across the street behind what is now Up Hair (4084 18th St.). Batt explained when his current space became available, he moved and slowly morphed the business into vintage porn.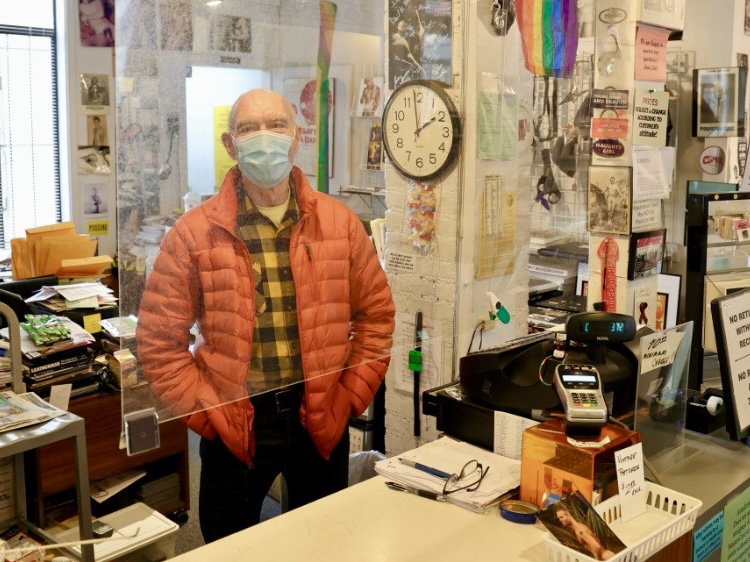 Patrick Batt, owner of Auto Erotica. | Photo: Bradley Roberge/Auto Erotica
Auto Erotica may be one of the last places of its kind selling vintage and collectible gay porn — often obtained from personal collections. Books, DVDs, magazines, posters, artwork, buttons/pins, and other ephemera are just some of the items available to collectors and shoppers.
Gay owned and operated, Batt explains that Auto Erotica is both a living museum of LGBTQ history as well as a retail shop selling items to those interested in saving that history.
Located on the second floor, Castro residents and visitors to the neighborhood walking by Auto Erotica may notice the A-frame outside that says "We Buy Gay Stuff."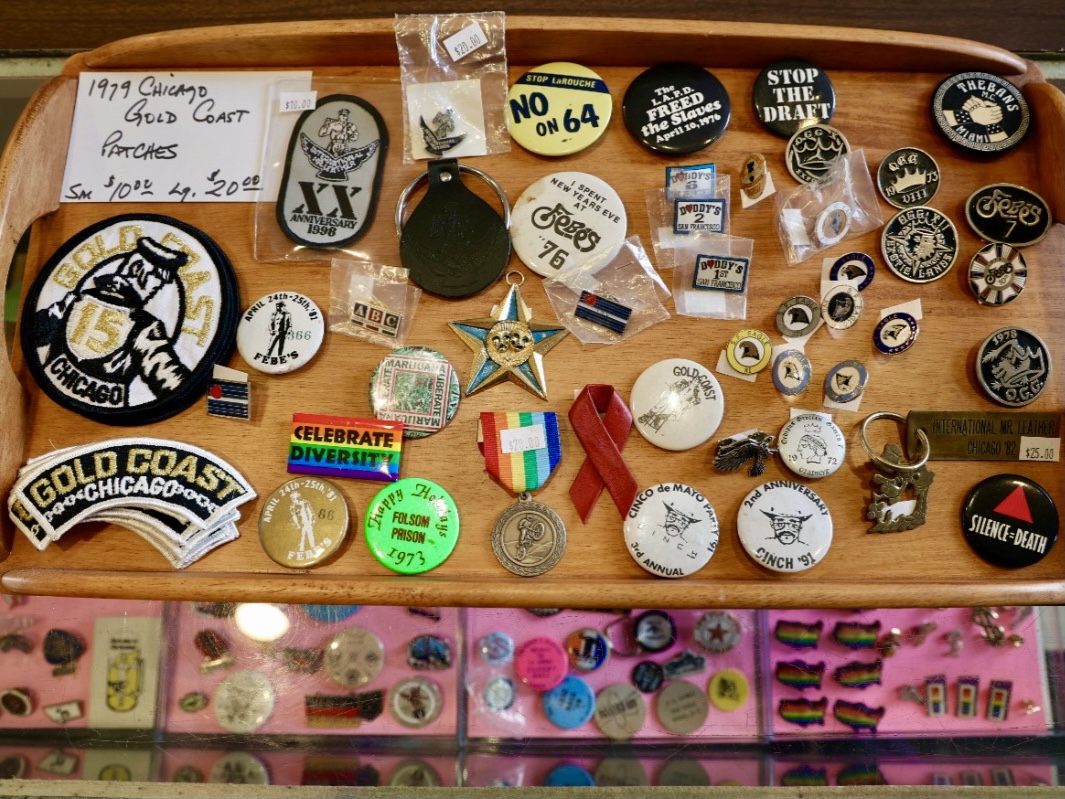 Buttons and pins available at Auto Erotica. | Photo: Bradley Roberge/Auto Erotica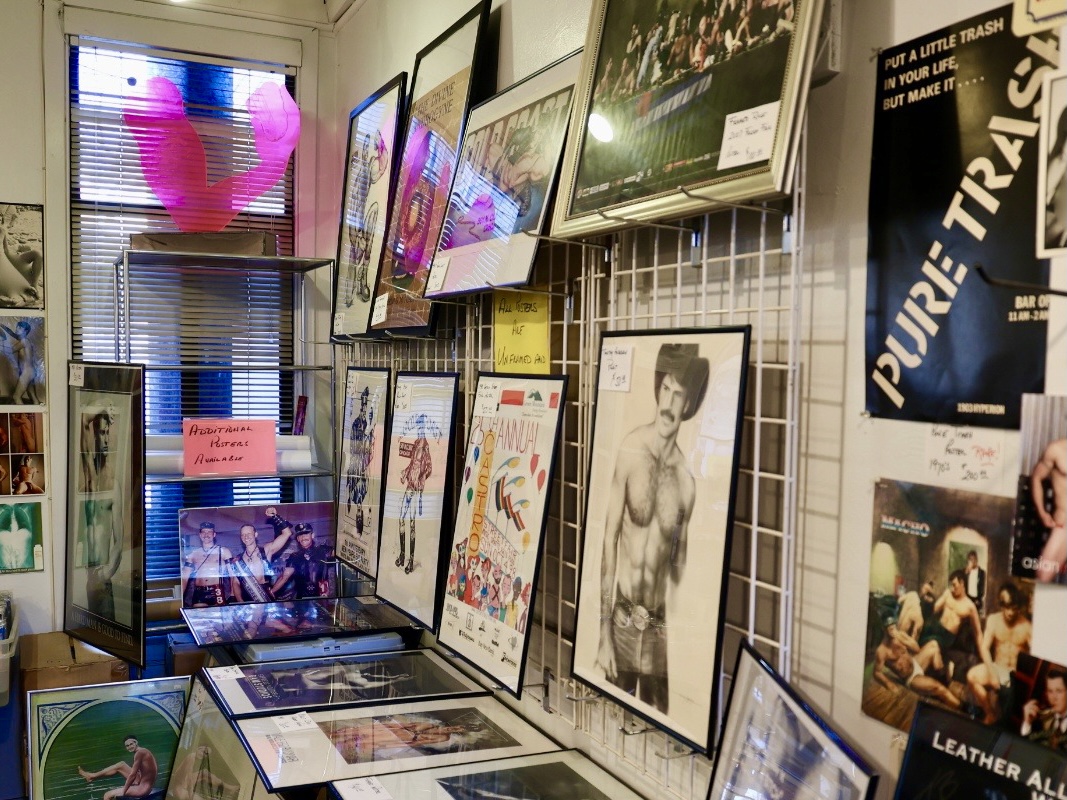 Photo: Bradley Roberge/Auto Erotica
"This A-frame and its original art have become one of the most photographed things in the Castro and on any day of the week both locals and tourists can be seen posing for photos," said Batt. Batt explains that many locals are surprised by what they find once climbing the stairs and tourists seek out Auto Erotica when they visit.
"It remains one of the best-kept secrets in the Castro," said Batt.
A longtime resident of San Francisco, Batt is a former president of the Castro Merchants and was one of the owners of the short-lived Eureka Cafe on Castro Street, which closed in 2016.
Batt says that he remains determined to support and save LGBTQ history, "especially under the increasing pressures of the gentrification of gayborhoods and ever-changing methods of communicating that history along with the devastating effects of COVID-19 on small businesses."