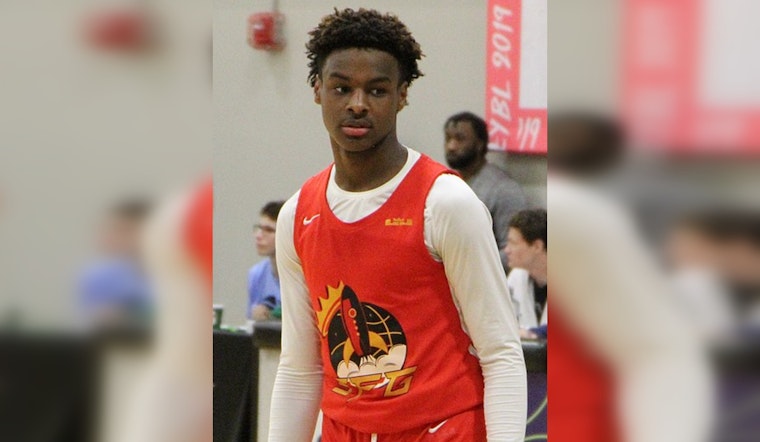 Published on October 02, 2023
LeBron James shared an update on his son, Bronny James, who suffered a cardiac arrest in July 2023. Post successful surgery, 18-year-old Bronny has begun his rehabilitation with aspirations of playing for the University of Southern California (USC) during the current basketball season as reported by ABC7.
At Los Angeles Lakers' media day, LeBron expressed his son was "doing extremely well" post-surgery. To further add, he made mention that Bronny was preparing to the quickly join his USC teammates as per ABC News.
Post having suffered the cardiac arrest during a July workout at the Galen Center, Bronny has begun attending classes at USC and is interacting with teammates as strength regains. The swift action by USC's training staff and coaches in the face of the crisis was applauded by LeBron ABC7 reported.
Believing to have brought them closer, the health crisis's aftermath, LeBron expressed, had strengthened familial bonds. Times ahead for Bronny is eagerly awaited by the entire family as per ABC News.
This season's USC team boasts of Bronny, a 2023 top-five recruit, Isaiah Collier—number one recruit of 2023—and returning veteran Boogie Ellis. With such a formidable ensemble, the team is slated to make a huge splash in the Pac-12 and NCAA tournaments according to ABC News.
Cardiac arrest had Bronny hospitalized for three days in Los Angeles, after which, a congenital defect was revealed as a likely cause. It is expected that the condition will be effectively managed ABC News reported.
If the recovery continues on its current pace, it is anticipated for Bronny to play for USC in the Pac-12 games. Excitement over Bronny's potential return was echoed by Coach Andy Enfield despite not discussing any medical updates. Besides, Bronny was already attending classes at USC and performing well academically as reported by The Orange County Register.
Not connected to Bronny's treatment directly, Dr. Jonathan Drezner, Director of the University of Washington's Center for Sports Cardiology, noted that surgical recovery times can vary. He estimated a period of "around three months", supported by progressive workouts and ongoing tests. Lining up with this estimate, Bronny's return to the court during the Pac-12 games in January seems feasible as per The Orange County Register.