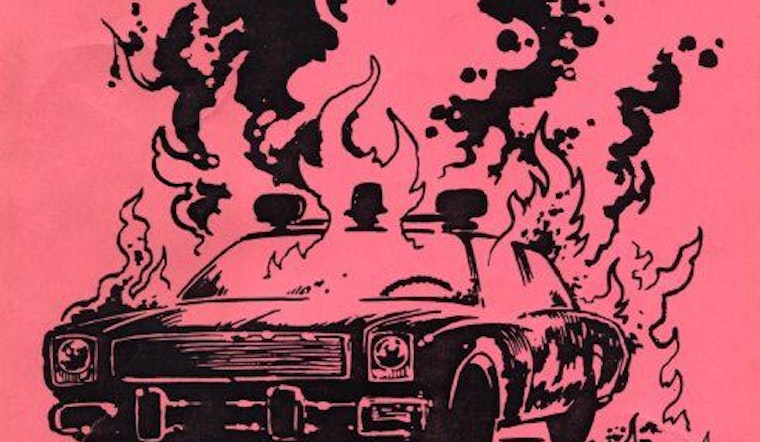 Published on May 21, 2013
Thirty four years ago tonight is the anniversary of the Castro's White Night Riots. The mild nearly Summer, evening exploded in a fit of pent-up rage following the horrific news that Dan White had been convicted of voluntary manslaughter and sentenced to only a eight year prison term for shooting down Harvey Milk and George Moscone.
To add insult to injury the conviction happened the day before what would've been Harvey's 49th birthday. What follows is a recounting of that event through quotes, pictures, reports, video and personal amalgamated remembrances of the historic event that followed. The White Night Riots was a turning point in both the Castro's and the SF LGBT's community's history.
May 21st, 1979: The jury had been in deliberations for days. Prosecutors had asked for 1st degree murder with special circumstances that'd carry the death penalty if former SF Supe turned murderer, Dan White, was convicted. People were on edge. The City had been holding its collected breath since the murders of Mayor George Moscone and Milk. Harvey Milk's election had represented to the local and worldwide LGBT community that equality could be possible when he took the office as an out member of the Board of Supervisors.
In the context of the times that Harvey Milk was elected one needs to understand the climate of the day when it came to Queers. A concerted effort was underway to overturn a new Gay rights ordinance in Miami/Dade County, FL led by the darling of the Far Right, former Miss America, Anita Bryant. Coors brewery openly discriminating against LGBT employees and bragged about it to the press. The Briggs Initiative had just been defeated in CA. that would've outlawed LGBT citizen's from being teachers. It was common place for Gay people to be murdered, beaten, fired, thrown out of apartments, denied hospital visits with lovers, disowned by family, have children ripped from their care, falsely arrested/entrapped, victims of blackmail, forced into institutions or branded insane.
Few public officials championed LGBT causes. The idea of a sitting POTUS being one of our most vocal supporters as is the case today was unimaginable. The post-Stonewall, modern LGBT rights movement was a decade old and while strides had been made, WE, as a people, were still getting our asses handed to us daily on every level. Harvey's District 5 (now Dist. 8) win here in San Francisco as a duly appointed Supervisor in one of America's most beloved cities was huge. Many activists believed it sounded the bell to all who heard it that things were going to change for the better for our people at last. Their beliefs were quickly quashed when Harvey's victorious stint as Supervisor was cut short by White's rampage.
"..when White shot Harvey it was if as if he shot us all. When he cut down Moscone-the most pro Gay mayor this Ciity had ever elected-he sent a signal to LGBT allies that they were equally at risk..." -the late Hank Wilson, Activist
Dan White was viewed by many as the golden boy embodiment of the old school, SF politico power structure.  He was former SFFD, SFPD and had marketed himself as a 'normal' San Franciscan-the City's last hope to keep it out of the hands of the freaks in his campaign for Supervisor. Now he sat in jail and his attorney had based his defense on White's low blood sugar and over indulgence in pastries like Twinkies had led him to be imbalanced and temporarily insane at the time of the shooting. The premise was so outlandish a defense that local news reporters had a difficult time keeping a straight face when reporting on the trial. In the late afternoon of the 21st of May news reached the Castro from City Hall that Dan White had been convicted of voluntary manslaughter not the expected first degree murder and sentenced to eight years in prison. The community's response was visceral. People were shaken and suddenly the last vestiges of progress that they felt they'd won was stripped away.
 "When the news broke, everyone ran to Castro Street. We didn't have cell phones or computers or time to print posters. It didn't matter, everyone knew what to do. It was about 5:00pm. By the time the sun went down, Civic Center Plaza was littered with burning police cars, smoke and tear gas filled the air and thousands of furious lesbians and gay men fought the police throughout the city." -Cleve Jones, Milk Aide, Activist
The community quickly gathered in the Castro. The rage filled the air. Within an hour 500 people amassed, then 1500 as people blocked the intersection of Market and Castro. An impromptu march about the neighborhood led by Cleve Jones, Harvey's appointed replacement, Harry Britt, and Milk's now widow, Scott Smith began.
"I remember it like It was yesterday-I was 14-in school with Moscone's daughters who took the bus direct to the Castro ... The birth of my activism." -Julie Tolentino, Performer, Activist

SFPD cars set ablaze during Civic Center White Night Riot, May 21, 1979
Within blocks the march morphed into 2000 protestors-than 3000-by the time marchers neared Valencia heading toward City Hall SFPD estimated there was 5000. Those who took part dispute that number saying the march stretched back as far as the eye could see, up Market, boiling over the crest from Church St., making their number estimate closer to 10,000. An army of angry, howling, outraged Queers demanding justice for their beloved and lost leader.
 ..and the rage we all felt when the verdict was announced. I was having a late lunch at Church Street Station - that's what the restaurant was called then at the corner of Church and Market. Someone ran by the restaurant banging on the windows, yelling "He got away with murder!" We were so angry - couldn't believe it. I headed for Castro and Market, then marched to City Hall." -Kim Corsaro, Huffington Post Columnist, former Publisher SF Bay Times
The march stormed toward City Hall and exploded in a riot of immense proportions. The adversarial SFPD was caught completely off guard by the battle ready, dykes, faggots, and trans-people they met determined to knock City Hall off it's very foundation. SF police had never experienced Queer rage of this sort-no one had since Stonewall-and quickly retreated. Police cruisers were lit on fire. Property damaged. Every reachable City Hall windows smashed. The grief-stricken masses could not be sated once their stored up anger was uncorked.
The riots and marches lasted for a great deal of the evening. Later that night a much chagrined SFPD attacked the Castro to exact revenge and to show those 'faggots whose in charge' as one journalist later reported overhearing an officer say. Members of the Riot Squad attacked citizen's randomly in bars, specifically The Elephant Walk (now Harvey's) injuring and arresting dozens.
".. the thing that stands out for me was that after a point it really felt like martial law had been declared. After the demonstration and the rioting that followed, leaving Civic Center unscathed, I was walking up Market with friends, and it seemed to me, and it could be my imagination, but as far as the eye could see there were auxiliary cop cars from every surrounding province in the Bay Area and I knew things were about to get very bad in the Castro... " -Danny Nicholetta, Harvey Milk's close friend, Photographer

Protestors return to City Hall at midnight of the White Night Riots and are beaten by SFPD
The next morning as smoke from the burned out husks of 21 torched police cars still lingered in the San Francisco air LGBT leaders met and decided that there'd be no apology issued on behalf of our community for our actions. We, now faced with the injustice of Harvey's killers lame conviction would not-under any circumstances-bow our heads in apology. No more Mr. & Ms. Nice Gay. A new day of SF Queer politics and activism had been born laying the ground work for later SF LGBT activist groups to come in the soon to be turbulent age of AIDS like ACT UP, Queer Nation, Stop AIDS Now or Else and the Lesbian Avengers. http://www.youtube.com/watch?v=V_mvk4istzo
"I was there that night and it was my first act of protest as a 20 year old Queer man. It politicized me in an indelible manner." -Richard Knut Haggan, AIDS Activist & former Queer Nation member
The world may have come miles and evolved from where these Riots started but it's still filled with violence and injustice. San Francisco has grown and it's communities with it. Lessons can still be learned from those who fought so hard for the freedoms we now enjoy. To keep the goal of equality for all, beyond all borders, which Harvey Milk and George Moscone championed so well.