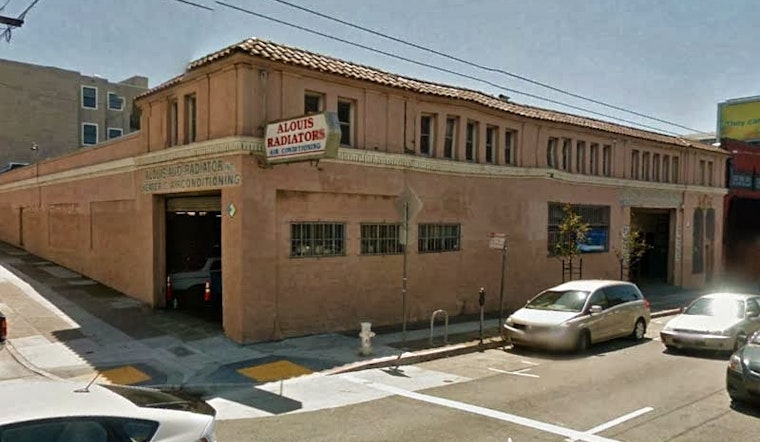 Published on October 10, 2013
A five-story building with not one but
two
restaurants could be coming to the southeast corner of Divisadero and Grove.
The owner of the property at 650 Divisadero is exploring the idea, according to a
Preliminary Project Assessment
(PPA) conducted by the SF Planning Department last month. The project would involve partially demolishing the Alouis Auto Radiator building, and replacing it with a new construction featuring nine residential units and three commercial spaces, two of which would be restaurants. There would also be nine underground parking spaces, and a roof deck serving the two restaurants. As
SocketSite
notes, the facade of the auto shop, which was constructed in 1922, would be maintained. Before property owners undertake projects like this, they can apply for a PPA from the Planning Department. The PPA assesses the project, and informs the applicants of any potential hurdles they might encounter if they were to proceed. Just because a PPA is conducted doesn't mean a project will break ground any time soon, if at all. (See
Lee's Meat / Popular Market
, for example.) In this case, the Planning Department identified a few potential concerns:
They would like to see more than nine residential units. A building of this size in this area is zoned for as many as 16 units.
Given that the site is currently used for industrial purposes (auto repair), there would have to be an assessment of any contamination in the soil and groundwater.
Currently, restaurants on Divisadero are only zoned to operate on the ground floor, meaning the roof deck concept would be illegal. That may change soon though, with efforts to create a Divisadero Commercial Zoning District in the works.
No word on when this project would get underway, and again, it may never get underway at all. We'll be watching.