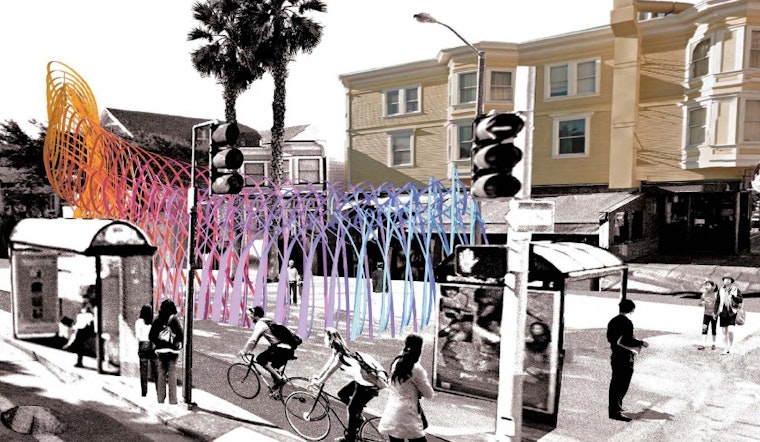 Published on July 15, 2014
Remember last year, when Masonic Avenue was all over the news? Online surveys were promoted, bike lobbyists were rallying, and it seemed as if—finally—something was going to happen. Thanks to the hard work of the SF Bike Coalition, the SFMTA and the city,
plans and funding were approved
. And then? Silence.
The plans are still happening, just not until 2015. While we're waiting for the jackhammers and bike lane-stripers to fire up, let's review some of what's coming our way to improve Masonic Avenue in the near future.
This was arguably the most controversial proposal for Masonic. In the past five years, 26 cyclists were reported to have been injured riding on Masonic, and
one was killed
. A little over a year ago,
the SFMTA approved plans
for San Francisco's first elevated bike lane, offering a slightly buffered level of protection separating bikes and cars and giving cyclists a space safe from car doors and buses.
Installing medians in the center of busy roads to slow traffic has proven successful in many areas of the city, with Cesar Chavez and Divisadero both great examples.
Masonic's future median
will include over 100 trees for greening of the neighborhood, as well as new and improved street lighting, and will add a safety buffer between the four lanes of traffic.
According to the SF Bike Coalition 12 pedestrians were hit on Masonic in the past five years, and
one was killed
. Designing safer intersections will be crucial in making Masonic a more pedestrian and cyclist-friendly street, and plans include timed lights, left turn lights, and "crosswalks that are pedestrian friendly and safe."
Streetscape Improvement Project
Along with tactical infrastructure changes to Masonic, there are also artistic efforts at play. The San Francisco Arts Commission and the Department of Public Works are banding together to review proposals for a new plaza at Masonic and Geary.
Three proposed projects
were on display at the San Francisco Day School this summer, and included suggestions such as a 64' long sculpture, pattered mosaic stairs, and a creative take on signposts.
Proposed changes to Masonic didn't come about without a large vocal response from residents. For months, Masonic was
plastered with signs
listing the attributes and downsides of Masonic improvements. A website called
SaveMasonic
was even set up to formalize opposition to the street's upgrade. Some of the biggest arguments raised were the loss of 167 street parking spaces, congestion during the 18-month construction period, and having to park further away from locals' residences.
However, it's hard to argue with safety, and residents' opposition did not in the end stop the project's progress. As London Breed
stated
, "To make the corridor safe is really paramount to any other issue. Masonic is clearly a dangerous, almost freeway-like corridor in the middle of our community."
All of these plans are slated to launch in 2015. In the meantime, we recommend you bike, walk, and drive around Masonic with care.