Nearly two years in the making, a project to improve walking and biking conditions along the route known as the Wiggle is nearing the implementation phase.
The Wiggle Neighborhood Green Corridor Project, as it is called, is a joint effort by the SFMTA and SFPUC (Municipal Transportation Agency and Public Utilities Commission, respectively). The goal is to "bring stormwater management and traffic calming to the Lower Haight and Alamo Square neighborhoods," in the SFMTA's words.
The Green Corridor Project kicked off in June of 2013, and has involved numerous public meetings and online surveys to assess and refine proposed elements in the months since. As of today, those elements include:
Preventing southbound auto traffic entry at Scott and Fell. A large sidewalk bulb-out on the southwest corner of the intersection will force auto traffic coming down Scott to turn right onto Fell, while bikes can continue southward on Scott. "This will reduce Scott Street's appeal as a cross-town driving route, making it a more pleasant place to walk, bike, and live," says the SFMTA
Coordinating southbound traffic signals on Divisadero between Hayes and O'Farrell to speed up traffic
Making left turns illegal on Divisadero at several intersections, including southbound at Haight, and in both directions at both Hayes and McAllister during peak hours
Removing up to 17 parking spaces in the area to make room for design elements such as bulb-outs and rain gardens
Those elements will be installed at the intersections depicted in the map below: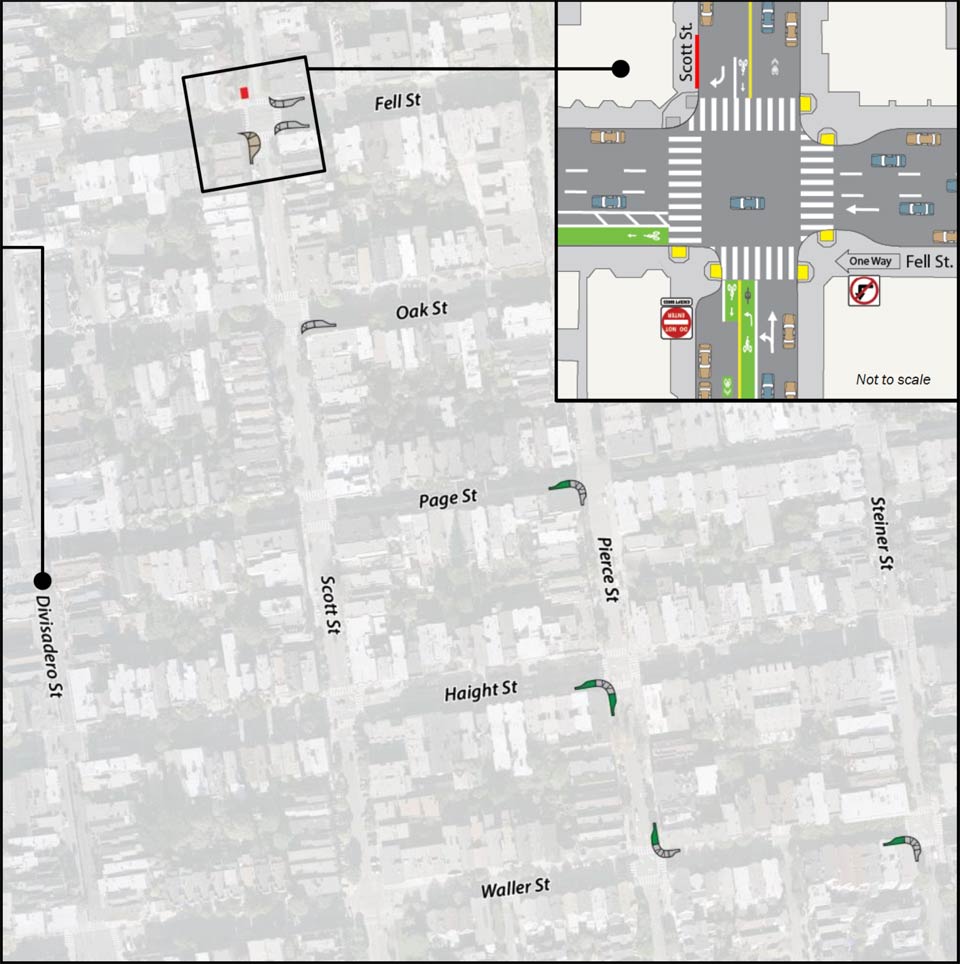 Other planned elements include permeable pavement to capture stormwater (remember stormwater?) before it overloads the local sewer system, a common occurrence during our rare local storms.
The SFMTA will be presenting the project at tonight's Alamo Square Neighborhood Association meeting at Redemption Church (1660 McAllister) at 7pm. Then, next Friday, April 3rd, the SFMTA will hold an engineering public hearing to solicit public feedback on the various transit and parking changes. The hearing will be held at City Hall Room 416 at 1pm.
After that, the next public hearing on the matter will likely be the SFMTA Board of Directors meeting on Tuesday, May 5th, when the Board will vote on whether to officially approve the project.
Thanks to Lawrence L. for the tip.