While most would agree that age looks good on City Hall, Recreation and Parks thinks the 20-year-old playgrounds out front have served their time. With more than $5 million donated by the Helen Diller Family Foundation, which also funded the recent Boeddeker Park makeover, the department is working with The Trust for Public Land on a plan to redesign the two play areas in Civic Center Plaza.
According to the latest proposal, parents and caretakers who frequent the plaza like the location and that the playgrounds are gated, but limited entry points make the play areas feel unwelcoming. In addition, limited lighting makes them feel unsafe and the current structures are not challenging enough for older children and teens.
In a community meeting this week to collect additional feedback on the latest design, Alejandra Chiesa, a senior program manager with TPL, added that children from the Tenderloin School all agreed on one thing: any renovation must include swings and slides.
If the proposal is approved by the Historic Preservation Commission on June 17th, the area's children will receive much more than brand new swings and slides. The plan calls for transforming the playgrounds into "cloud forests", inspired by the city's rolling fog. The existing structures will be replaced with winding paths for running, climbing and sliding, swings sets, monkey bars and more, plus nature-inspired elements like cloud-shaped seating, rocks and boulders, and trees and plants that would attract pollinators.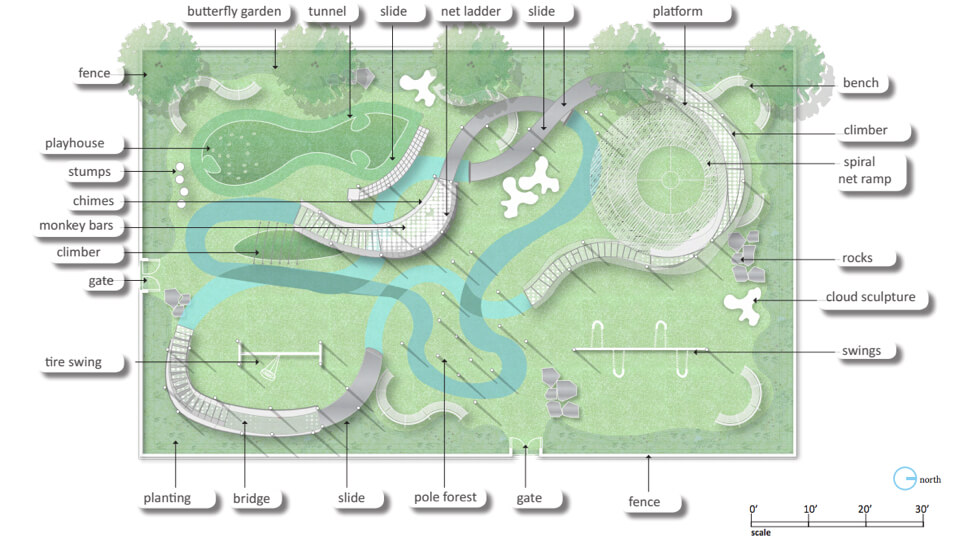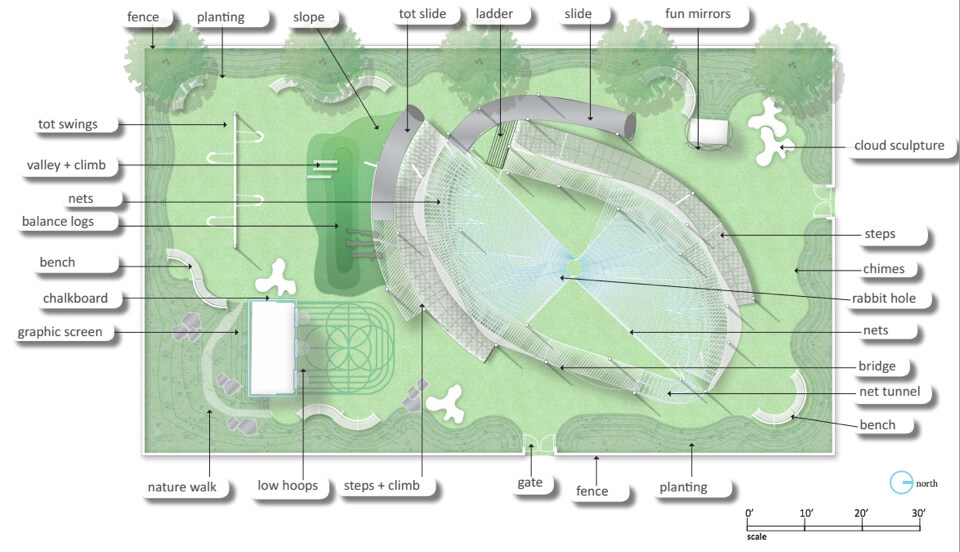 The organizations are also recommending two creative lighting projects, that would help build a connection between the two separate playgrounds and keep the plaza lit after dark. Vertical poles topped with LED lights will be placed throughout each playground. As visitors walk by at night, light will pass from pole to pole from one playground to the other. They also hope to shine rolling, cloud-like projections onto the open walkway between the two playgrounds.
The latest draft of the proposal can be viewed
here
. If the project receives a green light next month, Chiesa said construction could begin in 2016 and the cloud forests could potentially be in place by late 2016 or early 2017.