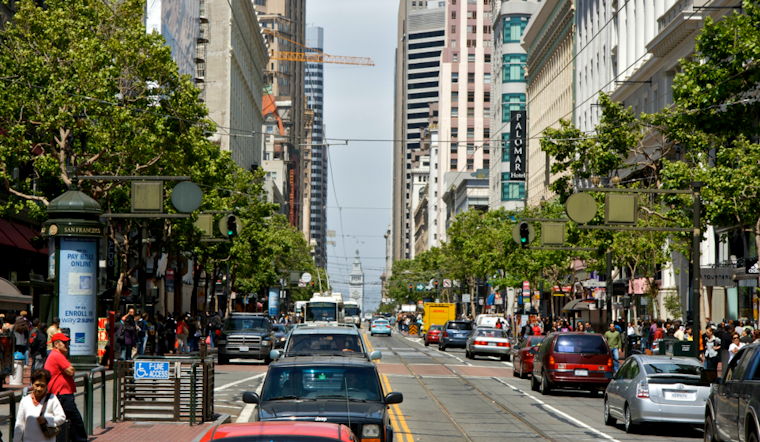 Published on June 15, 2015
The Safer Market Street plan is drawing support in advance of tomorrow's board hearing on the issue, but local rideshare company Uber is crying foul. UPDATE, 6/16/15: The SFMTA Board voted unanimously today to approve the Safer Market Street plan.
The plan would prevent personal cars from turning onto Market Street between 3rd and 8th streets, but would continue to allow buses, commercial vehicles, taxis and cyclists to do so. According to the SFMTA, the Safer Market Street plan would increase safety and reduce traffic on Market Street by 30-50 percent.

But Uber is protesting the plan on the grounds that it excludes rideshare companies, which Uber believes should have the same access as taxis. Uber contacted its customers by email last week, asking them to sign a petition urging the SFMTA to exempt rideshare companies from the proposed turn restrictions. Organizers of the petition set and hit a goal of 15,000 signatures. 
"Market Street is a major artery of the city, and shutting off access to ridesharing services, where an overwhelming majority of residents choose to live car-free, is counterproductive and dangerous," stated the petition. "If the traffic restrictions are imposed, driver partners will be forced to take longer, more complicated routes to pick up or drop off passengers — increasing congestion around Market Street and making it more difficult, more time-consuming, and dangerous for riders to get from place to place."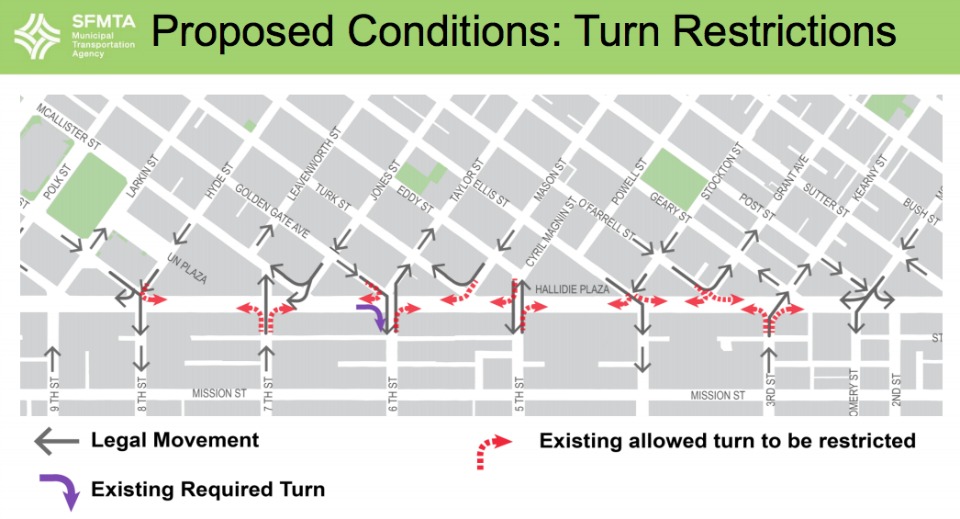 Proposed Market Street turn restrictions.
In a twist, one of the people that Uber contacted about the petition was security researcher Austin Epperson, who hacked the petition page through a website security flaw, adding in 10,000 votes and changing the petition to be one supporting a slip n' slide on Market Street. Uber has taken down the petition in light of the attack.
The Safer Market Street plan is part of the active Vision Zero plan, which is the impetus for a number of traffic changes throughout the city. As a reminder, Vision Zero is a project set forth by the SFMTA to eliminate all traffic deaths and reduce severe injuries by 2024. A two-year action strategy is being developed that includes daylighting intersections, increasing traffic enforcement, and re-thinking the structure of major roads throughout the city. Many of these plans are already in motion, such as the daylighting of intersections in the Tenderloin, community meetings on traffic safety in Hayes Valley, and the Octavia Boulevard Improvement project.
Back to Market Street: According to research conducted by the SFMTA, four of the top 20 most dangerous intersections for pedestrian injury collisions and two of the top intersections for bicycle collisions in the city are located on Market Street, between 3rd and 8th streets. From 2012 to 2013 there were 173 injuries resulting from collisions along that stretch of Market. Nine were categorized as severe, and two were fatal (involving collisions between cars and pedestrians). 
The San Francisco Bicycle Coalition supports the Safer Market plan and strongly opposes Uber's petition. In a blog post on their site that went live this morning, the Coalition slammed Uber's stance, saying that its statements are "patently false." Uber, they said, "deceived its users, telling them that these vitally important new turn restrictions will bring 'no improvement to safety.'" 
According to the Bicycle Coalition, Uber is the only rideshare company taking a stance against Safer Market Street. Other companies have supposedly already contacted their drivers about the impending changes. We've contacted Uber for comment, and will update this story when we hear back.
District 6 Supervisor Jane Kim also supports the Safer Market Street plan. "When she championed the legislation to establish the Vision Zero policy citywide two years ago, this is the type of engineering change that she had in mind," said Kim aid Ivy Lee. "Engineering to create safer streets, with a priority focus on the corridors and intersections with the highest rates of collisions between vehicles, bicyclists, and pedestrians, is a critical component of the Vision Zero policy. This change will target four of the worst collision intersections where drivers fail to yield to pedestrians."
Tomorrow, Tuesday June 16th at 1pm, a meeting will be held by the SFMTA Board of Directors to review the plan. If you'd like to attend, it'll be held at City Hall in Room 400.