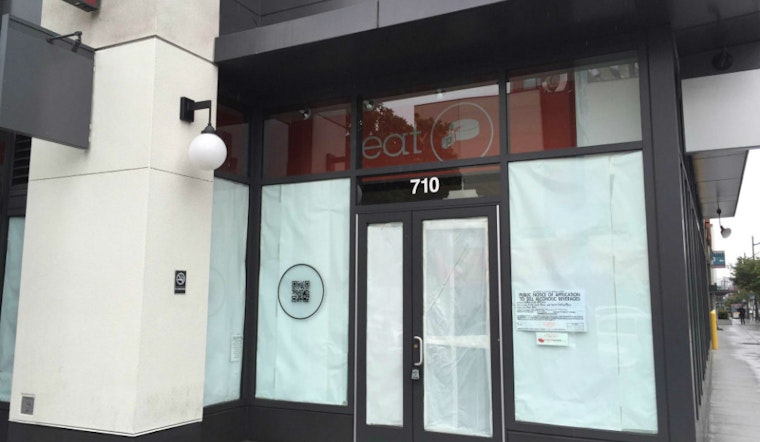 Published on June 11, 2015
The media world took notice in May when Taco Bell announced a new, more urban-friendly concept in major cities—one that includes beer and wine. Now, SoMa appears to be among the first to be getting one of the new Bells: an application for a beer and wine license is on the window at 710 3rd St. at Townsend.
"As part of our expansion into new urban markets, we're building a completely new Taco Bell concept and design in San Francisco," Taco Bell said in an email to Hoodline. "The new restaurant will feature the same craveable, affordable, Mexican-inspired tastes at Taco Bell, along with a new line of appetizers, beer and wine."
Mashable has some key details on the first of the new urban Bell concepts, set for Chicago's Wicker Park neighborhood. They'll serve the menu items you'd get at a standard Taco Bell, but may also include work from local artists, "mixed alcohol freeze" drinks, new dishes, and food served open-faced in baskets to promote local ingredients. 
Taco Bell also confirmed to Hoodline that this location will definitely not be a U.S. Taco Co. & Urban Taproom, the other upscale taco concept with which Taco Bell's parent company, Yum Brands, has been experimenting. As Bloomberg reported, the first location of the concept opened in Huntington Beach without the taproom, due to "a snag securing a liquor license"; it focuses on craft sodas instead.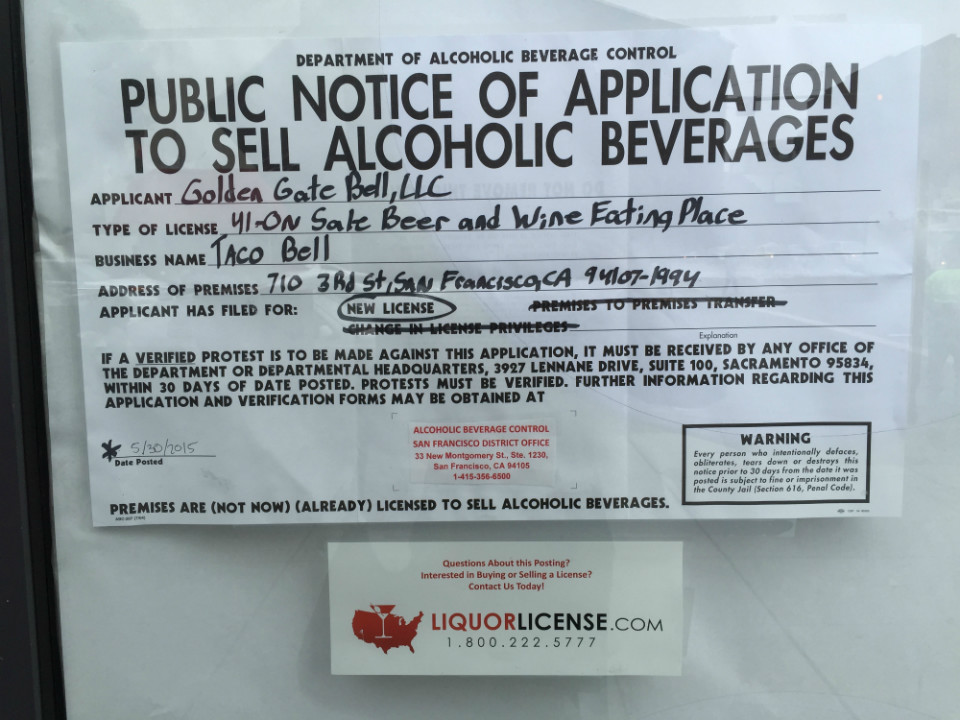 When Taco Bell initially revealed the Wicker Park concept back in May, the Internet went crazy. (Mashable's headline nicely sums up the reaction: "Taco Bell will sell alcohol, although alcohol usually sells Taco Bell.") The idea of Taco Bell selling drinks was so unbelievable that even rumor-debunker Snopes had to confirm its veracity. 
Taco Bell Corp. didn't have any renderings of the SoMa site, but mock-ups of the Wicker Park location reveal a series of check marks for appealing to the young urban aesthetic: exposed brick walls, an open kitchen, earthy wood surfaces, and pops of color. The brand freshening could be part of a move to appeal to millennials; in a similar effort, Taco Bell, Pizza Hut, and McDonald's have also pledged to purge all artificial colors and flavors and trans fats from their food by the end of 2015. (The Bay Area's McDonald's have also been in the news lately, thanks to the closure of the Van Ness location and the expected closure of the 3rd Street location, right across from the proposed new Taco Bell. As The Daily Show tweeted: "San Francisco too expensive for McDonald's. Just as well, since McDonald's is too McDonald's for San Francisco.")
Hilde Myall, senior development specialist for the Office of Community Investment and Infrastructure (OCII), said Taco Bell had an "informal meeting" with her organization for what they called a "Taco Bell Cantina" and described as "a little higher-end." It's one of several hoops Taco Bell will have to jump through to make sure the proposed use is consistent with the land use in the Mission Bay Redevelopment Plan, established in 1998. However, the storefront has been empty since The Melt moved out in 2014, which may give Taco Bell a better chance at taking it over. According to Myall, OCII hasn't received any permit plans from the Department of Building Inspection, which would be the next step.
For the moment, Taco Bell Corp. doesn't have a planned timeline for the new location's debut. Stay tuned to Hoodline for more details as it goes through the approvals process.