If you live, work or play in the FiDi or SoMa, you've probably seen Bay Area Bike Share stations boasting baby-blue cruisers convenient for short commutes.
The system is going to boom, increasing the number of bikes tenfold starting in summer of 2016 and eventually providing 7,000 bikes throughout San Francisco, San Jose and the East Bay. If you haven't yet weighed in on where you want new stations, take the survey. As of last week, the site had more than 2,000 responses.
At stake is which neighborhoods will get bike-share stands.
Bay Area Bike Share began as a pilot program with 700 bikes: 328 in San Francisco, 129 in San Jose and the rest in Mountain View, Palo Alto and Redwood City. In San Francisco, the bikes were concentrated east of Van Ness Avenue, mostly in the FiDi and SoMa. The expansion calls for 4,500 bikes in San Francisco, 1,000 in San Jose, 850 in Oakland, 400 in Berkeley and 100 in Emeryville.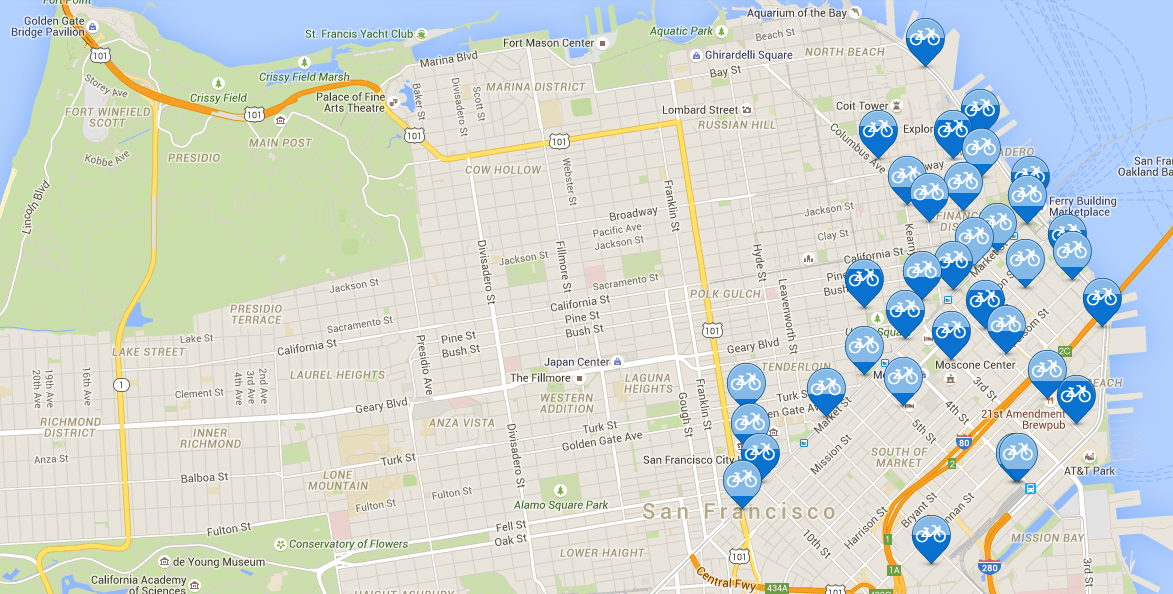 Current map of SF's bike share stations
The cost to ride is $9 a day, $22 for three days or $88 for an annual membership. Those prices include unlimited rides of up to 30 minutes between stations (bikes must be securely docked at stations when the ride is over). Additional time is $4 for up to 60 minutes of use and $7 for every 30 minutes after that.
Dani Simons, spokeswoman for Motivate, the operators of Bay Area Bike Share, said planning and community input is just beginning, so she wasn't sure how many new stations would be set up for the city's 4,500 new bikes or how much of the city would be covered. But it'll certainly extend further than the small slice of downtown where it's centered now. "We're definitely going to expand out further than the current service is now," she said. "The full extent of that is yet to be determined. We imagine a robust community planning process for this."
Noah Budnick, executive director of the San Francisco Bicycle Coalition, said the coalition's vision for this new system is to serve every community in San Francisco. And, he said, the new system will add something that's been lacking thus far: convenience. " Convenience is the optimal word because for bike share to work, it needs to be—and it will be—on a scale similar to the convenience of walking," he said. "You can go out your front door, and within a few blocks, grab a bike and go where you're going. You don't even need to know exactly where there will be a bike station at your destination." He added, "It's really a world class scale. It's going to be the most convenient system per capita in North America. It's really going to be a game changer."
People use the bikes for everything from commuting to work from CalTrain to running errands or getting a bit of exercise. JoAnn Michael, a resident of the Gateway Apartments in the FiDi, rides a bike almost every morning on the Embarcadero to AT&T Park and back to get the blood flowing. She said it's more convenient than having her own bike: "I want a bike, but then you have to take care of it, and you can't leave it anywhere safely," she said. "Bikes get stolen; you have to pump the tires; they get dirty on the balcony." She said she'd like to see a bike share station at Golden Gate Park.
What about safety? Although the system reminds riders to wear a helmet, not many casual riders lug one around on a daily basis. And do they know the rules of the road? Budnick said safety is a red herring, because the benefits of a bike-friendly city far outweigh any concerns. "It's not only going to give people here a great new transportation option, but I think it's really going to bring a whole new level of livability to neighborhoods around the city," he said, adding that bike-friendly cities are more supportive to small businesses and improve public safety.
Simons said, "We do our part by helping educate our customers on safe riding. Every single one of our bikes is printed with the cardinal rules of bike safety; they're printed on stations; we send all of our members rules; we have conversations on social media and emails."
And, she also cited a "safety in numbers" study in the journal Injury Prevention that concludes, "A motorist is less likely to collide with a person walking and bicycling if more people walk or bicycle. Policies that increase the numbers of people walking and bicycling appear to be an effective route to improving the safety of people walking and bicycling." 
If you'd like Bay Area Bike Share to come to a sidewalk near you, fill out the survey to make your voice heard.