Wireless carriers are planning to beef up coverage throughout the eastern neighborhoods of San Francisco, particularly in the dense districts of the FiDi and SoMa, which are seeing a huge demand for service.
Super Bowl 50 in February 2016 is supposed to bring more than a million visitors to the vibrant Embarcadero from tourist-heavy Fisherman's Wharf down to Justin Herman Plaza, which is set to host Super Bowl City fan village. And the building boom in SoMa will continue to strain the system.
To meet demand, they're gearing up to add hundreds of new small cell sites on utility poles. "This is a massive project that's about to kick off," said  San Francisco wireless planner Omar Masry. He added that public notices will go out to thousands of residents near the proposed sites in coming weeks and months.
In order to deliver that increased service quickly, though, wireless carriers are trying to get a state law passed that will automatically approve new sites if a public agency doesn't give a yes or no within 150 days. Assembly Bill 57 was passed in May and has been sent to the state Senate. (Assemblymember David Chiu voted no and Phil Ting abstained.) That'll open a can of worms, Masry said, because the city might start denying applications rather than approving them and then not having the authority to put a site on hold if problems are encountered or if neighbors have concerns.
Jake Hamilton, director of networks for Verizon, said the company has plans for more than 400 new cellular equipment sites east of Van Ness Avenue from Chinatown and North Beach to the FiDi and SoMa. The wireless industry expects a 650 percent increase in demand for data by 2018, Hamilton said. "We see our growth come in many forms," he said. "Primarily we see data usage per device growing at a significant rate as more people use video and advanced apps. Also, the number of devices per customer is growing, which is attributing to the growth rate as well." (If you're eager to see stats, CITA–The Wireless Association has a bundle.)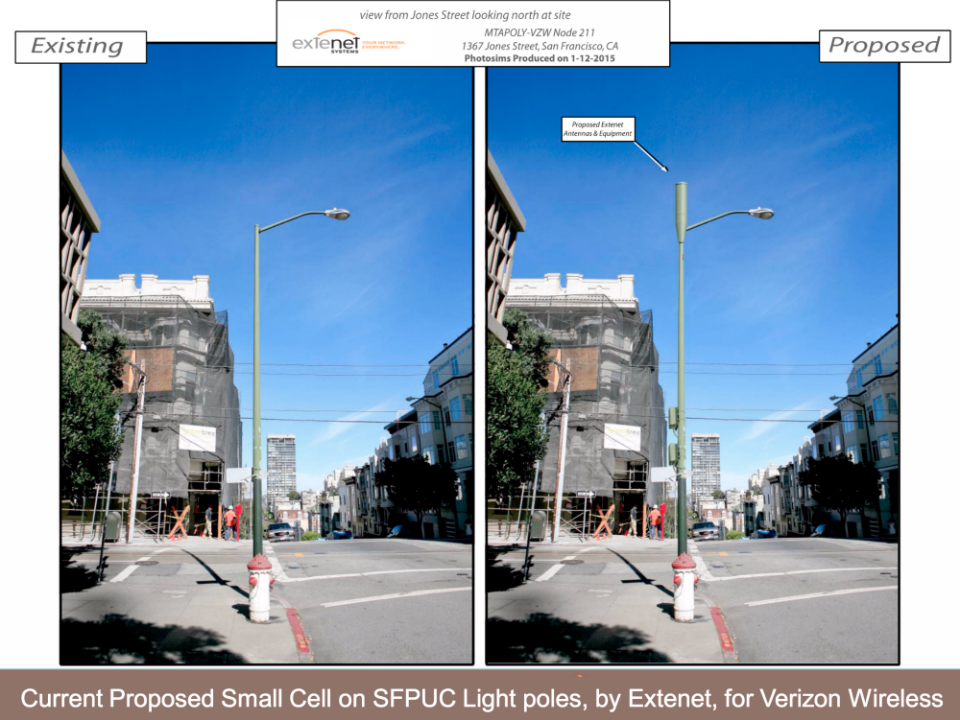 Approved design on a steel pole. Photo graphic: SF Planning Department
Verizon's new deployment plan of small cell sites this year will increase data capacity 300–400 percent, Hamilton said. And that's just parts of its strategy. It's also deploying more "macro" sites, which are typically installed on rooftops and towers, and installing systems inside high-density buildings. It also recently acquired additional spectrum from the FCC, and it expects increases in capacity from advances in technology via software releases. It's easier for wireless companies to add equipment in places like the FiDi and SoMa, too, because many are less-controversial small cells on city-owned steel streetlight poles. It is more difficult to get the go-ahead on wooden poles, which are prevalent in older neighborhoods like North Beach and Russian Hill and require more levels of approval. The fact that the city is already approving hundreds of small cell sites is "proof positive we can collaborate," Masry said.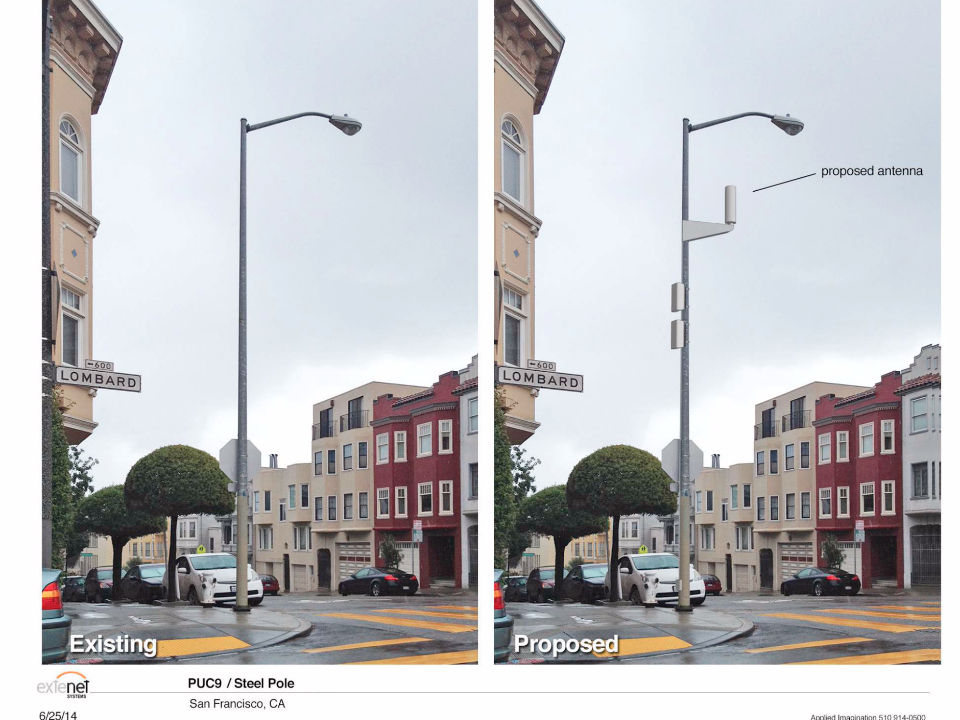 A wireless design on a steel pole not supported by SF Planning. Photo graphic: SF Planning Department.
There's much opposition to the bill by local and state entities. Supervisors Scott Wiener, Julie Christensen, Katy Tang, and Mark Farrell introduced a resolution on Tuesday officially opposing AB57. "The resolution requests that local jurisdictions, such as San Francisco, maintain the ability to effectively regulate wireless facilities in order to weigh environmental, aesthetic, safety, and neighborhood concerns," according to a statement from Wiener's office. It'll be considered by the full Board of Supervisors on June 9th. And a lawyer even set up a dedicated website called Stop California Assembly Bill 57, which also outlines other groups opposed as well as in support of the bill (mostly, wireless associations and carriers). 

So what's wrong with moving things along? Masry said 150 days is often not enough time for CEQA concerns, historic preservation review, due process and more. If the city approves a site, for example, and neighbors want to appeal, they might not get the chance because the clock will run out. He said it's not about blocking new sites: The city wants more coverage, too. In fact, it voluntarily provides access to 320 steel poles in the eastern neighborhoods (at a cost to carriers of $4,000 a year per pole) and works closely with carriers to design and place wireless sites to the benefit of both the carriers and the community.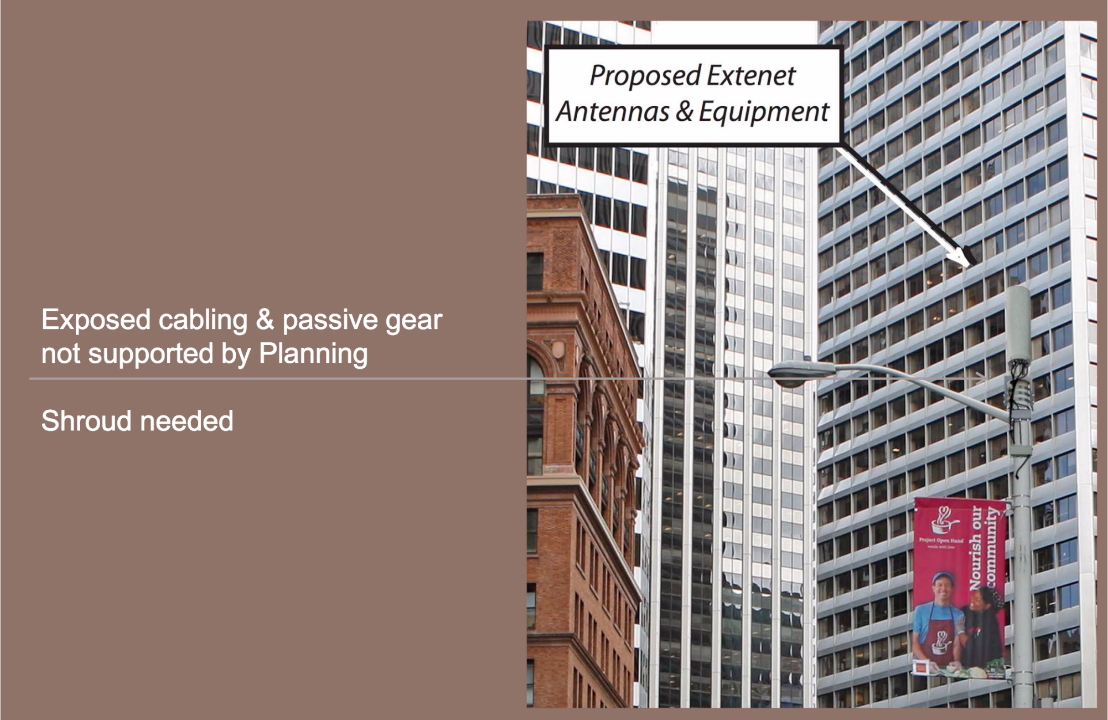 Photo graphic: SF Planning
That said, the law, if passed, could lead to the unintended consequence of jurisdictions denying more applications, thus slowing the system down even more. "Even if the carrier's making a sincere effort to come up with a viable design, we may be forced to deny applications because of these arbitrary deadlines that are being pushed by the industry," Masry said. "They're going to create a nightmare for themselves."
Eric Reed, Verizon's vice president of entertainment and network policy, said in a statement, "There are no new limits to local control over cell tower siting. Local authorities, under existing federal law, retain all existing rights to review, approve and deny wireless siting applications. Given the importance of public safety and increasing demand for wireless service in the city, this will provide certainty to the application process which allows local authorities to review and take action on applications for new sites within a five-month time frame." He also said in an interview, "Quite simply, it's just a bill to remedy any violations to federal law."
Masry disagreed, saying this is a broad expansion beyond federal mandates. The FCC refused twice—in 2009 and 2014—to create an automatic approval path for brand new sites and only OK'd automatic approvals for a limited number of changes to existing sites, he said. Reed said the law is needed to keep pace with the growing demand for mobile services, and that carriers will work with jurisdictions if needed. "Any city or county that provides a valid reason to go beyond that 150-day period and they need more time beyond what's established, the jurisdiction can ask the applicant for an extension," Reed said. "We want to act in the interest that's mutually beneficial to get wireless up and running as fast as possible."
But, Masry noted, the way AB57 is written, it wouldn't allow either the jurisdiction or the carrier to ask for an extension—even if the carrier knew it had an inadequate or incomplete design. "It appears the bill language is incomplete," he said. "It appears to have a number of flaws. Cities need carriers to work with us more collaboratively to make sure sites are built appropriately and maintained."