Last week, the Board of Supervisors unanimously approved a zoning change to allow a second location of popular breakfast and brunch spot Mama's, along with a new community market, Lil' Mama's, to open at 627 Vallejo St., in the former Piazza Market. 
"That was a little surprising to me," said Vince Sanchez, who's helping his brother Michael Sanchez, who owns Mama's, open the new location. "It's certainly great. I felt optimistic we had the six [votes] that we needed, and I thought possibly we'd get eight. To get all 11 of them was a great feeling, and it said to me the supervisors were able to think outside of the political box and realize that sometimes current zoning might not be in the best interest of the neighborhood."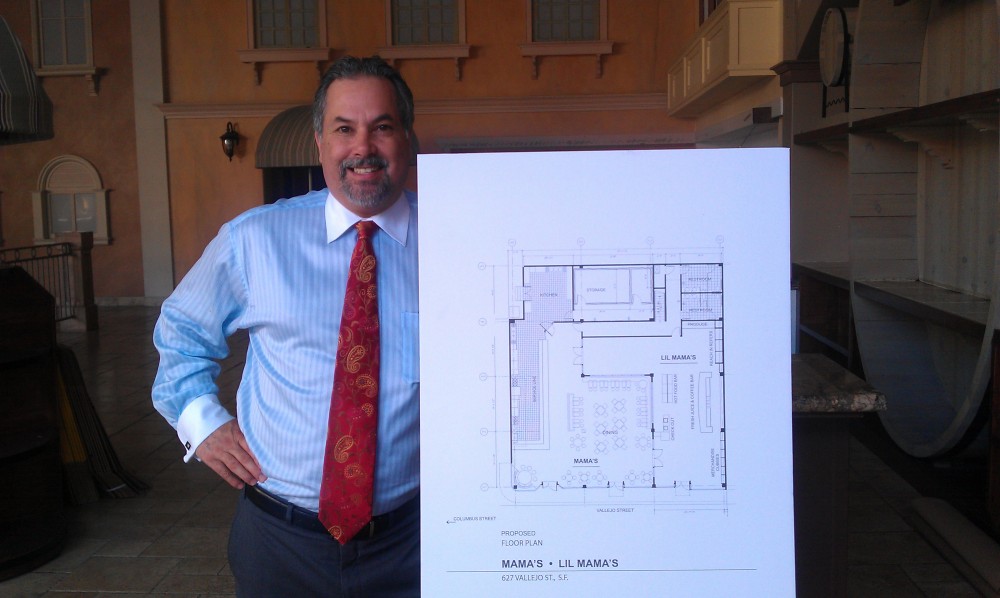 Vince Sanchez, displaying plans for the new Mama's. (Photo: Courtesy of Vince Sanchez)
The next step is getting a signature from Mayor Ed Lee, which is expected to be granted. 30 days after that, the zoning change will go into effect, and the Sanchez family can apply for building permits. They've owned and operated the original Mama's on Washington Square (1701 Stockton St.), a breakfast, brunch and lunch spot that famously draws lines out the door, in the same spot since 1951. 
This isn't the first time Mama's has expanded. In its heyday, it had seven locations across the Bay Area, starting with a second location in the cellar of Macy's Union Square that debuted in 1970. By the late '70s, the company employed 500 people, but by the late '90s, all the new locations had closed, leaving only the original.
Frances "Mama" Sanchez died in 2000, and her husband, Michael, passed away in 2008. Michael and Vince, the couple's sons, have been trying to open this second location for nearly three years; they first signed the lease in September 2012, contingent on city approval. 
As an earlier article stated, the new Mama's will take some pressure off of the crowded original location, with about 70 seats to the original's 38. It'll also keep the same daytime-only hours, 7am–3pm. After the restaurant closes at 3pm, it'll be available as an events space for community meetings, neighborhood association gatherings, fundraisers and more.
About half the space will be dedicated to Lil' Mama's Community Market, which will offer meat, produce, bread and specialty grocery items, as well as take-away food from a hot bar. Market hours will be 7am–9pm.The Sanchez brothers are also working with a local shoe-repair service to establish drop-off and pick-up at Lil' Mama's. "We're looking to do as much as we can for the neighborhood," Sanchez said.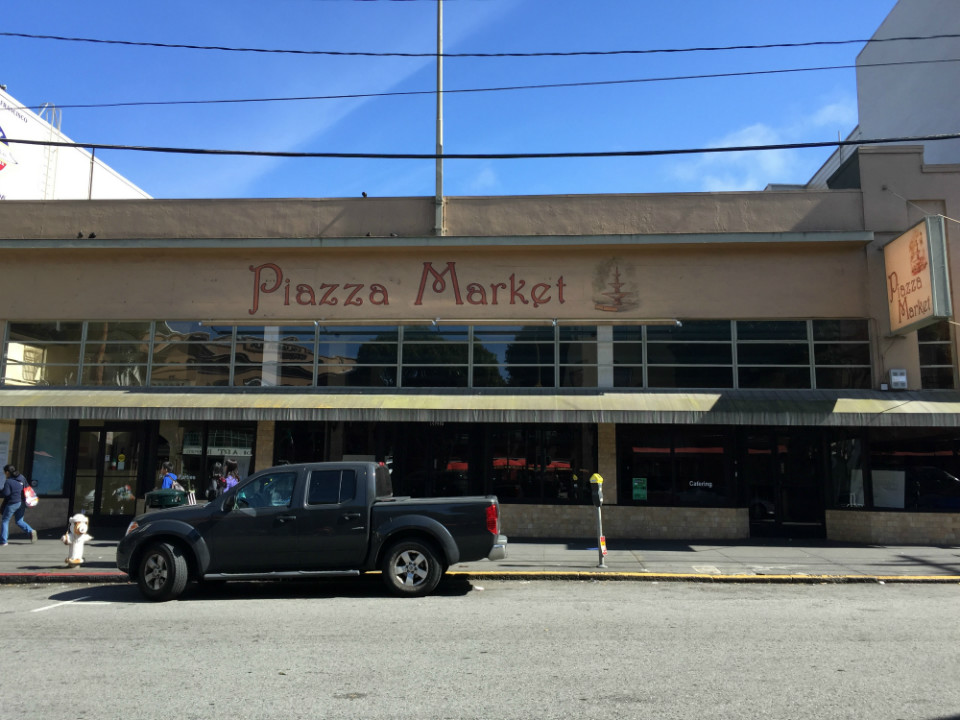 As we've reported, the Planning Commission had to first approve a legislative amendment to change the zoning and give Mama's a conditional use permit, which happened on June 4th. After that, the Board of Supervisors' Land Use and Transportation Committee approved the change 3–0, and it went to the full board on July 28th, where it won approval. The changes were necessary to allow restaurant use in large (5,000+ square foot) spaces that were previously zoned only for retail or services in the North Beach Special Use District.

A caveat was added to the legislation: In the event that the new Mama's goes out of business, any potential new tenant would still have to include a grocery or other retail or service business in the space. It can never become a full restaurant and/or bar, a concern of some neighbors who believe the commercial district is overrun with food and drink purveyors and lacks community-serving businesses like hardware stores, shoe-repair shops and grocery stores.
A new tenant would also have to go through the process of being approved by the Planning Commission. "This is a very, very narrow amendment to current code," Sanchez said, adding that the family had no problem with the restrictions.