If you've lived on or near Divisadero at any point since the early '70s, you're likely familiar with CB. Between his classic fashion sense and his kind demeanor, he casts a wide net when it comes to mixing it up with members of the neighborhood.
Raised in St. Louis and Illinois, CB followed a girl to San Francisco 44 years ago and never left. He's lived in the Divisadero area the entire time he's been here, watching it transform from a bustling jazz center to a neighborhood in crisis to what he describes as a more "high-end" corridor. As a result, he's considered by many to be "The Mayor of Divisadero." We were lucky enough to sit down with CB at Fly Bar and get a glimpse into his life and history. 
You're considered by many to be 'The Mayor of Divisadero.' How did you come to receive that title?
Well, I received that title through my public relationship with people that come to town, and kids going to school. I used to sit on that corner over there in the morning when the little kids went to school, and I'd be like a guardian to them and make sure they got to school.
I also came to a public relationship because me and the guy that owns [Fly Bar], me and him became buddies. I was like a public eye to people, greeting people that would come into his club and in this area here. I was like a guy in this area, of public relations to people that felt down and out. You know, people that didn't have no mother or no father, I was like a figure to them.
And how would you help them out?
I would talk to them. I'd tell them 'Life is not what you think it is; if you need a friend, talk with me.' I would tell them about their problems, and what you need to do to upgrade yourself. I'd try to upgrade them, you know. When they're crying, 'My mother don't love me no more when I came to San Francisco to live.'
Runaways. A lot of people run away to San Francisco because in the different places they lived, they can't get along with family members, and just can't live there no more. And San Francisco's like a place where if you get with the right people, you can gather your own friends. You can gather your own friends by people that communicate with you at who you are. It doesn't make any difference who you are, color, none of that. It's just life at what it is.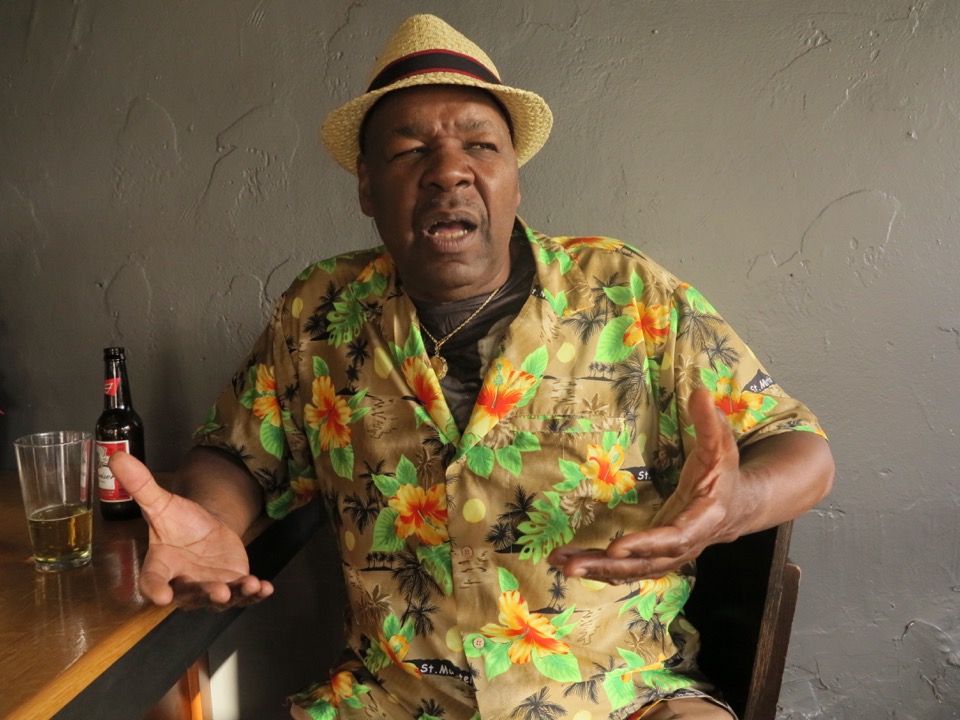 Do you think that all the change that has been happening in the neighborhood is a good thing or a bad thing?
Here in this neighborhood now, they have too many bars. They need to have a fish place in this neighborhood. They got a barbecue place, but they don't have a fish place. They should have more places for you to eat out, a restaurant where you could just sit on the street and eat.
What are some positive things?
Well, this area is the biggest area right now. It's bigger than Fillmore. You have more places to go, and it built up. It upgraded. See, back in the day it used to be a black neighborhood. Now it's a dominant white neighborhood, but everybody gettin' along together.
In the shift from a black neighborhood to a white neighborhood, do you feel like the area has lost a bit of its cultural heritage? Is there still culture here?
There's still culture. It doesn't make any difference, because these are revolving doors. Any day, any place on this street can change. In a matter of months, something else can come in the area. See that new barbecue place, across the street there—it's growing. But Fillmore ain't got nothing on this.
Is it still a place where African-American people can be comfortable with their culture?
Yeah. See, there's a lot of public relationship with people. You just have to dig in. See, there's a lot of white people that live around here. They're beautiful people! They have to dig in. Everybody has to dig in, and socialize.
Like this bar here. They all come to socialize. There ain't no problems here. There ain't no violence. None of it. Everybody that comes here fits in. When you first come in here, you fit in, right? It's like all the people that you met, and talked with were like as if you've been here before. You weren't born here, but you fit in here. It's where you fit in at. It's not where you're from.
What does it mean to be a 'good' neighbor?
A good neighbor is a person that can look out for others. Be a provider, if they need you. People are around the people they feel they can be comfortable with.
Do you think that people in this neighborhood are, for the most part, good neighbors?
Oh yeah. Yeah.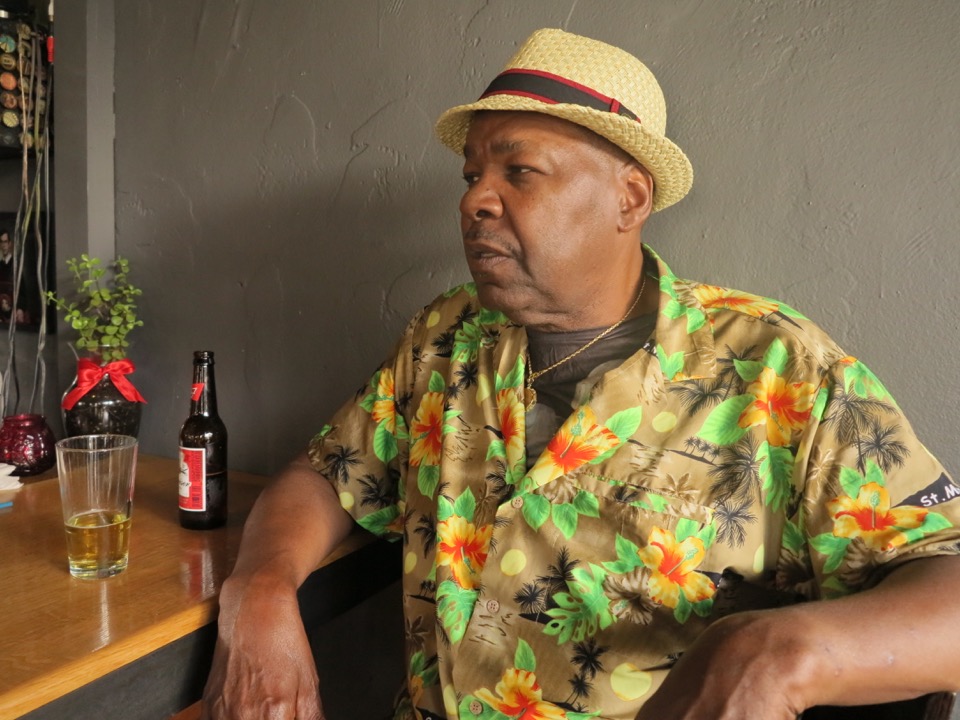 What was it like going out on a Friday night back when you first moved here in the '70s?
Well, they had entertainment going on all the time. They had more entertainment. Not like at The Independent. I mean, they have entertainment, but it's not like they have big entertainment. See, they had big entertainment back then. When it was a black neighborhood, they had entertainment going on every day. Every day they would dress up. Today, they don't dress up. Jeans and tops, that's what they wear now. Back then, on Friday, Saturday, Sunday, everybody would dress up, but they don't dress up no more. This is a jean town right now.
Where did you used to go out on Divisadero?
I used to go to places like The Half Note, and where Waziema is.
Club Morocco?
Yeah, that's right! Very good! Things were happening. They also used have a club, The Sportsmen's, right across the street from The Half Note.
So do you think people had more fun back then?
Yeah. They havin' fun now, you know. This is like a comedy for them. But back then, they had more entertainment. More people playing jazz, and singin' and dancin'. The only place goin' on right now is Madrone, with Motown Monday. That brings them all there. Every Monday night, they're there. They're packed. Fly's OK, but they don't spin records. There needs to be more entertainment.
The majority of the businesses that are coming in are high-end. What are you're feelings on that?

The restaurants that are coming in now are more high-end. The barbecue place is too high for the people in the area. The same thing happened on Fillmore, when they brought all that heavy shit in there, you know, having shows and all that. People don't have the money. See, if you don't have the money and you stay in the same area, you can't go out! You have to stay at home.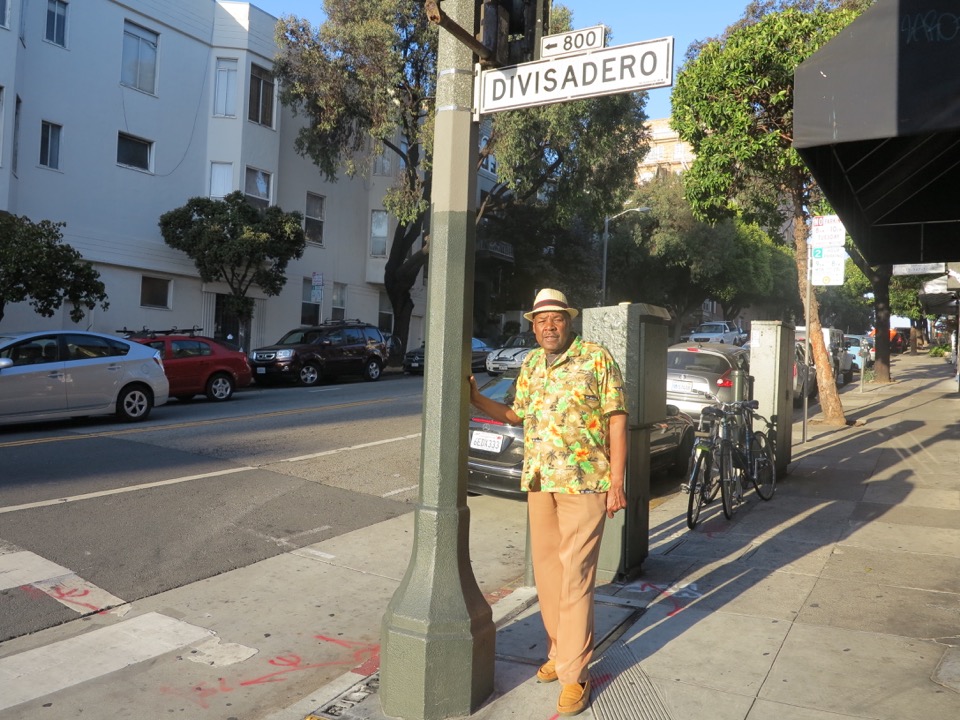 Who are some local residents that have stood out to you over the past few years?
A guy named Daniel Price, he was a great artist. I left a picture he painted of me here [Fly Bar]. He got killed. Back around 2003, one night, somebody shot him. His lady was trying to get out of the car ... it was a freak thing. But anyway, he was a great guy, a young guy. So I keep that painting up there in memory of him. I took him in as a good buddy of mine. He had to be about 23 years old. Beautiful guy. A beautiful white guy. He was just good. He could paint real good, he could draw real good. So I keep his image here. That means that whatever's happened, he's still living as an artist.
You have remarkable style. Why is it important to dress up?

Well, that's a part of life in general. My family, when we came along, we didn't have anything. But today, when you have it, show it. Show it. You know, as you get older, you want to show somebody that appreciates what you got. There's a few guys that dress around here. They dress up for me, and the girls do too. So I take all the girls out there, we go dancing. We have fun. You got to have fun with your life.