When you picture Hayes Valley today, maybe you think of the high end shoe shops and modern condo developments, or perhaps the stores and cafes inside of shipping containers.
Whatever the case, it's likely situated around Octavia Boulevard and Patricia's Green, which have defined the central point of the neighborhood for the past decade.
Neither existed before then. 

We've been looking back at the saga of the freeway, first at its origins within the freeway building-spree of the 1950s, and the controversies that kept it from getting built through to the Golden Gate Bridge.
Then we looked at the decades-long effort to remove the spur – instigated by a damaging earthquake in 1989 and followed by a successful neighborhood campaign.
Today, we're examining the careful planning of one of the country's only multi-lane boulevards, one of its defining new green spaces, and the rapidly changing neighborhood around it. 
Planning Octavia Boulevard
In November of 1999, ten years after the Loma Prieta earthquake, city voters passed Proposition I. The measure would remove a 1.5 mile stretch of the Central Freeway and fund the Octavia Boulevard Plan, a two-way, six-lane boulevard surrounded by new housing and mixed-use development.
Prop I, as its vocal supporters explained, was an opportunity to create a safe, walkable, "livable" Hayes Valley—a neighborhood that had been overshadowed by the looming freeway for years.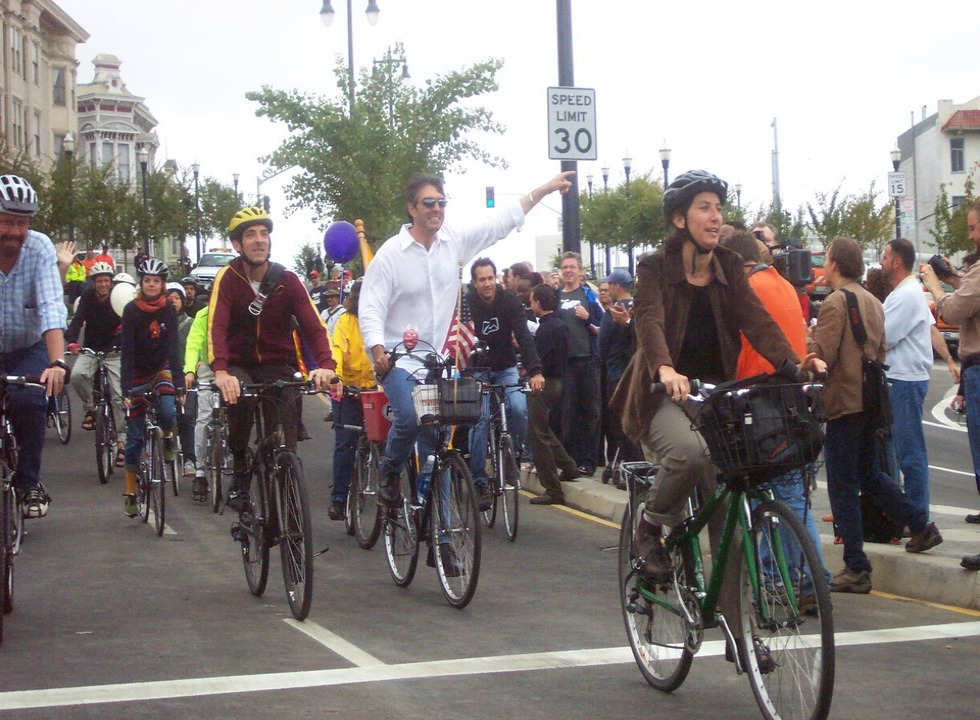 Bicyclists enjoy Octavia before it officially opens. Photo by Jason Henderson

But how to do this and still efficiently move traffic west?
The answer was a multi-way boulevard: a street plan that handles both fast and slow-moving traffic on separated but closely-connected roadways. The idea is commonplace in Europe, but planning this kind of street was practically unheard of in the US (with the exception of Chico, Calif.'s Esplanade, a model for urban planning when it was constructed in the 1950s.)  
"We were looking to create a street that could handle large amounts of through traffic while keeping those side roadways as traffic-calmed as possible," explained urban planning expert Elizabeth Macdonald, who consulted on the project.  
She, along with city planner Allan Jacobs, and various city agencies, were faced with two opposing forces: commuters from the west and north, who wanted an efficient route to and from downtown, and Hayes Valley residents and merchants who wanted a bike and pedestrian-friendly neighborhood.
The idea behind Octavia Boulevard, they decided, should be that "no one gets everything, but everyone gets a lot." That is, cyclists and pedestrians would still be able use the boulevard as much as commuters.
Meanwhile, Macdonald, Jacobs and the city had to consider the broader future of Hayes Valley. A number of structures along the Boulevard would be torn down along with the freeway, leaving room for new buildings and, accordingly, an influx of new residents.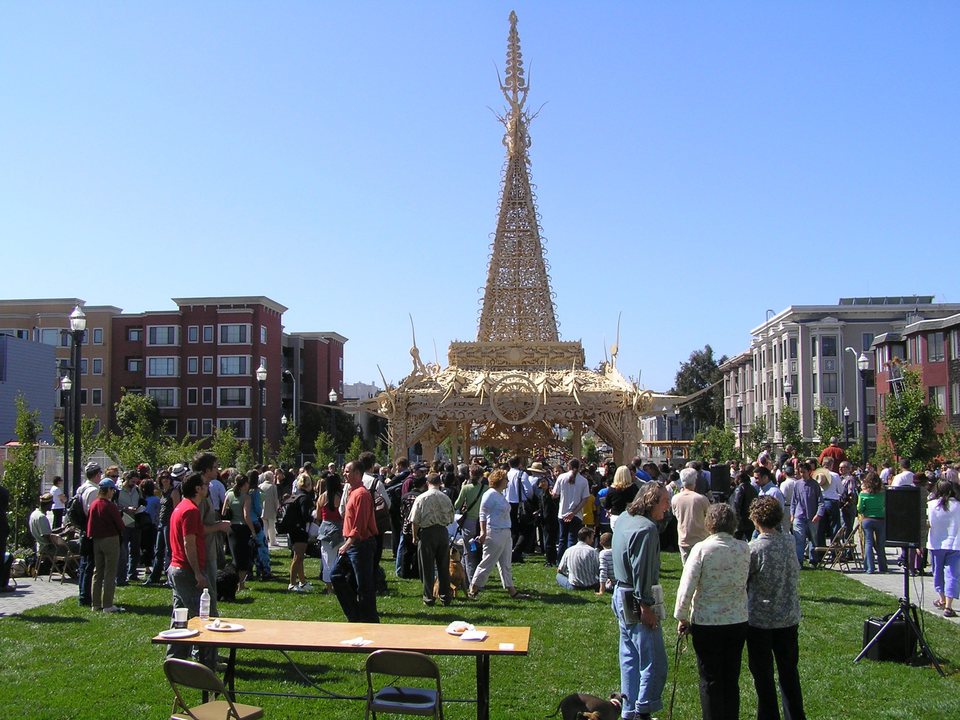 The park's opening day in 2005. Photo by Jason Henderson

How would these newcomers navigate the boulevard? How would drivers know that the interior lanes, which connect to the freeway and Fell and Oak Streets, operate independently from the exterior lanes which would be dedicated to local traffic and cyclists?
According to Macdonald, creating barriers between fast and slow moving traffic was a major challenge when planning a multi-lane boulevard.
So, to clearly separate fast-moving commuter lanes from slower local lanes, the city planted 261 trees along the east and west sides of the boulevard.
It crowned four-block-long Octavia Boulevard with a new park—then called "Hayes Green"—at its northern end. The boulevard won an award from American Planning Association in 2007, two years after it debuted in September 2005.
Naming Patricia's Green
On June 3, 2005, Patricia Walkup, the Hayes Valley Neighborhood Association president at the time and a leading force in the success of Prop I, stood beside Sue Bierman, Gavin Newsom and other city officials to proudly debut Hayes Green.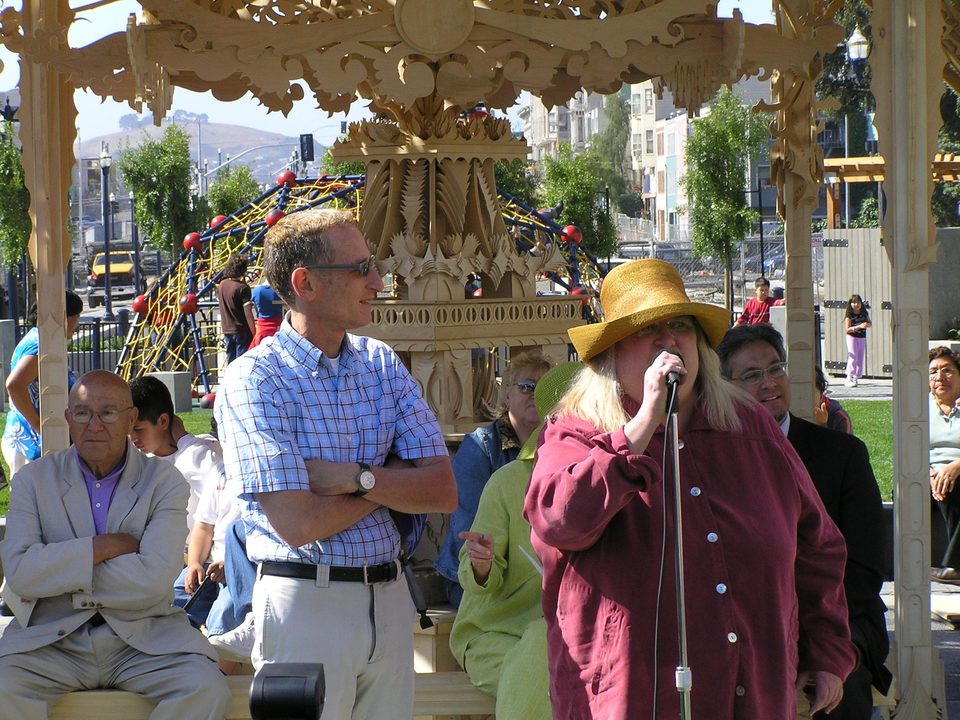 Patricia Walkup speaks at the park's opening day. Photo by Jason Henderson

This was the moment Walkup had been waiting for since she moved to Hayes Valley in 1991. As we covered previously in this series, the neighborhood had gone from being a day vacation spot for early San Franciscans to a redlined, disinvested section of the greater Western Addition area. By the '70s and '80s the freeway wasn't just blocking sunlight and breeding more car traffic, as its earlier critics feared, but serving as a destination for prostitution, drug dealing and various other crimes.
Walkup wanted to live in community that was safe, walkable and family-friendly—a place that accommodated all income levels, ages and lifestyles.
After forming HVNA in 2000, she worked tirelessly with like-minded neighbors and merchants to deal with crime issues and promote public spaces. Along with fellow HVNA board member Robin Levitt, she spearheaded four campaigns opposing the Central Freeway, one of which (Prop E) took down the structure despite powerful freeway advocates at Caltrans and City Hall.
"During the campaigns Patricia and I were in touch every day," Levitt said in an interview with Hoodline. "She had a vision for the neighborhood, and she wouldn't think anything of calling you up at 11pm to tell you about it."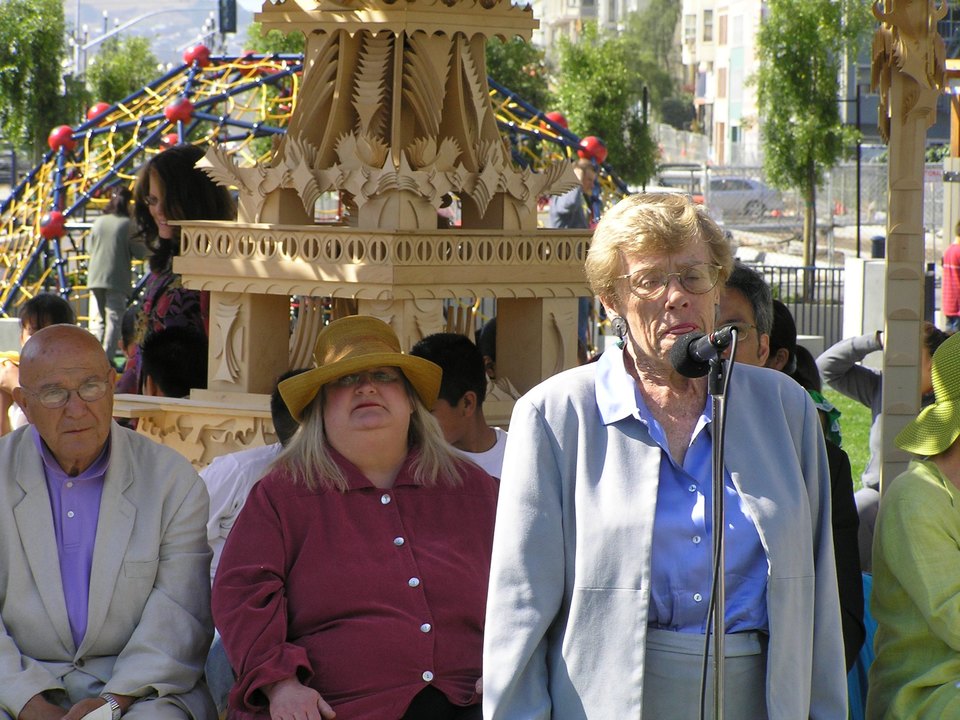 Sue Bierman speaks at opening day, with Walkup behind her. Photo by Jason Henderson.

During Prop E's campaign in 1998, Levitt, Walkup and their small army of volunteers would approach strangers at festivals, in line for movies, on busy street corners—anywhere that promised a crowd—to solicit signatures for Octavia Boulevard (they needed 18,000 to get the Prop E on the ballot).
"She was a remarkable woman." Levitt explained. "If she saw an issue that needed attention she worked on it until it was resolved."
Levitt remembers Walkup sitting day after day in a windy corridor of her building on Laguna Street, waiting for volunteers to return with their completed clipboards. When they did, Walkup would comb through each signature to ensure that the name was legible and that the address or phone number was legitimate. If the city found any false information on signature sheets, Levitt said, they would knock off about 100 of the total signatures.
Walkup's dedication and attention to detail, as her close friends and colleagues have related to us, was an exponential force in the success of Prop I and, respectively, the general pleasantness of Hayes Valley today.
Walkup died on June 6, 2006 from health complications related to diabetes. The following September—exactly a year after the park opened—Hayes Green was renamed "Patricia's Green".
The name was appropriate, city planners thought, not only because of Walkup's crucial role in the park's existence, but because of her ardent support of green space and family-friendly infrastructure.
"If you build it they will come" Walkup once said when asked if a park would bring children to the neighborhood.
Creating The Market-Octavia Plan
After Prop I passed in 1999, the City took out a bond to pay for Octavia Boulevard and Hayes Green, which together were slated to cost $75 million. Meanwhile the state transportation agency, Caltrans, wanting nothing to do with Hayes Valley or the new boulevard, demolished the freeway and transferred the 22 parcels of land they owned beneath it to the city.
In order to repay the bond for the boulevard, the city began selling the parcels they had just acquired from Caltrans to private developers.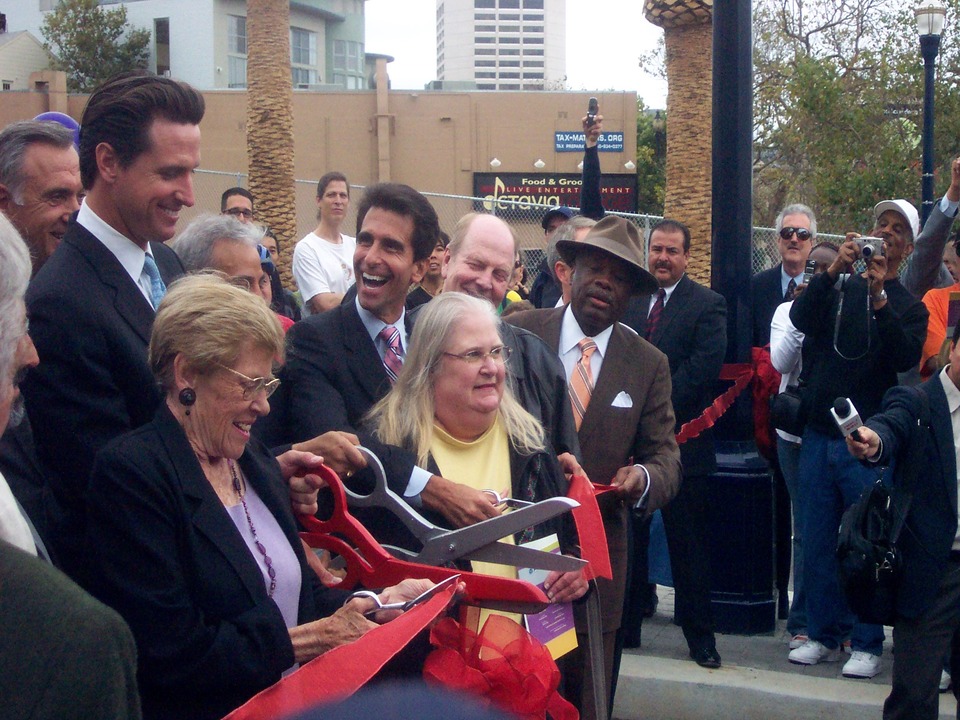 Walkup cuts the tape to open Octavia, with Bierman, Willie Brown, Gavin Newsom, Mark Leno and other dignitaries.
In the early 2000s, the construction of Octavia Boulevard was in full swing and the city was crafting a plan for the land parcels. Exhausted from the decade-long battle surrounding the Central Freeway, community organizers and City planners sought out an all-encompassing plan that would regulate height, density and parking for all new buildings around the new boulevard.
Thus, the Market-Octavia Neighborhood Plan was born.
Like Octavia Boulevard, it was a compromise between Hayes Valley residents and an outside party (in this case, real estate developers instead of government planners). Developers wanted tall buildings and a parking space for each unit on the market. But residents feared that more parking would ensure more traffic around Hayes Valley, thus damaging the livability of the neighborhood.
"For the first time the city was acknowledging that families, young people and old people alike wanted to live in San Francisco," related Jason Henderson, a professor of urban planning at San Francisco State, and an HVNA board member. "They hadn't build any housing for those people since urban renewal, so the freeway coming down was an opportunity."
As he explores in a recent book on city planning, Street Fight: The Politics of Mobility in San Francisco, conventional city zoning code requires one parking space for each new unit created. This would mean approximately six thousand new parking spaces—and potentially new vehicles—in Hayes Valley.
But under the Market-Octavia Plan, developers building around Octavia Boulevard are only allowed to create one parking space for every three units, unless the city grants them an exception.
2014 map of the parcels, from the Mayor's Office of Economic and Workforce Development 

Planners presented the first draft of the Market-Octavia Plan to the city in 2002, but it wasn't implemented until 2008—just in time for the stock market crash and development along the boulevard to halt for years. According to Henderson, the delay can can be chalked up to a three-year environmental review and general disorganization in the planning department at that time.
A Timeless Centerpiece
Today, as you sip coffee or eat ice cream in Patricia's Green, take a closer look around. The parcels along Octavia towards Market have been getting sold off to developers in order to fund the street and park you're sitting in, and other ongoing public space improvements.
Some, like Parcel O, have been set aside and funded by the city to provide new locations for affordable housing and senior care. Others, like Parcel N, are still waiting their turn for condos. Earlier this week, a diverse group of neighbors convinced the city to preserve the beer garden for a few more years.
Meanwhile, there continues to be vigorous local discussions about Octavia Boulevard (which many feel needs more pedestrian safety features, or better traffic flow) and Patricia's Green (which many feel should or should not be watered during the drought, but either way should definitely contain the artwork they prefer).
And so, through all the decades of changes in the neighborhood and the city beyond it, and through the culture shift from cars and suburbs to city living, this thin stretch of land continues to be ground zero for what modern urban development looks like—and a place for locals to decide what it should look like.