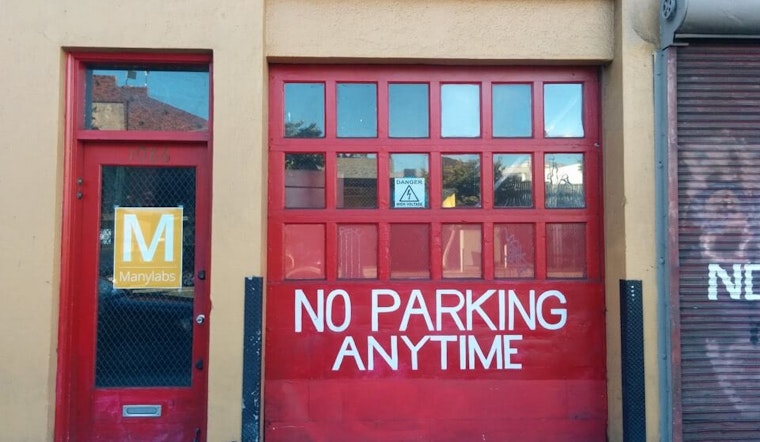 Published on October 31, 2015
At Manylabs on Folsom Street, two monitors on the wall display live air-quality data. The graphs spike during the morning and afternoon rush hours, but they also spike at 3am, before many cars are out on the roads.
Electronics engineer Ken McGary, who designed the low-cost sensors, has a working hypothesis: the early-morning spikes are a result of Sightglass Coffee roasting beans around the corner.
Building tools to crowdsource air-quality data is one way Manylabs hopes to help regular people engage with science, their communities and nature.
At a three-story, 5,500-square foot industrial space at 1086 Folsom St. (at 7th), 12 resident scientist-researchers are working on a variety of projects: electronic notebooks, paper microscopes, cardboard robotics, and a massive database of the global ecosystem, to name a few.
Ask people inside the building what Manylabs is, and you'll get a range of answers: co-working space, hacker-space, maker-space, science art gallery, incubator, trimmed-down university.
"It's an experiment," said Peter Sand, who founded Manylabs. "We're trying to find out what happens when you bring a bunch of people together who would ordinarily be working by themselves, who don't necessarily fit into academia or into the startup world."
Sand has a Ph.D. from M.I.T. and experience in robots, electronics, and software engineering.

His time at M.I.T. focused on computer vision, programming computers to identify objects in photos and video.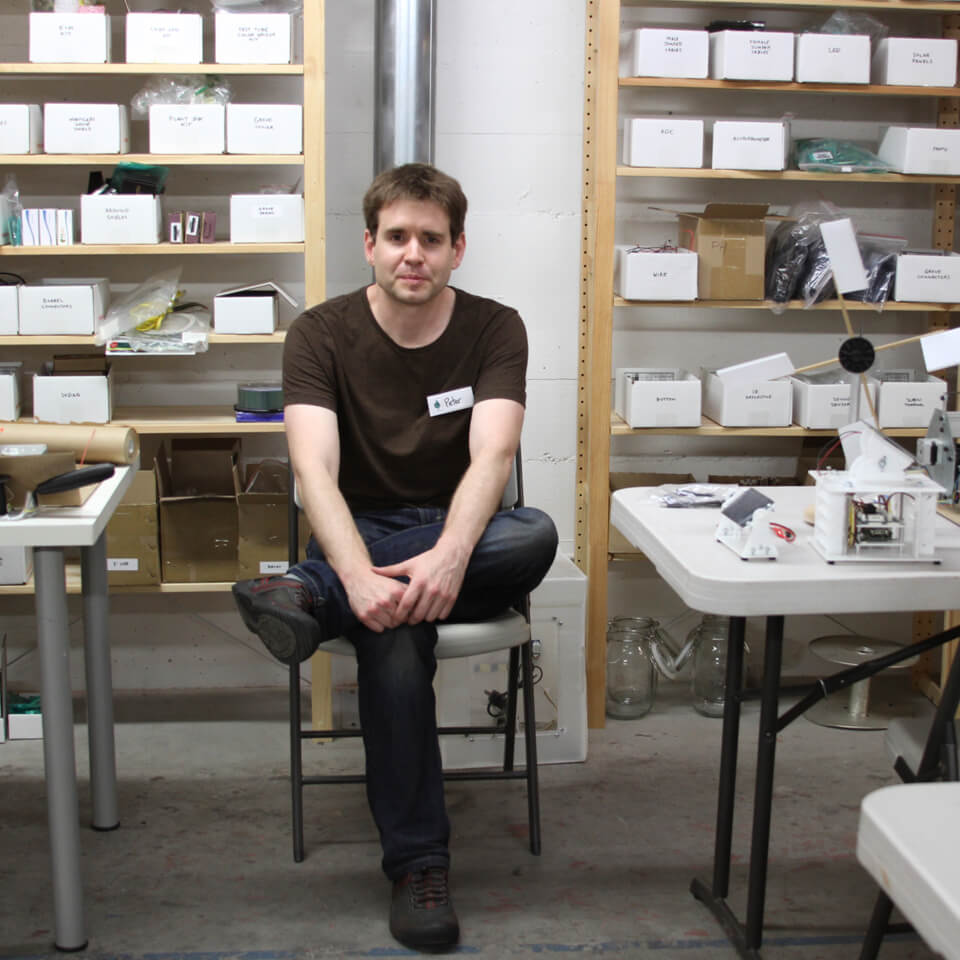 Manylabs founder Peter Sand sits in the second floor workshop. (Photos: Sam-Omar Hall/Hoodline)
Since coming to California about four years ago, Sand has focused on disseminating low-cost, open tools for science.
In 2013, Sand and lead engineer Elliott Dicus ran a $20,000 Kickstarter to develop science kits for schools. In science classrooms, students and teachers have been using the sensor kits to measure the velocity and acceleration of carts, map magnetic fields, monitor soil moisture and PH levels, and experiment with wind turbines.
The kits, of course, are all open-source, which means their designs and code are available for anyone to see and reproduce.
"None of it is a black box, it's all stuff you can fiddle with," Dicus said. "If you want to improve it, or change it, or make something different, you can: just take it apart."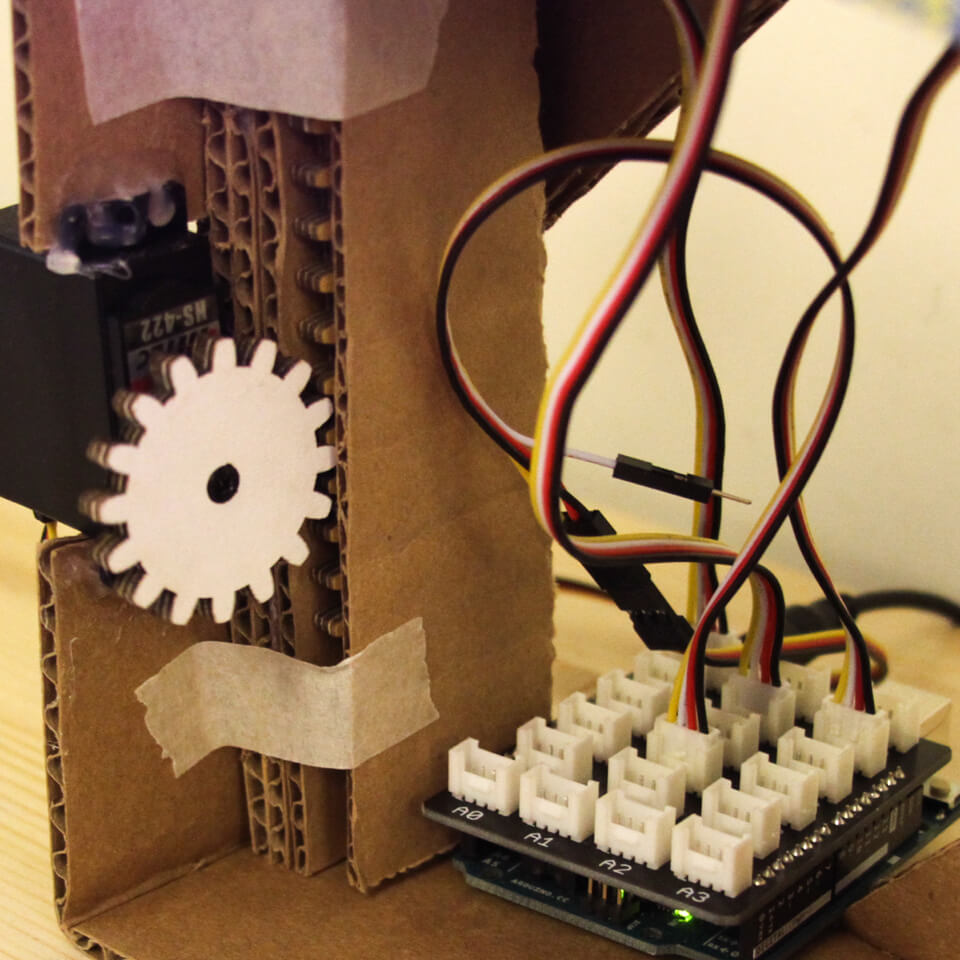 An example of paper mechatronics, which uses low-cost materials and basic principles of mechanical engineering. "That's a regular servo, but it's pushing on some little cardboard gears to make a piece of wood move," Dicus explained.
In June 2014, Sand and Dicus received a half-million dollar grant from the Gordon and Betty Moore Foundation and pivoted — from making tools for science education to running an experimental, collaborative, open-science factory.
"They act as pollinators, catalysts, bringing all these people together," said Manylabs resident Jorrit Poelen.
Poelen, a Dutch experimental physicist and freelance software engineer, was introduced to Manylabs and Peter Sand through Nerds for Nature, a loosely organized group that seeks to engage with nature through science and technology.
At Manylabs, Poelen is leading work on Global Biotic Interactions, a massive super-database of species interactions.
The database, which is a sort of search engine for ecosystems, is the result of collecting information from a variety of sources, standardizing it, and making it searchable. It's an example of the kind of "open science" that Poelen and Manylabs advocate.
Sharing more of the scientific process makes science "more reproducible and more powerful," Sand said, "by being able to probe and replicate and expand on what people have done."
Ken McGary's sensors — the ones that may be picking up roasting coffee fumes — can easily be customized to detect various gases: carbon monoxide, ozone, hydrogen sulfide.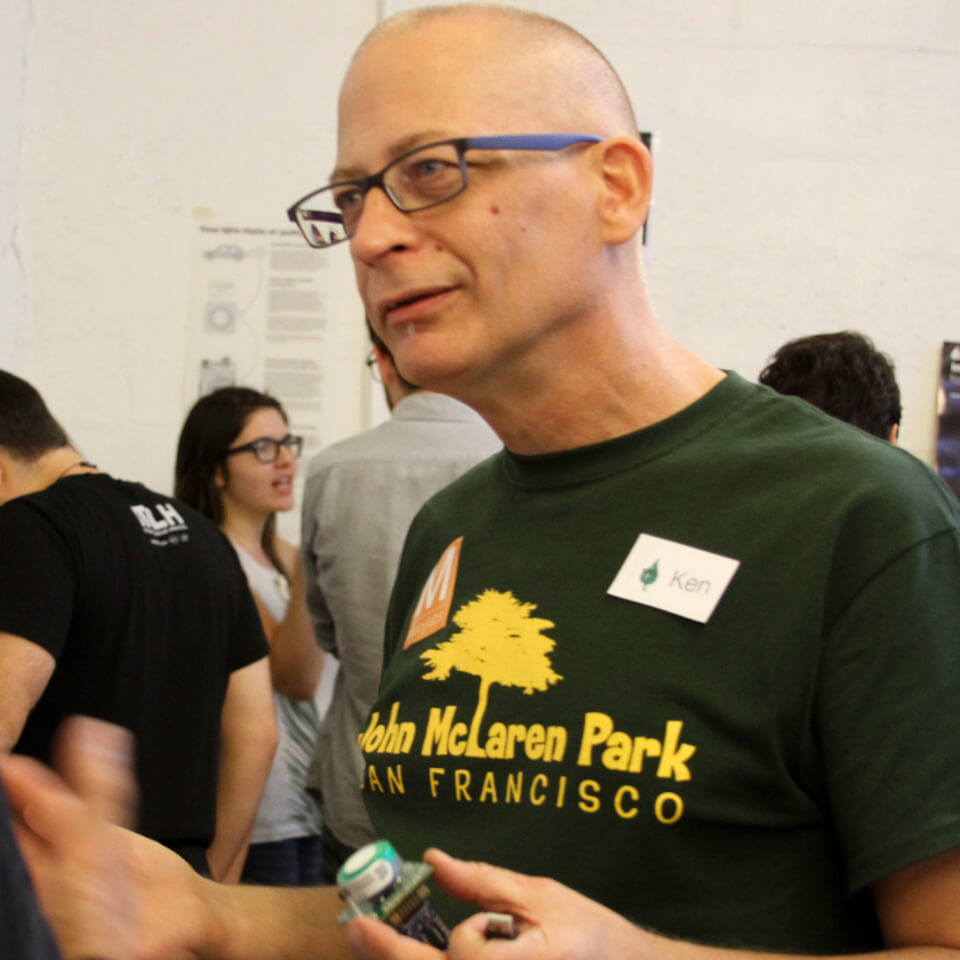 Ken McGary, a resident electronics engineer at Manylabs, speaks about the low-cost air-quality sensors he is designing.
Building on three decades of experience in circuitry, McGary is now building $200 sensors that get similar results to $10,000 models.
The information collected by McGary's sensors feeds into a system that Elliott Dicus, software engineer, is writing. That system has an open API, which provides a common platform for devices to store data, and for people to access that data.
Eventually, low-cost high-quality tools like these can bring more people into science, and allow them to answer questions about their own communities, said Elisabeth Sylvan, who joined Manylabs from the Tech Museum of Innovation in San Jose last year.
"I really want to see people not just collecting data, but really thinking about 'What do I care about in the world?'" she said. "Science is set up to ask questions skeptically, and it's a method anybody can use."
Going forward, Sand and Dicus figure they could bring in about 30 residents for six-month, renewable stints. Collaboration and idea sharing across fields is key to the Manylabs ethos.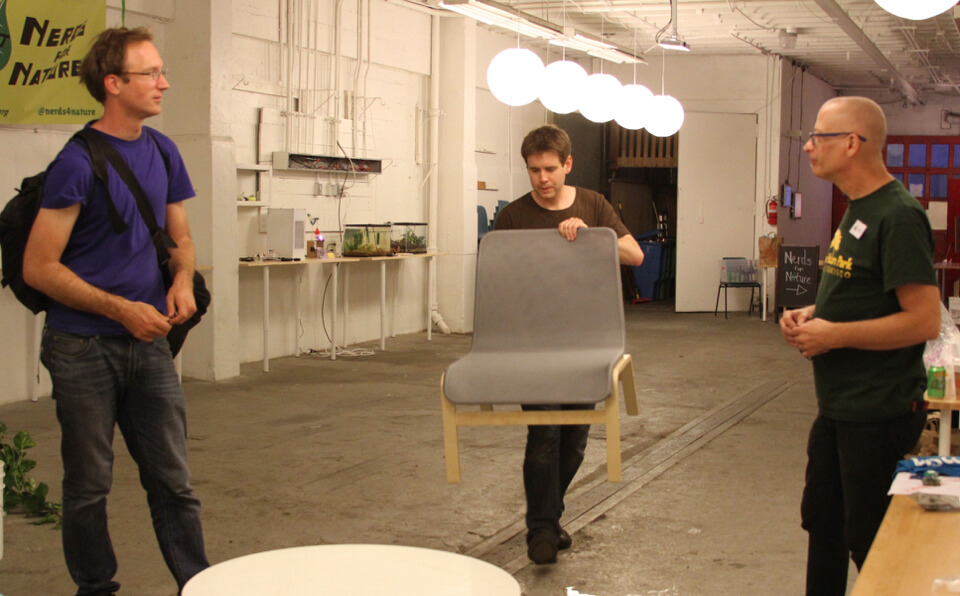 After a Nerds for Nature event at Manylabs on Sat. Oct. 17th, Sand puts back furniture while residents Poelen (left) and McGary (right) chat.
Sand said he is looking for residents who are developing tools for science or science education. Open-source projects are ideal.
"You're providing source code or, if it's a hardware tool, schematics — some way that you can replicate the tool," Sand said. "The idea of having an impact is to have tools that other people can recreate or reuse or hack or change."