Neighbors have been reporting an uptick in rat sightings in Sydney Walton Square and Sue Bierman Park. Ivy has been removed from Sydney Walton—reportedly in response to the unusual number of rats living in it.
Neighbors in North Beach had similar complaints of a rat population explosion when the Central Subway tunnel was being dug. SF Recreation and Park spokesperson Connie Chan told us in an email a couple of months ago that the ongoing drought could be a factor, as could construction. "Very often, where there is an active building construction nearby, rodent sightings also increase."
Indeed, there's been a major increase in recent street construction in various spots throughout the FiDi (especially on Jackson, Drumm and Davis), due to a new water main pipe being installed. We asked the SF Public Utilities Commission if that could be the cause, but a spokesperson couldn't confirm it.
One neighbor told us he now regularly sees a startling amount of rats—20 to 25—when walking through Sydney Walton Square after dark. (The park is bordered by Pacific Mall and Jackson Street to the north and south, and Front and Davis streets on the west and east.) Another neighbor, Gateway resident Byron Hurley, wrote on Nextdoor: "I have seen rats the size of small cats in Walton. Creepy. The rats in Sue B. are smaller. Less creepy."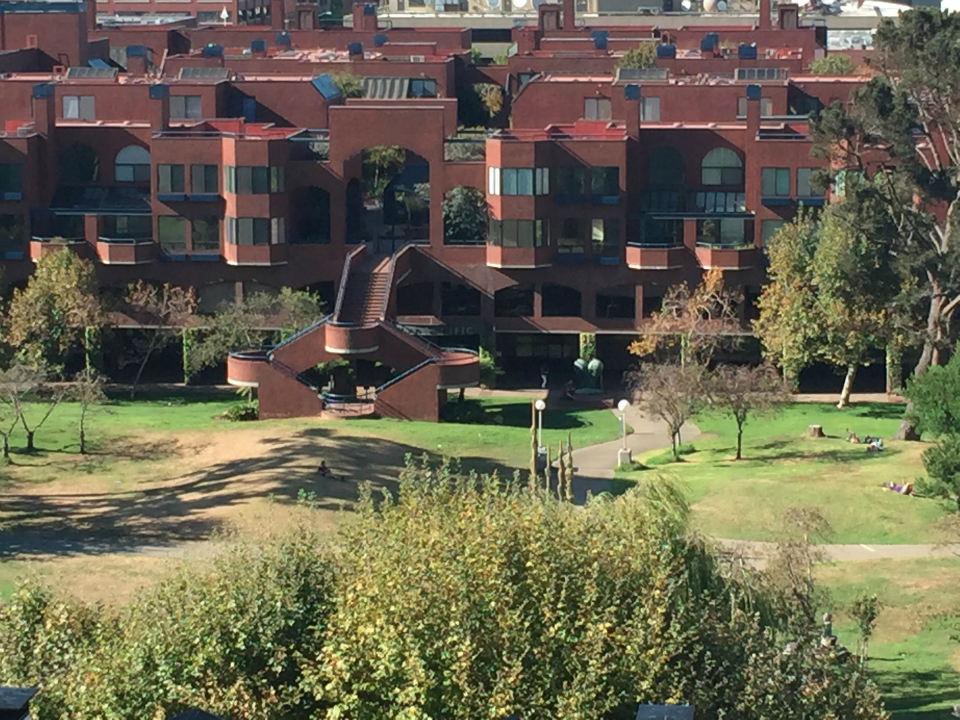 Sydney Walton Square.
Sydney Walton Square is not a city park; it's privately maintained. The Gateway Apartments and Townhomes is responsible for the bulk of the park, particularly the area closest to Jackson Street. Two people told us that workers were removing some of the ivy beds near Jackson to address the rat population, and a worker we saw digging it out earlier this week confirmed it. Repeated calls and emails to the Gateway regarding the rat issue, and what it might be doing to mitigate it, were not returned by deadline.
Rats also are often seen scurrying across the sidewalk at night in and near the lushly landscaped Sue Bierman Park (the part bordered by Washington and Clay streets on the north and south and Davis and Drumm streets on the west and east). Chan confirmed in late July that there had been no rat reports to 311 for that area to date this year. But neighbors say they're there.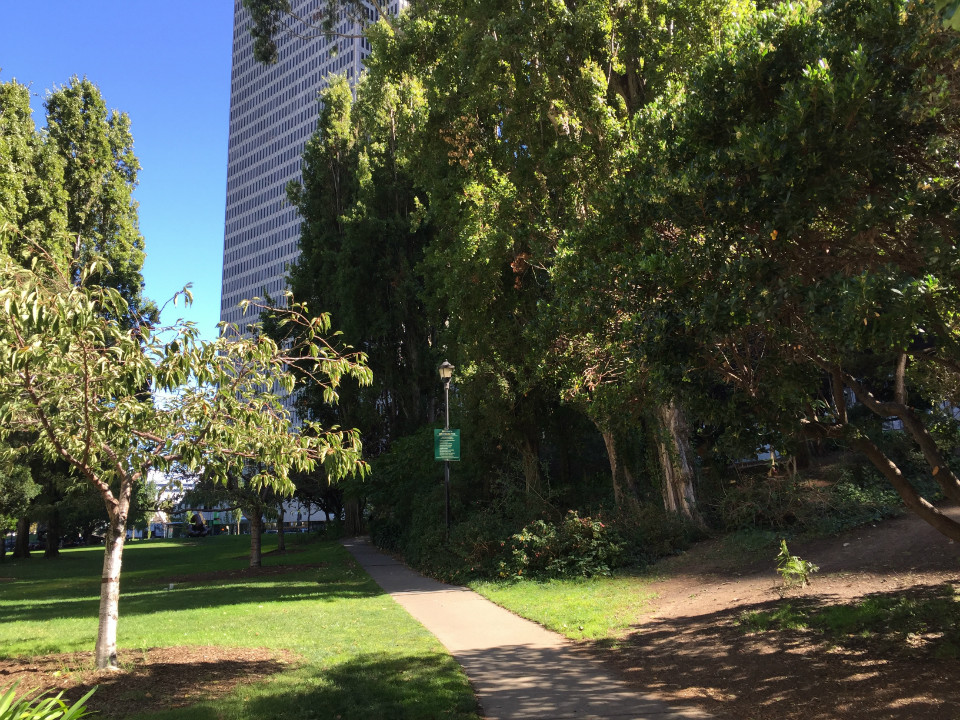 Sue Bierman Park.
"I see rats everywhere on the Washington and Davis side," a Gateway neighbor wrote on Nextdoor. "When walking towards Embarcadero Center, I see them coming in and out of the bushes all the time. In fact, I try to avoid walking in that area because of them."
"From our apartment, we see lots of rats at the beginning of Sue Bierman Park—especially when people leave food by the trash can," another neighbor wrote on Nextdoor. "It invites rats by the dozen—horrible."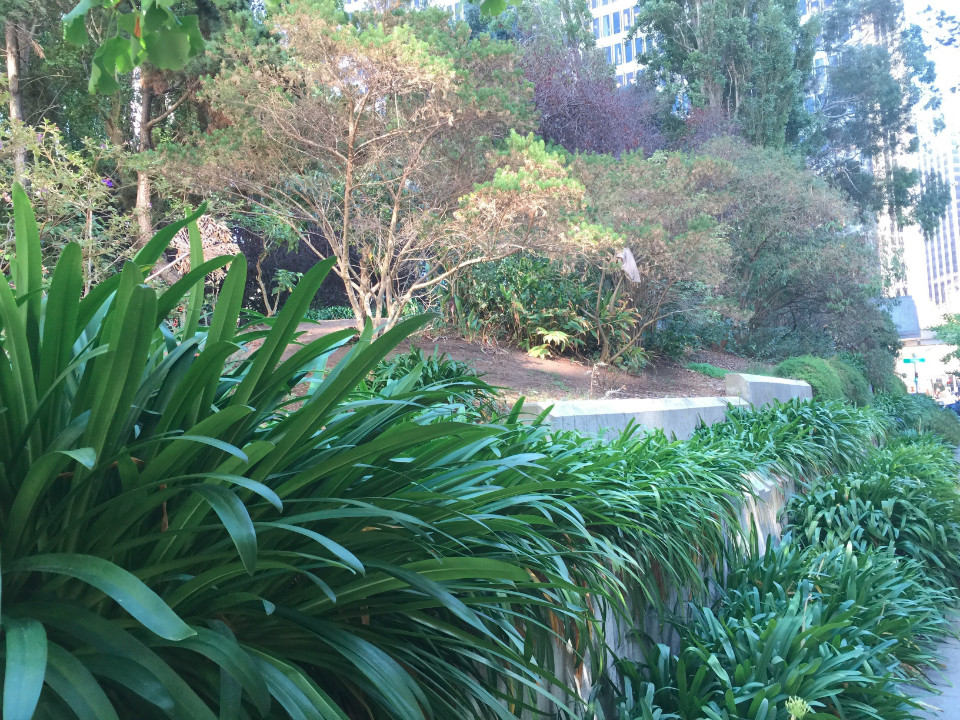 Sue Bierman Park foliage along Davis Street.
A third Gateway resident had this to say via email: "I always walk down the middle of Davis from Clay to Washington, because of the rats by the park and the garage sidewalk. Also, two weeks ago, I was going to use the Chase ATM by Safeway and there was a half-dead rat right by the ATM. There was a maintenance worker passing by and he was going to get someone to remove it. But I have not used that ATM since, because of that vision."

We emailed Rec & Park on Thursday and asked again if any rat reports had come in. Chan replied, "There is no record indicating an uptick in rodents in Sue Bierman Park, but wildlife does exist in all our parks and the Department works to manage the best we can." If you see rats in a city park, be sure to report them to 311.