The historic Sam Wo restaurant (713 Clay St.) hosted a ribbon cutting and re-opened on Wednesday for lunch, serving throngs of well-wishers from the community and dignitaries. 
The century-old business had become a local and celebrity destination over the years (check out this old Conan O'Brien clip, for example).
But it had been shut down due to structural building safety and health code violations at its original location at 813 Washington St. in 2012. Today's opening is its big comeback.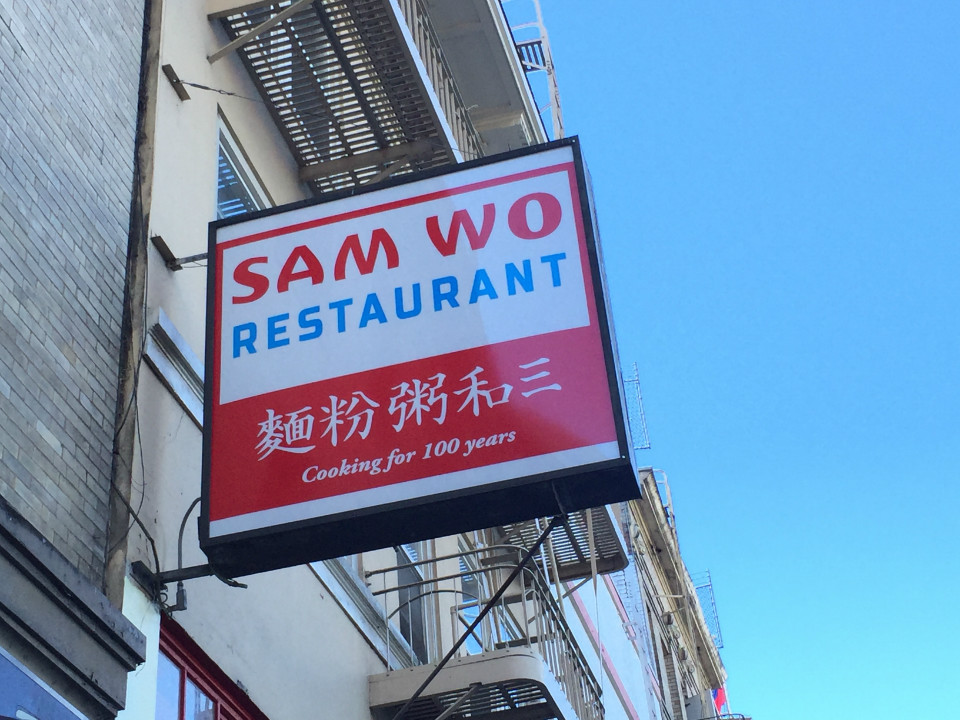 Several supervisors, police leaders, community leaders and Assembly Member David Chiu attended the re-opening, along with a slew of media, and gave brief remarks and shared memories. A crowd of community members spilled over to the north side of Clay, along the edge of Portsmouth Square.
While a preview was held Oct. 2nd and they've had some soft openings since, this was the official first day.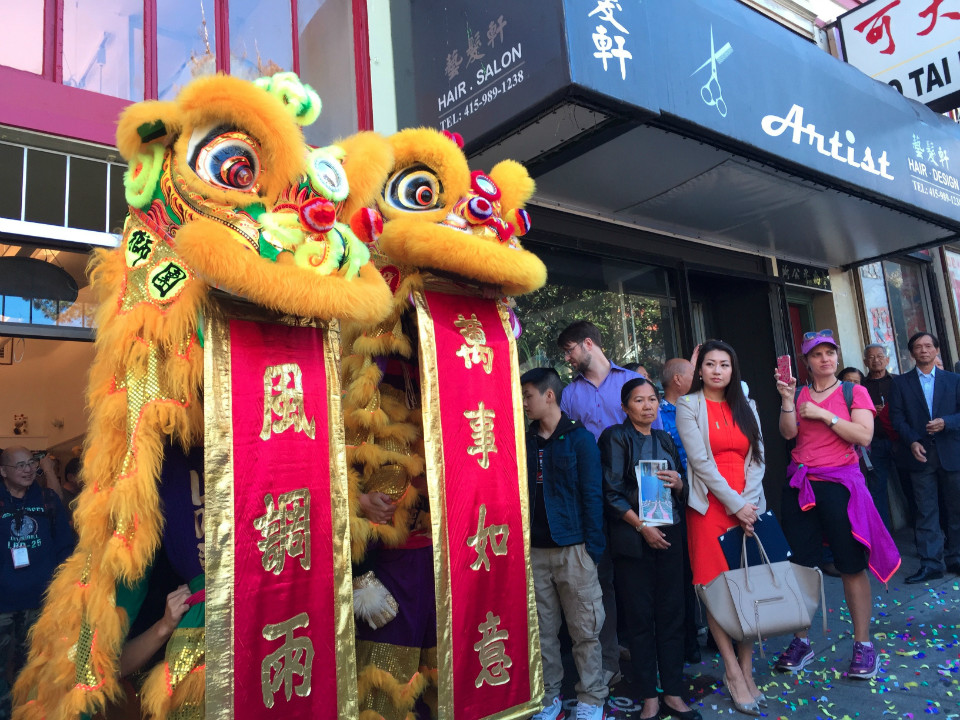 Lion dancers at Sam Wo.

Rev. Norman Fong was the first of many to give a brief speech about Sam Wo, saying the community couldn't believe it was closing back in 2012. "Peace, joy, love, community," he said. "May all those four elements bless the new Sam Wo."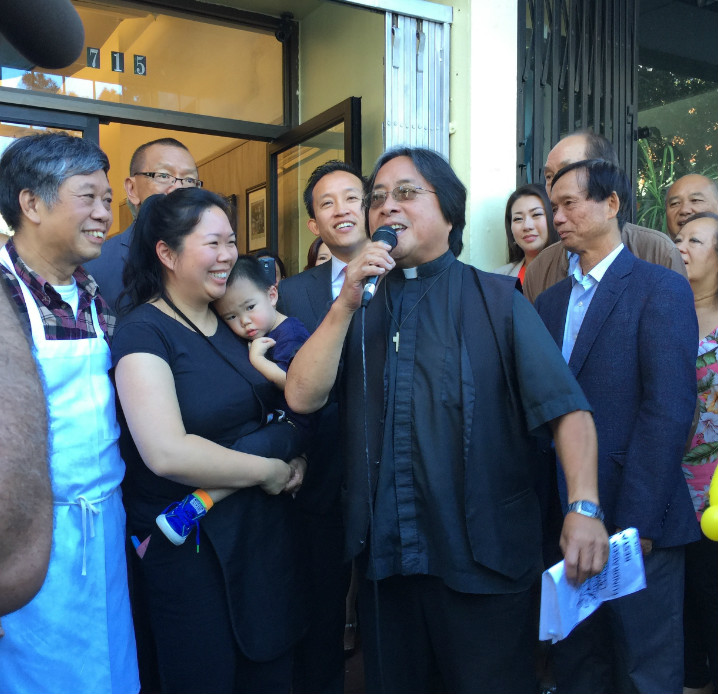 Rev. Norman Fong speaks at Sam Wo.

Following Fong, nightclub owner and SF Entertainment Commission member Steven Lee, who helped rally investors in the new restaurant, took the microphone. He talked about how they trademarked the name Sam Wo so it protects the Ho family, who owns it. "Without the whole family, it's not Sam Wo," he said. He ended by saying the restaurant's still looking for help: "We need our night shift filled."
Next up was Gordon Chin, founding executive director of Chinatown Community Development Center. With his characteristic wit, he segued by saying he was just there to apply for a job on the night shift. On a more serious note, he said, "Sam Wo is an example that you can go home again. You can preserve a community institution, a place where community is built, but it doesn't happen overnight." He lauded the contingent of community support that allowed Sam Wo to re-open, and said, "Welcome home, Sam Wo."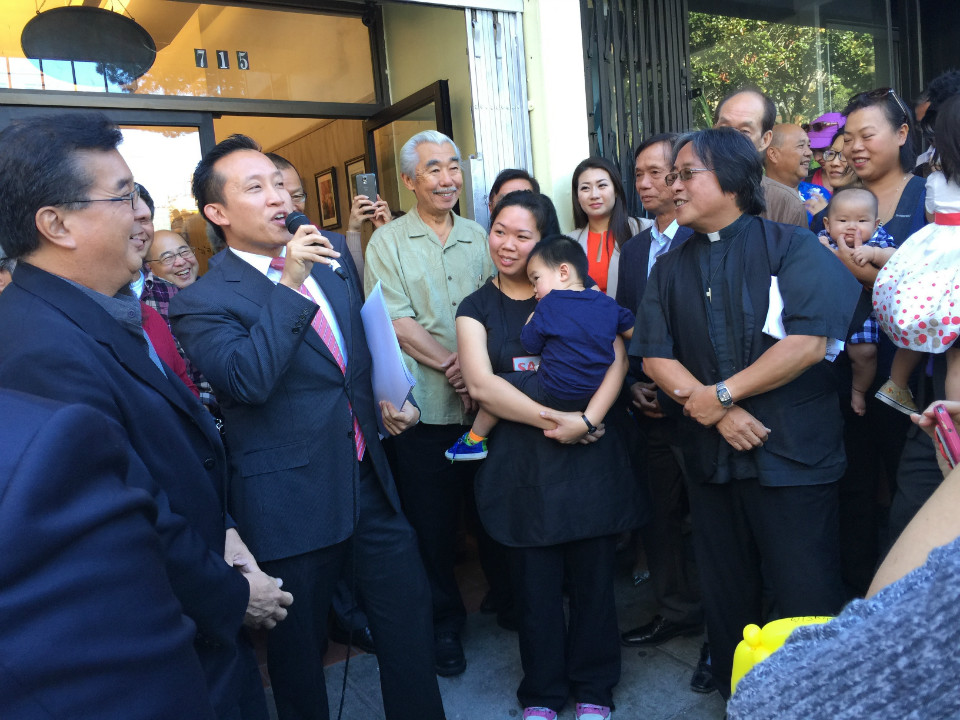 David Chiu speaks at Sam Wo.

Chiu gave the Ho family a certificate of honor and said he hopes they hire a waiter as rude as the notorious Edsel Ford Fong (sometimes spelled Fung) Supervisors including Norman Yee, Jane Kim and Katy Tang made comments, and representatives from Fiona Ma and Eric Mar's office were on hand.
District 3 supervisor candidates Wilma Pang and Aaron Peskin talked briefly, too. Peskin mentioned, "It is where I had my first date 26 years ago with my now wife." (Supervisor Julie Christensen had a scheduling conflict, but is scheduled to meet Mayor Ed Lee there for dinner today.) 
Central Station Capt. David Lazar and Deputy Chief Garret Tom also attended and congratulated everyone on the opening. "Many a police officer will have a great lunch here," Capt. Lazar said. Tom said, "I want to come and order jook. Please don't throw the fork at me like Edsel used to do."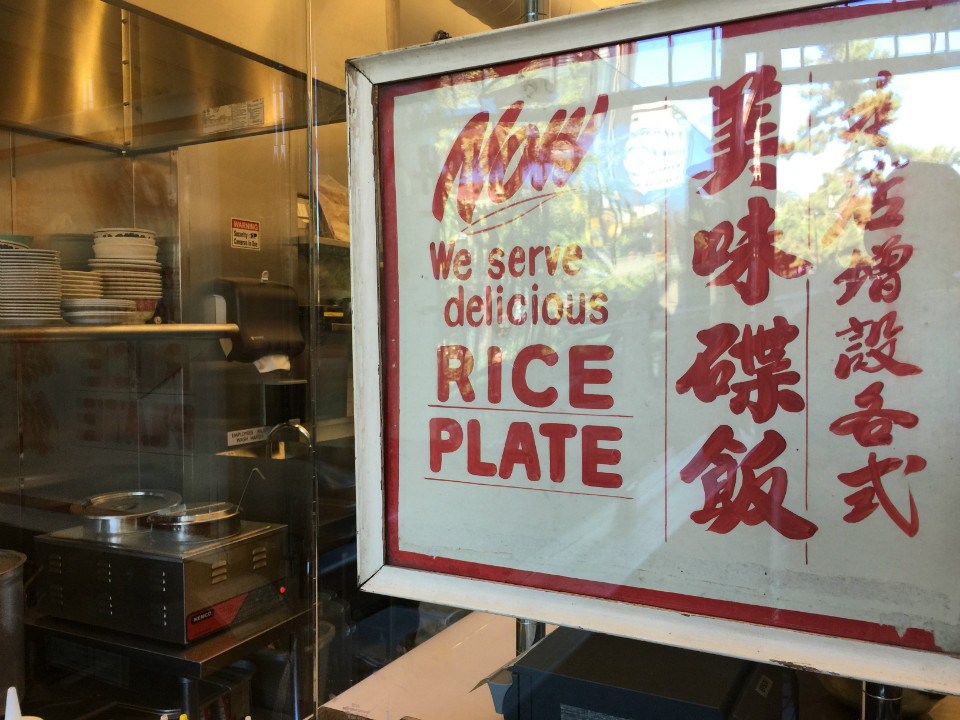 It was announced that Sam Wo will regularly put on a show called 'A Night with Edsel,' featuring Chuck Howe Gee. "After an absence of several years, I guess you all need to be insulted, and I'm the guy to do it," Gee said. "I'll put you all in your place. I look forward to insulting you and I hope you look forward to being insulted."

Julie Ho, daughter of David Ho, beamed as she took the microphone. She said "Sam Wo" translates to "three harmony," and the harmonies are people, location and weather—all necessary for a successful business. "We've got everything here," she told us later. She'll be managing the restaurant as her father returns to the kitchen. The Nam Ping Association, a community nonprofit that owns the building, gave longtime owner/chef David Ho a plaque, and he spoke as well.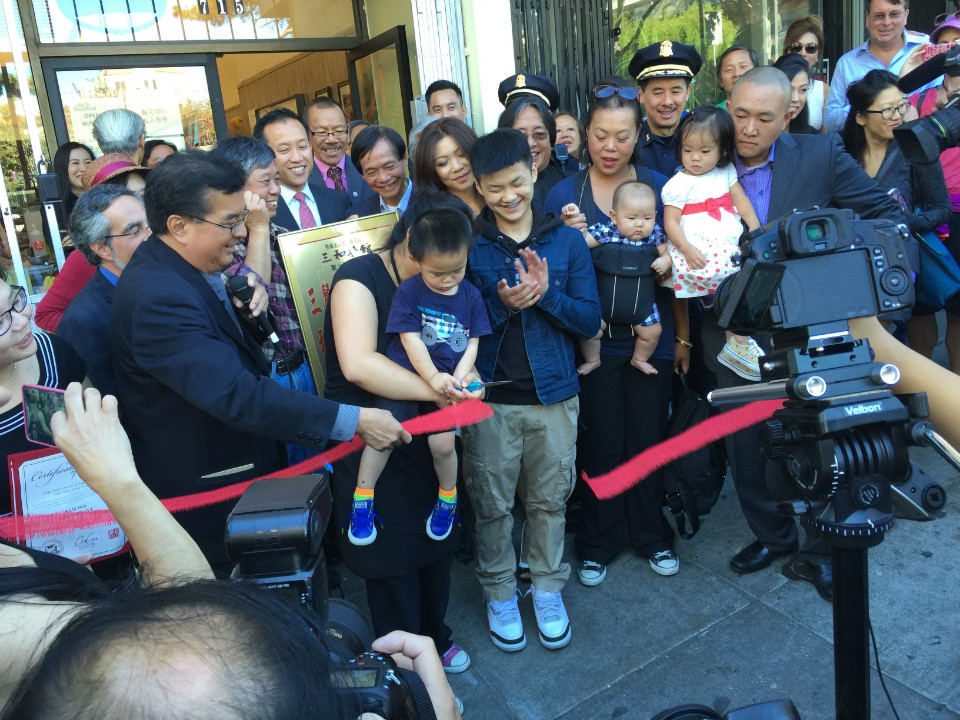 Ethan Chung cuts the ribbon at Sam Wo.

After all of the speeches, Julie Ho lifted her son, Ethan Chung, to cut the ceremonial ribbon. A lively lion dance performance complete with firecrackers and confetti rounded out the festivities, and then most people filtered into the restaurant for a free plate lunch, insult-free for now. Hours to start will be 8am–3pm Monday–Friday and also 6pm–3am Wednesday, Thursday and Friday; 10:30am–3am Saturday and 10:30am–5pm Sunday.