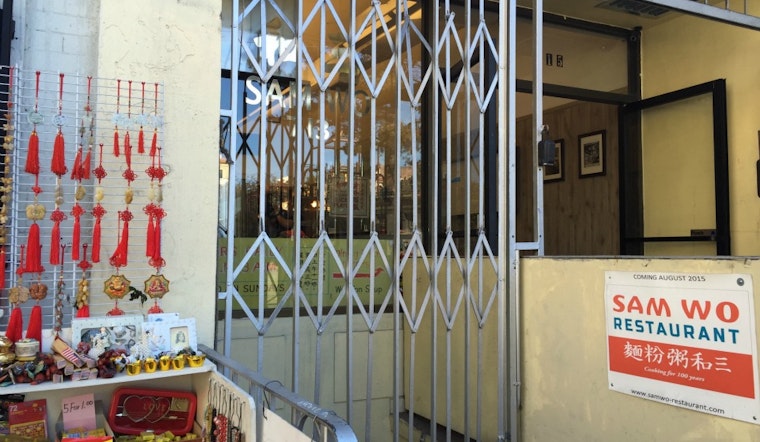 Published on October 03, 2015
The media got a sneak peek into the new Sam Wo Restaurant (713-715 Clay St.) on Friday afternoon and got to talk with some of the major players who brought it back after a three-year hiatus. The new expected opening date is Oct. 21st.
The menu wasn't ready yet, but we're told it'll sell more than jook and noodles. David Ho, who cooked for 33 years at Sam Wo, will be back at the helm, with daughter Julie Ho—who worked there since the age of nine—managing. David will still make the famous rice noodle rolls in the kitchen by the storefront window.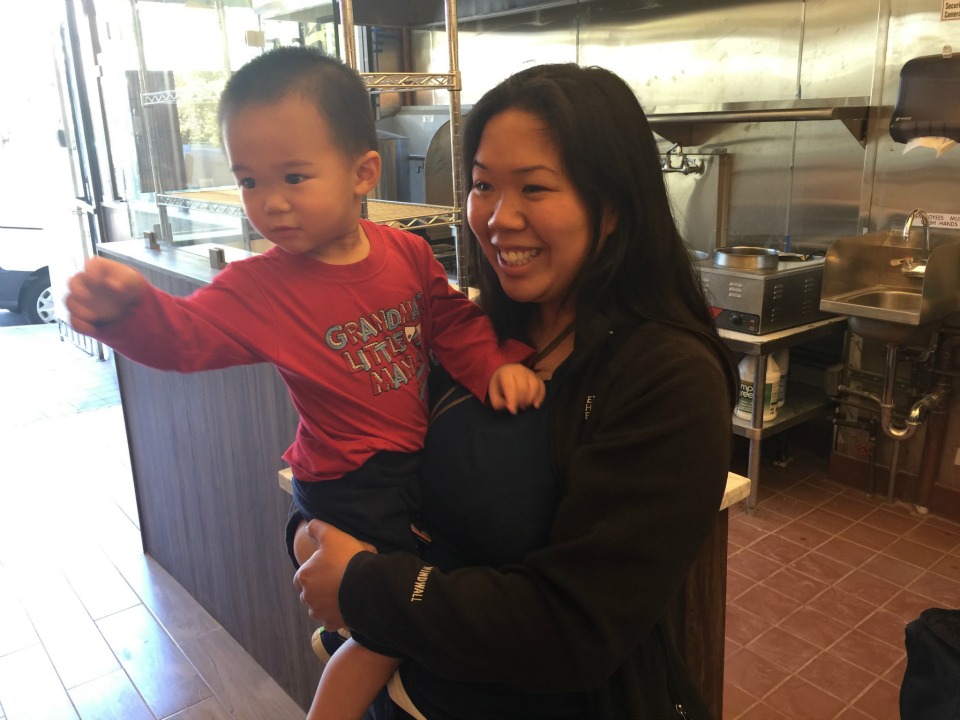 Julie Ho and son Ethan Chung.
The 49-seat space (with a main floor, upstairs and basement) includes the old marble tabletops and wood stools, but a noodle bowl mural on a red wall at the back adds a contemporary vibe, joining the old to the new. "We want Sam Wo to continue," said Steven Lee of Steven Lee Ventures, who helped re-open the place. "We want to train the new Sam Wo generation."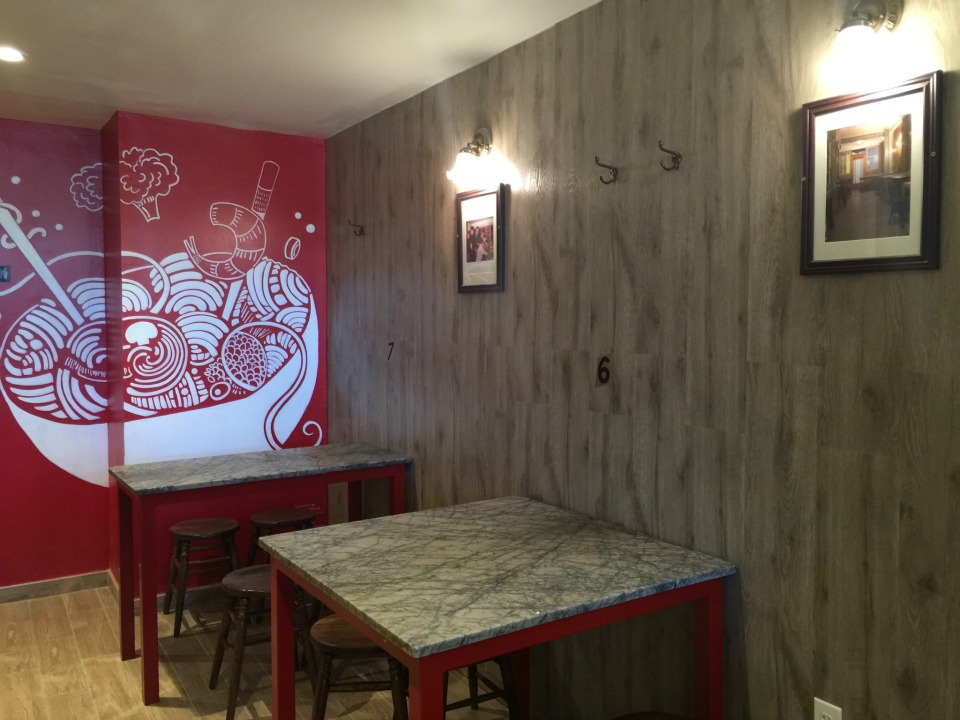 Sam Wo was an institution for more than 100 years at its previous location, 813 Washington St., which closed in April 2012 due to structural building safety issues and health code violations. "The original building was never really a building," said investor Jonathan Leong. It was a more of a makeshift lean-to with a roof between two other buildings.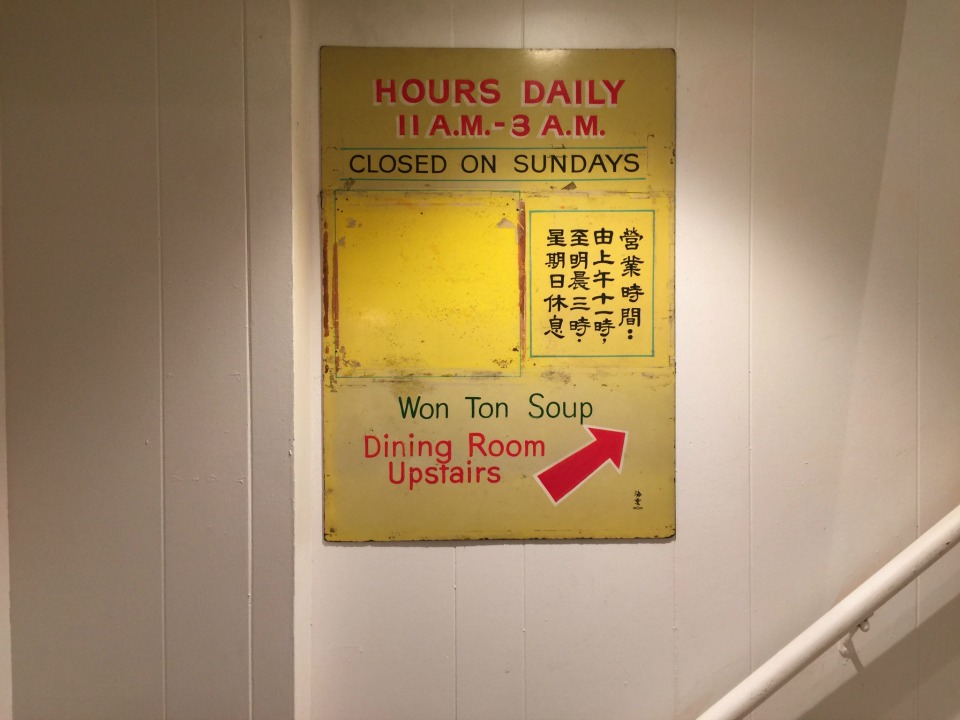 Lee, Leong, Rev. Norman Fong of Chinatown Community Development Center and others helped find and secure a new location in the former Anna's Bakery. "They love the community like I do," Fong said. "For me, it was personal." They worked closely with the Nam Ping Association, a community group that owns the building.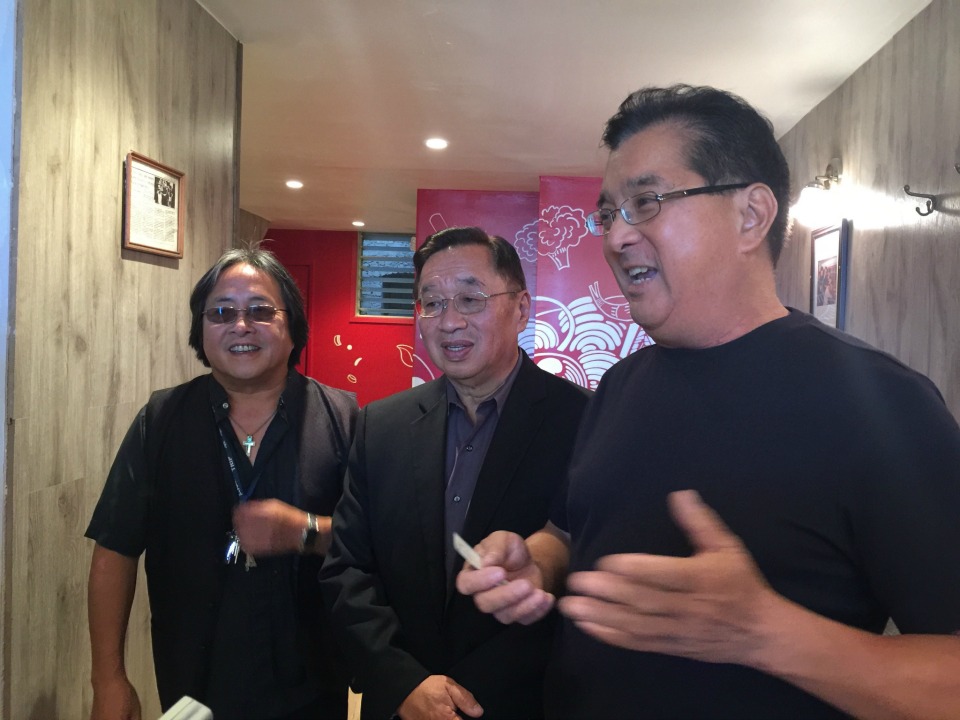 Rev. Norman Fong, Jonathan Leong and Steven Lee.
Fong ate there since the 1970s, he said, going in late at night after playing gigs with his band. The old Sam Wo was open until 3am and the new place plans to stay open until 4am to capitalize on the after-hours crowd and add some nightlife to Chinatown, which used to be bustling after dark. It's not a far walk from the nightclubs of Broadway, and Portsmouth Square has plenty of affordable parking late at night.
Not only does Sam Wo have a real building now; it also has a trademark. "We want Sam Wo's name to be national," Lee said. The plan is to sell Sam Wo products like chow mein at grocery stores, so tourists who come and eat it in the city can get a taste back home. "For a lot of people, it was their first taste of Cantonese food," Leong said. The new Sam Wo will also seek a conditional use authorization for a type 41 beer and wine license—something the old Sam Wo never had. And of course, it won't have the notoriously rude waiter Edsel Ford Fong, who passed away in 1984.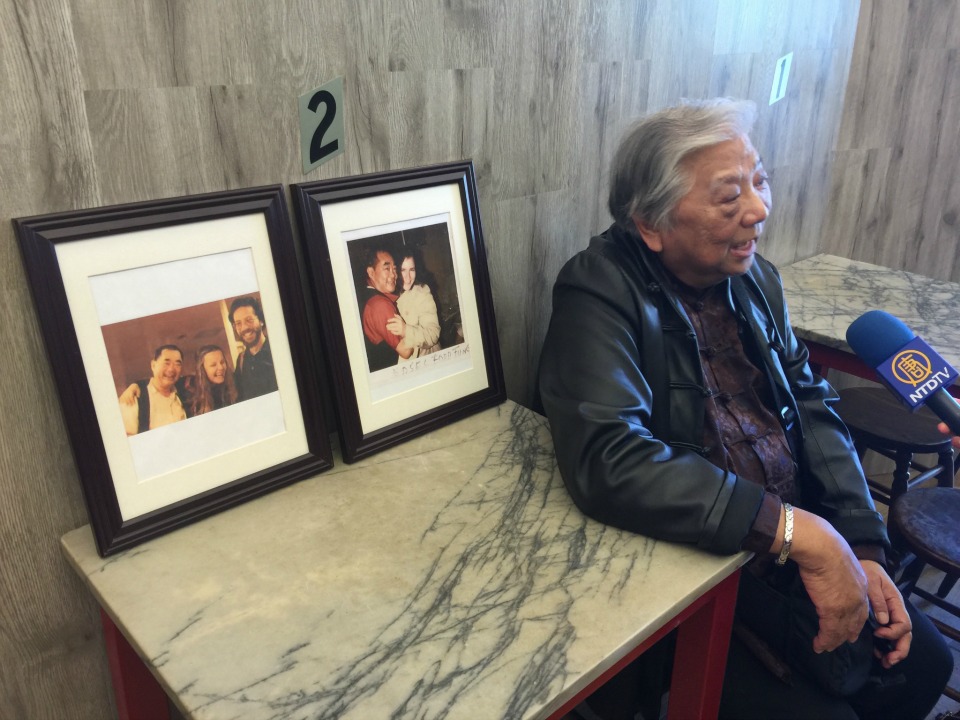 Chuck Howe Gee.
Chuck Howe Gee was at the preview to talk about his memories of Fong. "He was nice to the ladies," Gee said. "It's the men that he would throw the insults." He said if someone took too long looking at the menu, Fong would say, "This isn't a library—make up your mind!" He added, "After you get used to it and he doesn't assault you, you feel something is missing."