If there's one thing Mini Bar owner John Ordoña loves, it's his neighborhood. Since opening at 837 Divisadero back in 2008, he and the team behind one of the corridor's most beloved watering holes have been committed to keeping their bar a haven for the community, with an inviting and art-filled environment. 
Ordoña is a true local to the Western Addition: he was born just up the street at Kaiser, went to Sacred Heart for high school, and attended college a few blocks west at USF. "This bar was 20 years in the making," he told us. "My father encouraged me to open a bar, not a restaurant. He said that people need to drink in good times and people need to drink in bad times."
The paternal advice quickly proved itself correct when Ordoña opened the bar (along with partners Molly Bradshaw and Nerius Mercado) in the midst of the 2008 financial crisis. "It was a time when no one was borrowing money, but a lot of people needed to drink," he said.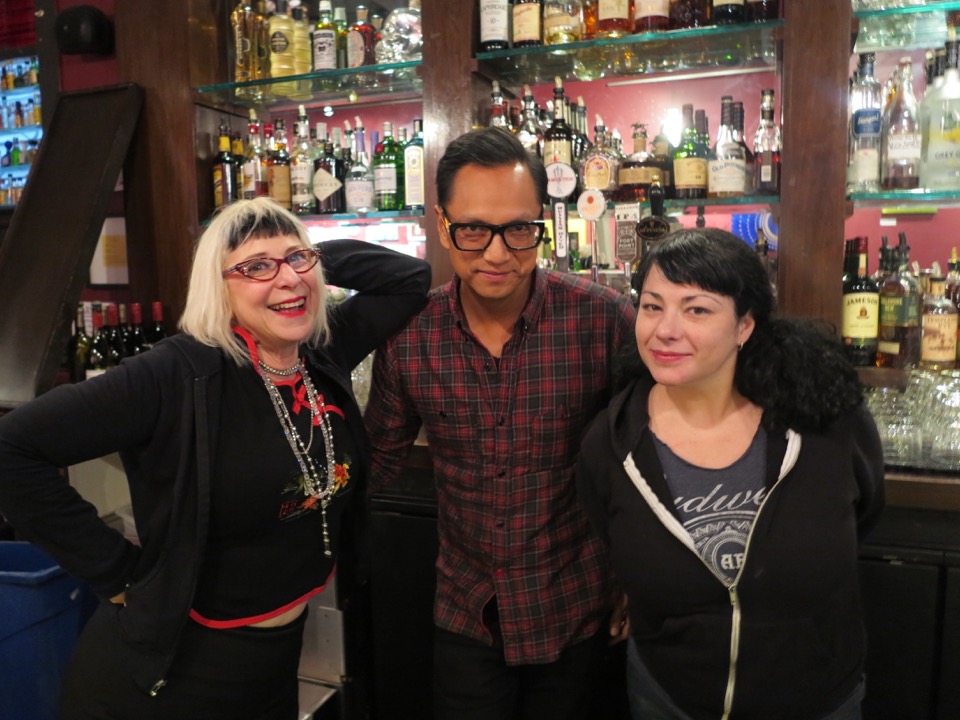 From left: bar manager Annie Whiteside, owner John Ordoña, and bartender Genevieve Coleman.
Although Mini Bar was successful from the start, getting it off the ground was not without its pitfalls, starting with signing the lease before a liquor license was approved. "Our naïveté worked to our advantage," said Ordoña.
"They were way braver than I was," said Mini Bar manager Annie Whiteside, a 35-year veteran of San Francisco nightlife and former owner of SoMa's Annie's Cocktail Lounge and Annie's Social Club. Ordoña used to drink at Annie's Cocktail Lounge, and brought her on an early consultant to the project.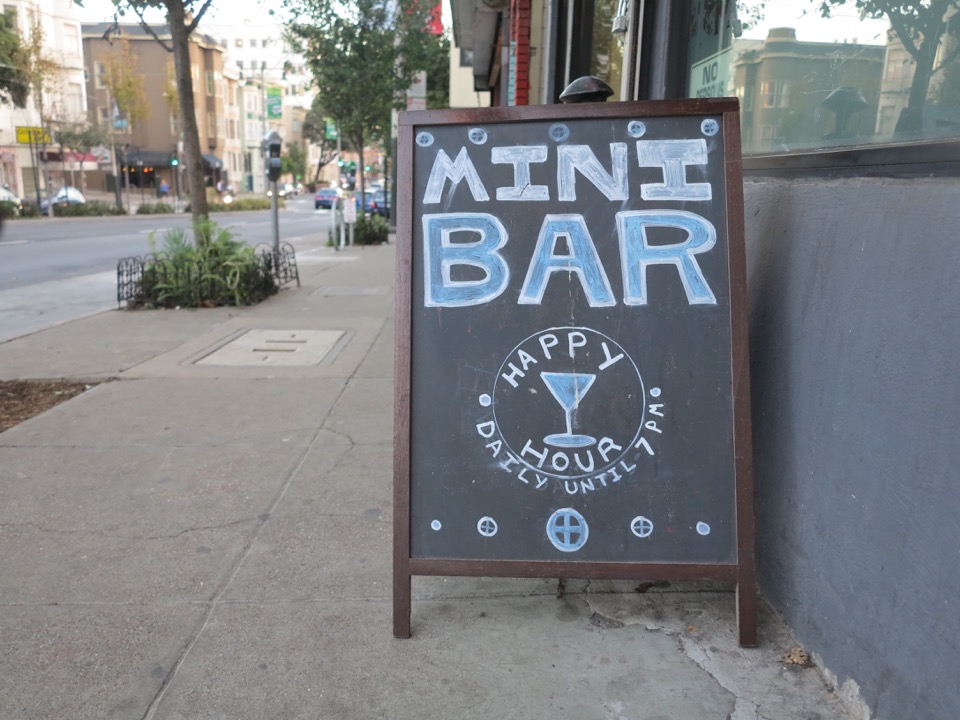 At the start, everything looked like it was lining up quite nicely. The bar had several open houses, inviting neighbors and providing free drinks as they scoped out the scene. Ordoña and his team also reached out to neighborhood associations for feedback prior to opening.
But things were derailed a single neighborhood resident protested their liquor license—and subsequently asked to be bribed to drop the complaint. The resulting delay meant that "I was worried I'd lose my life savings. We were paying rent, but we couldn't open," he told us. John refused to bribe and, happily, the ABC was able to work with him and issue him a temporary license pending a hearing, and the rest is history.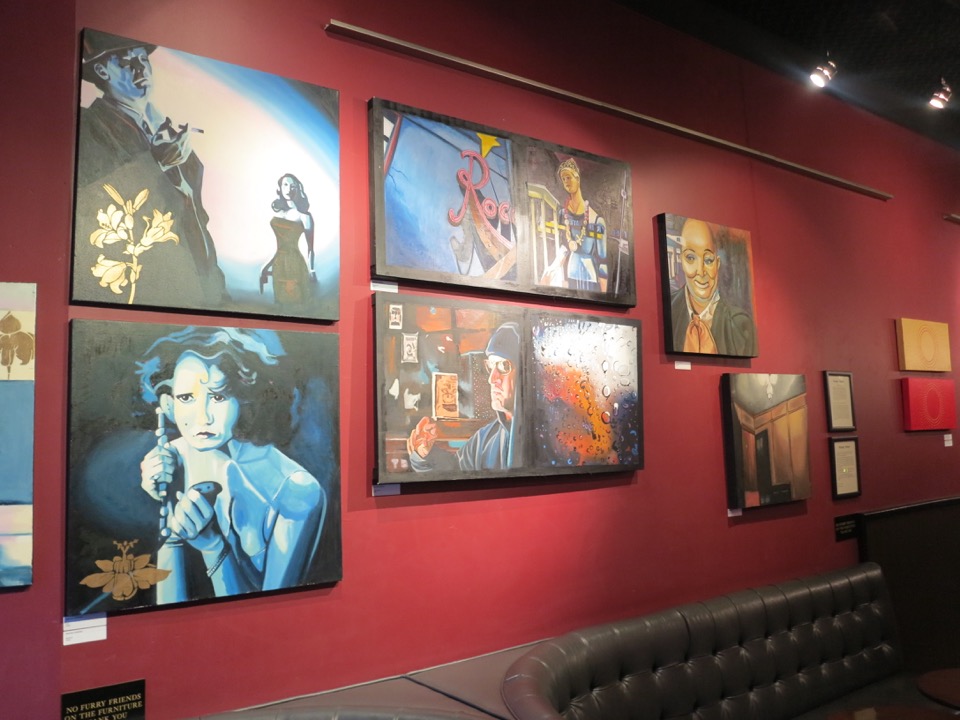 From the beginning, Ordoña and his partners had a pretty basic concept. "It's a neighborhood bar. Simplicity is key. It's not glitzy glitz, it's not a dive. We wanted to provide something that represented the mix of the neighborhood," he said. He also noted that he was tired of heading all the way to the Mission for a whiskey cocktail, and wanted to provide the area with another option closer to home.

Ordoña also wanted a place that showcased the work of neighborhood artists. It provided a means of marketing the bar without advertising or seeking any publicity, since it was important to Ordoña that the relatively small space remain a comfortable local haunt and not a stop on a pub crawl.
"We figured we could show neighborhood art, and artists could come and promote their shows, and bring new streams of people to the show," said Ordoña. Whiteside also agreed with this tactic, claiming that it "makes it a bar you stumble upon, not a destination."
Seven years later, Mini Bar continues to showcase a revolving display of local art, with many pieces created by the staff. Bartender Genevieve Coleman has a show coming up, along with several other local artists, on December 4th.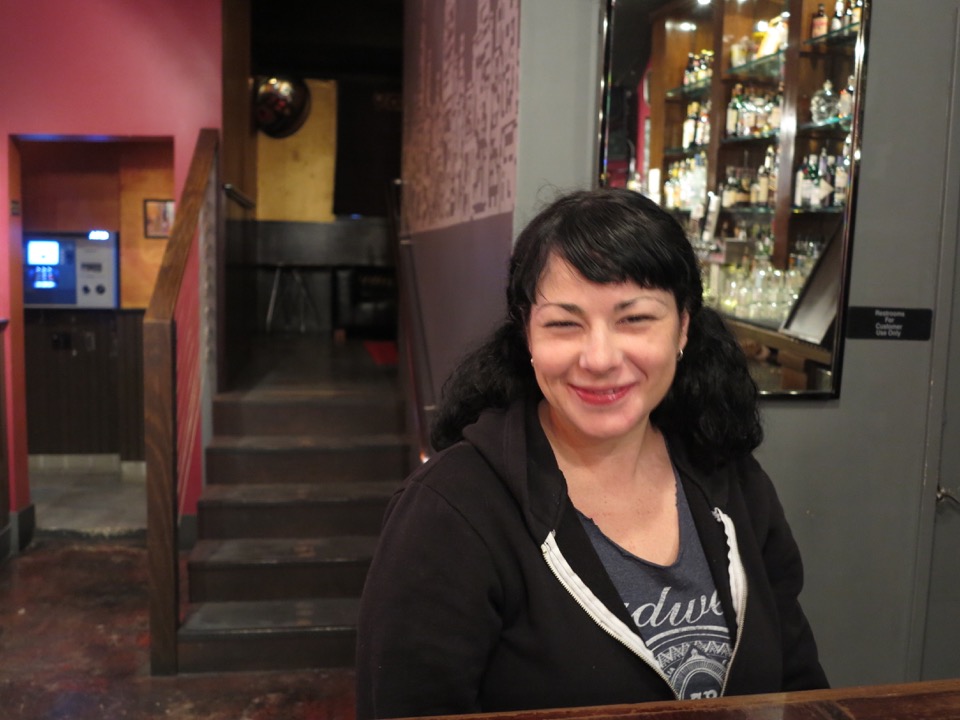 Coleman started at Mini Bar over three years ago as a door person, and has worked her way up the ranks, primarily under the tutelage of Whiteside. She says the neighborhood feel as her favorite part of working at Mini Bar. "All my regulars are people who live around here. Some have known each other for over 20 years, and that provides a sense of community that some neighborhoods are lacking," she told us.
Ordoña also loves the rapport between the folks on either side of the bar, telling us that "the staff and the regulars mix so well, sometimes you can't tell who's a staff and who's a regular." But Mini Bar isn't clubby; Ordoña says that old-timers at the bar are often just as interested in chatting with newcomers as they are with one another.
Nonetheless, some of Mini Bar's bartenders certainly stand out, particularly Whiteside. Along with running her own establishments for many years, she has also worked in legendary San Francisco bars like Slims, Toronado, Paradise Lounge, and Hotel Utah, to name just a few. "I've been in this industry longer than some of our customers are old," she told us.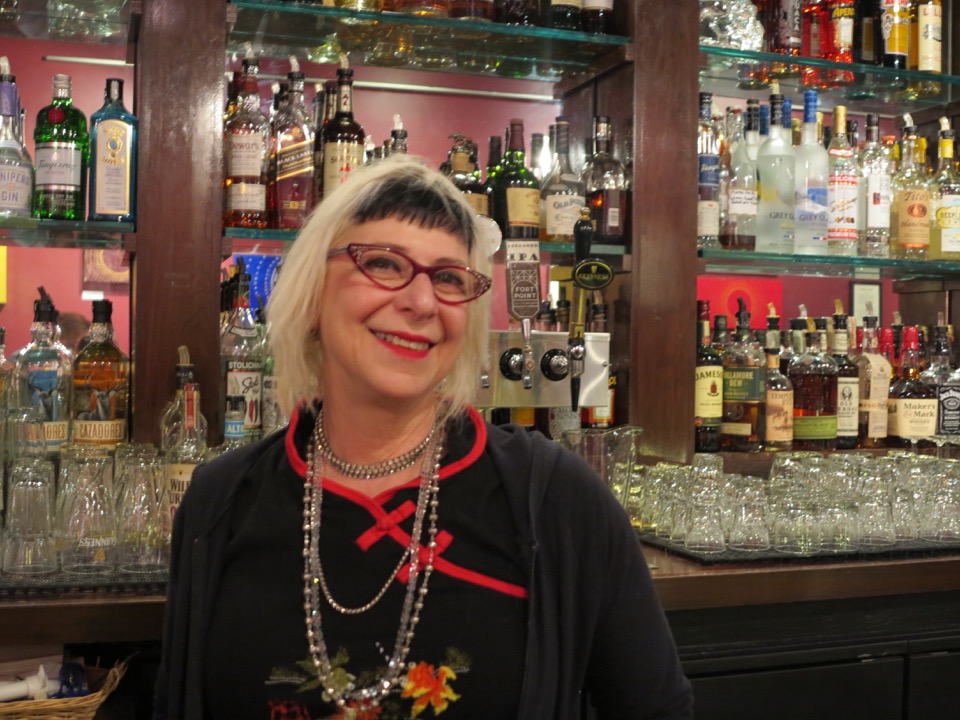 "I feel like places like this are important because we are supporting artists to stay in San Francisco, and we are directly supporting art in the bar. It's really important to me," she said. "There are places that are opening that are all generic. It's important to have a place like this that's warm and inviting. A place that feels like a community, and that's important in San Francisco. It's supporting the history of San Francisco."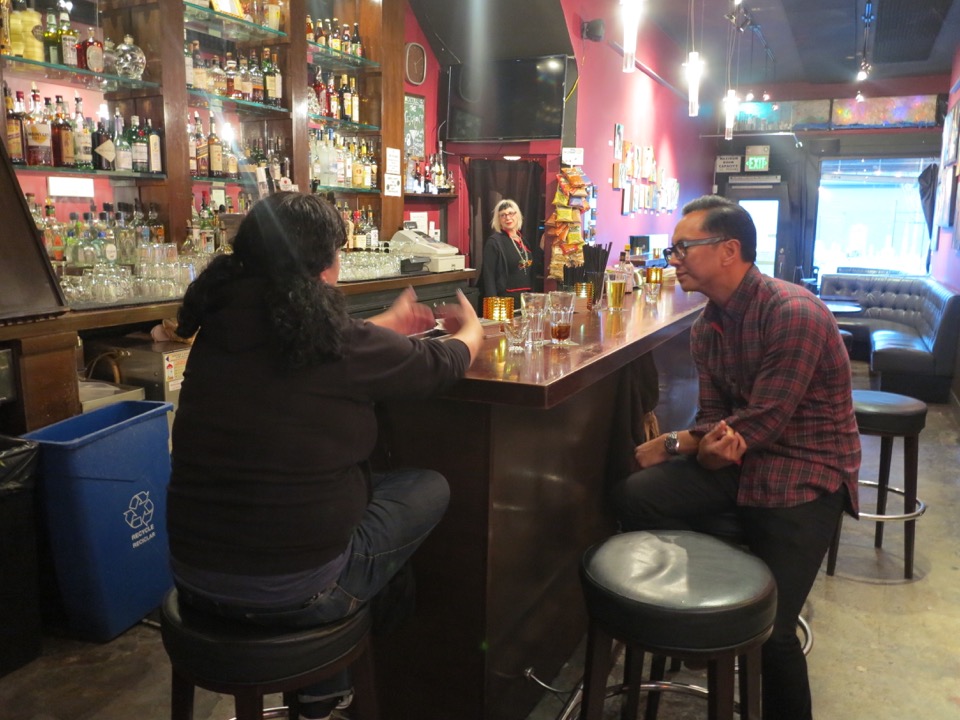 "We love this city," said Ordoña. "It's our home, but we also recognize the city has evolved. Our predecessors respected the neighborhood, and that's what we want to do."