For Chinatown, which is big on bodies and short on room, any new amount of public open space is a boon. It has more than 10,000 people living in an area of .168 square miles, which is more than three-and-a-half times more dense than the rest of the city.
That's why the new Sunrise project, which is turning a forlorn pedestrian bridge into a public mini-park with greenery and a tile mosaic resembling a sunrise, is a big deal. It was announced at a press conference yesterday hosted by the Chinese Culture Foundation at the Chinese Culture Center (CCC) of San Francisco, inside the Hilton San Francisco Financial District. A public presentation will be held from 1–2pm December 19th, and public viewing hours for the plans are 10am–4pm Tuesday–Saturday at the Visual Art Center in the Chinese Culture Center, 750 Kearny St., third floor.
The bridge joins the Hilton to Portsmouth Square, a key gathering place for Chinatown, but until now, it's been largely under-utilized. The goal is to make it more inviting and, as CCC executive director Mabel Teng said, to build community through art. Roy Chan, an urban planner with Chinatown Community Development Center (CCDC), said at the event, "Open space is an extension of the home in Chinatown ... Our alleys and our sidewalks are our front and back yards. Portsmouth Square is our living room." This will add 10 percent more space adjacent to the square.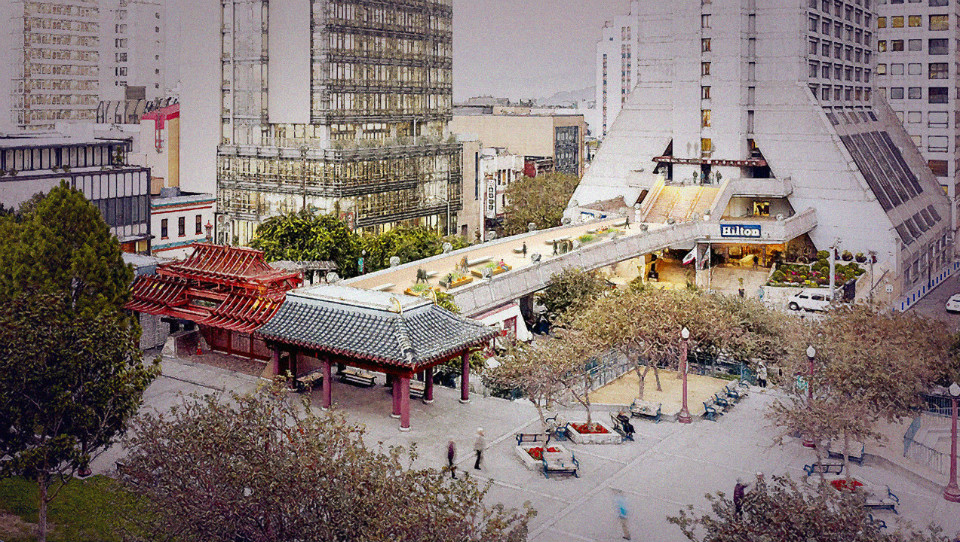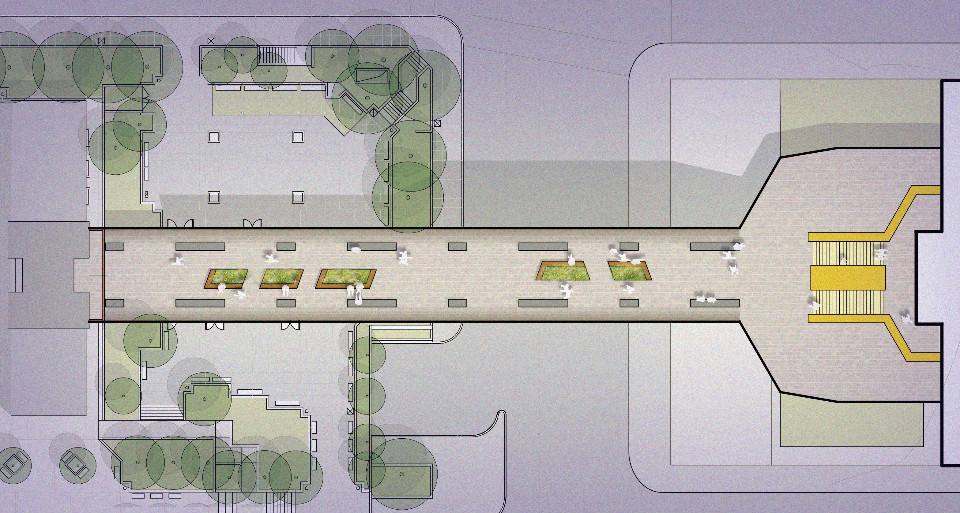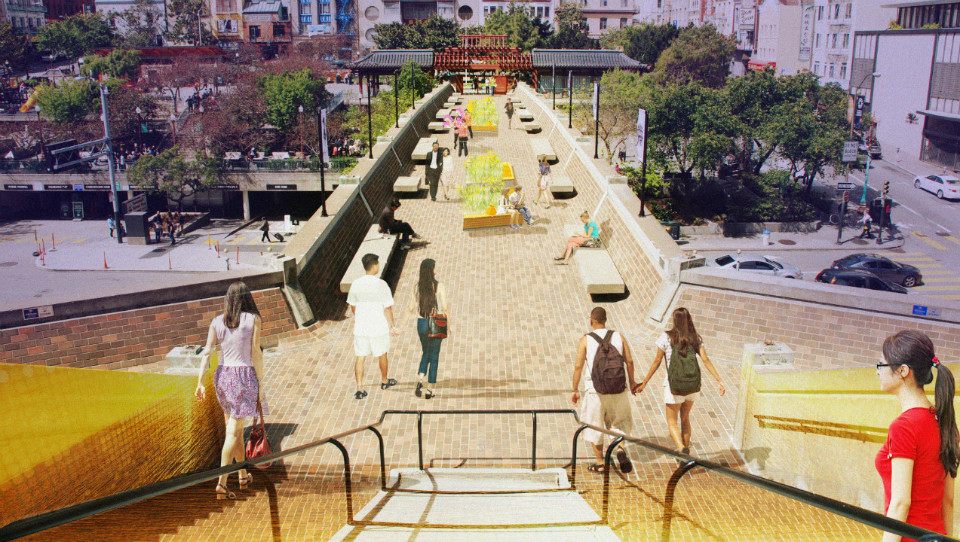 Renderings and plans: Courtesy of the Chinese Culture Foundation, Christopher Hardy of SWA Group, and Jennifer Ng.

Chan added it was important that the project involved a citizens advisory committee, too: "Beyond aesthetics, we know that design and, in a way, art really does matter when it comes to a space communicating to the public, to the community, who is welcome, who has access, who has control and who's invited to stay."

Other bigwigs from the CCC as well as CCDC, the Hilton and others who partnered to bring Sunrise to fruition attended and addressed the crowd, as did newly sworn-in District 3 Supervisor Aaron Peskin.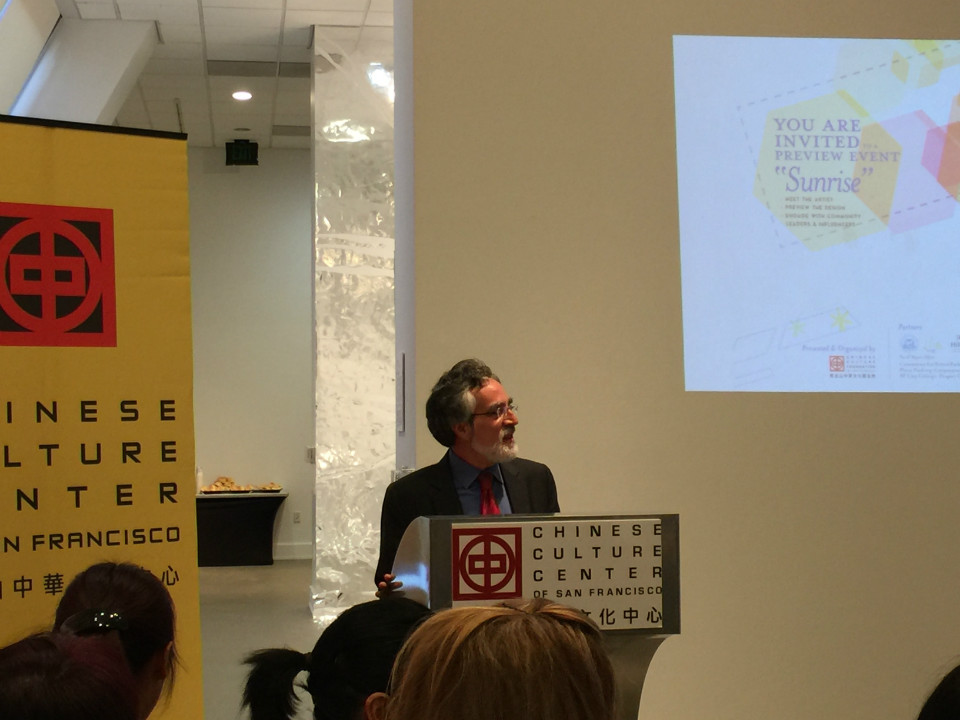 Aaron Peskin. (Photo: Geri Koeppel/Hoodline)
Peskin noted that D3 is "the smallest district in the city, but it has the same population of all of the other districts crammed into this little space so when we reclaim this bridge, we're reclaiming a little piece of space that is so precious and valuable." He thanked the landscape architects, Chris Hardy of SWA Group and Jennifer Ng, for donating their services pro bono to the project.

Hardy and Ng gave a slideshow of plans and renderings which show new planters and benches. Ng said the idea is to make the bridge not only a connector between Portsmouth Square and the Hilton, but also the greater community. "When you look at this bridge, it feels different from Portsmouth Square," she said. "Portsmouth Square is right next to it and has a lot of energy; it has a lot of community ... We think the bridge could really use some of that energy."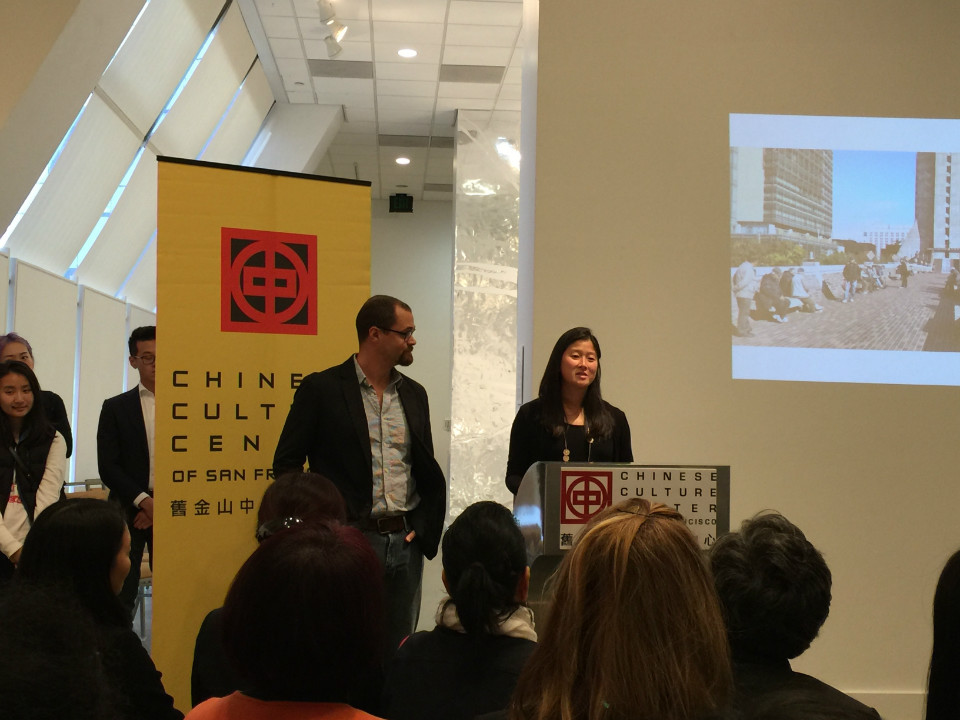 Chris Hardy and Jennifer Ng. (Photo: Geri Koeppel/Hoodline)
The bridge is 270 feet long and there are 16 feet between the benches on either side—about as wide as a Chinatown sidewalk, Ng said—which are "are packed with people and energy and community and action." To help foster that on the bridge, she said, "We looked at what Portsmouth Square was doing and looked at what the bridge was doing, and came up with three overall themes: The first was to break down the scale of the bridge, the second was to increase the green space, and the third was to really encourage social seating."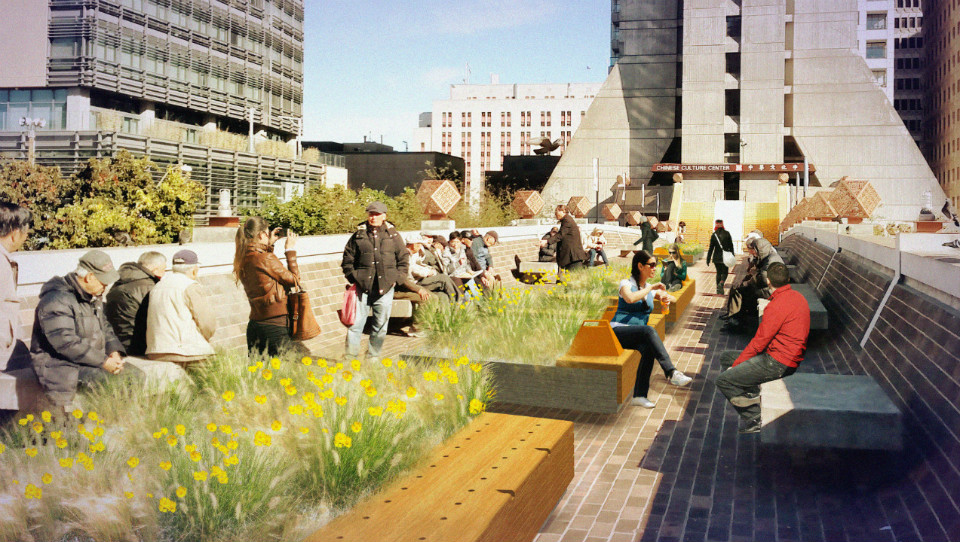 Rendering: Courtesy of the Chinese Culture Foundation, Christopher Hardy of SWA Group, and Jennifer Ng.

Artist Mik Gaspay won $20,000 in a competitive process to create the artwork, Sunrise, a mosaic out of penny-sized tiles that rises up between the staircase from the bridge to the doors of the CCC. "It was really a challenge to distill the rich history of this space into a singular image," he said. He meditated on what the site was even before it was San Francisco or Yerba Buena, and decided the east-facing vantage point was always a spot to view the sunrise, which has always been there and will always be there. "It's a metaphor for hope for the new day," he said.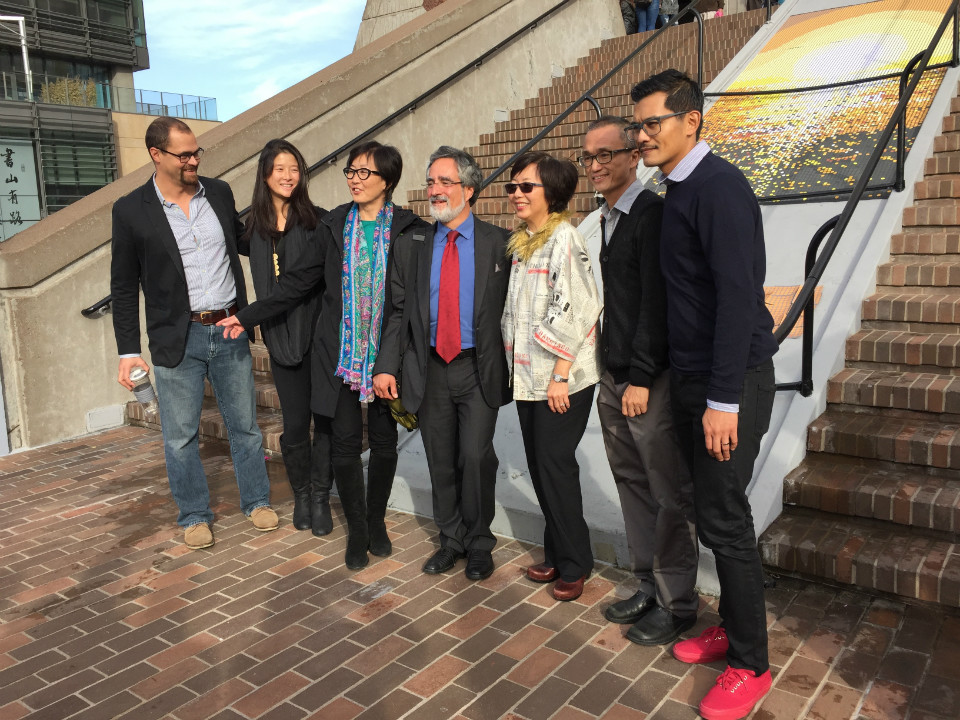 (Left to right) Chris Hardy, Jennifer Ng, Minna Tao (co-chair of the board of directors for the Chinese Culture Foundation), Aaron Peskin, Mabel Teng, Roy Chan and Mik Gaspay. (Photo: Geri Koeppel/Hoodline)
As the press release for the project states, "'Sunrise' is organized and led by the Chinese Culture Foundation with major support from the Community Challenge Grant Program of the City Administrator's Office in collaboration with the San Francisco Mayor's office, the Hilton hotel, Chinatown Community Development Center (CCDC), community leaders, local businesses, landscape and architects, and artists."