In a city synonymous with bikes, an apparel shop in the Tenderloin is appealing to a niche market with graphic designs centered on cycling and bicycles.
San Francycle (SFC) sit at Larkin and Ellis, close to Little Saigon. Operated by Tommy Pham and business partner Elora Martinez, the store carries bicycle-themed shirts, hoodies, beanies and other items. Think Star Wars shirts featuring a cycling Darth Vader and baby onesies with a California grizzly bear riding a small bike—plus Christmas t-shirts designed to resemble holiday sweaters.
Pham lived in the neighborhood in 1999, while he attended the Academy of Art University. He sold graphic t-shirts on eBay to pay for school supplies during his college years, and his creations developed naturally after he took a textile class and learned how to screen print.
The last business he started, a jean company, fell through. He then revisited designing shirt graphics. This time, an interest in cycling and graphic design merged to create a new biking brand. "I like to do chic graphics," he said. "Funny things that make people laugh or make people think."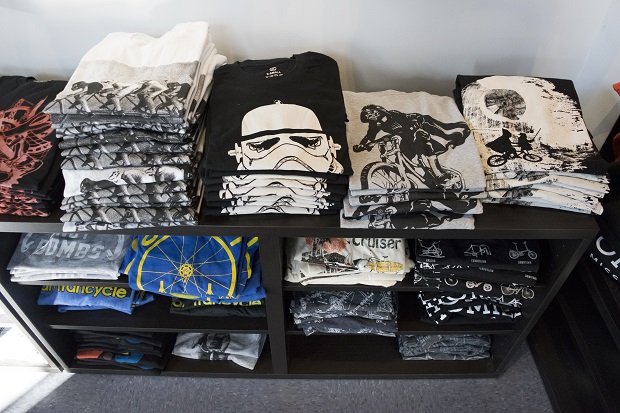 The opportunity to open a "flagship store" became a reality once he noticed a lease available on Larkin Street. Urban Solutions, a nonprofit dedicated to helping small businesses, aided in the venture. Pham recalls that the previous lease-holders also sold clothing, but they kept the appearance uninviting by covering the windows.
Now, the outside is painted bright orange and black. Shirts hang in the windows in a display readily visible to passersby. Pham said he might be taking a chance in the Tenderloin with the openness of the store. Still, it's gratifying for him when residents compliment the aesthetic.
"They always come in here and are like, 'Aw man the last store we did not know what they were doing in here,'" he said.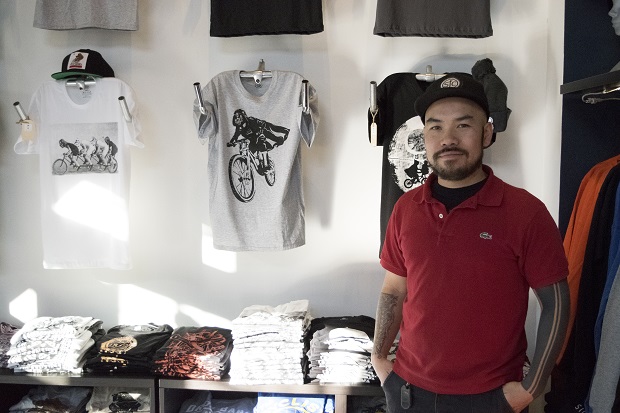 Pham now teaches courses on Adobe programs at the Academy of Art. He said internship opportunities were hard to find during his enrollment. As a teacher, he tries to provide work experience for students with internships for SFC. Two interns from the Academy are currently helping run the store.
"I've had bosses who've been very open with me with information and empowered me to do things," he said. "I want to do the same thing."
Martinez, Pham's business partner, currently attends the Academy and serves as the general merchandise manager for the company. As a student, she wears many hats while working alongside Pham.
"We want customers to not only connect with our merchandise but with our brand as well," she said enthusiastically. "What else can I say? We're some SF locals."
San Francycle's reach is extending outside San Francisco and across the Bay Area. Before the store's opening, the company distributed products through the boutique shops Artillery Appeal Gallery and Wonderland SF Gallery. Now, the company's products are in several San Francisco locations. Stores in San Mateo, Alameda and Oakland also carry SFC products.
Pham expects 90 percent of the brand's production to take place in San Francisco by next month. In the meantime, some ideas about future shops on Valencia Street or Pier 39 are floating around, as the San Francycle brand continues to grow.