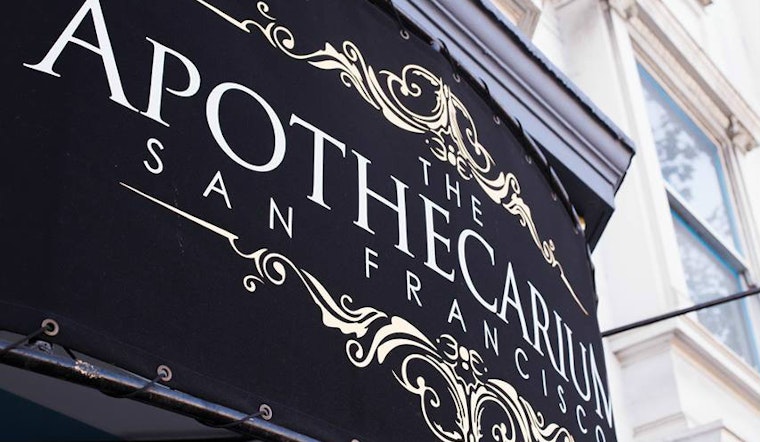 Published on March 11, 2016
Since 2011, upscale medical cannabis dispensary the Apothecarium has served the Upper Market/Castro neighborhoods from its storefront at 2095 Market St. On March 10th, the dispensary announced it would be moving up the street, to 2029 Market St., where it will take up residence inside a much larger space formerly occupied by Shanghai Restaurant, which closed in 2013. 
The new location is 5,000 square feet, five times the size of the Apothecarium's current storefront. Co-owner Ryan Hudson hopes the move will take place by the third quarter of 2016.

The dispensary, which opened in 2011 in the former Gramophone Video space, has offered yoga and meditation classes in addition to its array of medical cannabis products. Up until now, these classes were held at other locations, but once they move into their new home, all of the Apothecarium's programs and services will be streamlined under one roof.
"The Apothecarium's program of free classes and support groups are part of our commitment to giving back to the community," Hudson said. "They help support healthy lifestyles and create community among our member-patients."
The former Shanghai restaurant.
Hudson, like others who work at the dispensary, is himself a medical cannabis patient. 

"I became a medical cannabis patient after my doctor recommended it for pain from a sports injury," Hudson told us. "I was skeptical initially, but interested in avoiding traditional pain medications and their side-effects and risk of addiction. Unfortunately, the dispensaries I visited did not provide the patient-experience I wanted. The staff simply didn't know much about the medicine. I was looking for a more professional, health-oriented dispensary and I couldn't find one. So, I decided to create one."
Hudson added that he feels that trust between patients and their providers is key, especially in a neighborhood like the Castro, which was so hard hit by the HIV epidemic. "I believe patients in every neighborhood deserve a medical cannabis dispensary they can trust," he said. "The Castro, as a center of the HIV/AIDS epidemic, has long embraced the therapeutic effects of medical marijuana. It's a privilege to carry on that tradition."
Hudson pointed out that a wide variety of medical conditions can be treated via cannabis, with pain relief—the alleviation of suffering—being the primary benefit. "Every week it seems there is new research supporting the use of cannabis for different conditions: seizure disorders, chronic pain, anxiety, depression, insomnia and many more," he said. "I encourage people to speak with their physician—and then to come meet with one of our patient consultants to learn more about dosage and method of delivery. "
A recommendation from a physician is the only way to get a prescription for medical cannabis, which is now legal in a number of states, including California. The Apothecarium further requires that patients become members of the dispensary. Any physician can write up a medical cannabis recommendation.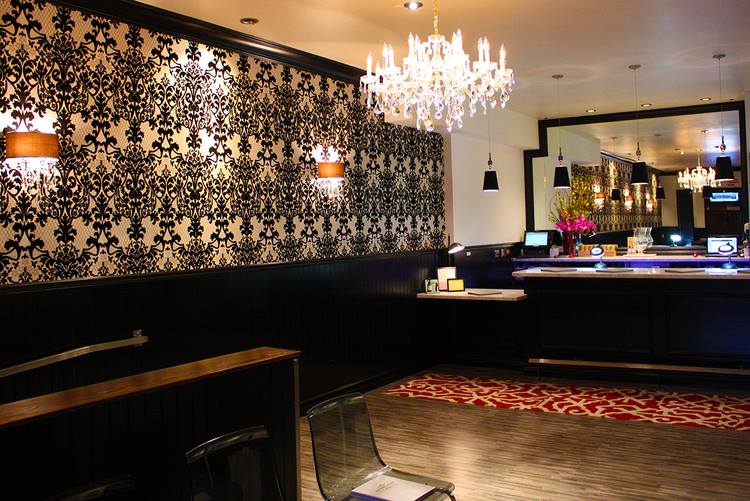 The interior of the current Apothecarium.

Hudson is delighted that the dispensary is remaining in the Castro, which they consider their home. "Most of our patients live in the neighborhood and walk to the Apothecarium," he said. "We're proud to serve all kinds of patients. We primarily serve professionals and are proud to report that approximately 35 percent of our patients are over the age of 55."
The Apothecarium has maintained a strong commitment to the Castro community. Over the years, the dispensary has given away an impressive $300,000 to Larkin Street Youth Center, San Francisco AIDS Foundation, PAWS SF, Lyon-Martin Health Services, AIDS Emergency Fund, and SF Pride, among others. 
In October 2015, Supervisor Scott Wiener honored the dispensary with an official Apothecarium Day in San Francisco. (He has acknowledged that his office has never received a complaint about the dispensary.) And in 2014, Nevada Congresswoman Dina Titus, a supporter of medical cannabis, visited the dispensary to learn how to best bring medical cannabis to her constituents. 
In spite of the overwhelming evidence of its therapeutic benefits, medical cannabis still holds a stigma for some. "One of the best ways people can help lift the stigma about cannabis use is to be honest about their own use with friends, family, neighbors and colleagues," Hudson suggests.
To become a member of the Apothecarium, you can visit the dispensary with a valid California ID and a recommendation from a physician. Hours of operation are 10am-9pm daily. Delivery services are available.
Update: Apothecarium has announced a community open house to be held on March 17th: