The San Francisco Chinese Christian Union has filed a lawsuit against the city of San Francisco over the newly-installed outdoor urinal—otherwise known as a pissoir—in Dolores Park.
The pissoir was installed as part of Dolores Park's $20 million renovation, which was completed earlier this year. Long bathroom lines meant that many parkgoers were using the grassy area near the train tracks as a bathroom, so Recreation and Parks installed the open-air urinal as a way to control the flow. 
The SFCCU is being represented in the suit by the Sacramento-based Pacific Justice Institute—a conservative Christian organization identified by the Southern Poverty Law Center as an "active anti-LGBT group." The PJI originally threatened to sue the city over the pissoir in February. Paperwork for a civil complaint was officially filed on April 14th.
The complaint describes the urinal as "indecent," "offensive to the senses," "grossly unseemly," and "offensive to manners and morals." It's centered around the pissoir's location (between a sidewalk and train), but also lists a number of other concerns. "There is no signage, no accessibility for persons with eight disabilities, and no place to wash hands," the complaint notes, citing the wasteful use of public funds to maintain the urinal.
In addition, the Pacific Justice Institute states that the pissoir itself is illegal. "The basis for the requested relief is that the pissoir violates public policy regarding privacy, sex discrimination, public health, access for persons with disabilities, and the Plumbing Code."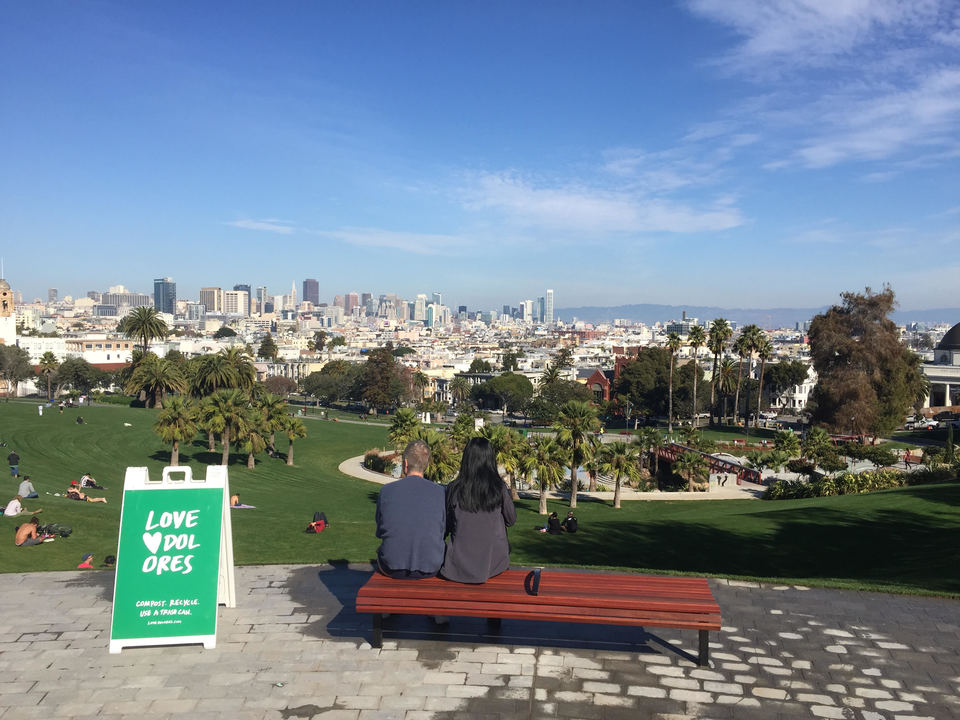 Opening day at the renovated Dolores Park. (Photo: Steven Bracco/Hoodline)
The SFCCU was founded in 1916, with the goal of spreading the Christian gospel and providing for the infirm. In addition to the group, several Dolores Park neighbors have signed on to the complaint—one of whom claims he can see the pissoir from his kitchen window, and is concerned it will lower the property value of his home. 
But Dolores Park has long been home to a number of risqué activities. At Easter, dozens of bearded, shirtless men drag crosses through the park to participate in the Hunky Jesus contest. And regular weekend activities generally include sunbathing, vendors selling pot-laced goodies, public drinking and partying. 
"If I had to predict the top 100 things in Dolores Park likely to offend these plaintiffs, I wouldn't have guessed that this would make the cut," said Matt Dorsey, spokesman for the City Attorney's office, which will defend the city against the litigation. 
We'll keep you updated on the lawsuit, and the future of the pissoir.