San Francisco abounds with alleyways, and Hayes Valley has more than its share. Some exclusively house residences and garages, while others draw pedestrians with inviting greenery and even the occasional shop. So who determines which alleys get an upgrade? As it turns out, Hayes Valley residents are the ones who hold the keys to transforming the neighborhood's alleys, with the help of city funds—but the process isn't a simple one. 
Created in 2013, the Planning Department's Market-Octavia Living Alleys program is designed to transform Hayes Valley's smaller streets into something closer to the Dutch woonerf concept: thoroughfares that naturally discourage fast-moving traffic; are friendly for pedestrians and bikes; and are textured with trees, art, and a variety of uses.
The city's hope is that coalitions of neighbors, local institutions, and nonprofits will work together to revitalize these small-scale streetscapes in Hayes Valley, an area ripe with consistent east-west mid-block streets. The city provides an incentive in the form of Community Challenge Grants, from a fund that currently contains $1 million, to help make it happen.
Planning has created a toolkit "designed to help residents or business owners ... follow through on a vision of turning any smaller street or alleyway in their neighborhood into a more active community asset," says Jacob Bintliff, a planner with the department.
The toolkit illustrates useful streetscape components, but it also outlines a complex series of permitting and budgeting checkpoints that face applicants. In addition to applying for a Community Challenge Grant and raising other funds directly, neighbors often need to obtain permits from multiple agencies, work with contractors, and figure out insurance and maintenance plans. The timeline from idea to completion for an alley can easily span years.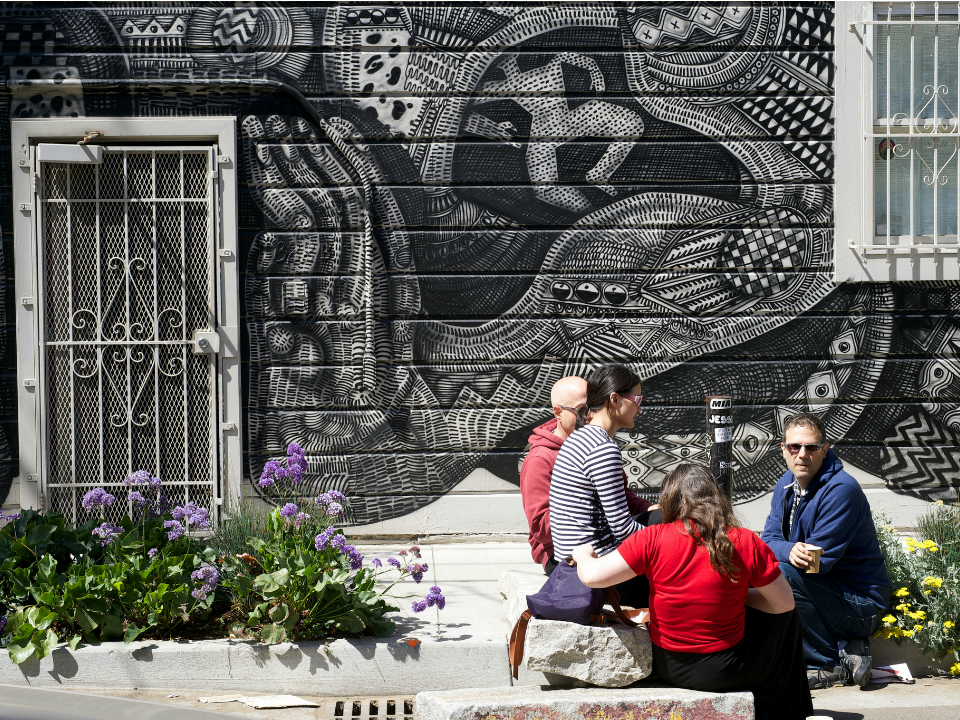 Linden Street (Photo: Jeff Few/Flickr)
Consider Linden Street between Gough and Octavia. The Blue Bottle Coffee kiosk has been around since the mid-2000s, but the surrounding street improvements—a shared-grade sidewalk and street, in-ground planters and gardens, stone slab seating, the new Sam Flores mural—have only appeared in the last decade, through the concerted efforts of neighbors. Linden succeeded in "taking what was just a through street [and turning it] into something more about people," says Bintliff.
But the process of activating more alleys like Linden has been a slow one. Even though the program launched until 2013, two groups seeking similar improvements have only just reached the design and implementation stage.
Bintliff says that that Planning "recognizes that this [program] is a heavy lift." But he also believes that it's counterproductive for the Planning Department to just step in and manage upgrades directly. It's true that the department could more quickly "do a streetscape improvement, but that only gets to the physical changes." A proper Living Alley will feature more than just nice planters or improved lighting, he says; a community-led effort is intended to bring in "the activation, the programming, the operation of it ... a stewardship component that's ongoing."
The most involved commitments are streetscape changes, and not every feature will make sense in every alley. Changing the street grade or width beyond certain limits can mean running afoul of emergency vehicle access rules or losing access to municipal street cleaning, a non-starter in this part of the city. 
Installing some designs, like traffic-calming chicanes or rain gardens, can also result in the loss of street parking spaces—a tough sell in a neighborhood that already has lost significant surface parking to the recent development of former freeway parcels. Planning's belief is that neighbors themselves should be in charge of managing these trade-offs.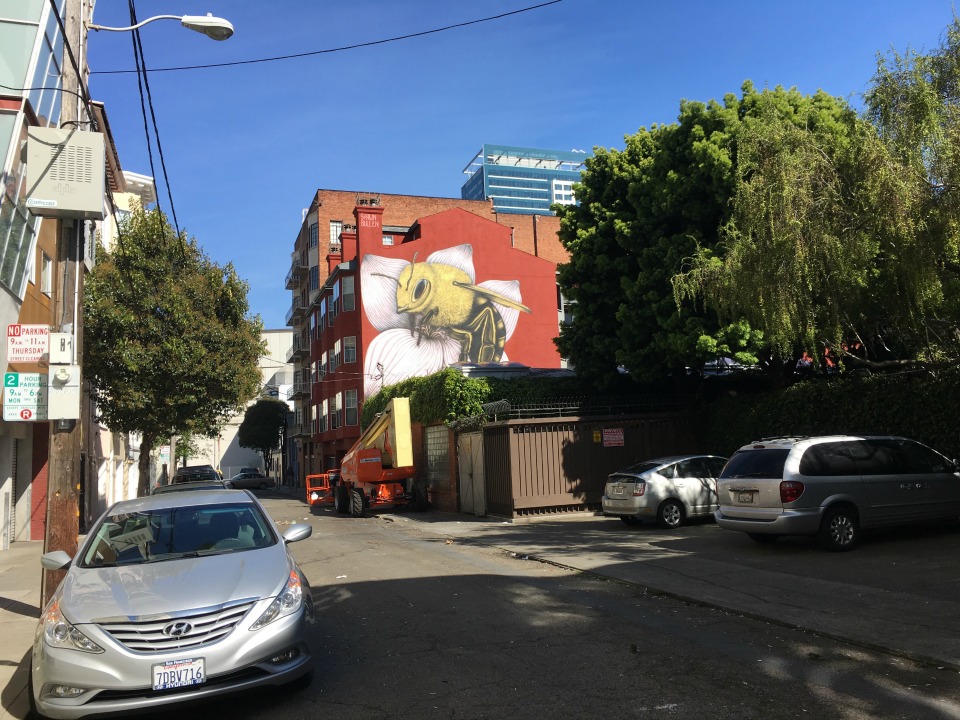 Ivy Street. (Photo: Ben Zotto/Hoodline)
One group of Hayes Valley neighbors that's taking on the hard work of improving an alley is the Ivy Street Improvement Committee, a group of neighbors that's now phasing in grant-supported improvements on the block of Ivy between Gough and Franklin.
Originally driven by concerns over safety and cleanliness in an alley comprised mainly of garages and rear access to buildings, the Improvement Committee has begun a series of changes to create an inviting streetscape. A large bee mural is already up on a building's side wall, and living walls, custom string lighting, additional trees and planters, and street paint are all on the way.
A more attractive Ivy Street is more friendly and inviting, they believe, and the more pedestrians who use it, the safer and cleaner it will ultimately be. They're also considering quarterly closures for events and activities.

Maryanne Zadfar, the chief administrative officer at the Absinthe Group, the largest private employer in Hayes Valley, was an early member of the committee. She says it came together when neighbors with shared concerns started meeting and talking. The group then reached out to local businesses, designers, and community leaders, walking the street with them and sharing feedback and ideas.
The committee has required grassroots community organization, with many people pitching in at each stage—precisely what the Planning Department hoped would happen. "[You'll have] better results in terms of community-serving space if you have a dedicated cohort of folks from the community," says Bintliff.

Conceptual alley sketch. (Image: SF Planning)
The same process is happening on consecutive blocks of Lily Street west of Octavia, where a group of neighbors is starting to coalesce around a potential Living Alley project, says Karla Nagy, Assistant Program Director at Friends of the Urban Forest (FUF). FUF is one of several local nonprofits that can act as a financing sponsor for a Living Alleys application, providing a formal partnership with the city for Challenge Grant funding while taking on some of the legwork required to get projects done.
Nagy's job with the nonprofit typically sees her managing FUF's sidewalk plantings, but she's excited to work through the more complex Living Alleys projects. FUF invests in "work that happens in the public right of way," she says. "[Living Alleys are] an extension of what we've been doing." 
"One thing I've really seen in working with a core group of residents on Lily is that they all have been talking about this for a very long time, have met, have organized around it, but just didn't have anyone to kind of keep it moving in a particular direction," Nagy says. 
Lily St is primarily residential, without a significant commercial presence, so FUF can take on some of that "heavy lift" from residents who don't have the experience—or the time. "Going forward, we'll be applying for that grant, and if we get [it], we'll be managing the project as it goes forward," Nagy explains. That includes "identifying the contractors, hiring the contractors, overseeing their work, coordinating materials" and other nuts and bolts.
The Community Challenge Grants for living alleys can offer up to $200,000 for a single application, although smaller grant requests are certainly possible. For those who can't imagine taking on a big project, breaking up a larger vision into component parts may be an easier alternative. "If people want to make a longer-term commitment, to look at it as a phased project, we're happy to facilitate that," says Bintliff.
The next cycle for Community Challenge Grant applications runs from August 16th to September 23rd. The Planning Department will continue evangelizing the program—keep an eye out for possible future "workshop" events—and it says it keenly wants to see neighborhood groups succeed. "[We're] a resource for anyone who wants to put together a successful application," Bintliff says. 
Despite the effort required, the Living Alleys program provides a unique opportunity for alley dwellers to create a vision for their surroundings, and for the broader concept of what urban living can be. After all, says Zadfar, this is "where we live, where we work."
Update, 4/5: The Ivy St Improvement Committee, in partnership with the Civic Center Community Benefit District, has just received a $200,000 grant to accelerate their work on the street, says Donald Savoie, Executive Director of the CCCBD. The neighborhood can look forward to accelerating improvements this summer, with string lighting and street entry signage high on the list. 
The next community meeting on Living Alleys will be about Lily Street. It will take place on Tuesday, April 19th from 6-7:30pm in the community meeting room at Avalon Hayes Valley (325 Octavia Blvd.)