At Maru Dojo, located at 736 14th St., you can practice aikido, Brazilian jiu-jitsu, Filipino martial arts (FMA), and even yoga. Opened in 2013 by Ray Feliciano, Maru Dojo is a small, peaceful studio that is often full of adults and children flipping over and rolling to the ground. The rolls are followed by loud slaps to the floor mats, a technique that focuses energy through the arm and prevents injury to the rest of the body.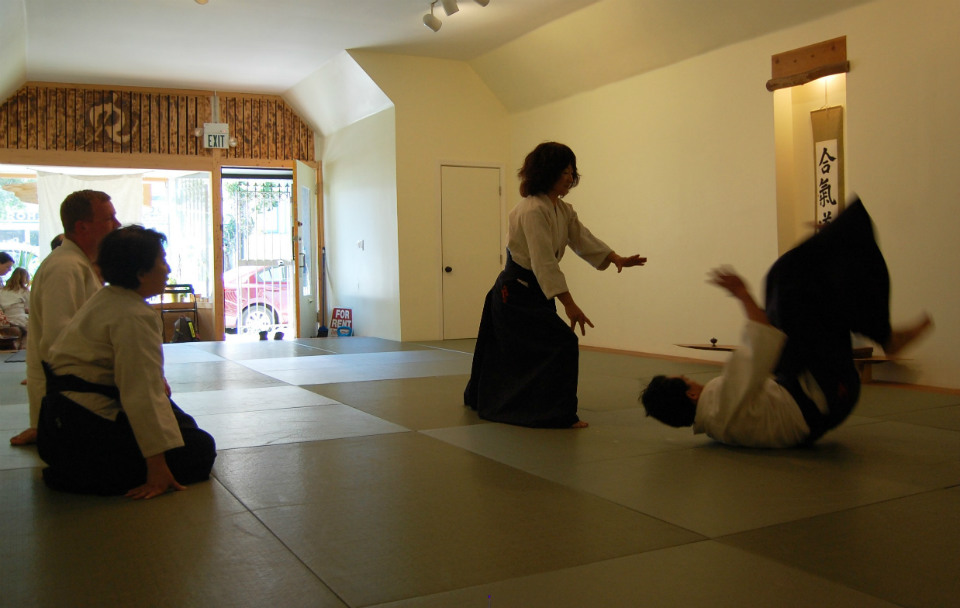 Feliciano works with a student during a demonstration.
Feliciano stresses many rules of etiquette in his classes, but one he is not strict about is punctuality. Feliciano says he would rather his students be late than not come at all. "[They] all have day time jobs," he said. "Just put in your time, at least it's still something."
Feliciano continued, "I don't want to instill that kind of rigidness in my dojo… What I'm rigid about is learning how to be nice to your partners." Feliciano encourages dedication and commitment, though. "You really have to put some time in and feel passionate about it and something beautiful comes out of it."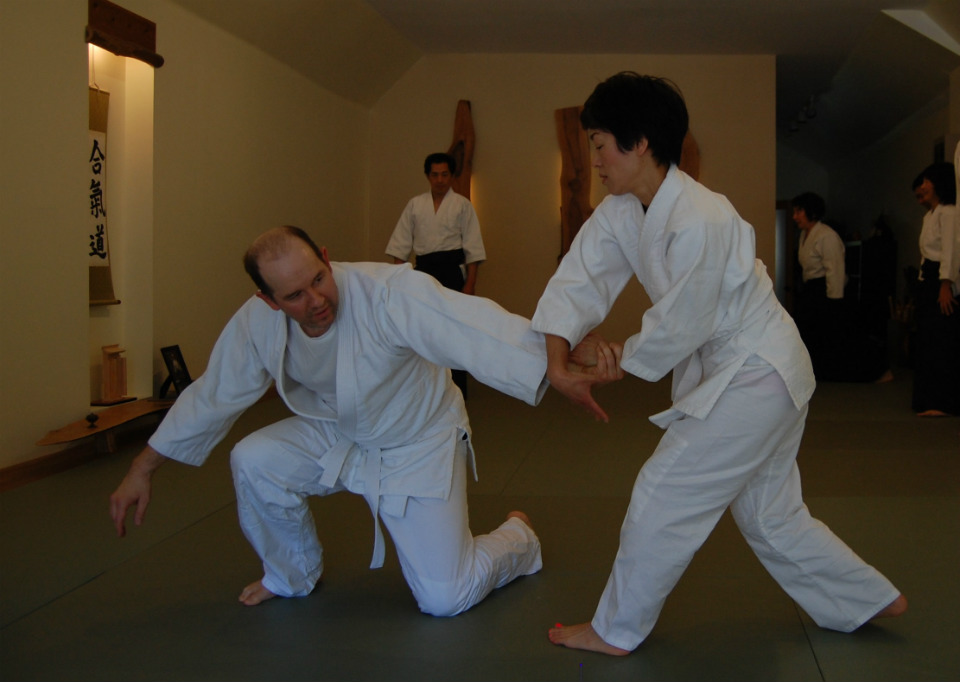 Aikido is a martial art with roots going back to 1920s Japan. The purpose of aikido is not to crush your opponent but to "prevent harm from yourself and prevent your opponent being harmed, also," said Feliciano, who has been practicing aikido for nearly thirty years. Aikido focuses on wrist and shoulder locks and also rolls. Students learn how to fall and roll to the ground without injuring themselves.
This requires collaboration and trust between students. "[Your partner is] giving their body so that you can practice with it. So don't take that for granted," Feliciano said. He added that it's a challenging martial art, and being nervous at first is normal. "I was once a beginner and the hardest part is taking the first step."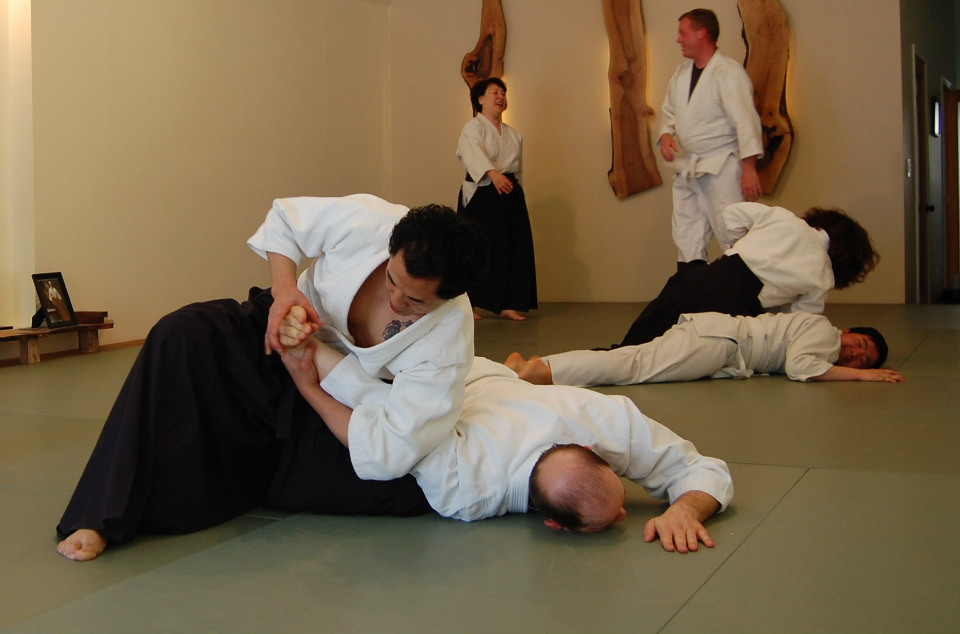 Aikido focuses on wrist and shoulder locks.
Feliciano began his martial arts training in 1988, pursuing an interest he had held since childhood.
"There were some instances in my youthful days, where there were some mean kids, and I said, 'If only I knew something.'" Feliciano's mother could not afford to send him to martial arts class, so it was not until he graduated from high school and got a job that he began training. At that time, Tae Kwon Do was the most popular martial art, but Feliciano wanted to buck the trend. He learned about aikido and tried it out, thinking it would be a brief time investment. Now, he is the sensei of his own dojo.
After many years of studying aikido, Feliciano expanded his horizons to Brazilian jiu-jitsu and FMA. Feliciano believes that training across multiple disciplines is beneficial. "If a person wants to get a degree in history," he said, "they don't just study U. S. history, they do study different things, also. That's the way I look at martial arts."
Feliciano is still learning jiu-jitsu, a discipline that routinely humbles him. "At any given time someone is going to be better than you," he said.
Being humble is an important aspect of Feliciano's dojo. The Maru Dojo website says to leave arrogance and ego at the door. "That's a reminder for myself and I think it's a reminder, too, for a lot of people," he said. Humility is also important in the training process, as beginners and even experienced students are bound to make mistakes.
"I tell my students, when they make a mistake, 'Do not show it to me that you made a mistake. Continue to do something else, leave it, go, move forward.'"
Feliciano's most rambunctious students are the five to eight-year-olds he trains through his Lil' Dragons program. "They're teaching me patience. I thought I knew patience," said Feliciano of his young students. "I hope I can influence their perception of what a mean guy is and how they should deal with mean guys and that they should not be the mean guys."
He also has a zero tolerance policy for bullying.
"I level with them, I tell them, 'If I hear that one of you is being a mean kid, I will have to kick you out of this school.'"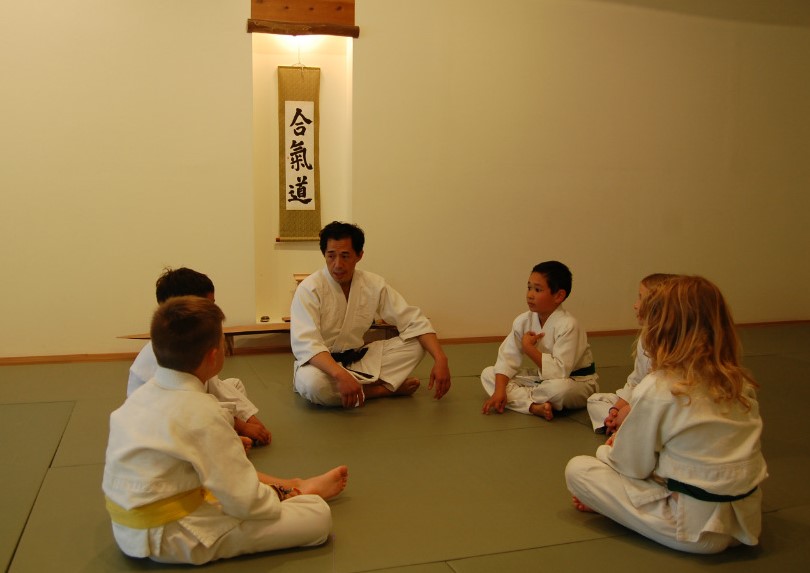 Feliciano is not gratuitous with ribbons or awards. Instead, he focuses on making his students responsible in their communities. He does this by teaching them to be responsible for the dojo. "Before we begin or finish, I tell them, 'Let's get out the broom and we're all going to clean the dojo,'" he said. "I [also] give them scenarios, so it's not all learning [aikido] techniques, but learning how to conduct oneself with other kids."
Feliciano watches as Larkin and Margaux work on a technique.
Many of Feliciano's young students have been attending classes for over two years. Vanessa Clark enrolled her eight-year-old son, Charlie, two years ago. Clark says learning aikido increases her son's awareness. Carine, the mother of another longtime student, Margaux, echoed Clark's sentiment, saying the class teaches kids the connection between mind and body. They learn to listen and watch, and also to lead.
Dave Burns's daughter, Larkin, has been coming to the dojo for nearly three years. Watching the children's classes and seeing their enthusiasm inspired him, and a couple of other dads, to try out the adult classes themselves.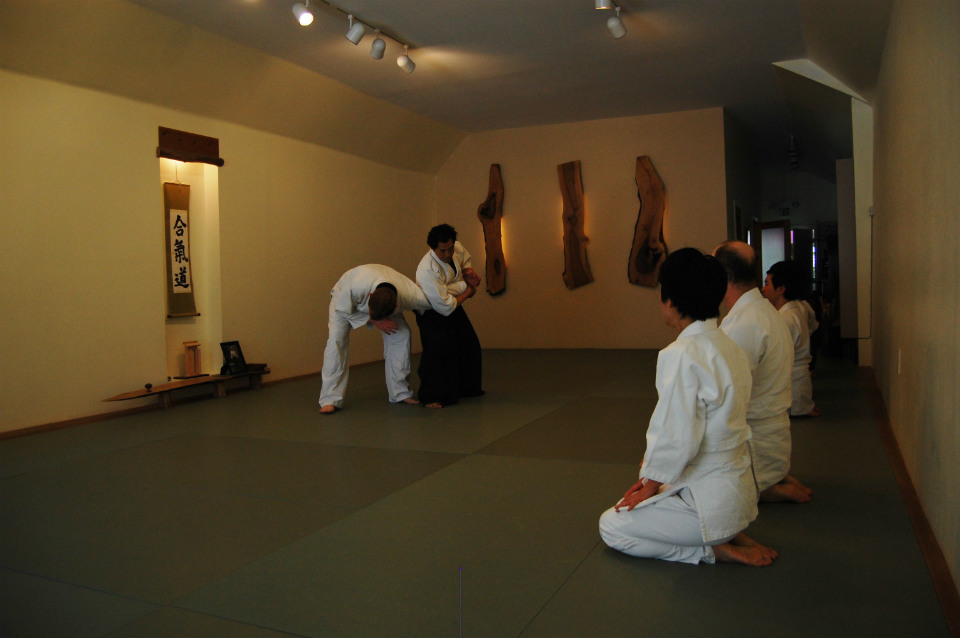 Feliciano demonstrates a technique during an adult class.
Feliciano requires his students to begin with aikido before moving on to jiu-jitsu or Filipino martial arts. This is because he incorporates techniques from aikido into both.
The philosophies of jiu-jitsu and FMA differ from that of aikido, particularly FMA. The idea of Filipino martial arts is to "save yourself and destroy the other person," Feliciano said. FMA incorporates weapons, and teaches how to defend against a knife attack. Awareness is a part of all of the martial arts that Feliciano teaches; he will help students learn to defend themselves, but also encourages them to be smart and avoid dangerous situations. "If you know there's a dark alley, would you go there? No, you take the long way home," Feliciano said.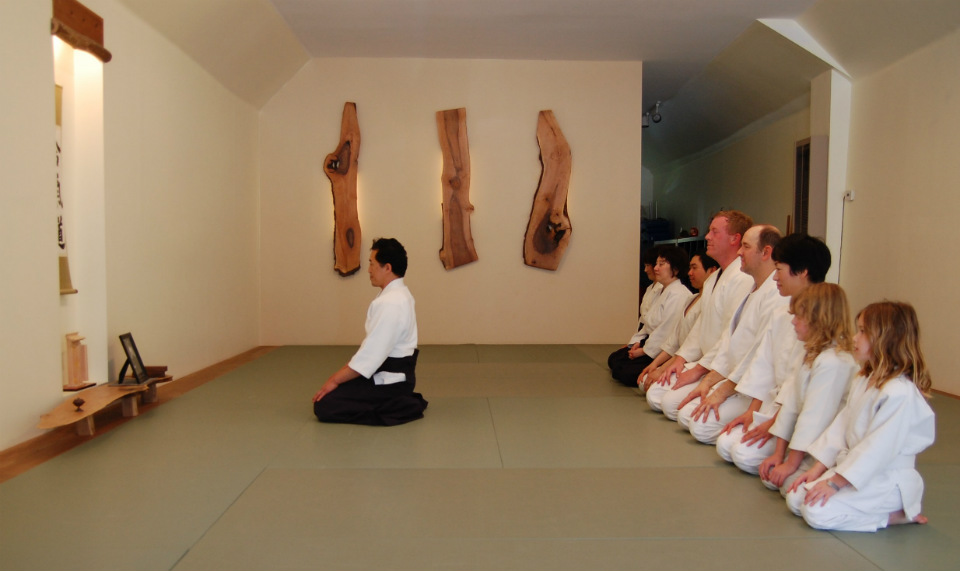 Maru Dojo charges a flat monthly rate, and students may come as frequently or infrequently as they like. The dojo is an accepting and friendly space where students, both adults and children, are enthusiastic and committed. Whether you are looking to increase your mind-body awareness or learn how to fend off an attacker, Maru Dojo and Ray Feliciano can teach you.