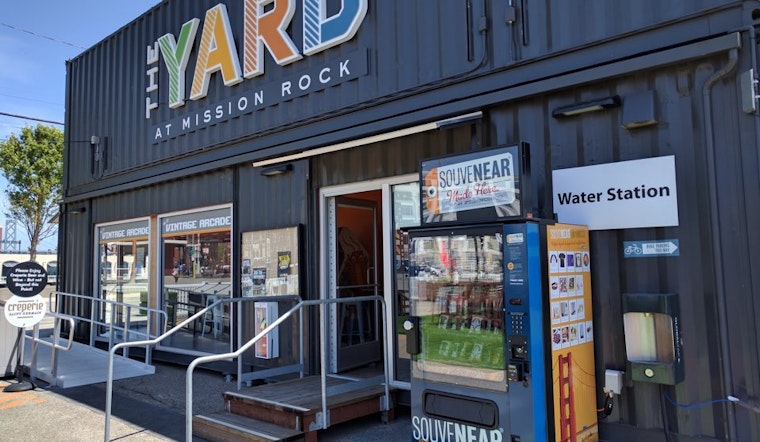 Published on April 30, 2016
The Hall at Sixth and Market and The Yard just south of AT&T Park are both known as destinations for food, drinks and often live music and community events. But with the installation of vending machines full of locally-produced items, they may soon become your first stop for homegrown gifts on the go.
The machines are the brainchild of SouveNEAR, a growing company based in Kansas City focused on producing, curating and selling locally-made goods through vending machines. The company placed its first machine in the Kansas City International Airport at the end of 2014 to help travelers buy last-minute souvenirs that were actually designed and produced in the city.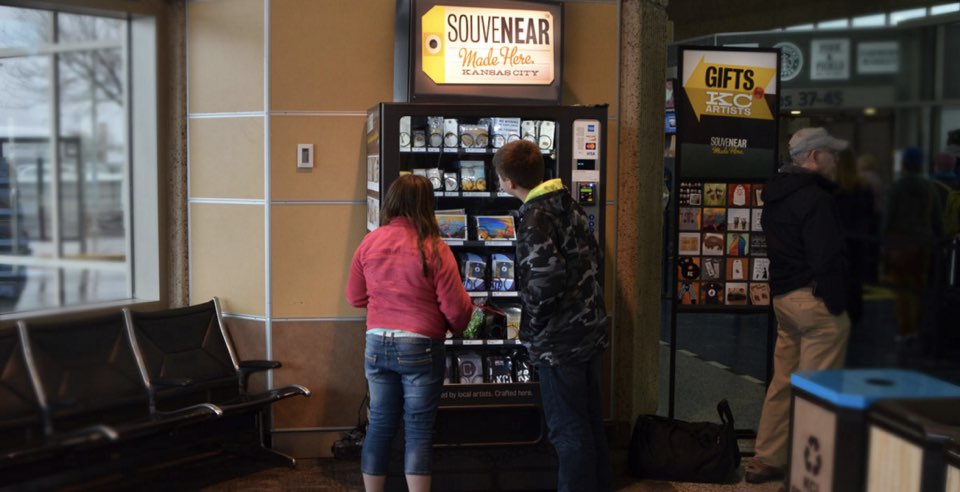 The first SouveNEAR vending machine in the Kansas City International Airport. (Photo: SouveNEAR)
Danville resident Betsy Wolf says she read about the company in a magazine and immediately reached out to ask if they were interested in expanding to the area. After meeting a couple of times in each other's cities, co-founders Suzanne Southard and Tiffany King brought her on board as a partner. Since then, Wolf has been hitting the pavement to lease space for local machines and curate a collection of vending-machine-appropriate local wares to fill them.

When it comes to sourcing local goods, Wolf said it's largely a face-to-face, boots-on-the-ground, operation—which is one of her favorite parts of the job. She often emails artists she's interested in representing and meets with them a few times before buying a batch of their products. She's also a regular at art and craft fairs, like the Renegade Craft Fair and The Urban Epic Festival at Fort Mason.
But there are a few key constraints Wolf has to work with. For one, the products need to be 100 percent made in the city the vending machine will reside in. In some cases they will include items that were designed locally but printed on American-made items, like American Apparel shirts. Other key criteria center around size and durability: products have to fit in a 5½ x 6½ inch compartment, and must withstand the the short fall once purchased. However, Wolf said they do hope to upgrade to vending machines with an elevated tray that gently lowers products, which would allow them to include products made from delicate materials, like ceramics.
Currently, the items in the machines at The Hall and The Yard range from $5 to $40 and cater to a variety of people—women and men, girls and boys, pet lovers, foodies and more. You'll find greeting cards from Coffee and Cream Press, screen-printed shirts by Amos Goldbaum and Culk, chocolates from Recchiuti Confections and Kika Treats, and Butler Bites dog treats, among many others options.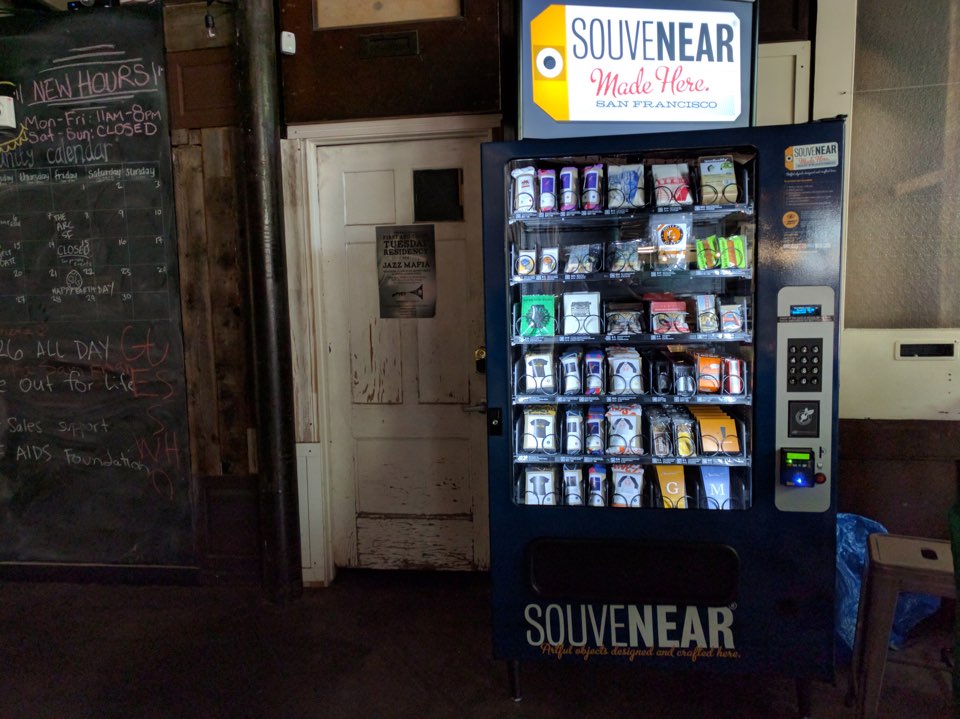 SouveNEAR vending machine at The Hall.
In the future, Wolf said she's interested in rotating in short-term seasonal and holiday items, as well as curating products made in the neighborhood the machines serve with a slant toward the theme of the space. For example, the machine at The Hall includes dish towels, and she's looking to add aprons and more edibles that won't compete with other vendors operating there already. She's also interested in creating a "green" machine full of 100 percent recycled materials.
Ilana Lipsett, The Hall's community manager, says so far, the machine is drawing lots of attention among the venue's diners. Given that sharing the space with other local retailers has always been a priority for the food hall and future housing development, The Hall jumped at the chance to install a vending machine full of local goods. The team at The Hall has already been working with the Tenderloin Economic Development Project and Urban Solutions to host local retail fairs for the holidays and offer retail space to individual small businesses. Plus, they were intrigued by the way SouveNEAR is putting a creative twist on a decades-old concept, similar to what they're doing for food halls.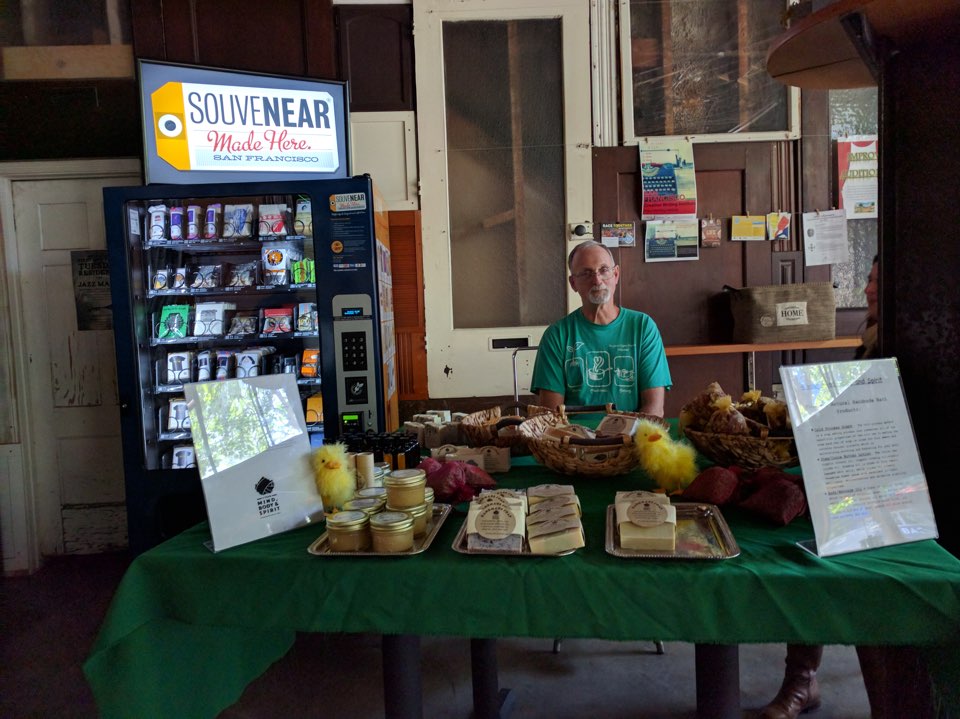 The SouveNEAR vending machine alongside Tenderloin resident Ted Stanton, who sells his line of homemade body products at The Hall every Friday.
Lipsett also noted that they specifically chose the chocolates in that machine to pair well with beer. So don't be afraid to buy a bar and ask the bartender what to sip with it.
If all continues to go well, these won't be the only two machines around the city—and the Bay Area. Wolf's already working to expand to Oakland and San Jose.
The hunt for new local products is also never-ending, so if you would like to work with SouveNEAR in the future, contact Wolf at [email protected] or call the number on the machine.