Whether you're homeless and need medical attention, a business owner dealing with a rash of thefts, or a tourist trying to find your way from Union Square to the Mission, Community Ambassadors from the Office of Civic Engagement and Immigrant Affairs are here to help.
Faapito 'Tee' Sagote is the team leader for the Mid-Market neighborhood, and has been a part of the multi-ethnic, multi-lingual Community Ambassadors program since it was first launched in the Bayview in 2010, after a string of high-profile assaults increased tensions between the African-American and Asian communities.
Ed Lee, then City Administrator, helped develop the Bayview pilot and moved to make the program permanent and expand it to the Mid-Market and Tenderloin neighborhoods after being appointed Mayor in 2011.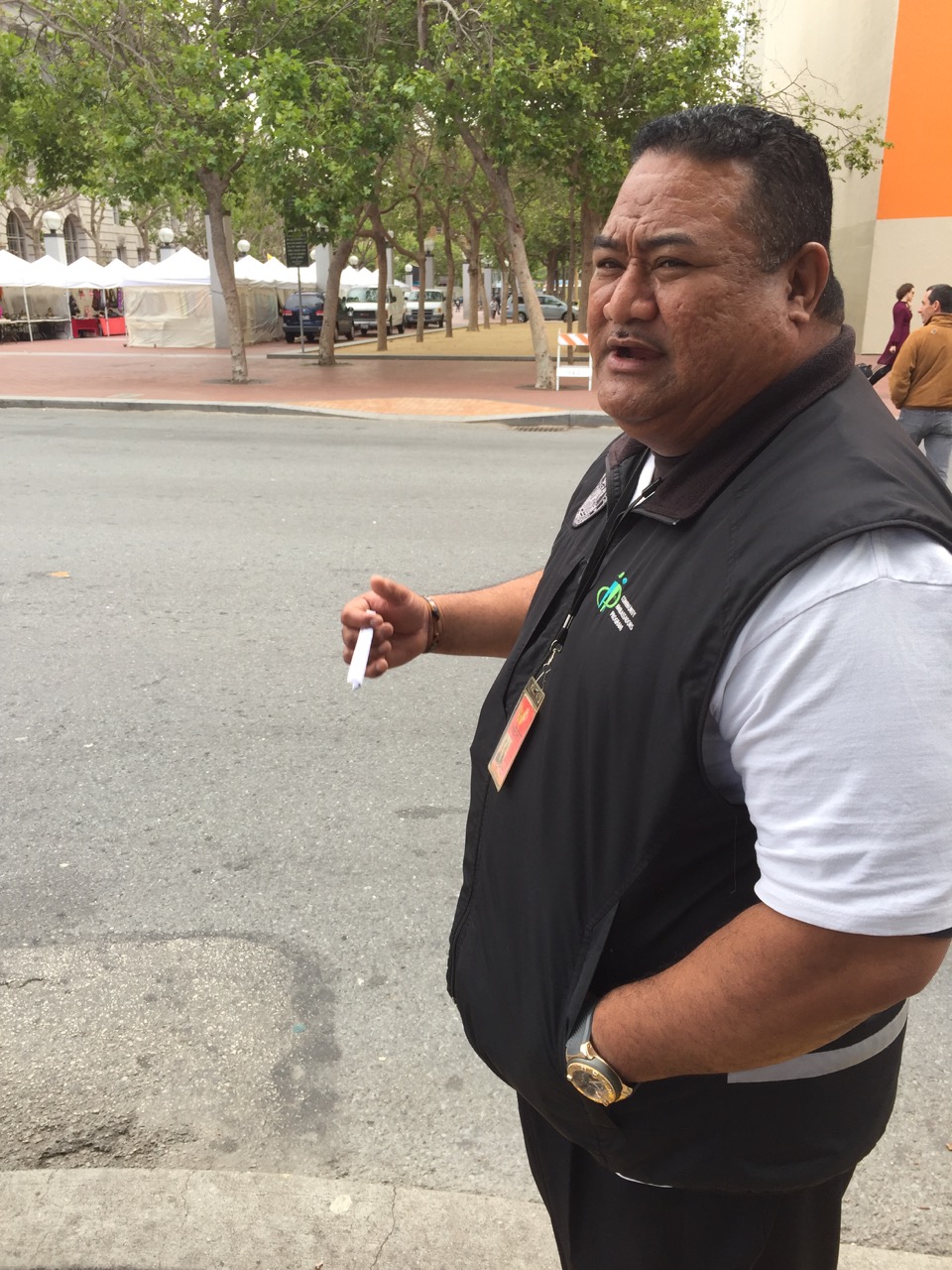 The program was placed in the Office of Civic Engagement and Immigrant Affairs, or OCEIA, since they would need Ambassadors who speak several different languages, Hoodline was told by the program's current director, Richard Whipple.
Ambassadors are usually paired with partners of a different ethnicity when walking through their zone, and most pairs can speak two or three languages between the two of them.

With the Ambassadors expanding into new territory, the city asked Tee to take the lead on the street — and trust did not come easily.

"I was called all kinds of things," Tee told us, including a snitch.
But over time, according to Tee, the Ambassadors gained the trust of many community members who are hesitant to call the police, through their focus on providing information rather than giving orders, their policy of not calling the police except when they see violence or a weapon, and their skill in mediating conflicts between different groups.
The Walk-Along
Walking down the street with Tee and his team this week, it was impossible to go more than half a block without someone approaching to say hello. Over six city blocks, the Ambassadors talked with everyone from homeless folks and small business owners to lost tourists and city workers, and dealt with issues large and small.
One pedestrian asked a potentially controversial question: What is the best pho in the neighborhood?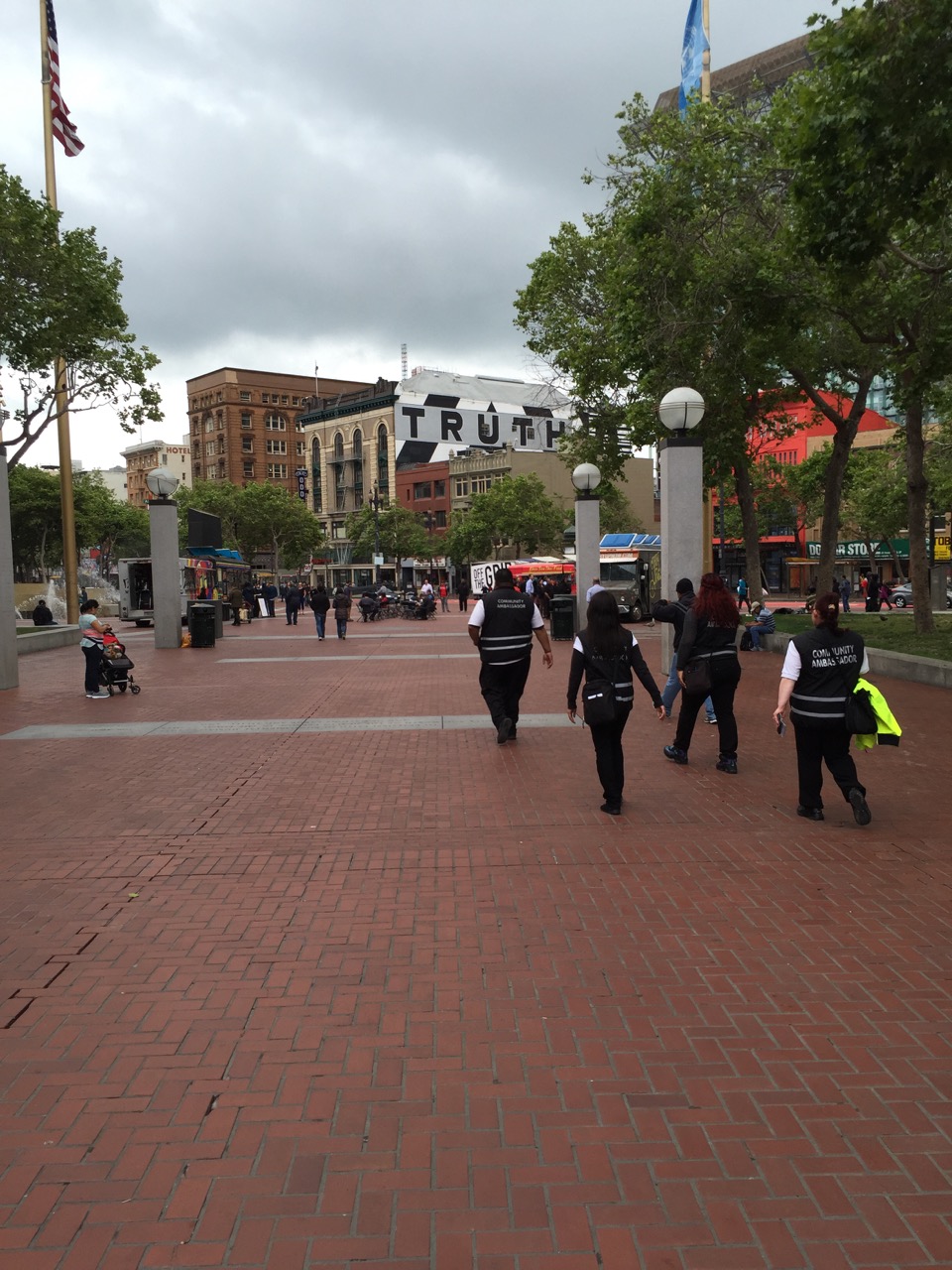 After some discussion, the Community Ambassadors agreed the best pho was at Tú Lan, on 6th Street, but that the dish you should really go for there is the tilapia.
Number 59 on the menu, said Tee.

In order to get that sort of detailed local knowledge, the Community Ambassadors program tries to recruit from the neighborhoods where the Ambassadors will work. In addition to being local, many of their recruits are formerly homeless or living in SROs, which Tee said helps them relate better to some of the people they serve. 
Wages for many Ambassadors are subsidized by JOBS NOW!, and the program does double-duty as a public safety and job training program. Many Ambassadors "graduate" after one year to other jobs, according to operations director Felix Fuentes, including some who have become bus drivers or taken jobs in City Hall.

Not all of the Community Ambassadors' interactions are as breezy as debating the merits of different Vietnamese restaurants.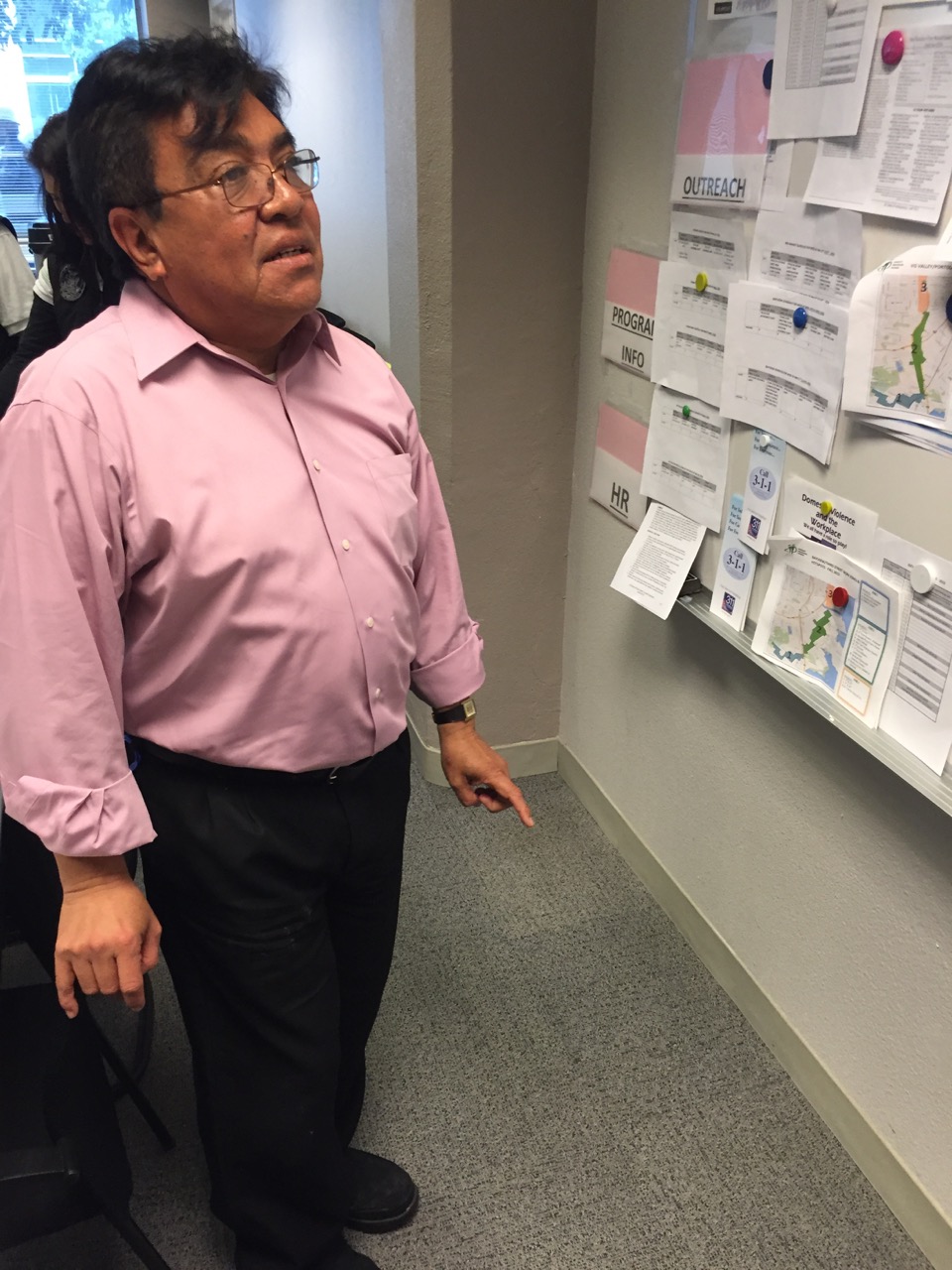 One trainee Ambassador named Tracy gave a detailed run-down of local free medical services to a homeless man named Levi, who had a bandage wrapped over his eyes and bumped elbows as a greeting instead of shaking hands because his right hand was broken. Despite his ailments, Levi was hesitant to seek medical care.

"I don't like the idea of taking taxpayer's money," he told Tracy. "I made a mistake. It feels like stealing."
Levi declined information about shelters, but seemed to come around to Tracy's arguments in favor of getting medical attention, since his condition would only get worse. They went on to discuss case management and safe places for Levi to keep his mail.
We asked Tracy how long she had been in training, and she said that it had only been one week.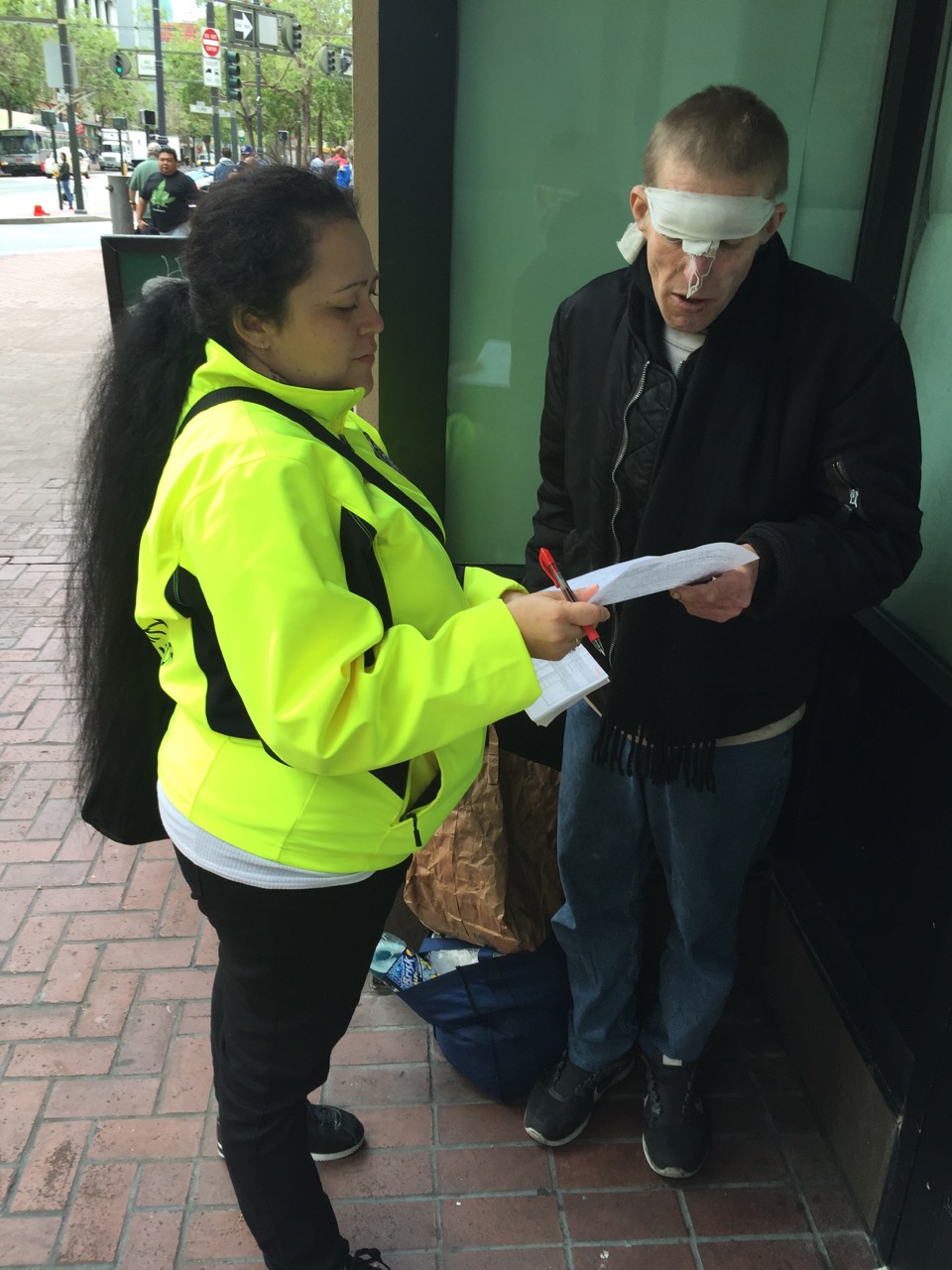 Tee told us that trainees are always assigned to Mid-Market first, since it offers the most diverse set of challenges.

"If you can do it here, you can do it anywhere," said Tee.
An Unusual Role
The half-dozen Ambassadors and OCEIA administrators interviewed for this piece were quick to differentiate their program from similar programs run by Community Benefit Districts, also known as Business Improvement Districts. Hoodline has covered two such programs in the Castro and on Lombard's "Crooked Street."
Fuentes told us that the Castro Ambassadors stopped coordinating with them after a few months, and said that Community Benefit District ambassador programs seem to be mainly focused on cleaning now.
Tee added that Community Benefit District ambassadors do not do outreach, informing homeless and other people about services available to them. (Update: Richard Whipple emailed Hoodline and spoke to us on the phone after this article was published to add a clarification.

"Our partners with the Community Benefit District actually do provide resources and information to homeless folks," wrote Whipple. "But as you witnessed, they do have a different approach, which is likely what Tee was getting at. We do seek to have a positive, working partnership with the CBDs."
He added that some Community Ambassadors have gone on to work for Community Benefit Districts, and that the Community Ambassadors continue to keep tabs on the CBDs and partner with them, though they no longer do weekly walk-throughs together like they used to.)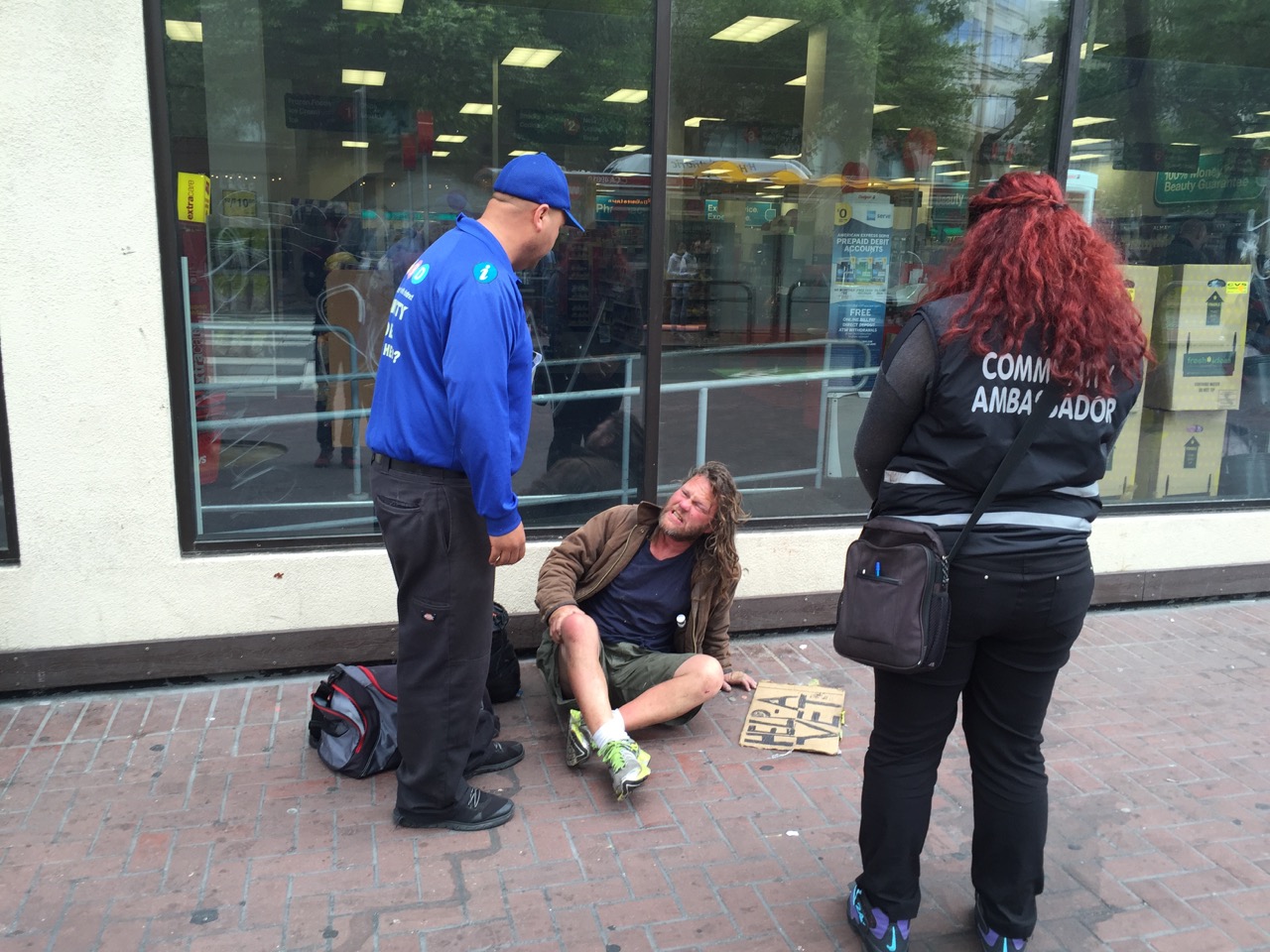 The difference in style between the two types of ambassadors became dramatically apparent during our walk along Mid-Market, when the Community Ambassadors did a wellness check on an apparently homeless man lying down outside of a CVS Pharmacy and were interrupted by a blue-shirted ambassador from a local Community Benefit District.
The Community Benefit District ambassador approached the man rapidly and made physical contact while telling him that he had to move. This set off the man on the ground, who shouted angrily at the ambassador to get away from him, and then stood up and began making threats. Tee told the Community Ambassadors to make space and was able to convince the blue-shirted ambassador to leave.
The man continued to shout threats and vitriol while Tee and Horepa, the assistant team leader for Mid-Market, worked to deescalate the situation, letting the man blow off steam and occasionally talking to him, while keeping the area around him clear of other pedestrians.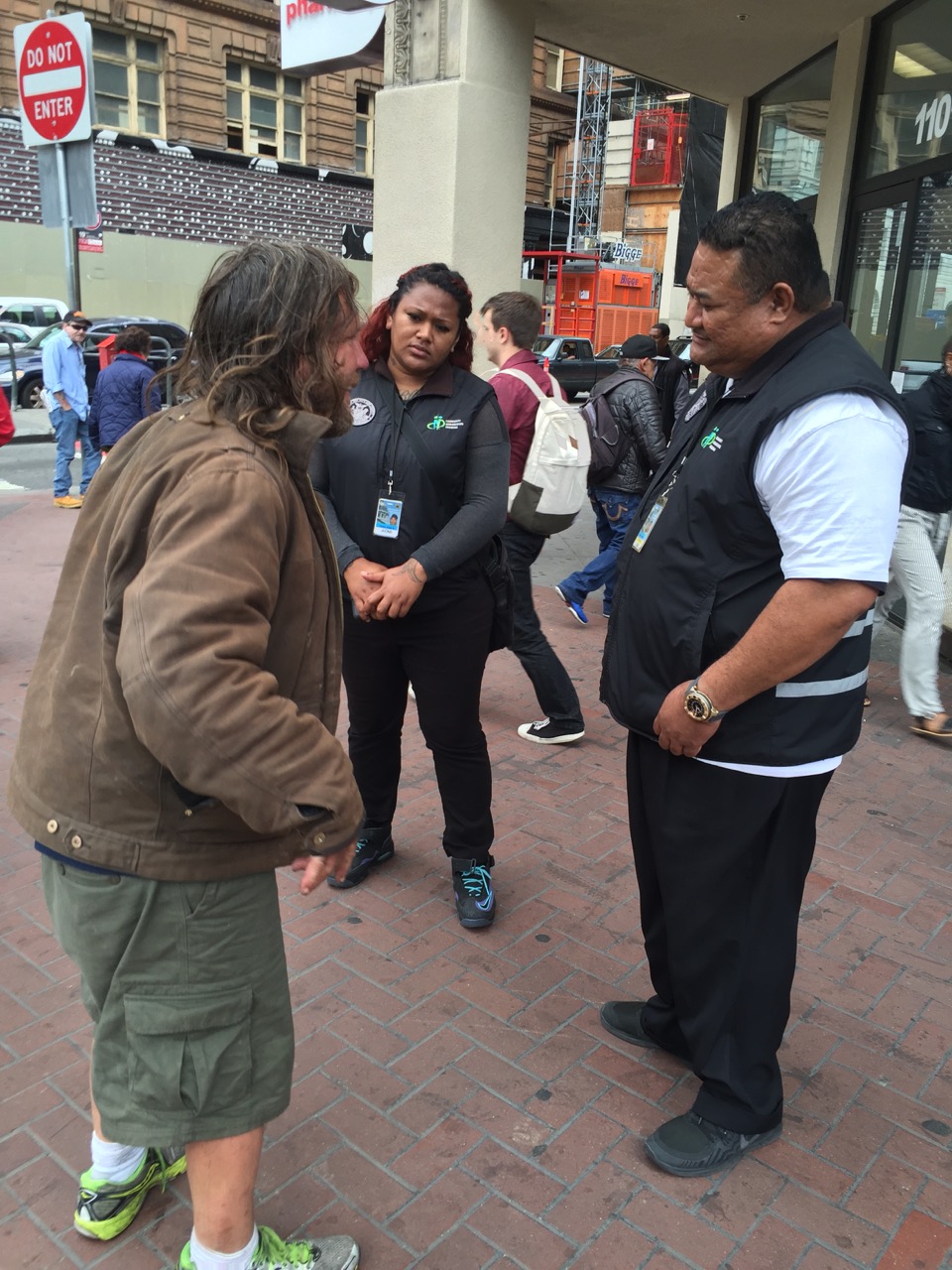 At one point the man used racial slurs for African-Americans when referring to the departed Community Benefit District ambassador, which visibly upset Horepa, but she walked away from him to avoid escalating things and endured it when the man followed her, shouting and gesturing inches from her face. Two other Ambassadors who were still in training kept their distance.

After fifteen minutes, the Community Ambassadors had managed to calm the man down. He even gave Tee a hug before returning to his spot.

As Horepa explained to Hoodline afterward, Community Ambassadors are trained to make a slow approach when doing a wellness check on someone lying on the ground, and to gently nudge the toe of the person's shoe with the toe of their own shoe, to avoid exactly that sort of confrontation set off by the Community Benefit District ambassador.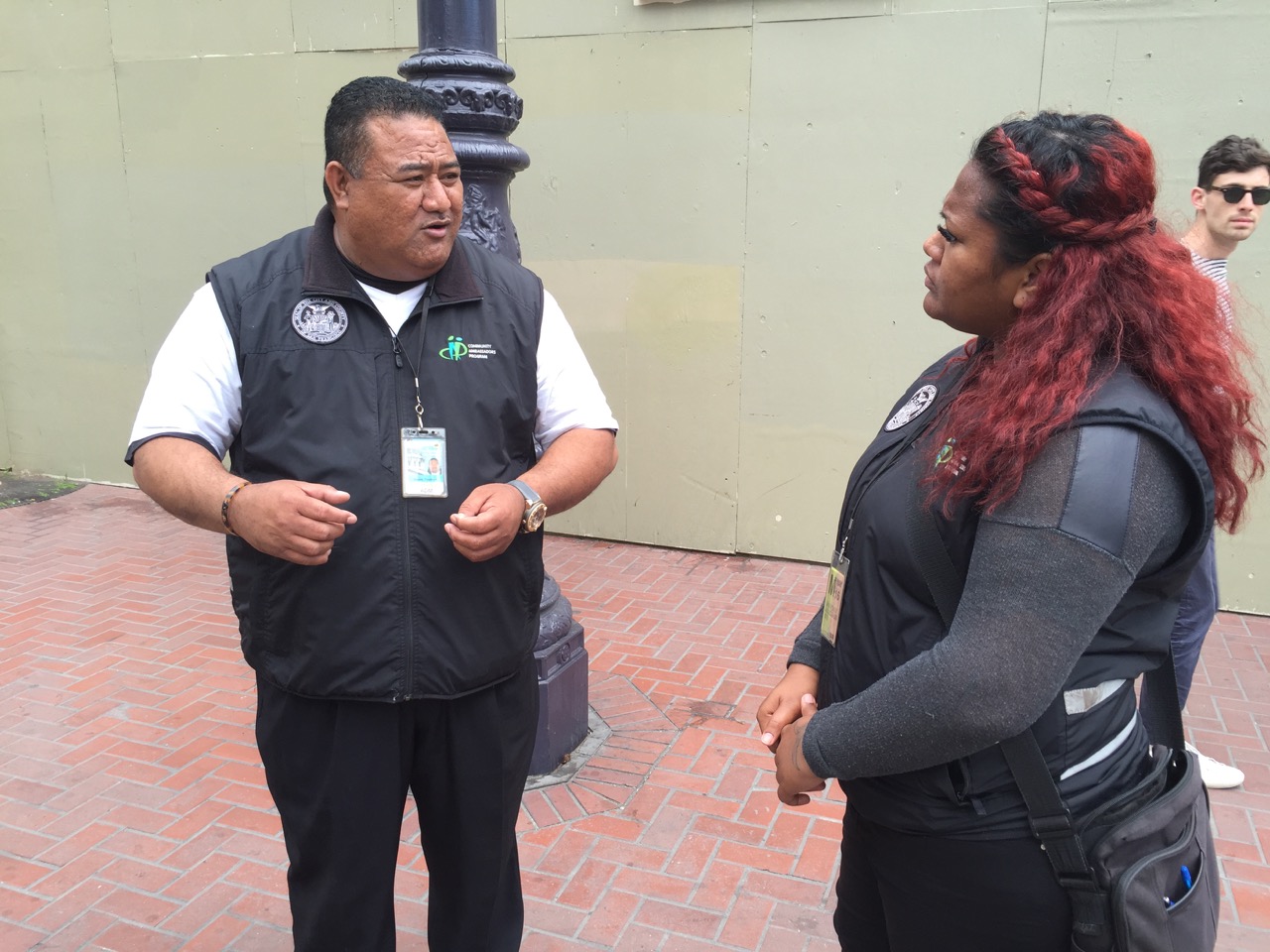 Tee told us that Community Ambassadors never tell homeless people to leave an area, and never call the cops on them: they only offer information about services, and do wellness checks.
"If you see someone five times [on the ground], you check them five times," he added. "Because you never know."
According to Tee, Community Ambassadors occasionally come across people who have died on the sidewalk, while other pedestrians "walk over them." Ambassadors often catch people who are in serious medical jeopardy through their wellness checks and call ambulances for them.
It can be a hard job for the Ambassadors emotionally, Tee said, but added that he feels good when people he has helped in a crisis come back later to thank him.
The Impact Already
Fuentes provided Hoodline with the program's neighborhood reports from last month, which noted that Ambassadors in Mid-Market alone performed over 6,000 wellness checks so far this year and called 911 for an unresponsive woman found lying on the ground in U.N. Plaza on April 26th.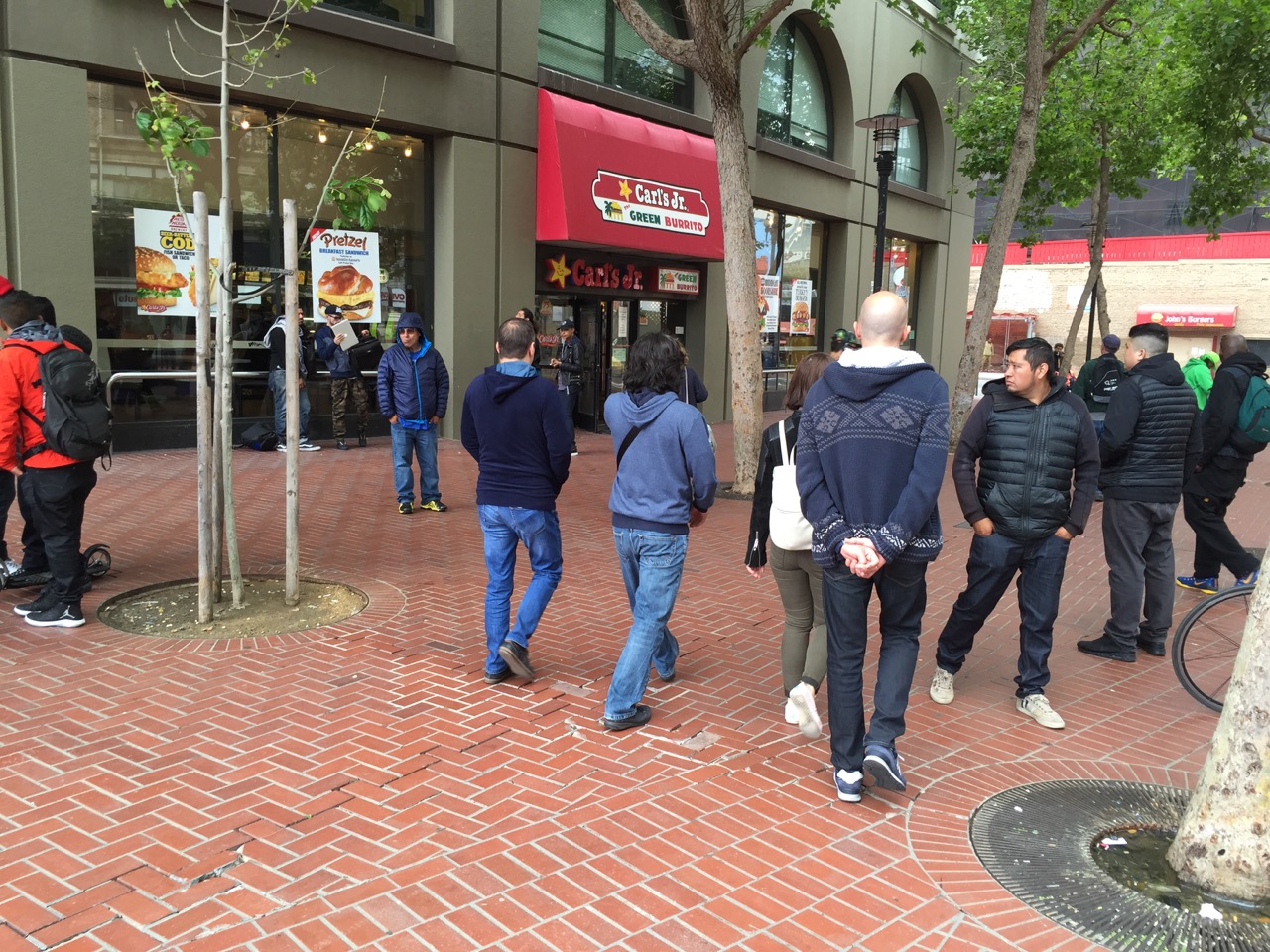 The walking route for the Mid-Market Community Ambassadors goes from OCEIA headquarters at Van Ness and Market to the west side of 5th and Market. On the way, they cut through various "hot zones," including the corner of 6th and Market, the BART escalator exit near 8th Street, and an area in front of the Carl's Jr. at 10 United Nations Plaza that Tee said they refer to as "Walmart," since you can buy any kind of stolen goods there.

Tee said that stolen electronics and jewelry are popular, and you can occasionally find guns. On one occasion a pickup truck rolled up to the corner and sold live chickens out of the back. People often grab stuff from the CVS Pharmacy across the street, where we witnessed the confrontation between the Community Benefit District ambassador and the homeless man, and run to the area near Carl's Jr., where they sit down and sell it.
The police know what's going on there, Tee said, but usually can't make any arrests, since the fences and thieves who frequent the area aren't actually carrying the stolen goods on their person much of the time. He added that fences pack stolen goods into backpacks and take them to storage units in the Tenderloin to drop them off.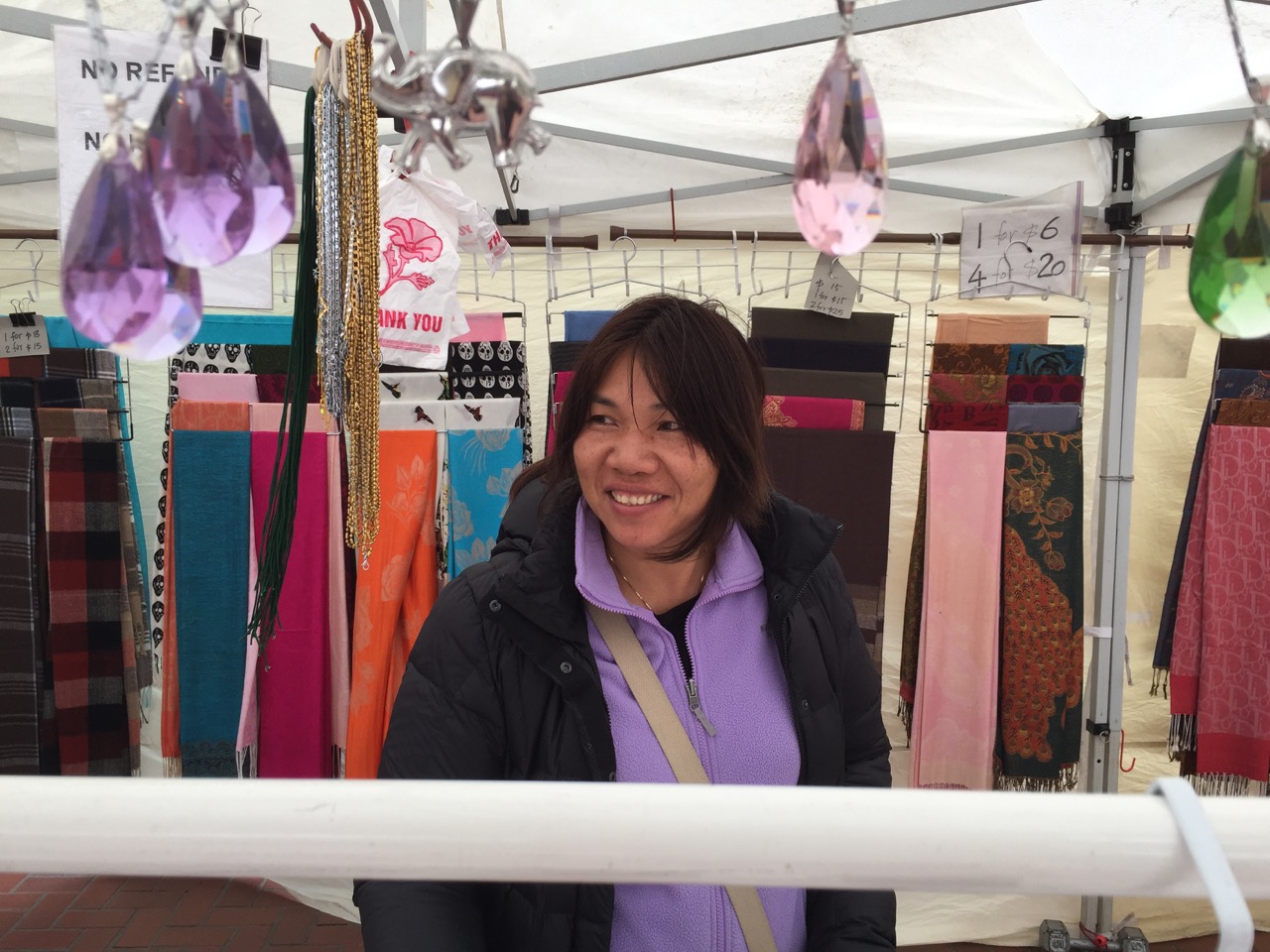 As we passed the Carl's Jr., Horepa told Hoodline that the Ambassadors know the people standing outside but intentionally keep their distance.
Snatch-and-run theft is an ongoing problem in the outdoor markets in U.N. Plaza, and the Community Ambassadors have been trying to address it by working with local merchants.
Tee introduced us to a jewelry-seller named Judy, whose tent has been a recurring target for theft since grabbing a handful of necklaces lying on a table and running away is relatively easy.
He also introduced us to Rada, the proprietor of United Nations Cafe, a hole-in-the-wall shop offering cheap sandwiches, snacks, and coffee. Rada told us that whenever she has a problem, she calls the Community Ambassadors directly.

"Sometimes when you call the police it takes a long time," Rada said. "With them, it's quick."
Tee hands out cards with his personal phone number, and 311 calls requesting a safety escort are redirected by Fuentes at the central office to team leaders spread out across Mid-Market, Tenderloin, Chinatown, Mission, Bayview, Portola, and Visitacion Valley.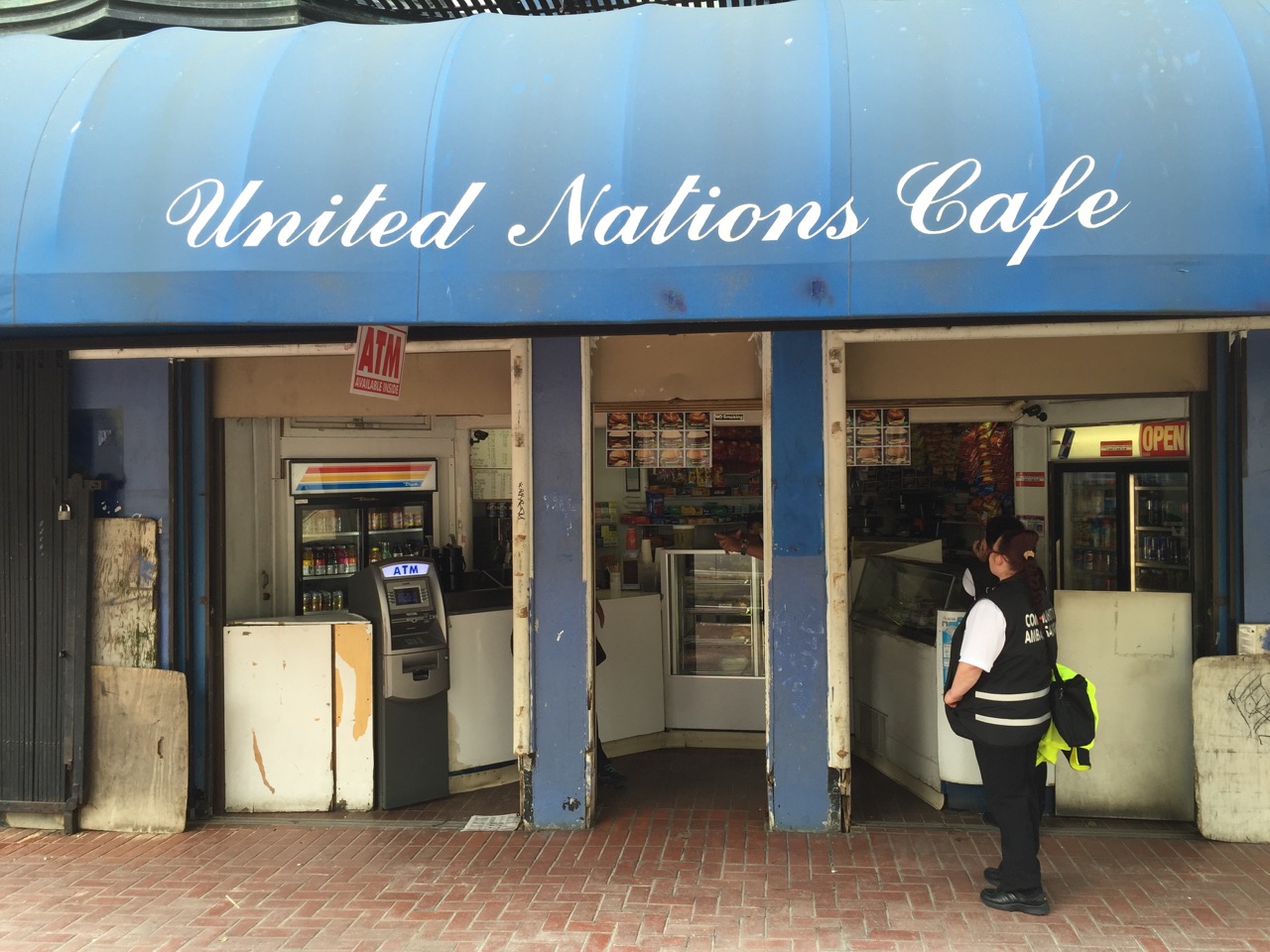 The Ambassadors currently work some of the poorest and roughest neighborhoods in San Francisco, reflecting their original purpose as a public safety program.
The Mid-Market Ambassadors reported providing nearly 1,300 safety escorts and two hundred "interventions" or "de-escalations" so far this year. They have only called 911 on thirteen occasions, and their internal statistics do not appear to differentiate between calls for medical assistance and calls to the police.

When a new business owner moves into a neighborhood, the Community Ambassadors make an effort to reach out, Tee said, and his team has reported  1,341 merchant visits this year.
During our walk, Tee noticed interior work going on at the future site of Popsons, a burger joint at 6th and Market. He crossed to street to chat with owner Alvin Garcia, and encourage Garcia to contact him if he has any problems.

"You're the better people to call?" asked Garcia.
"Yes," said Tee.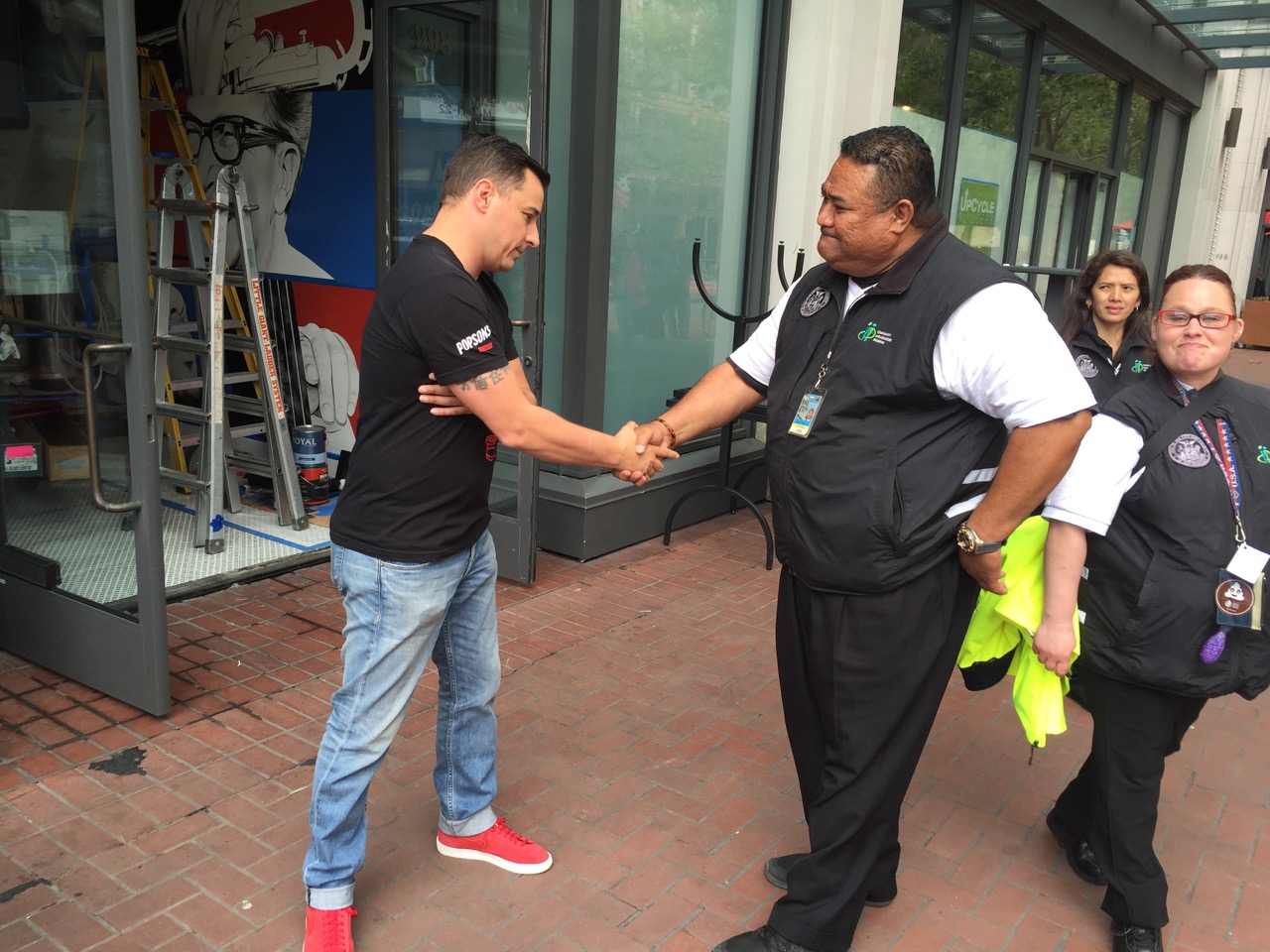 Tee told Hoodline afterward that many business owners prefer to reach out to the Community Ambassadors rather than the police for problems like nuisance theft and people loitering inside the building, since someone who gets arrested may come back to retaliate.
Bigger Issues
Tee and Fuentes agreed that distrust of the police in the communities the Ambassadors work in has increased over the past few years, and that the Ambassadors are seen as an alternative for solving certain kinds of disputes.

Relations between the San Francisco Police Department and minority communities in San Francisco are currently at a nadir after a series of racist texting scandals and fatal shootings by police officers. A group of black and Latino activists are now in the second week of a hunger strike, demanding that Mayor Ed Lee fire Police Chief Greg Suhr.

At one point during our walk, on the corner of 6th and Market, a black man called out to Horepa to tell her that SFPD officers were approaching down the block.

"The police are that way," the man said, laughing. "I'm going this way!"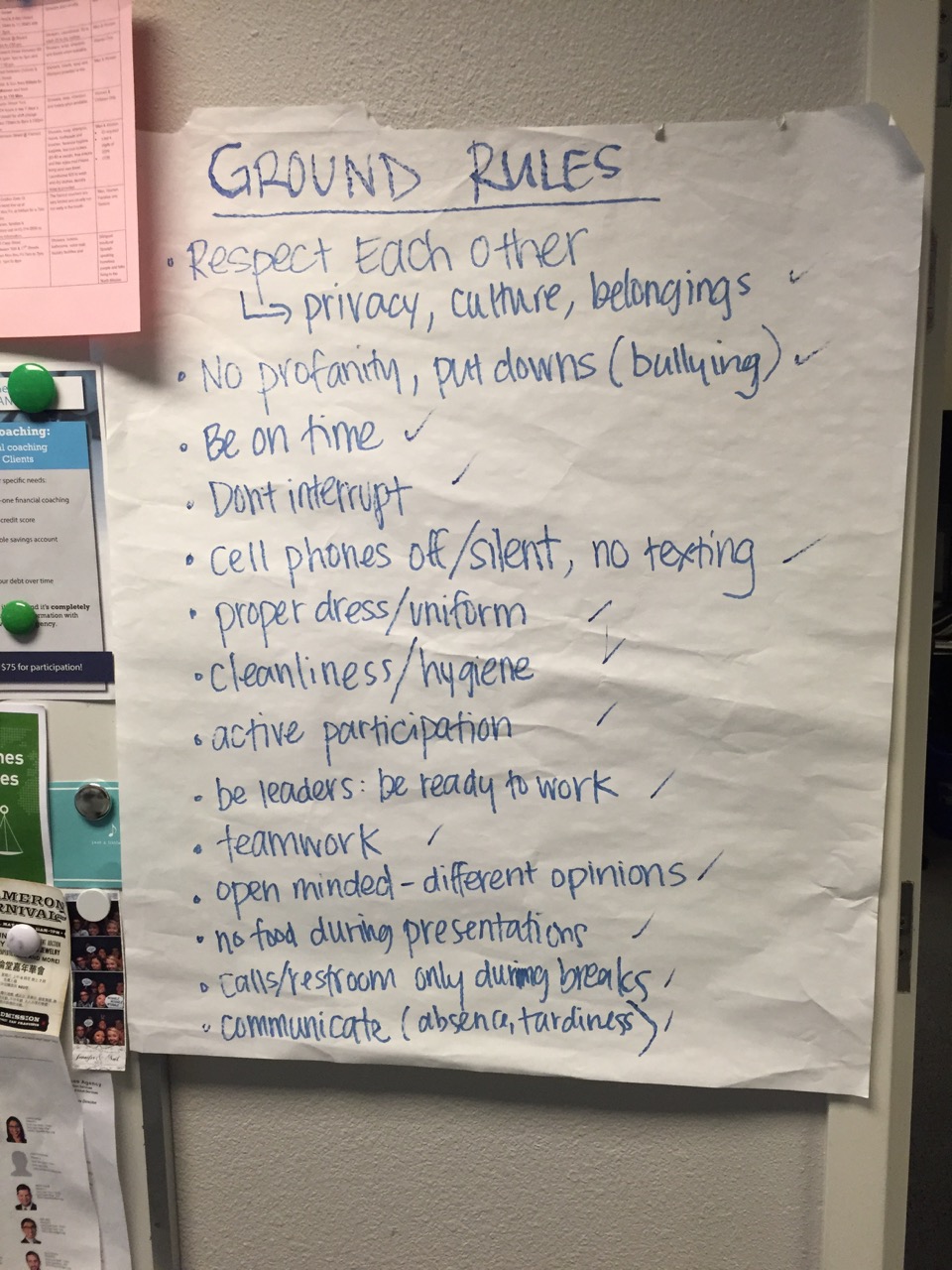 The ground rules, posted in the team's office. 

The Ambassadors chatted with dozens of people over the course of six blocks, many of whom knew Tee or Horepa by name. But there is still a certain amount of skepticism, especially in Mid-Market, which has many new arrivals and people just passing through.

"When I talk to new people, they tell me we have the best homeless services," said Tee, speaking of homeless arrivals in particular. "And the best dope in the country. That's what they tell me."
In addition to their regular patrols, Community Ambassadors work with other service providers for events, including the French nuns whose soup kitchen was saved by Tony Robbins after they were threatened with eviction.
And they approach people who look lost, like a pair of European tourists we met who had wandered into Mid-Market from the Union Square area.
Tourists usually decline help from the Ambassadors at first, said Tee, before deciding a few moments later to ask for directions. When we asked Horepa how to get to the Golden Gate Bridge from 6th and Market, she rattled off the series of bus lines from memory.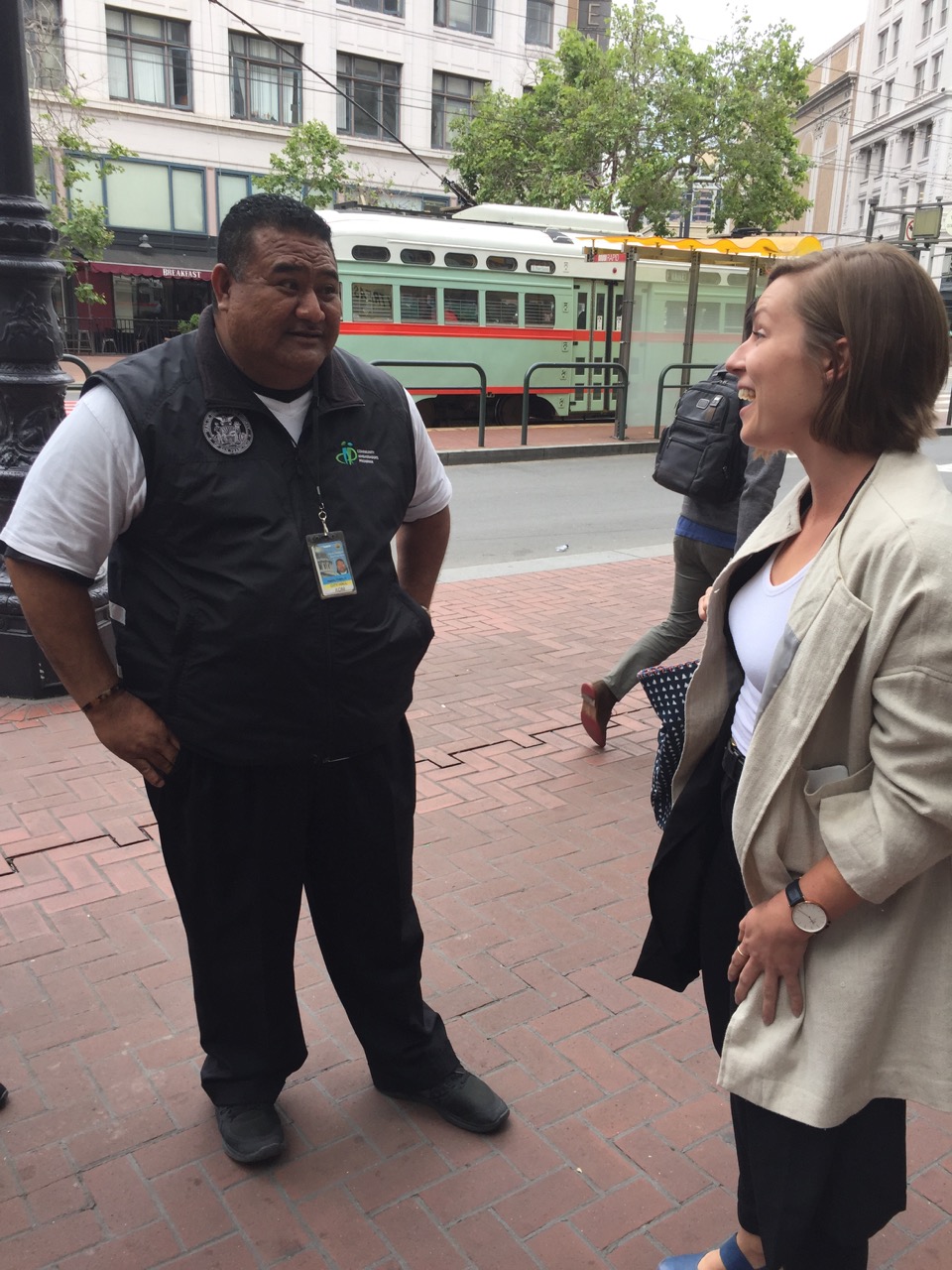 Mid-Market Ambassadors reported interacting with tourists over three hundred times last month, and giving directions to tourists and residents over five hundred times.
A Limited Future?
Despite the wide popularity of the Community Ambassadors program, it has limited funding.

"We don't have the money to expand," Fuentes told us.
The original 2010 pilot in the Bayview was quietly funded with $800,000 from controversial real estate developer Lennar Urban, which is building a massive mixed-use development at the Hunters Point Shipyard and Candlestick Point, according to a Hunters Point Shipyard Citizens Advisory Committee newsletter.
The funding from Lennar was sent through the Omega Boys & Girls Club founded by Dr. Joe Marshall, who is also a Police Commissioner. Marshall was one of the architects of the Community Ambassadors program, along with then City Administrator Ed Lee, Dwayne Jones, who worked in the Mayor's Office at the time, and Vincent Pan of Chinese for Affirmative Action, according to Marshall's speech at the launch ceremony of the Chinatown Community Ambassadors program in April.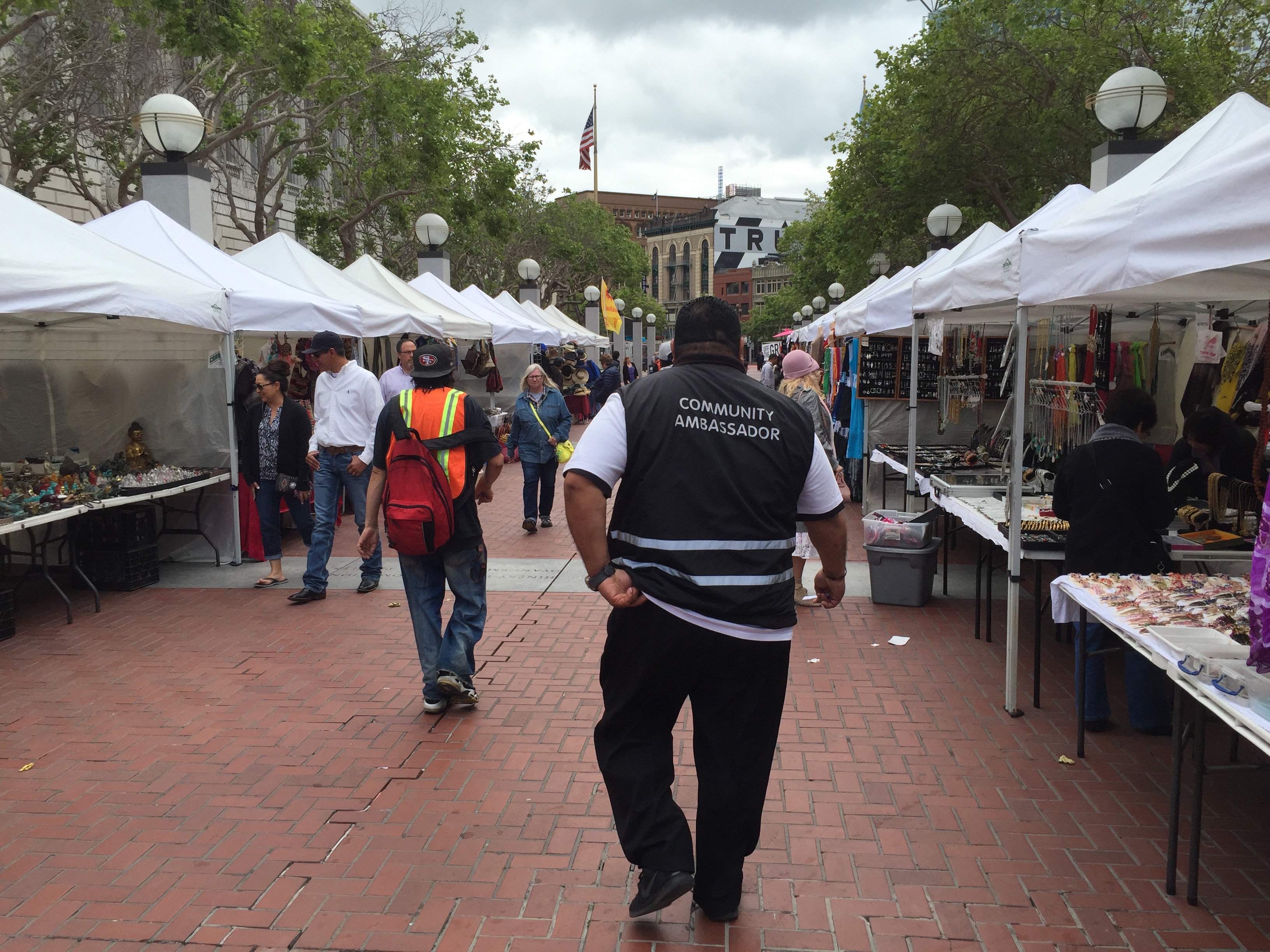 Since then, the Ambassadors program has relied on champions within different neighborhoods to lobby for funding to expand, according to Fuentes. Ed Lee was the driving force behind bringing the Ambassadors to the Tenderloin and Mid-Market, and the expansion to Chinatown was driven by Annie Chung, the president of Self Help for the Elderly. In the Mission, their shepherd was the Mission Neighborhood Resource Center. Fuentes told us that neighborhood leaders tell their district supervisors that they want the Ambassadors to expand to their area, and supervisors work to allocate funding.

The Ambassadors are hopeful that they will be able to keep expanding to new neighborhoods, and Fuentes hinted that the Fillmore may be next — if they can get the money.