On Sunday night, North Beach denizens, poets, locals and tourists flooded Specs' Twelve Adler Museum Cafe to celebrate two important milestones: owner Richard "Specs" Simmons' 88th birthday, and the 48-year-old bar's recognition as one of the city's first nine legacy businesses, a program created under Proposition J, which voters passed last year.
Elly Simmons, Specs' daughter, told us that her father hosts a birthday party every year at the bar, providing plenty of fresh oysters, pasta, and charcuterie for everyone. But she was most excited to share the news that Specs has been given legacy business status from the Planning Department Small Business Commission, keeping the beer and the poetry flowing for many years to come. 
Being awarded legacy status is a big deal for historic businesses like Specs, as it awards grants for both business owners and landlords, as well as encourages long-term leases. 
Simmons told us that the bar's lease was up for renewal three weeks ago. Normally, they would be signing a five-year lease, but after being recognized as a legacy business, they were able to secure a new 10-year lease. 
District 3 Supervisor Aaron Peskin told us that when Supervisor David Campos introduced the legislation, he had businesses like Specs in mind. "Specs is the poster child for legacy businesses" and those that qualify for nomination, he said. "It's a San Francisco institution that accommodates everyone from this town. It's one of the last union bars in the city, and we are happy that it will be around for another 10 years."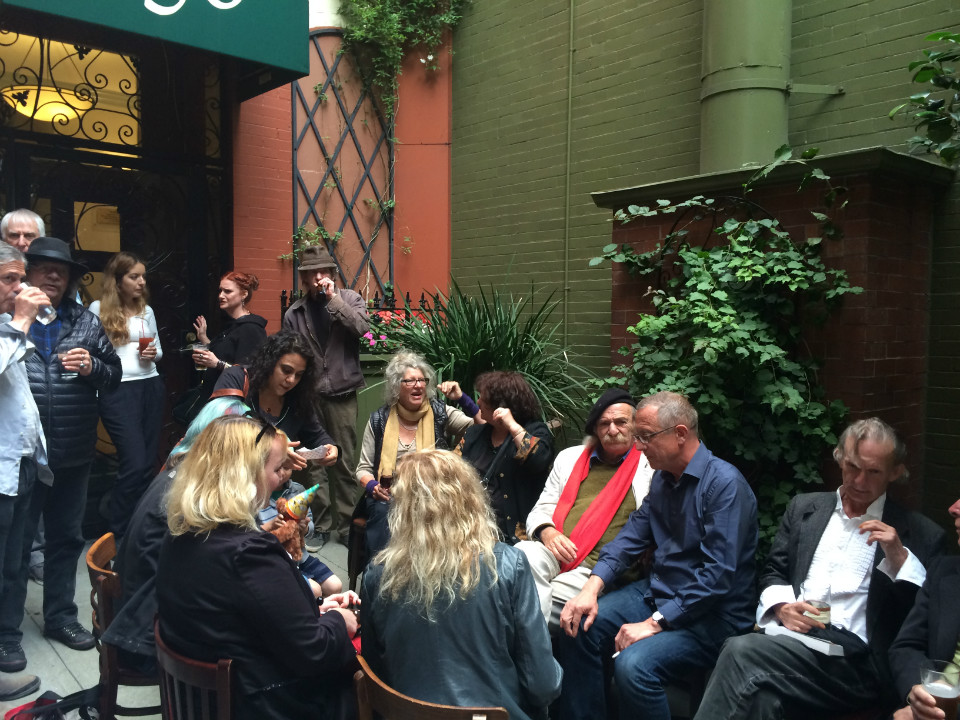 At the party, neighbors expressed their excitement that the watering hole will remain as-is for generations to come, with many noting it as a place of refuge for folks from all walks of life. A popular meeting spot for poets and artists, "it's the most progressive bar in all of San Francisco," SF poet laureate emeritus Jack Hirschman told us. 
Decorated with memorabilia from all around the world, as well as ceiling flags donated by various merchant marines over the years, the dimly lit drinkery hasn't lost its well-weathered charm. On the bar, patrons will find boxes of postcards sent from past visitors from across the globe.
Simmons told us that many of the cards have the same message: "I've been searching for the American Dream, but still haven't found it."