As District 3 Supervisor Aaron Peskin's office promised last week, the Board of Supervisors' Government Oversight & Audit Committee spent its entire weekly meeting today gathering details on the city's role in the development of the embattled Millennium Tower, which has been in the headlines for sinking and tilting more than expected, just eight years after its construction. 

Of specific interest to Supervisor Peskin, the committee's chair: When, exactly, the Department of Building Inspection became aware of the sinking and tilting, and why details about it were not disclosed to potential buyers and the public sooner.
Central to the conversation was a letter DBI engineer Raymond Lui wrote to Millennium Partners' development team in February 2009—before the department cleared the building for occupancy. The letter contained eight specific questions regarding the building sinking into the ground, not uniformly and faster than projected, Peskin said. He noted that he received the letter from an NBC Bay Area reporter, not through a records request he made to the department or through publicly available archives online.
During the questioning, Lui said he could not recall what prompted him to write the letter. Offering to speculate, he said he's "tight" with engineers in the community, and it could have come from one of them or a colleague at DBI.
In regards to whether he thought the developer's response to the letter was sufficient, Lui said he remembers receiving a response that said they expected the tower to sink two to four inches further than the six inches originally projected, and "we thought they had it under control." 
DBI officials, who Peskin said were copied on Lui's letter, had no memory of the correspondence. DBI engineer Gary Ho said he had no recollection of the letter but agreed that such information would be alarming. Deputy director Ed Sweeney told Supervisor Peskin that he remembered "discussions, a buzz and rumors," but had no memory of the letter either.
This raised questions about the department's record-keeping procedures, and whether higher-ups withheld the information from inspectors—who later assessed the tower, saw "no visible signs of settlement" and cleared the building for residency. Lui could not recall with whom he shared the developer's response, but assured the committee that it "certainly was shared with somebody."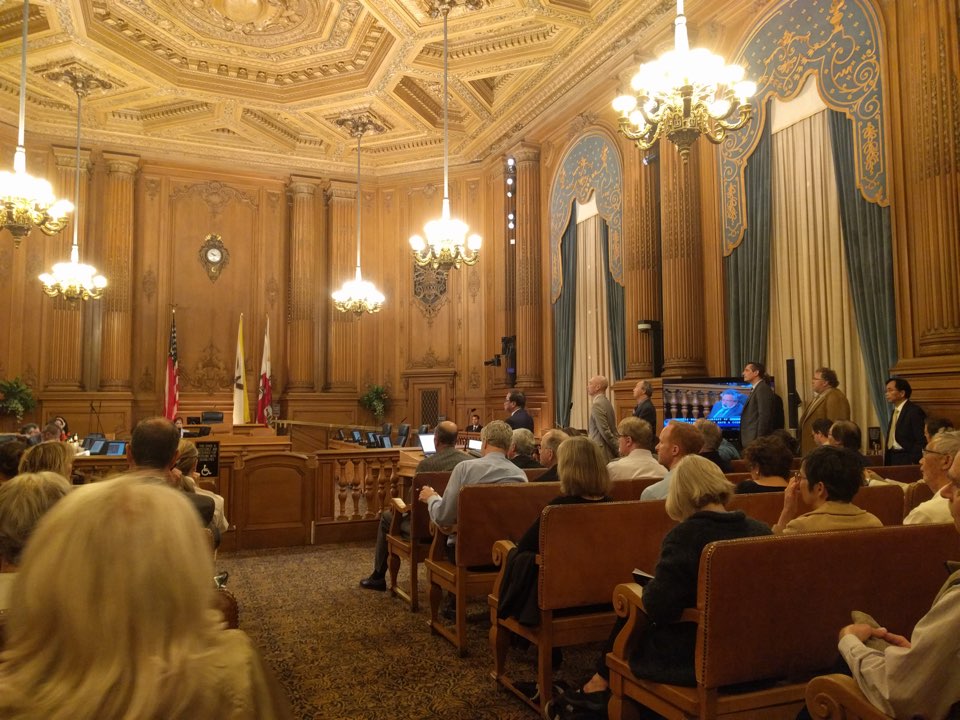 To inform future legislation, Peskin also sought to understand DBI's procedures for assessing construction plans for high-rise buildings on former baylands, and how the department goes about addressing concerns regarding buildings' structural integrity.

Throughout a long conversation with Hanson Tom, DBI's acting director and the department's principal engineer on the Millennium Tower project, Peskin attempted to better understand why the city halted construction of a high-rise at 80 Natoma due to concerns of sinkage, while simultaneously allowing Millennium Partners to construct the 58-story Millennium Tower on similar soil conditions nearby.
Tom, who did recall Lui's letter, explained that the Millennium Tower's design conformed to Planning Code, and therefore, DBI could not force the developers to conduct a third-party review of the geotechnical study. However, after much negotiation, they were able to convince Millennium Partners to pay for a third-party review of the building's structural aspects.
As for why the geotechnical plans for 80 Natoma did receive a third-party review, which ultimately led to DBI revoking its construction permit, Tom speculated that those design plans probably did not conform to the Planning Code. Thus, third-party reviews were required.
After delving into DBI's role in the Millennium Tower's permitting process and knowledge of the sinking, Peskin opened the floor to public comment. Representatives for the Millennium Tower homeowners' association took the opportunity to inform the committee that DBI representatives had repeatedly side-stepped requests to meet regarding the tower's structural issues.
When asked by Supervisor Peskin whether any of his clients received disclosures about the building's settling with their purchase and sale documents, an attorney for the homeowners' association said, "I can say at this point, I'm not aware of any disclosers to any purchasers in regards to settlement or extensive settlement."
Peskin told attendees that today's hearing was the first of many to come. The next hearing will be held a month from now, if not sooner, when DBI is prepared to discuss potential revisions of its policies and procedures.