By
Brian Ray
- Published on October 03, 2016.
It's now been five years since the former Home restaurant at 2100 Market St. shut down. While plans are still in the works to demolish it and construct a 60-unit apartment building with two ground-level retail spaces, the vacant building is still standing—and has become a magnet for homeless campers, according to our tipsters. Tipster Jared asked for an update on the project, so we reached out to the Planning Department for the latest. 
Planning's Jeffrey Horn informed us that the demolition permit for 2100 Market has been reviewed and signed, and is now under review by the Department of Building Inspection. "I will review the architectural construction plans sometime in the future when they are submitted," he said.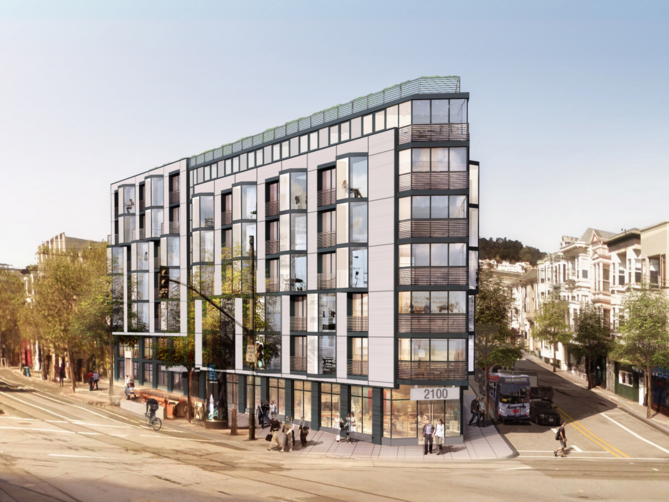 "I have applications in for both the demolition and building permits," said project sponsor Brian Spiers, who said the building's design is unchanged since getting final approval from Planning. "We wouldn't demo the building until we can keep going on the construction with approved building permits. Optimistically, we could potentially start late this year or first quarter next year."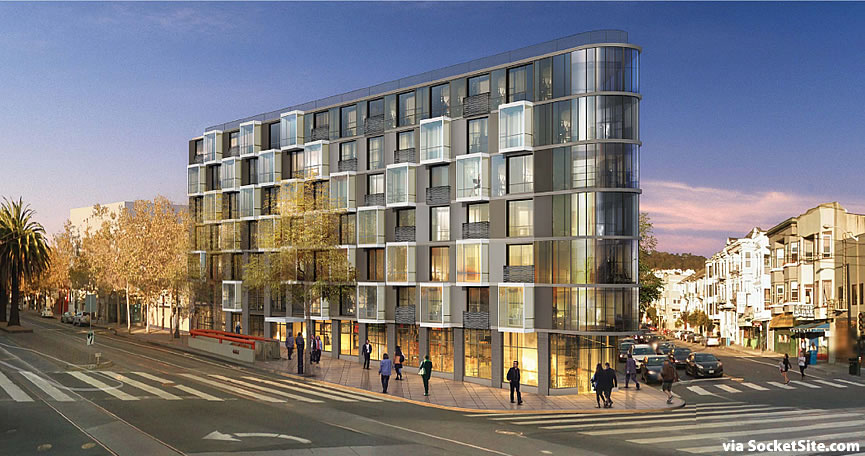 When asked about any potential parking space removal or street closures at the intersection during construction, Spiers said that site logistics are still being coordinated. While he acknowledged that the corner is a difficult one for construction, "we will try to keep parking and traffic impacts to a minimum," he said. 
As for people camping around the boarded-up space, Spiers told us he's done what he can to help. "We boarded up the entries, put lights on the exterior 24/7, removed the awnings that were providing shade to sidewalk campers, and cut back the palm tree," he said. "As you know, I cannot control what happens on the public sidewalk, [but the Castro] CBD, myself and other neighbors are constantly calling the police, SF Public Works, etc. to help keep the area relatively clean."
We'll follow up once there's a clearer timeline for demolition and construction, so stay tuned.