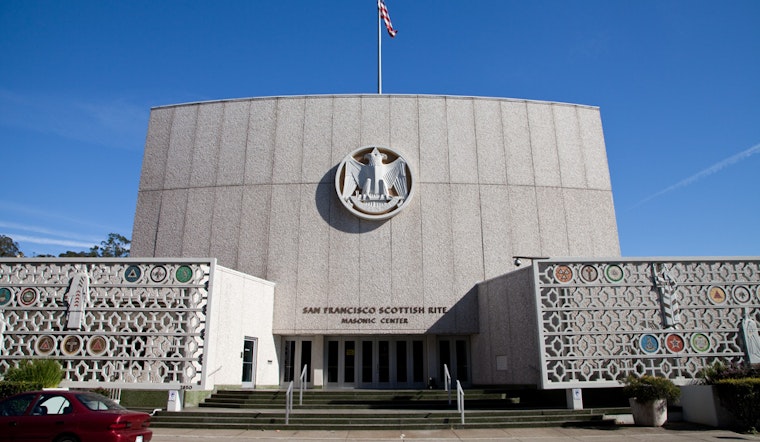 Published on March 06, 2017
Despite the legends of secret conspiracies associated with Freemasons, the San Francisco Scottish Rite Masonic Center (2850 19th Ave.) isn't a mysterious place.

For starters, no secret handshake or password is required to gain access.
"You can ask anything," said Pat Moore, the Center's general secretary. "There are no secrets."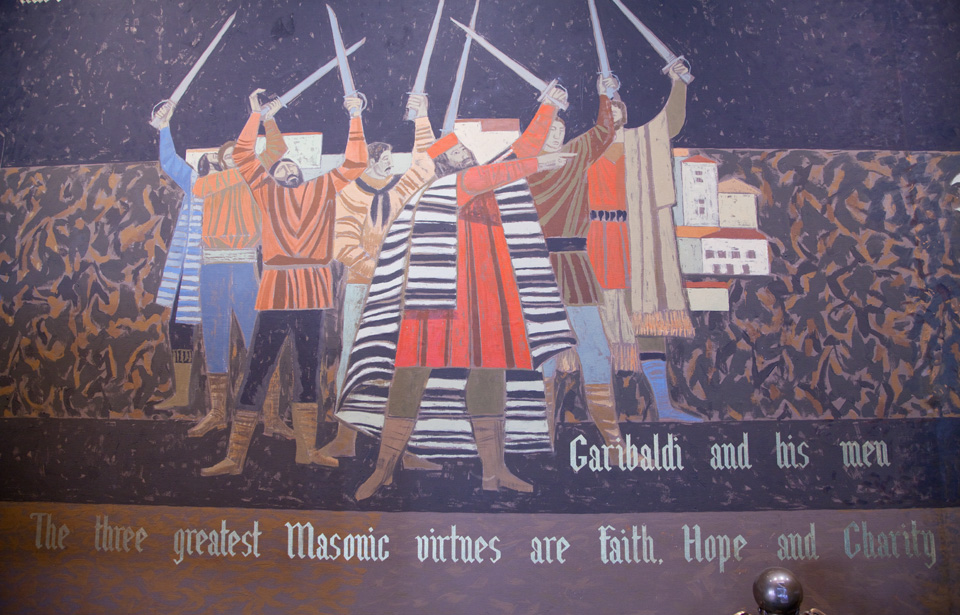 The Freemasons are the world's oldest and largest fraternal organization, meaning membership is open to men only. After joining a Masonic Lodge, members advance through ranks or degrees, such as Apprentice, Fellowcraft and Master Mason. To become a member of Scottish Rite, one must first be a Master Mason.  
While there are several other Scottish Rite Centers in the Bay Area, including Burlingame and Oakland, the San Francisco Center, which opened in 1963, is "one of the prime examples of Scottish Rite buildings in California," Moore said.
"A lot of tourists who are Masons will come by to see the building," he said. On the day Hoodline visited, a Mason and his family from Mexico City were touring the facility.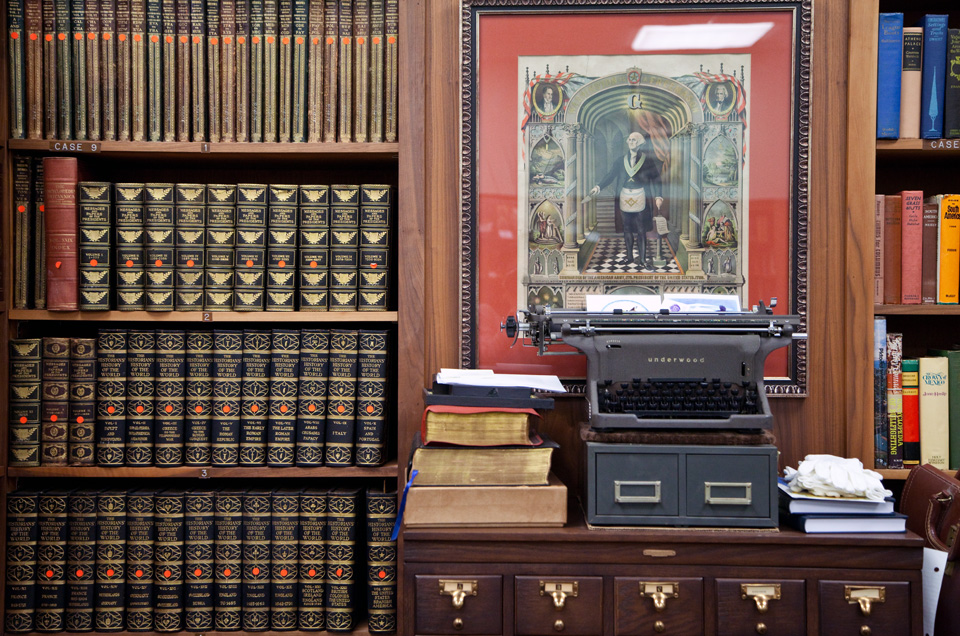 With its smooth concrete exterior, featuring an enormous double-headed eagle, the Center makes for a dramatic contrast with the thick woods of Stern Grove, located across the street.
The Scottish Rite developed the site in preparation for its move from the Regency Center on Sutter Street, which is now a music and events venue.  It was designed by local architect Albert F. Roller, who was also behind another Masonic center turned music venue: the Nob Hill Masonic Center.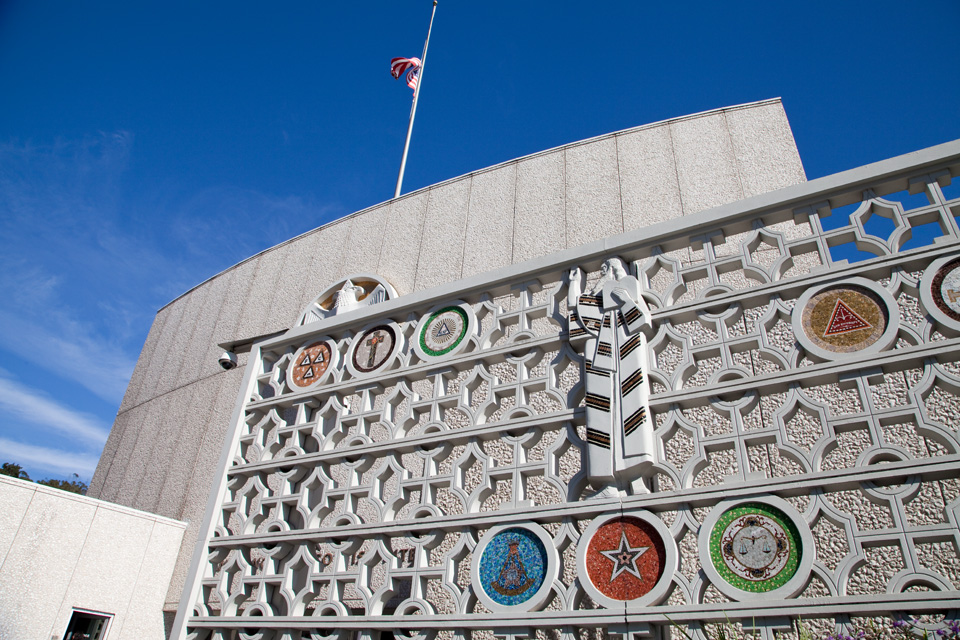 Many of the Center's most distinctive touches came from artist and architect Millard Sheets, who designed the building's exterior mosaics and double-eagle medallion, as well as its interior murals, paintings and wood carvings.
The first thing visitors see as they enter the Center is "The Builders," a large mural by Sheets depicting the craftsmen and workmen associated with King Solomon's temple.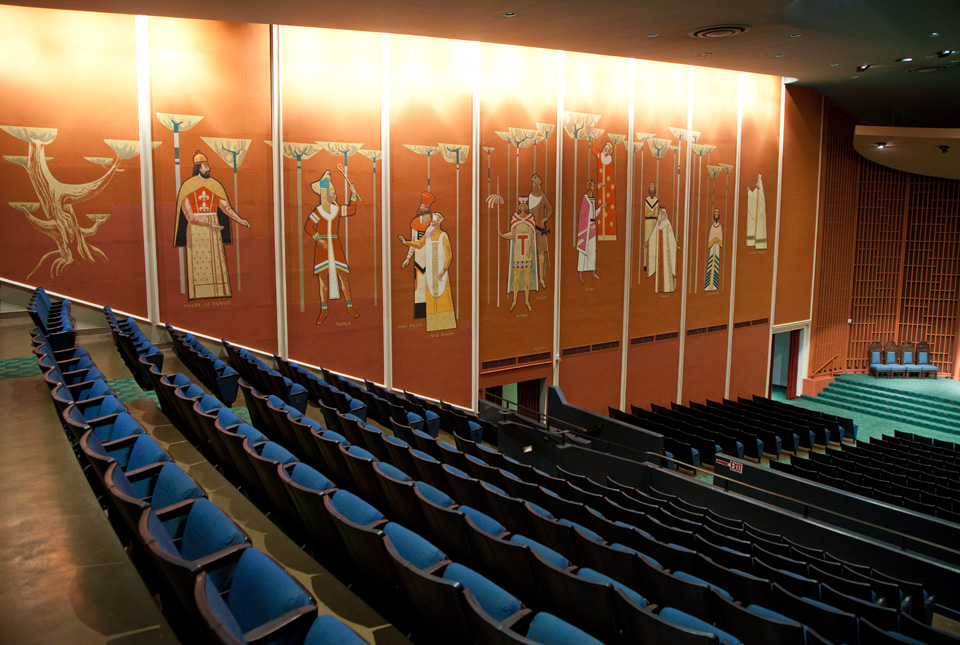 "Masonry all has to do with the building of King Solomon's temple," said Moore. "Everything goes from there forward, so all these characters are from that period of time."
With seating for 760 people, the facility has one of the largest stages and auditoriums in San Francisco. Its banquet hall, which can serve as many as 450 guests, is used for everything from SFPD town halls to bar mitzvahs.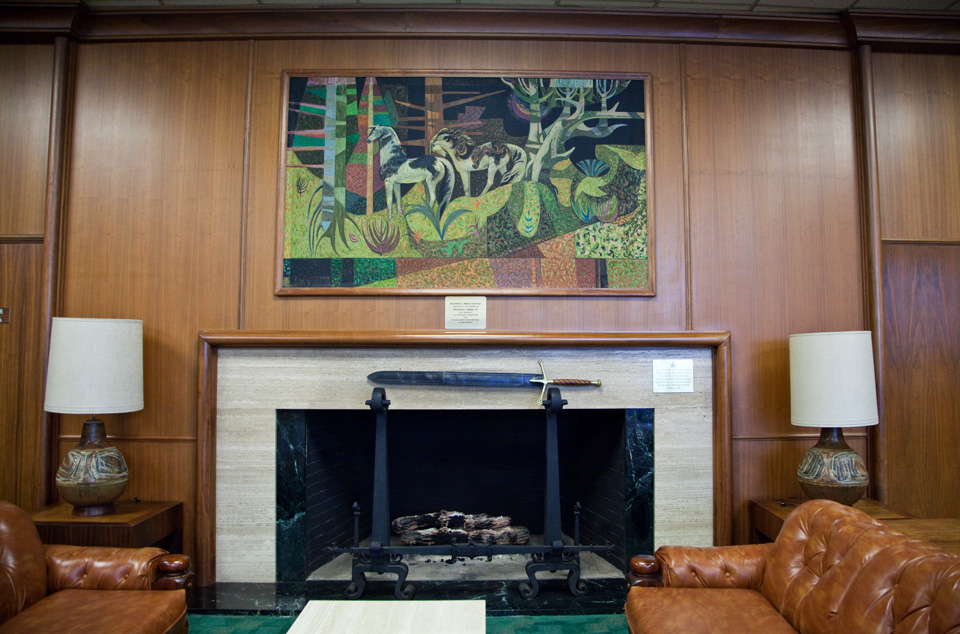 One of the key values in Masonry is charity. Along with serving the fraternal community with the Masonic Homes, which aid masons, and their wives, widows and at-risk children, the Scottish Rite donates use of the building for police seminars, a neighborhood court and youth groups. It also opens the auditorium up for police and fire department graduations.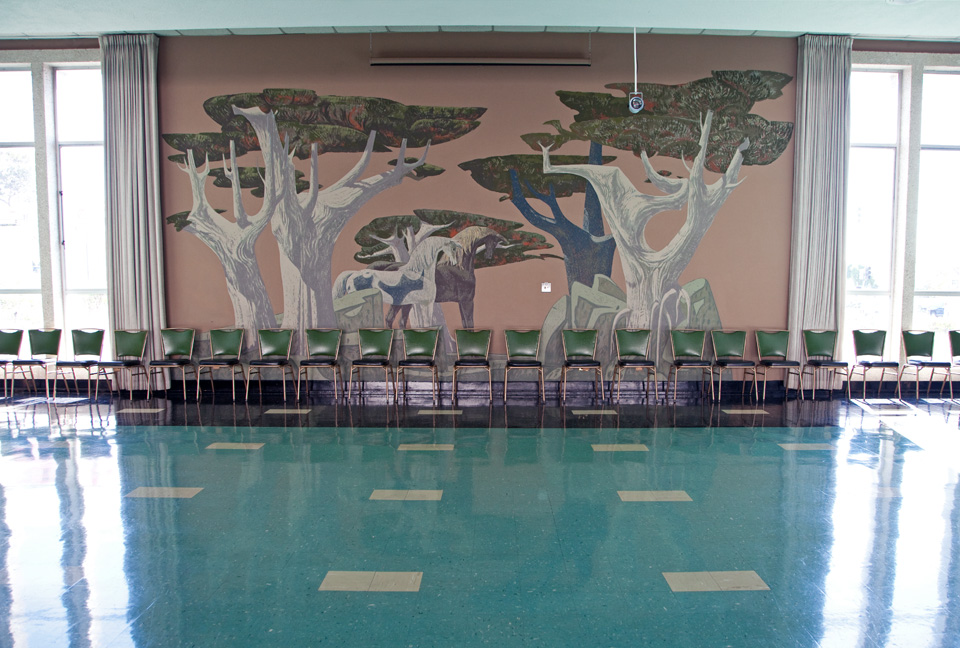 And each year, the Masons of California team up with the San Francisco Giants, Los Angeles Dodgers and San Diego Padres to provide baseball and softball mitts for young Californians in need, via the Masons 4 Mitts program. 

"We like to give back," said Moore. "It's [about] community involvement."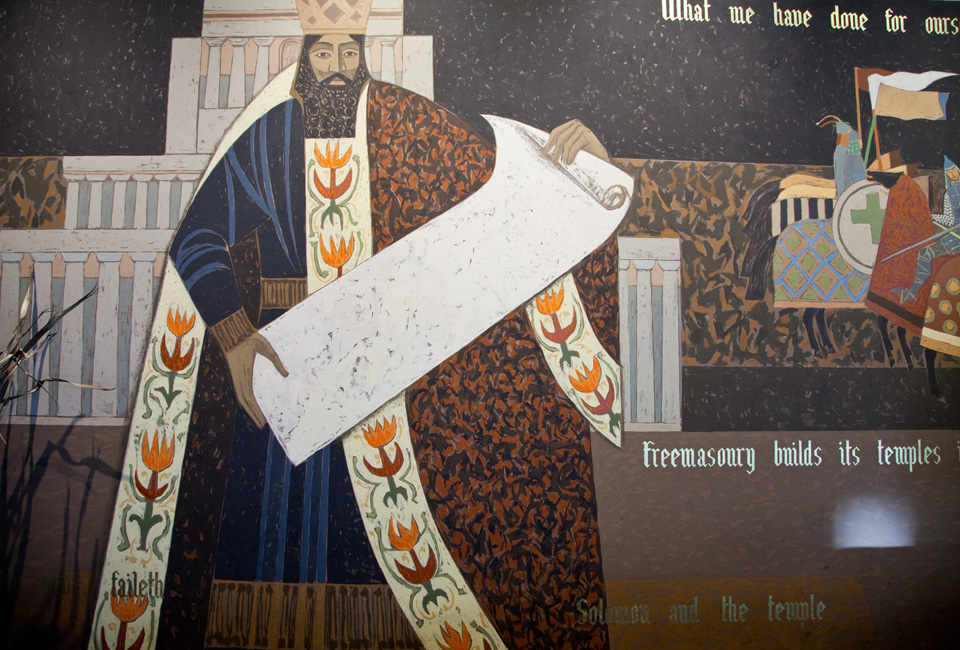 Moore also highlighted the work done by the Shriners, a fellow Masonry group. Shriners Hospital For Children provides care to children with orthopedic, spinal cord and burn injuries, regardless of the family's ability to pay; it also used to be on 19th Avenue, before being relocated to the UC Davis campus. 
"Philanthropy is the key," Moore told us.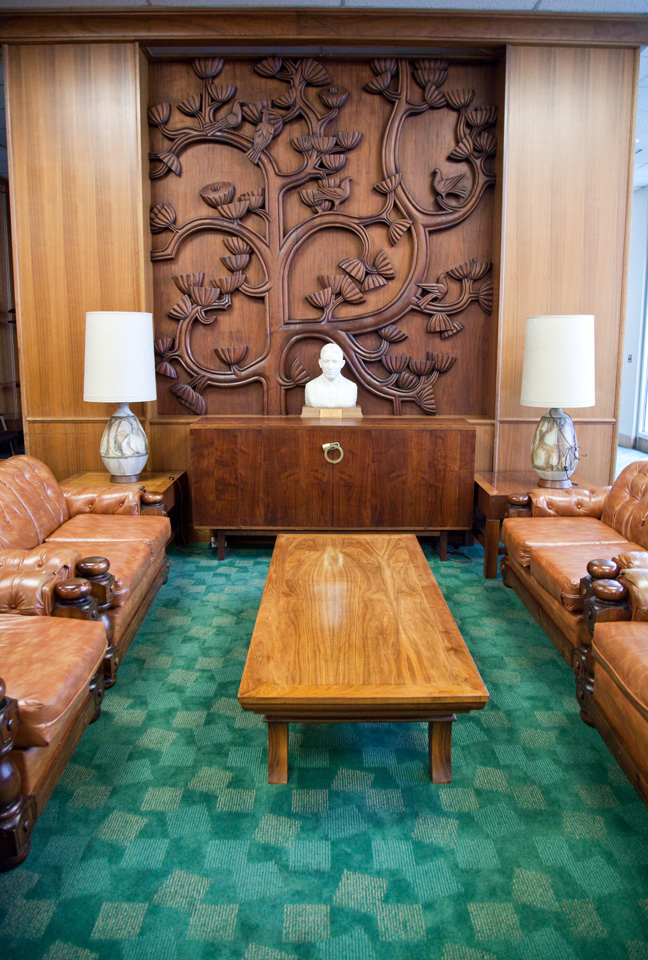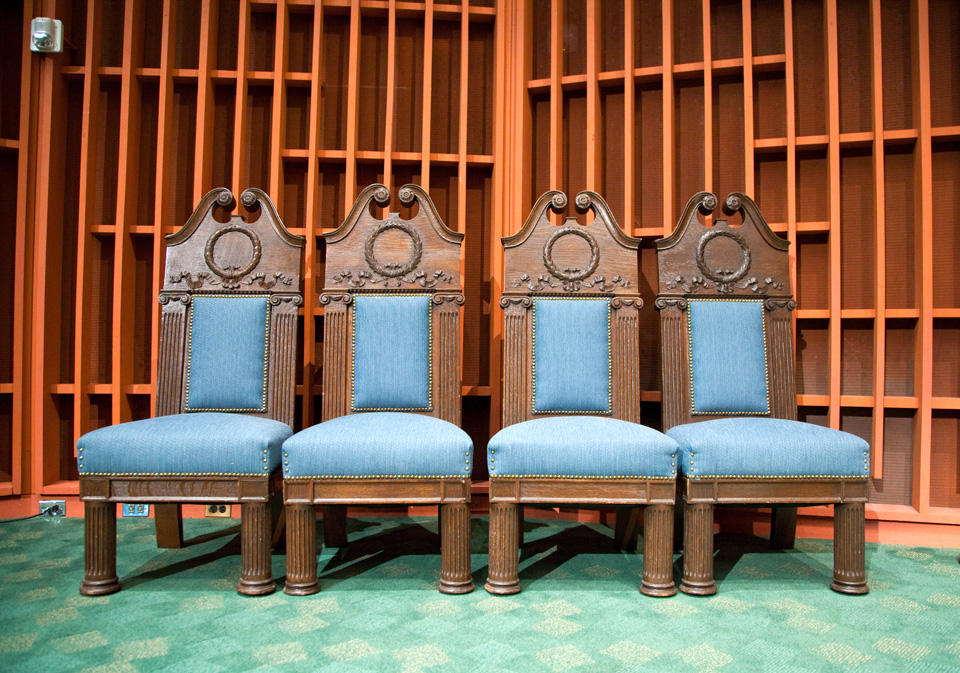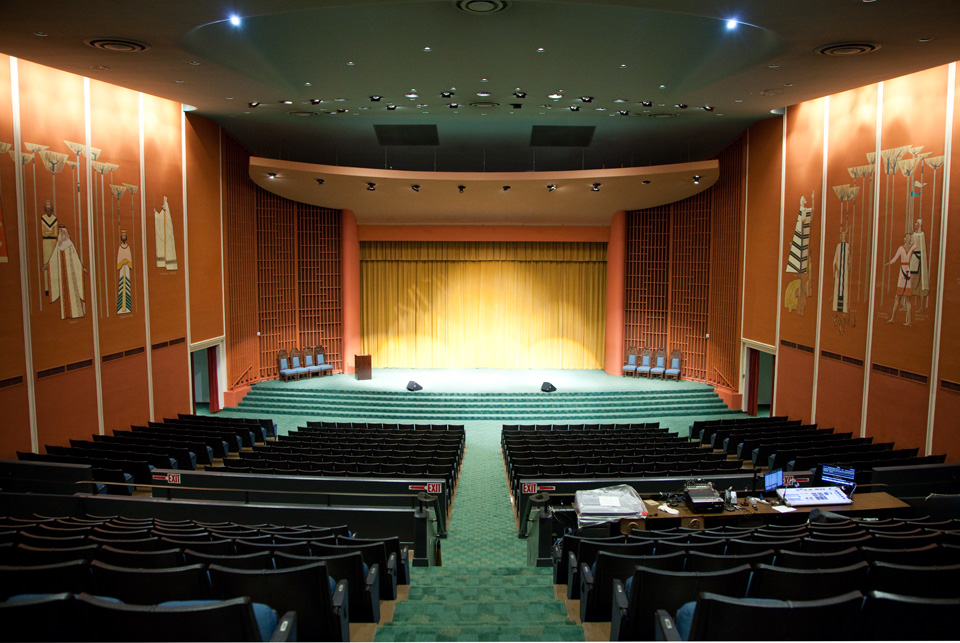 Want to see inside the Scottish Rite Center for yourself? It's typically open to the public Mondays through Fridays. Visitors are encouraged to call ahead to confirm opening hours.  
The theater, auditorium and banquet hall are available for public rental; call (415) 664-4700 or email [email protected] for more information. 
Membership in Scottish Rite is limited exclusively to men who are Master Masons. You can contact one of the many Masonic Lodges in and around San Francisco for membership information.