MacArthur Transit Village continues to take shape; a new project broke ground last week and another is up for approval in a City Council meeting this afternoon. As the infill development built around a BART station enters its final stretch, however, some neighbors are concerned that it doesn't create enough affordable housing.

In 2010, BART's Board of Directors first approved the project, which closed an eight-acre parking lot to build a complex of at least six buildings that will include 875 new housing units, 33,000 square feet of retail, new pedestrian pathways and a public plaza.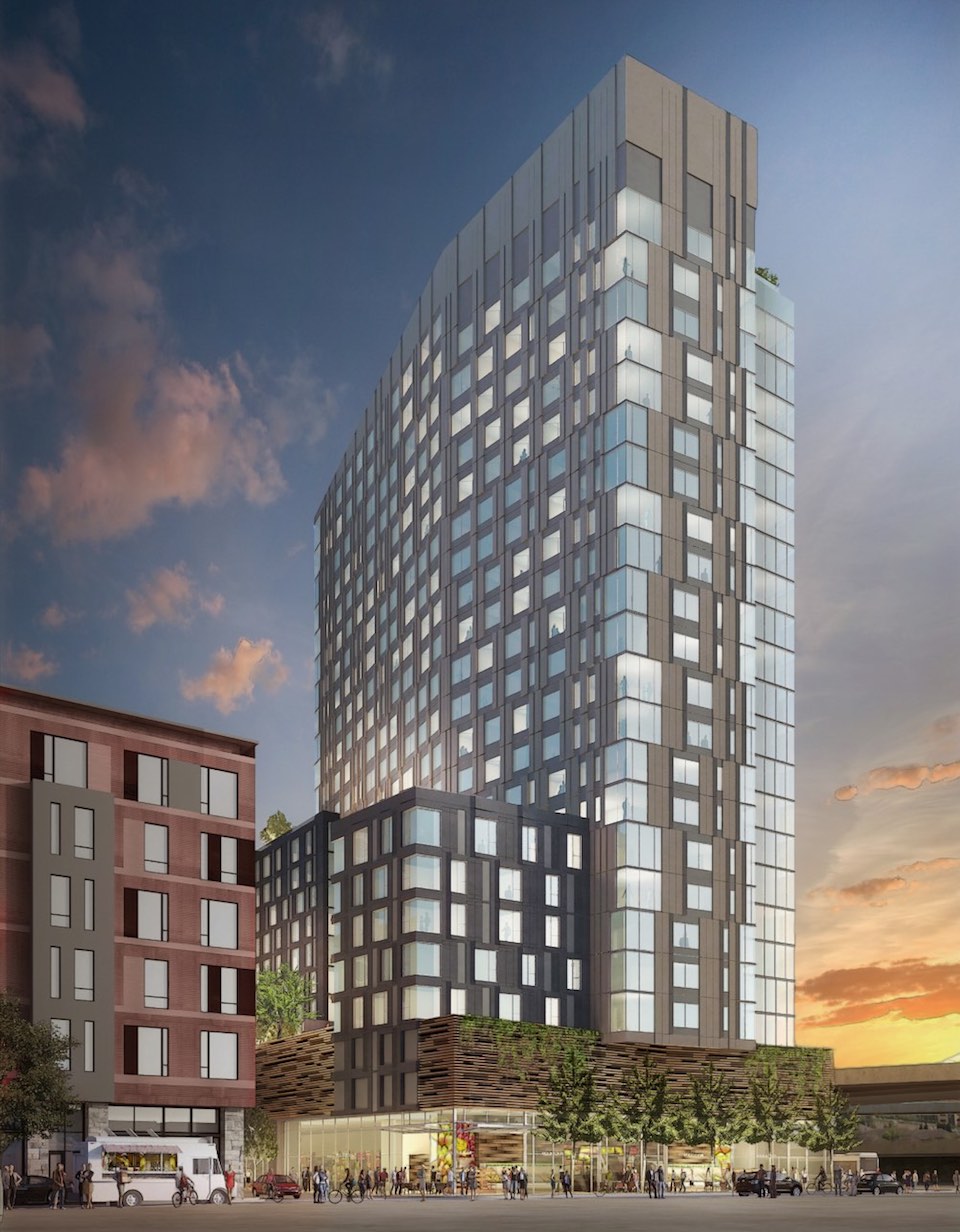 The transit agency is seeking to better integrate its stations with the surrounding neighborhoods; similar projects are planned near its West Oakland and Coliseum stations.
But one proposed aspect of the MacArthur development stands out: a 260-foot tower in a neighborhood that has a height limit of 90 feet. Today, the Oakland City Council will consider passing an exception to waive the restriction.
If built, the 24-story tower would have 402 housing units, including 45 affordable units and 205 two- or three-bedroom units. It will also have 13,000 square feet of ground-floor retail space and up to 262 parking spaces.
In exchange for easing the height restrictions, joint developers McGrath Properties and Boston Properties may contribute more than a million dollars for pedestrian streetlight improvements, impact fees and nearby Mosswood Park.
Neighbors are split; some support creating high-density housing over a BART station, while others are have expressed concerns about the impact such a tall building would have on neighborhood character.
Torin Block, who lives three blocks away, attended an Oakland Planning Commission meeting in February to oppose the project because he wants more affordable housing set aside.
"There is simply no justifiable reason that a brand-new 260-foot tower on public land and steps from public transportation should set aside only 11 percent of its units for below-market rate renters," Block said.
Another neighborhood resident of eight years, Timothy Black, told Hoodline that he'd prefer more affordable units but supports tall, dense developments that offer a range of prices.
"The current strategy I've seen lately is build another luxury condo high rise and this is clearly not working and not moving fast enough to fix our distinct housing pickle," Black said. "This building attempts to strike a balance with 11 percent of the units at below market rate. I would prefer 20 percent at below market rate."
Under BART policy, 20 percent of its developments must be affordable, but that rule was created well after the MacArthur development was approved. The Mural building, completed last year by BRIDGE Housing, is 100 percent affordable, but demand was so intense, more than 5,000 applied for a spot in the 90-unit building.
That building was the only affordable housing intended for the station development, but once the tower developers decided to seek a height extension, they agreed to add more affordable units. Even so, the East Bay Express reports that all those units will be located in the building's lower floors to save views for market-rate tenants.
The third project at the BART station on the property, MacArthur Commons, broke ground last week. There will be 385 units in the 468,570-square-foot complex, but only 11 affordable units will be set aside.
When construction concludes in March 2019, 146 units in the entire development will be designated affordable — almost 17 percent, but still short of BART's overall goal of 20 percent.