Last month, the city councils of Oakland and Berkeley approved initiatives to develop modular units to house homeless individuals; however, despite San Francisco's own efforts to manage its homeless population amidst a housing crisis, the city isn't taking the same steps as its East Bay neighbors.
"Similar to gas guzzling cars, we have space guzzling housing designs," said Patrick Kennedy, the owner of Panoramic Interests, a San Francisco real-estate developer. "We're trying to be more efficient with space and use design to drive down the cost of housing."
Kennedy is the man behind the MicroPAD (which stands for Prefab Affordable Dwelling). He's claimed that each 8-foot by 20-foot unit can be manufactured in a week and then combined into a 200-unit apartment-like conglomeration within a few months. The units are move-in ready, and each is equipped with a bathroom and kitchenette.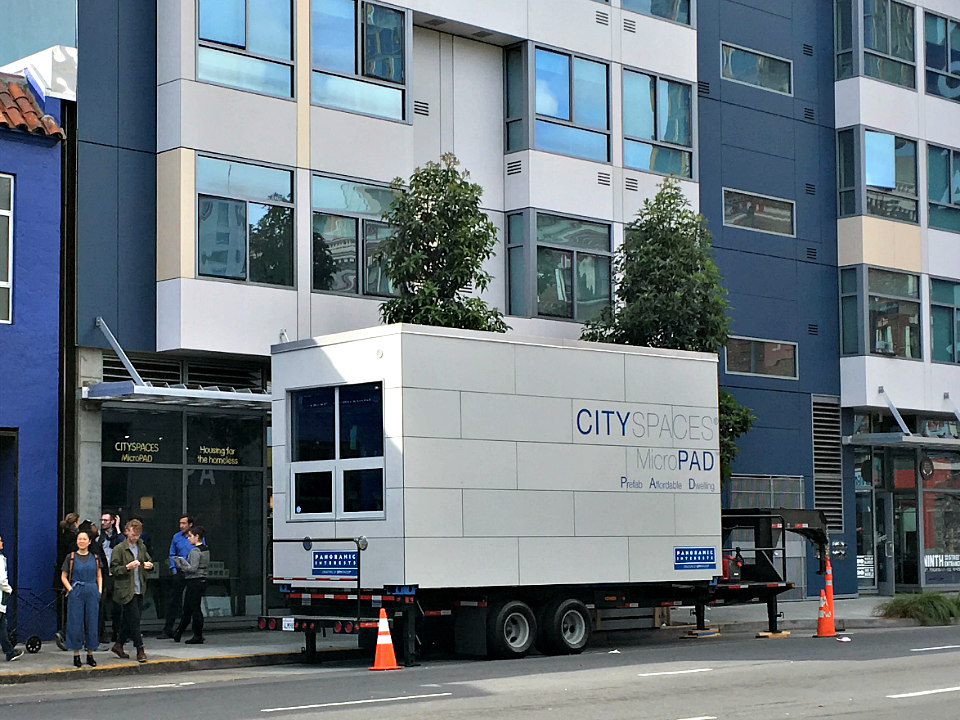 What's Going On Over There?
Berkeley and Oakland are moving forward with plans to develop modular housing developments as a way to accommodate some of their homeless residents.

Following a unanimous vote by its city council in February, Berkeley plans to build 100 micro-units for homeless seniors, people with disabilities, and Berkeley natives. Although a location for said development hasn't been identified, the initiative calls for placing it on city-owned land.
Berkeley hasn't selected a developer for the job yet, but Kennedy is planning to apply for the contract as soon as a request for proposal is announced.
Oakland's City Council, on the other hand, approved an $80,000 agreement with Laney College to have the college design and produce two prototype homes that can be mass-produced.
The announcement was made in February as part of Oakland's efforts to spend a $1 million grant on a rapid rehousing program directed at the city's homeless youth.
The initial Laney housing model emerged out of a tiny home design competition that was hosted last October. Laney's carpentry department edged out teams from Stanford and UC Berkeley. Its model is built atop trailer wheels and is equipped with plumbing, a kitchen and a heating system.
Although the units can be easily moved, where to park the units remains an unanswered question.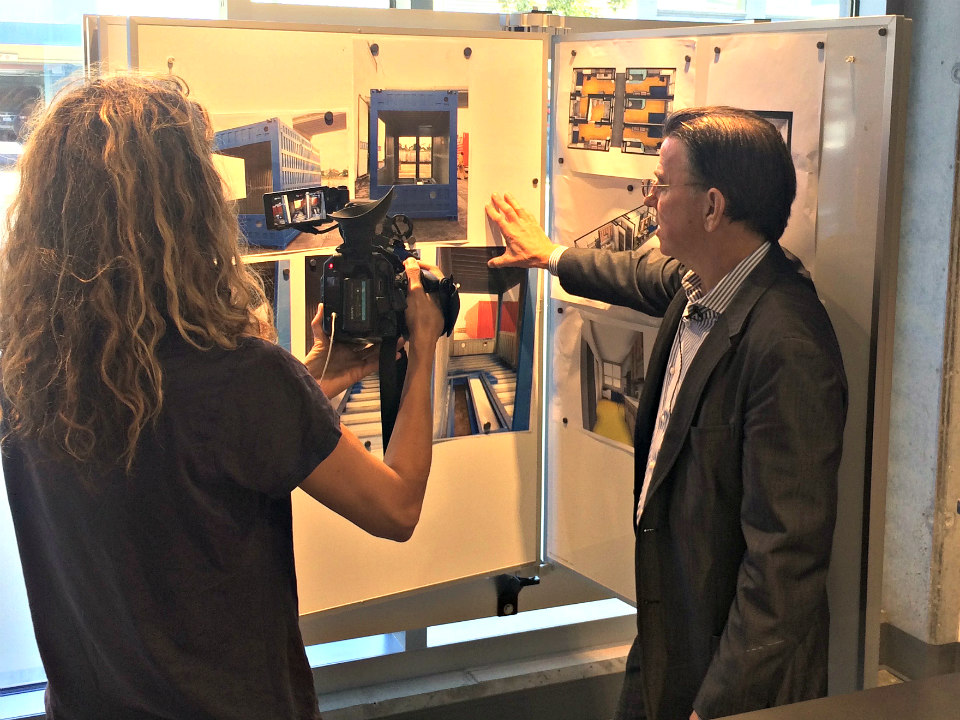 Can SF Have Modular Housing Too?

Panoramic's Kennedy said that he's proposed building housing for homeless individuals on City of San Francisco owned property but has been met with resistance, especially from organized labor unions who complain that the MicroPADs aren't manufactured locally. (They're made in China, Business Insider reports.)

"San Francisco is the hardest place on the planet to build," Kennedy said. "I worked in Berkeley for 20 years, and San Francisco makes Berkeley look like Texas."
Randy Quezada, the communications and community relations manager for San Francisco's Department of Homelessness and Supportive Housing, told Hoodline that the city isn't currently considering any MicroPAD developments.
"We're nowhere near doing something like this yet," Quezada said. "We want to see how things go for Berkeley and Oakland and see what lessons they learn."
Kennedy, however, isn't waiting for anyone. Panoramic is looking for private sites to construct a MicroPAD development in San Francisco, he said. The firm hasn't located one yet.

"If we can build something on a private site, the City could lease the entire site and provide supportive services on the ground floor," Kennedy said.
Sam Dodge, deputy director of the city's Department of Homelessness and Supportive Housing, is excited about the potential to increase the city's stock of single room occupancy (SRO) units through prefabricated MicroPADs. 
"We've been working closely with [Kennedy] since he had this idea," Dodge said, "and we remain hopeful that his design will be a great way to build affordable housing and use smaller lots."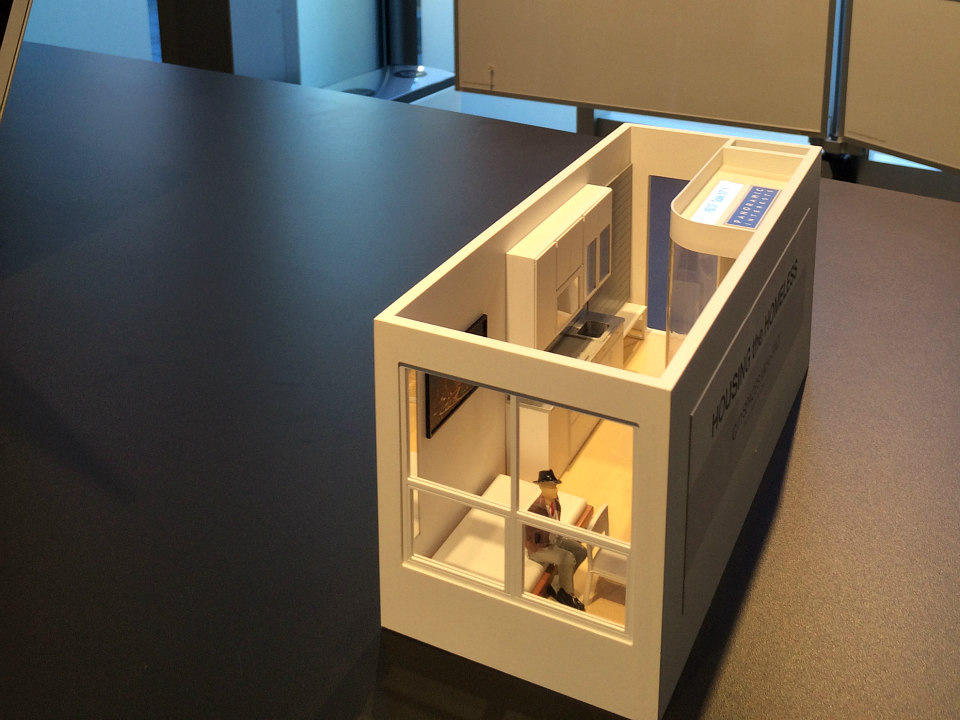 Kennedy's MicroPADs are an upgrade compared to residential hotels, which don't offer occupants private bathrooms or kitchenettes.
Dodge sees value in providing additional steps for formerly homeless individuals to take as they move off of city streets, through city services, and into stable living situations. "Units like this could be a great addition to our step up housing model," he said.
"MicroPADs and modular developments make a lot of sense if you're providing all of the right services in tandem with the housing," added Kristy Wang, the community planning policy director at SPUR, the San Francisco Bay Area Planning and Urban Research Association. "Housing first is the proven practice."
Wang thinks that MicroPADS have a better chance of being built in Oakland and Berkeley than in San Francisco.
"There will always be neighbor concerns [in San Francisco]," Wang said, citing previous NIMBY push-back to expanding homeless shelters and navigation centers. "But there's always potential for ideas like this—it'll take time."
Although, if an eventual MicroPAD development meets delays in San Francisco, it won't be because of building codes.
"Whatever Berkeley and Oakland are doing would apply in San Francisco," said Lily Madjus Wu, communications director for San Francisco's Department of Building Inspection. "Based on California state building code, nothing would hinder modular housing developments like this."