Since 2014, nonprofit Cat Town Cafe and Adoption Center has connected Oaklanders with cats in need of new homes. With a goal of emptying "as many shelter crates as possible," Cat Town, which launched as a foster-based program in 2011, has rescued more than 1,500 felines and lowered the city's shelter euthanasia rate from 42% in 2011 to 14% in 2016.
Before Cat Town founder Ann Dunn started volunteering in shelters in 2008, "I actually really didn't even know cats that well," she told Hoodline.
Inside The Cat Zone, customers can mix freely with furry, four-legged residents in a relaxed environment that's a world away from a shelter cage. For a $5 tax-deductible donation, visitors can spend an hour petting, playing and getting to know the animals.
"Getting the cat into a positive environment is the best way to get them adopted," said Dunn. Adoption fees are $50 for a single cat or $75 for two, but Cat Town is waiving fees for qualified adopters through the end of April.
Working with Oakland-based RAWR, which makes all-natural cat food, Cat Town unveiled RAWR Coffee Bar in January. Serving Highwire Coffee, as well as treats that can be consumed by humans and cats alike, the cafe sells many feline-themed items and is The Cat Zone's point of entry.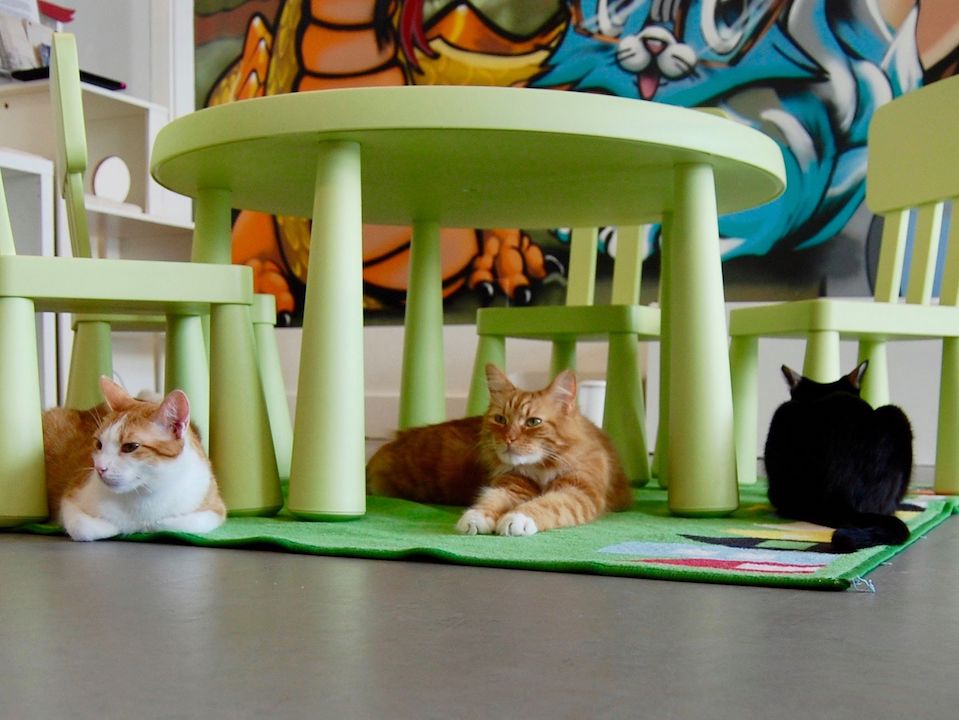 In Feburary, Cat Town received a $162,000 grant that allowed it to expand the space to serve (and save) more animals. "There's gotta be a different way to help these cats," said Dunn. "If I want to bring these cats home, I'm sure there are other people who do, too."
Cat Town Cafe (2869 Broadway) is open every day from 10 –7. The Cat Zone is open Wednesday to Saturday and on Sunday from 10am - 5pm. Reservations may be booked online.