Residents and visitors in San Francisco will soon have another option for bike rentals around the city. A dramatically expanded Bay Area Bike Share program will add 2,000 bikes to San Francisco and 1,500 bikes to the East Bay by the end of summer.
The launch will come with several key changes, including Clipper Card integration, a program for low-income riders, and a rebrand from Bay Area Bike Shares to Ford GoBikes (for the car company sponsoring the expansion).
As we reported last September, bikes will be available for rental in San Francisco neighborhoods that had previously not hosted bike shares, including Dogpatch, the Mission, Hayes Valley, and the Haight. Oakland will also see bikes from Temescal to Lake Merritt to Fruitvale. 
For the new program, a ride will be $3 for 30 minutes, $15 a day (which allows for an unlimited number of 3-hour rides over a 24-hour period) or $149 a year. Adding 15 minutes to a ride costs $3.
Riders with annual memberships will be able to ride for 45 minutes. Currently, founding memberships of $124/year are available for the first 1000 riders who sign up before June 28th. 
Under Bay Area Bike Share, it cost $9 a day, $22 for three days or $88 for an annual membership. Rides were limited to 30 minutes between stations, and additional time was $4 for up to 60 minutes of use and $7 for every 30 minutes after that. 
As part of the rollout, Bay Area Bike Share will shut down on June 11th. Current memberships for the program will be extended and be integrated into Ford GoBikes.
During the summer months, the Ford GoBikes will be introduced on a rolling basis across San Francisco, Oakland, and other parts of the Bay Area, including San Jose, Emeryville, and Berkeley.
(To see if the GoBikes will be coming to your neighborhood, check out this map.)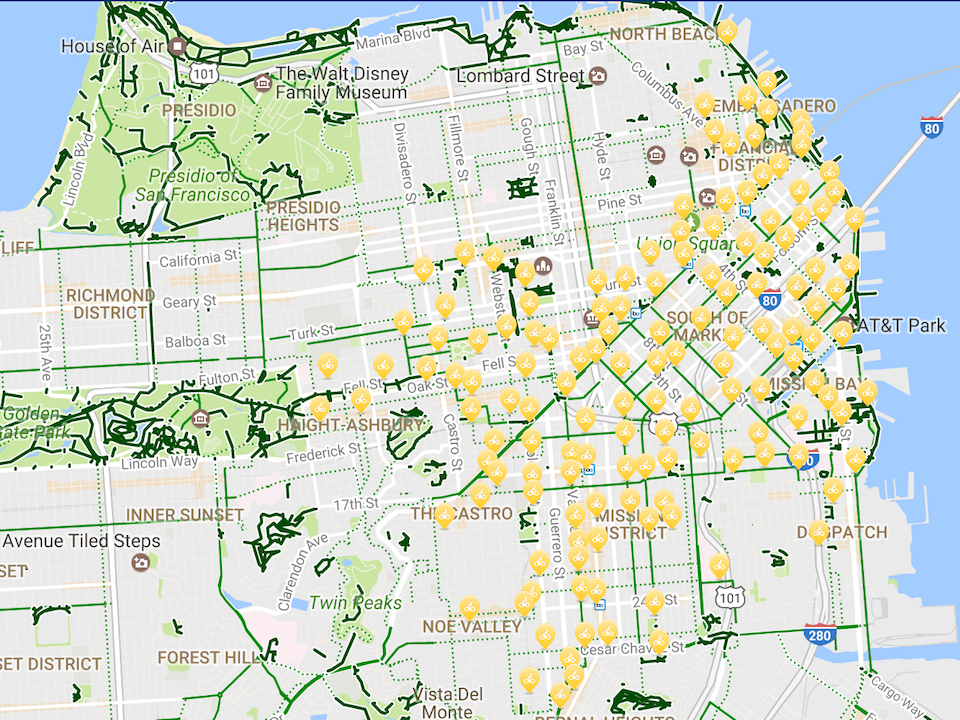 Once the GoBike program rolls out, riders will be able to pay for and unlock bikes using their Clipper cards, as well as a GoBike mobile app. They'll also be able to link their Clipper and GoBike accounts together through a technical integration between the Metropolitan Transportation Commission and Motivate, the company that runs Bay Area Bike Shares.
"The Clipper integration was something that the MTC and regional cities wanted as part of this program," explained Dani Simons, director of communications and external affairs for Motivate, "to ensure that bike share was really part of the regional transportation fabric."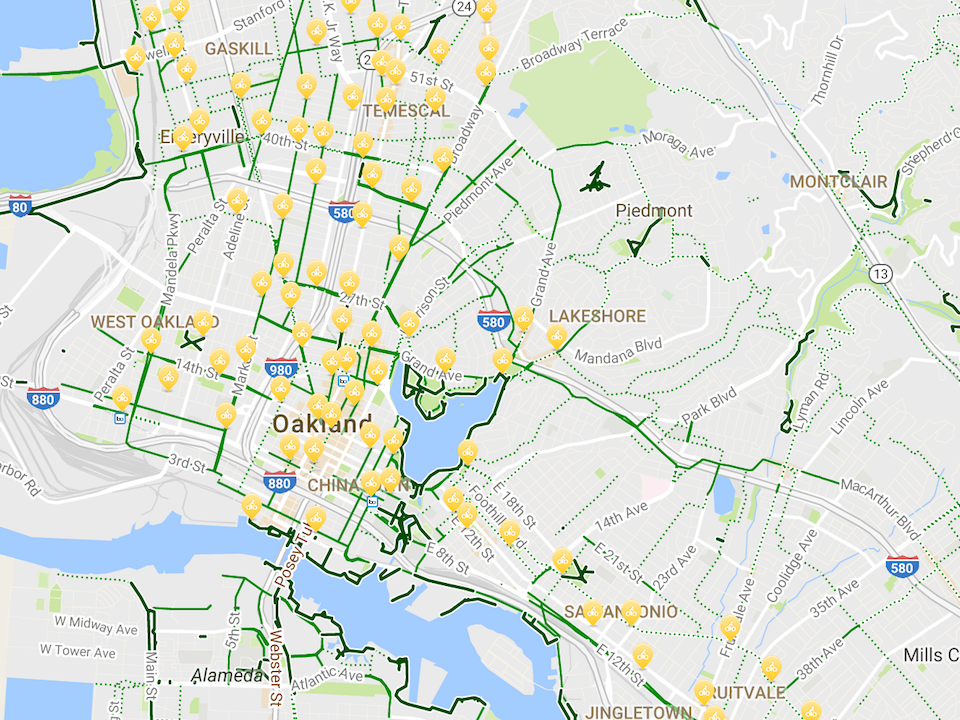 Another key part of the expansion involves discounted memberships for low-income residents. Bay Area residents enrolled in the Muni Lifeline Pass program, CalFresh, or PG&E Care—which all serve low-income communities—will all be eligible for a "Bike Share For All" discounted membership of $5 for the first year. 
Those enrolled in the Bike Share For All program will also be able to ride their bikes for one hour, compared to 30 minutes for those with regular memberships. After the first year, users also be able to continue the program at $5 a month ($60 a year). 
One part of the expanded bike program that is likely to be a sore spot with residents will be the use of parking spaces for the rental stations. According to the newly launched Ford GoBike website, each station "repurposes" two to four parallel parking spaces. 
When Hoodline asked how Motivate had addressed resident concerns regarding the loss of parking spaces, Simons told us that the they had worked closely with local city governments to finalize station locations. She also cited 200 stakeholder meetings and 27 public workshops across the Bay Area to work with communities.  
This summer's expansion is the second part of a larger five-phase plan to expand the GoBike program, which will add bike stations in San Francisco's western neighborhoods, including the Richmond, Sunset, and Ingleside. By the end of 2018, riders can expect 7,000 bikes at 546 GoBike stations across the Bay Area.